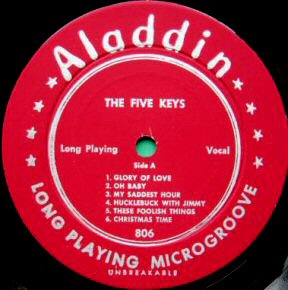 The Aladdin Records Story
by David Edwards and Mike Callahan
Last update: April 10, 2007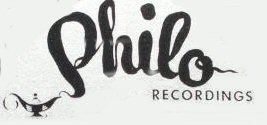 What was to become Aladdin Records was formed in 1945 in Los Angeles, California by brothers Eddie and Leo Mesner. The Mesners owned a record store in Los Angeles called the Philharmonic Music Shop. When they formed the record label, they named it Philo, a shortening of the name of their record shop. Interestingly, the original Philo label graphics included the "Aladdin's lamp" at the left side, the smoke from which spelled out "Philo." The original address of the company was 423-1/2 West Fifth Street. After several moves, they ended up at their more familiar address: 5352 West Pico Boulevard in Los Angeles. Philo was one of the first independent record companies on the West Coast. A&R for the company was handled by Maxwell Davis and Eddie Mesner.


Philo had success right away, starting with their very first release. "Flying Home, Part 1"/"Flying Home, Part 2" [Philo P101] was an instrumental featuring saxophonist Illinois Jacquet. The Philo recording was in fact a remake of Jacquet's earlier hit with the Lionel Hampton Orchestra, released in 1942 during the Second World War [Decca 18394] (it had also charted in 1940 for Hampton, but this predated Jacquet's tenure in the band). The Mesners recorded it in July, 1945, and released it in August, 1945. Although it didn't make Billboard's singles chart, in 1945 there was actually only a chart for "Most Played Juke Box Race Records," which had a very small number of reported positions, sometimes as few as two.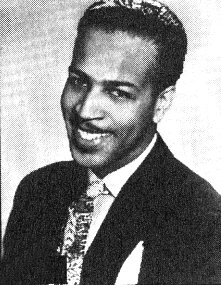 In September, 1945, Philo released the first solo recordings by Wynonie "Mr. Blues" Harris, on Philo P103 ("Around the Clock, Part 1"/"Around the Clock, Part 2") and Philo P104 ("Cock-a-Doodle-Doo"/"Yonder Comes My Baby"). Harris had been no stranger to the record charts, having been one of the vocalists (along with Sister Rosetta Tharpe) in Lucky Millender's Orchestra, which had also featured legendary trumpeter Dizzy Gillespie and pianist Bill Doggett. Wynonie Harris had been the lead vocalist on Millender's hits "Hurry Hurry" [Decca 18609, late summer, 1944] and "Who Threw the Whiskey in the Well" [Decca 18674, summer 1945]. Aladdin later released two more singles by Harris, but by the end of 1945, he was recording for the Apollo label, backed by Illinois Jacquet's Orchestra. "Wynonie's Blues" [Apollo 362] made #3 on the R&B charts, followed by "Playful Baby" [Apollo 372], which made #2. He then switched to the King label, where his "Good Rockin' Tonight" [King 4210] made #1, and is often cited as an influential pre-rock & roll song. (Indeed, a remake of "Good Rockin' Tonight" was Elvis Presley's first record for the Sun label in 1954 on Sun 210.) From there, a dozen more Wynonie Harris top-10 R&B hits followed on the King label, stretching to 1952.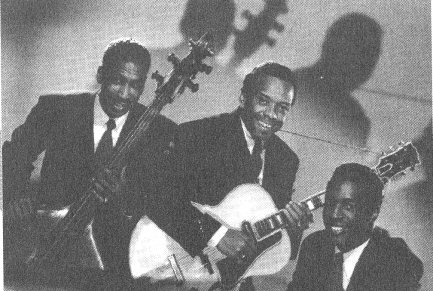 In February of 1946, the Mesners were forced to change the label name because of the similarity to radio manufacturer Philco, who at that time was thinking about starting a record division. The Mesners were going to change the name to Medlee Records — and even announced it in the trade papers — but then decided on "Aladdin." ("Medlee," of course, is a play on words. Pronounced "Medley," it is made up of M, the first letter of their last names, followed by ED and LEE, their first names.) When the name was changed all of the previous Philo releases were reissued on the Aladdin label.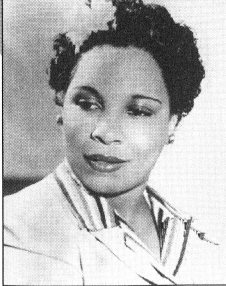 By this point, Philo was enjoying two major hits: Johnny Moore's Three Blazers's with "Drifting Blues" [Philo 112, reaching #2 nationally], which featured Charles Brown on vocals, and "Be-Baba-Leba" [Philo 106] by Helen Humes, which made it to #3 on the national charts. Both obviously were switched to the Aladdin label with the same catalog numbers.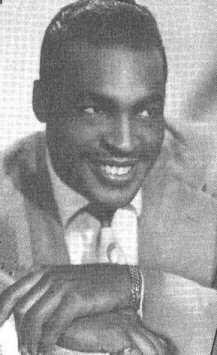 "Drifting Blues" was awarded the Billboard prize of being the best race recording of 1946, and from that moment until the late 1950s, Aladdin was one of the most successful R&B labels in the world. The R&B sales charts for this period show that Aladdin was consistently in the top ten of R&B sales for both major and independent labels. Aladdin added top selling artists and groups year after year, including blues shouter Amos Milburn, tenor sax instrumentalists Lester Young, Lynn Hope and Maxwell Davis, the gospel group The Trumpeteers, blues singers' Lightnin' Hopkins, Lowell Fulson, Floyd Dixon and Peppermint Harris, and the smooth R&B vocal group the Five Keys. The label was able to survive in the highly competitive and rapidly changing recording industry during the transition to rock and roll with Shirley and Lee, Gene and Eunice, and Thurston Harris. The Jazz:West label had Jack Sheldon with Zoot Sims, Art Pepper, Kenny Drew and Jane Fielding.

In 1947, Aladdin had R&B hits with Wynonie Harris' "Come Back Baby"/"Rugged Road" [Aladdin 172] and "Mr. Blues Jumped the Rabbit"/"Whiskey & Jelly Roll Blues" [Aladdin 171]. Lightnin' Hopkins had a hit with "Short Haired Woman"/"Big Mama Jump" [Aladdin 3005]. Although these singles didn't make the national charts, that was because the charts only listed a few sides.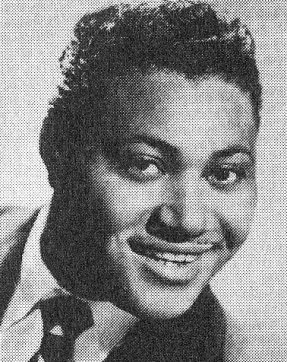 In 1948, Wynonie Harris came back with "Hard Ridin' Mama"/"You Got to Get Yourself a Job, Girl" [Aladdin 208]. Amos Milburn had a minor hit with "I Still Love You"/"Pool Playing Blues" [Aladdin 211], but then in September 1948 released his first national #1 R&B hit, with "Chicken Shack Boogie" [Aladdin 3014], with the flip side, "It Took a Long, Long Time" reaching #6. Late in 1948, Milburn released his followup record, "Bewildered" [Aladdin 3018], which also made #1, with the flip side, "A&M Blues," reaching #9.

1949 was a big year for Aladdin, with Charles Brown releases of "Get Yourself Another Fool" [Aladdin 3020] making #4 in early spring, and "Trouble Blues" [Aladdin 3024] making #1 in late spring. By late summer, Brown's "In the Evening When the Sun Goes Down" [Aladdin 3030] made #4, and by December he released "Homesick Blues" [Aladdin 3039], which eventually reached #5. Amos Milburn continued his success with "Hold Me Baby" [Aladdin 3023], which reached #2 in late spring, "In the Middle of the Night" [Aladdin 3026], which reached #3 in the summer, "Roomin' House Boogie"/"Empty Arms Blues" [Aladdin 3032], a two-sided hit in the fall that reached #1 and #4, respectively, "Let's Make Merry Christmas Baby" [Aladdin 3037] which reached #3 in December, and "Real Pretty Mama" [Aladdin 3038], which reached #9 after its release late in the year. Additional singles in 1949 included discs by Joe Turner, Lightnin' Hopkins, Lester Young, Lonnie Johnson, the Robins, Jay McShann, Sonny Parker, Saunders King, and others. Many of these sold well, if not quite well enough to rank in the top 10 nationwide.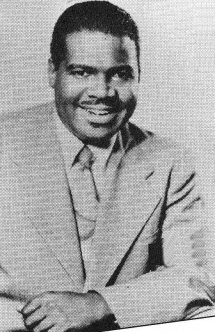 In 1950, some of the best Aladdin single releases were Calvin Boze's "Safronia Blues" [Aladdin 3055], which reached #9 in the summer, Charles Brown's release of "My Baby's Gone" [Aladdin 3051, #6 in the spring], and Lightnin' Hopkins' "Shotgun Blues" [Aladdin 3063, #6 in the fall]. Amos Milburn had seven releases in 1950, with three chart hits, "Walkin' Blues" [Aladdin 3049, #5 in late spring], "Sax Shack Boogie" [Aladdin 3064, #9 in the fall], and the classic #1 "Bad Bad Whiskey" [Aladdin 3068] late in the year. New artists with singles in 1950 included Lil Green, and Little Miss Cornshucks.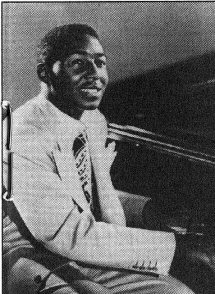 Aladdin scored major hits with several new artists in 1951. Floyd Dixon, who had released a non- charting single in 1950, saw his "Telephone Blues" [Aladdin 3075] soar to #4 early in the year, and Peppermint Harris had a #1 hit with "I Got Loaded" [Aladdin 3097] in the fall. And in 1951, Aladdin signed what many people consider the best vocal group of all time, the Five Keys. Their second release was the classic "Glory of Love" [Aladdin 3088], which quickly reached #1 after its release in mid-summer. Of Amos Milburn's five singles, only one made the top ten, but it was the two-sided hit "Tears Tears Tears/Let's Rock a While" [Aladdin 3080], which reached #5 and #3, respectively, in the spring. Charles Brown added several hits to his resumé, including the #1 "Black Night" [Aladdin 3076] in February, "I'll Always Be In Love With You" [Aladdin 3091], which made #7 over the summer, and "Seven Long Days" [Aladdin 3092], which made #2 in the fall.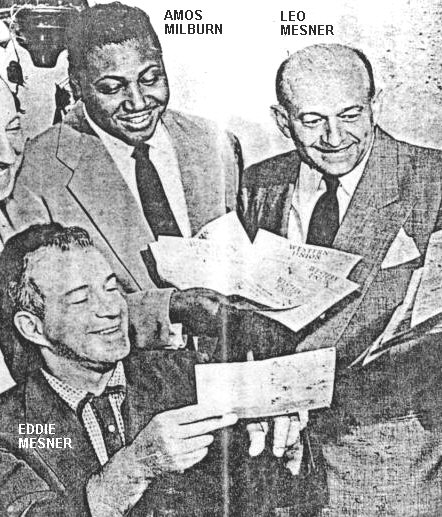 It was also in 1951 that the Mesners started pressing 45 RPM vinyl versions of most of their 78 RPM releases in 1951. This was a very gutsy move for a label that was selling most of its output to black record buyers, since the 45 had been introduced only shortly before and there were very few black customers with a 45 RPM record player. But if issuing of 45s was a big step, it was Aladdin's decision to release rhythm and blues LPs that made them truly unique as a label. Independent labels like Atlantic, King, Modern and Savoy issued a variety of genres on LP at this time, but Aladdin was the only one to concentrate strictly on R&B albums. At first, these albums were released in the 10-inch format that was prevalent in the early 1950s. It's possible that Aladdin issued its first albums prior to their pressing of 45s, because some copies of Aladdin 703 use the 78 RPM label. Aladdin albums are very rare today; that can be attributed to fact that they were not huge sellers, as the black population that was their customer base was almost exclusively 78 RPM buyers. Even though the 10-inch Aladdin albums sold in minuscule numbers when they were released, they were kept in print for approximately five years, until the 10-inch LP fell from favor.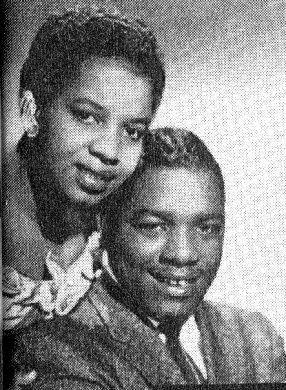 In 1952, Aladdin only had four sides that reached the national R&B top ten. Future stars Shirley and Lee (Shirley Goodman and Leonard Lee) from New Orleans had their first release in late 1952 with "I'm Gone" [Aladdin 3153], which eventually reached #2. The other three hits were one each by Amos Milburn, Charles Brown, and Floyd Dixon. Milburn's "Thinkin' and Drinkin'" [Aladdin 3124] reached #8 in the spring, Brown's "Hard Times" [Aladdin 3116] reached #7 about the same time, and Dixon's "Call Operator 210" [Aladdin 3135] made #4 during the summer. That's not to say that other Aladdin releases did not sell well. The Five Keys released six more singles, including "Red Sails in the Sunset" [Aladdin 3127].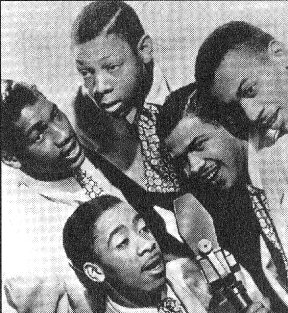 By 1953, Aladdin was down to only two chart hits in the top ten, both by Amos Milburn, who scored with a continuation of his drinking themes, "Let Me Go Home Whiskey" [Aladdin 3164], #3 in February, and the classic "One Scotch, One Bourbon, One Beer" [Aladdin 3197], #2 in the fall. The Five Keys came back with more great group recordings, including "These Foolish Things" [Aladdin 3190], the great "Teardrops In My Eyes" [Aladdin 3204] and "My Saddest Hour" [Aladdin 3214], but couldn't crack the top 10. Shirley and Lee had "Shirley Come Back to Me" [Aladdin 3173], and then answered their previous release with "Shirley's Back" [Aladdin 3192], but these likewise didn't sell quite enough to chart in the top 10.

If 1953 was a slow chart year, 1954 was even worse, with the only national chart side being Amos Milburn's "Good, Good Whiskey" [Aladdin 3218], which managed to get to #5 in February. It was also a blow to Aladdin that in 1954 they lost the Five Keys to Capitol, a major label and a major opportunity for the group. Charles Brown had a couple more singles, but after two years of no chart hits, also jumped ship.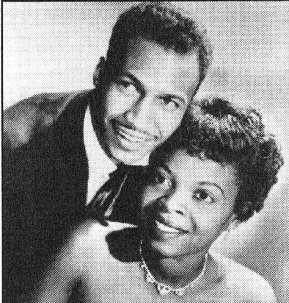 By 1955, Aladdin had lost Charles Brown and the Five Keys, and their focus was taking on a decidedly rock & roll feel. Aladdin came up with a new duo called Gene and Eunice (Forest Gene Wilson and Eunice Russ) whose first release, "Ko Ko Mo" [Aladdin 3276], was an identical arrangement to the original Gene and Eunice "Ko Ko Mo" version [Combo Records 64] earlier in the year; which went to number 7 on the R&B charts. They followed up with "This is My Story" [Aladdin 3282], which reached #8, backed by Johnny Otis' Combo. Shirley and Lee came storming back to the charts with "Feel So Good" [Aladdin 3289], which reached #2.

After the demise of the 10-inch LP in early 1955, Aladdin switched to 12-inch LPs. Their first 12-inch record was the much in demand Rock n Roll with Rhythm and Blues [Aladdin LP 710], a various artists album featuring a compilation of the label's biggest hits. This album continued the use of the 10- inch numbering system but they changed to an 800 series for the eight 12-inch albums that followed. Five additional albums are listed in the discography on the back of the earlier albums, but they are believed to have been unreleased. The Aladdin 12-inch LP series lasted only about one year. Most of the discs may never have reached a second pressing, which probably accounts for their extreme rarity today.

In 1956, Gene and Eunice had five releases, but none charted. Shirley and Lee only had three releases, and the first didn't chart, but the last two not only made the R&B charts, but for the first time, Aladdin cracked the pop charts. So strong was "Let the Good Times Roll" [Aladdin 3325] that it made #1 R&B and #20 pop. The followup single, "I Feel Good" [Aladdin 3338], made #3 R&B and #38 pop.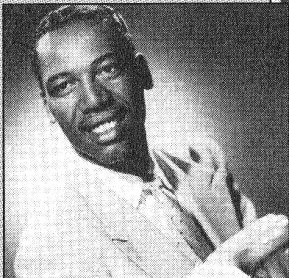 In 1957, Thurston Harris joined the label and continued the pop crossovers with the hit "Little Bitty Pretty One" [Aladdin 3398], which made #2 R&B and #6 pop. It proved to be Aladdin's all-time best selling single, with well over a million sales. Shirley and Lee added "When I Saw You" [Aladdin 3362], which made #14 on the R&B charts.

By 1958 Aladdin was clearly winding down. Thurston Harris had Aladdin's last chart entry in February with "Do What You Did" [Aladdin 3399], which reached #14 R&B and #57 pop. By 1959, nobody was having much success, and the label slowly went dormant.

Aladdin hung on into 1961 with a single release by Thurston Harris ("One Scotch, One Bourbon, One Beer"/"Send Me Some Loving", Aladdin 3468), but it was pretty much over for the Aladdin labels. The Mesners sold the entire Aladdin catalog to Lew Chudd's Imperial Records on February 12, 1962. Over the years the Aladdin recordings were reissued many times, starting with a great series on Imperial which included some stereo releases of Aladdin material for the first time. Today the Aladdin catalog is owned by EMI.

Although the output of Aladdin was not great in quantity, it was outstanding in quality. The R&B recordings of Amos Milburn, Charles Brown, the Five Keys, Lightnin' Hopkins, Shirley and Lee, Gene and Eunice and Thurston Harris are some of the best R&B recordings made in the late 1940's and early 1950's. The jazz recordings of Kenny Drew and Art Pepper are very much in demand today. Aladdin, Score and Jazz: West albums are some of the rarest in the record-collecting field. Eight Aladdin albums appear on the Goldmine list of "The 100 Most Valuable U.S. Albums". George Moonoogian, in an article written for Goldmine in 1979, called Aladdin "The King of LP Rarities."

Prior to 1955, Aladdin had 3 subsidiary labels issuing albums. The jazz label Jazz:West issued two 10- inch albums. In 1955 Jazz: West switched over to 12-inch albums, but issued them in the same series as their 10-inch albums. There were eight 12-inch albums issued by Jazz:West in 1955 and 1956. In 1952, the popular music subsidiary Intro issued two 10-inch albums and the classical music subsidiary Orfeo issued one 10-inch album and two 12-inch albums. Orfeo did not issue any albums after 1952. In 1957, the Mesners revived the Intro label and issued at least four albums. Intro 602 and 603 were reissues of Lester Young's Aladdin 801 and Aladdin 802. There were two new jazz albums issued, one by Art Pepper titled Modern Art [Intro 606] and an Art Pepper, Red Norvo, and Joe Morello album titled Recollections [Intro 608].

The Aladdin and associated label discography was compiled using our record collections, Schwann Catalogs from 1951 to 1958, a July 1979 Goldmine article by George Moonoogian, Rock & Blues Record Collectors' Guide (1975) by David Bernard. The Complete Library of American Phonograph Recordings 1959, 1960 and 1961 by Jerry Osborne. Tracks are listed in order they appear on the albums. As far as is known all releases on Aladdin and subsidiary labels were in monaural only.

We would appreciate any additions or corrections to this discography. Just send them to us via e-mail. Both Sides Now Publications is an information web page, and we have no association with Aladdin or Score Records. Aladdin/Score Records is currently owned by the EMI Records Group. Should you want to contact EMI, or should you be interested in acquiring albums listed in this discography (which are all out of print), we suggest you see our "Frequently Asked Questions" page and follow the instructions found there. This story and discography are copyright 1997, 1999, 2006, 2007 by Mike Callahan.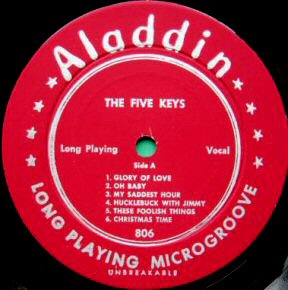 On to the Aladdin Album Discography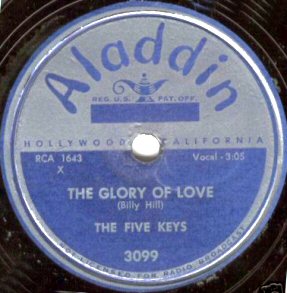 On to the Aladdin Singles Discography




ALADDIN SUBSIDIARIES: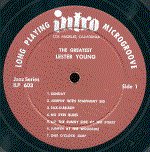 On to the Intro Album Discography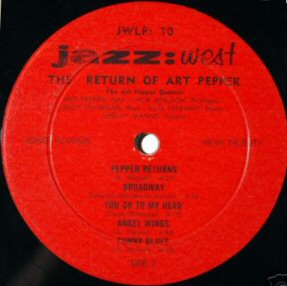 On to the Jazz:West Album Discography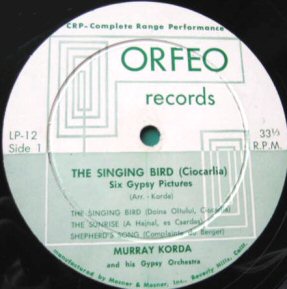 On to the Orfeo Album Discography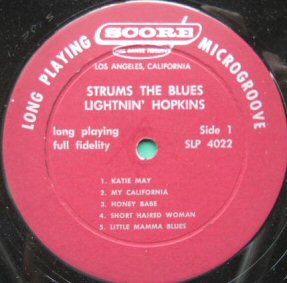 On to the Score Album Discography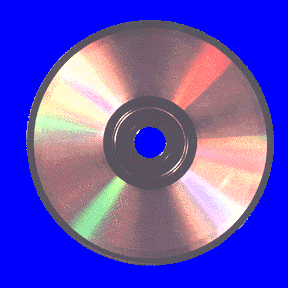 Back to the Discography Listings Page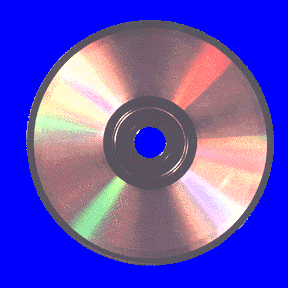 Back to the Both Sides Now Home Page