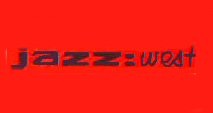 Jazz:West Album Discography
by David Edwards and Mike Callahan
Last update: December 29, 2007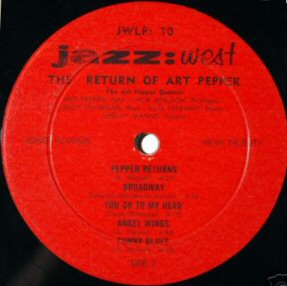 Jazz"West was a jazz subsidiary of Aladdin Records. The label started by issuing two 10-inch LPs in 1954-55, then continued the series with 12-inch LPs starting in late 1955.

The Jazz: West label is red with black print. The logo "jazz:west" is above the center hole.

We would appreciate any additions or corrections to this discography. Just send them to us via e-mail. Both Sides Now Publications is an information web page, and we have no association with Jazz:West Records. Should you be interested in acquiring albums listed in this discography (which are all out of print), we suggest you see our "Frequently Asked Questions" page and follow the instructions found there. This story and discography are copyright 1997, 1999, 2007 by Mike Callahan.
JAZZ:WEST ALBUM DISCOGRAPHY
| | |
| --- | --- |
| Cover | Number - Title - Artist - [Release Date] Contents |
| | 10 Inch Album Series: |
| | JWLP-1 - Get Out of Town - Jack Sheldon Quartet [12/54] Ahmoore/Dozo (Let's Go)/Contour/It's Only a Paper Moon/Leroy's Blues/Cheek to Cheek/Streets of Madashi/Get Out of Town/Mad About the Boy/Toot Sweet/Jack Departs |
| | JWLP-2 - Jack Sheldon Quintet with Zoot Sims - Jack Sheldon [10/55] Groovus Mentus/Guatemala/Irresistible You/Blues (Traditional)//Beach Wise/What Is There To Say?/Palermo Walk/Getting Sentimental Over You |
| | 12 Inch Album Series: |
| | JWLP-3 - Jazz Trio for Voice, Piano and Bass - Jane Fielding with Red Mitchell and Lou Levy [1955] How Long Has This Been Going On/Long Ago and Far Away/Summer Day/One Song/This Heart of Mine//How Deep is the Ocean/I'll Remember April/Stars Didn't Fall/I Wish I Knew/Something to Remember You By |
| | JWLP-4 - Talkin' and Walkin' with the Kenny Drew Quartet - Kenny Drew Quartet [1955] Talkin' And Walkin'/In The Prescribed Manner/Prelude To A Kiss/Wee Dot//Hidden Channel/Deadline/I'm Old Fashioned/Minor Blues/Walkin' And Talkin' |
| | JWLP-5 - Embers Glow - Jane Fielding with the Kenny Drew Quartet [5/56] Embers Glow/Our Waltz/Key Largo/Along With Me/In Love In Vain//'Round About Midnight/Too Marvelous For Words/Make The Man Love Me/Right Boy For Me/All Dressed Up Tonight And No Place To Go |
| | JWLP-6 - Quartet & the Quintet - Jack Sheldon [1956] Reissue of material from Jazz: West JWLP-1 and JWLP-2. Groovus Mentus/Ahmoore/Dozo (Let's Go)/Beach-Wise/Palermo Walk/Blues (Traditional)/Contour/It's Only a Paper Moon/Leroy's Blues/Cheek to Cheek/Streets of Madashi/Get Out of Town/Mad About the Boy/Toot Sweet/Jack Departs/What Is There to Say |
| | JWLP-7 - A Jazz Delegation from the East: Chambers' Music - Paul Chambers Quartet [1956] Dexterity/Stablemates/Easy To Love//Visitation/John Paul Jones/Eastbound |
| | JWLP-8 - Tenor Man - Lawrence Marable Quartet featuring James Clay [1956] The Devil and the Deep Blue Sea/Easy Living/Minor Meeting/Airtight//Willow Weep For Me/Three Fingers North/Lover Man/Marbles |
| | JWLP-9 - Linear Sketches - Julius Wechter Quartet [1956] Trousseau/Autumn Leaves/Love Letters/Melancholy Baby//CSy's Blues/I Remember You/I'll Close My Eyes/Sissy |
| | JWLP-10 - The Return of Art Pepper - Art Pepper [1/57] Pepper Returns/Broadway/You Go To My Head/Angel Wings/Funny Blues//Five More/Minority/Patricia/Mambo De La Pinta/Walkin' Out Blues |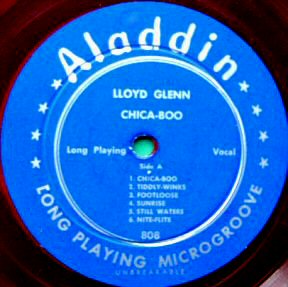 Back to the Aladdin Records Story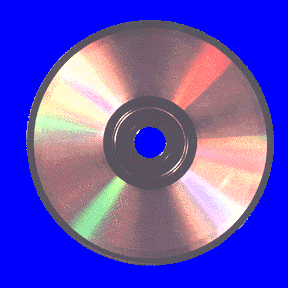 Back to the Discography Listings Page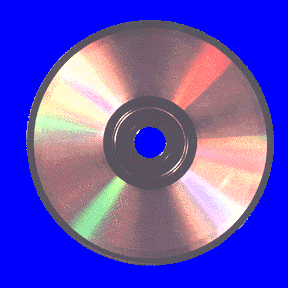 Back to the Both Sides Now Home Page