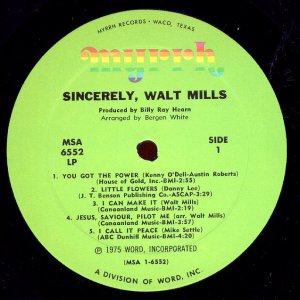 Myrrh Album Discography
By Mike Callahan, David Edwards, and Patrice Eyries
Last update: April 17, 2003






Myrrh was started in 1972 as a division of Word Records. It was established by Billy Ray Hearn, who four years later left Myrrh and founded Sparrow Recordsas a direct competitor to Word and Myrrh. Myrrh was the mainstay of Word's "popular music" sounding religious issues. At one point, Word was issuing more titles on Myrrh than Word itself, but in the year 2000, Word announced it was discontinuing the label and shifting the artist roster to Word.

Probably the biggest "find" for Myrrh was teenage singer Amy Grant, who hit the Contemporary Christian Music scene like a bomb in 1977. So popular were her albums, that Myrrh's parent company, Word, entered into an agreement with A&M Records to reissue her album catalog on A&M, a secular label. In addition, A&M promoted Amy Grant as a pop music artist, much to the annoyance of many in the CCM field. In 1985, her first concurrent Myrrh/A&M release featured the "star" treatment, with four different album covers (see pictures in discography, below).

Another Myrrh act which interested A&M was Petra, a popular Christian rock and roll group. Their back catalog was also reissued on A&M, but they never achieved the pop music status of Amy Grant. In addition to these two artists' CDs being issued in A&M's pop music series, hundreds of Word, Myrrh, and other Word-distributed labels' back and current catalog items were put out by A&M in a special WR-8100 series.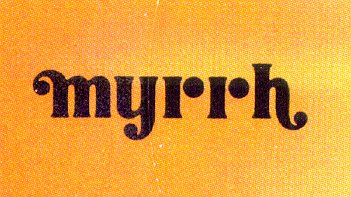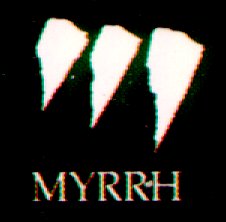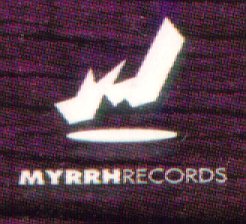 The logo has changed over the years, from simply the word "myrrh" in lower case, used during the 1970s and 1980s, to two different stylized "M" logos, used in the late 1980s and throughout the 1990s.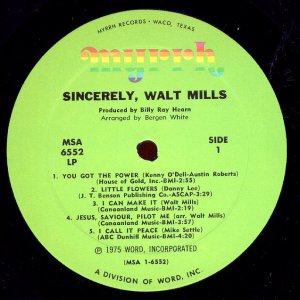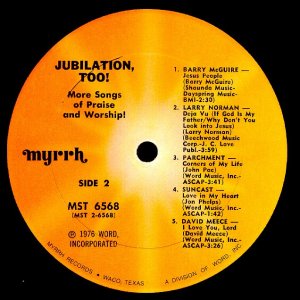 There were two major label designs. The first was green with a multicolored logo at the top. This was used from the start of the label in 1972 until about 1974. This was replaced by an orange label with black print, which was used from about 1975 and all throughout the 1980s.




We would appreciate any additions or corrections to this discography. Just send them to us via e-mail. Both Sides Now Publications is an information web page. We are not a catalog, nor can we provide the records listed below. We have no association with Myrrh or Word Records. Should you be interested in acquiring albums listed in this discography (almost all of which are out of print), we suggest you see our Frequently Asked Questions page and follow the instructions found there. This story and discography are copyright 2001 by Mike Callahan.



MYRRH ALBUM DISCOGRAPHY

Number - Title - Artist [Release Date] Contents

MST 6500 Series (stereo only):

MST-6501-LP - Day By Day - Vonda Kay Van Dyke [1972]

MST-6502-LP - All I Am Is What You See...I Pray You See the Truth In Me - Randy Matthews [1972] Revolutionary Cause/All I Am Is What You See (Self Portrait)/Johnny/Power Through You, People/Time To Pray//Sunny Day/Leader Liberator/Flesh Of My Flesh/Important Things/Country Faith

MST-6503-LP - Crimson Bridge - Crimson Bridge [1972]

MST-6504-LP - Dust - Dust [1972]

MST-6505-LP

MST-6506-LP

MST-6507-LP

MST-6508-LP

MST-6509-LP - Hear the Cryin' - Ray Repp [1972]

MST-6510-LP

MST-6511-LP - Ron Salsbury & the J.C. Power Outlet - Ron Salsbury & J.C. Power Outlet [1972] Suddenly/Back Home/Long Time Comin'/Love Song/Denominations/Nick Of Time/Don't Shine It On/Lord It's In Your Hands/Satisfied (Crouch Lexicon Music)/Real Peace

MST-6512-LP - A Special Kind of Man - Ray Hildebrand [1973]

MST-6513-LP - Begin Again - Nutshell [1973] Love With No Limit/Don't Let Me Fall/Caroline/In The Father's Hand/Starry Eyed And Laughing//First Snow/Take Me Down/Stay Close/The Dancer/Heaven In Your Heart

MST-6514-LP - I'll Make It - Beautiful Zion Choir [1973]

MST-6515-LP - Son of Dust - Randy Matthews [1973] It Ain't Easy/Holy band/The bad Has made It Better/Mighty Fine/Brown-Eyed Woman/Here I Am/On The Road/Evacuation Day/Didn't He/Pharaoh's Hand

MST-6516-LP

MST-6517-LP - Gray of the Morning - Gene Cotton [1973] Question/Apathy/Lean On One Another/Help You Smile/others

MST-6518-LP - Fool's Wisdom - Malcomb & Alwyn [1973] (Malcolm Wild and Alwyn Wall.) Say It Like It Is/Fool's Wisdom/Tomorrow's News/Growing Old/Things Are Getting Better//Heaven Or Hell/Seed Of Corn/The World Needs Jesus/Always On My Mind/It's Here The Answer Lies

MST-6519-LP - Seeds - Barry McGuire [1973] Reissued as MSA 6519. Love Is/To Know Love/Last Daze Waltz/Peace/Enter In/David And Goliath/Lear jets-Father's Son/Railroad man/Use The Crosswalk/Shauna's Song

MST-6520-LP - Tomorrow Belongs to You - Danny Thomas [1973] The Need To Be./Storms of Troubled Times/Dionne/others

MST-6521-LP - In the Spirit - Beautiful Zion Choir

MST-6522-LP - I'll Still Be Loving You - Danny Thomas [1974]

MST-6523-LP - Honeytree - [Nancy] Honeytree [1974] I Don't Have To Worry/Only God/Treasures/Sweet rain/Hallelujah, Outasight!/Job's Song/Resist The Devil/So Much Man/Clean Before My Lord/Honeytree

MST-6524-LP - Liberty - Gene Cotton [1974] Sunshine Roses/Man Buyin' Names/Country Spirit/Mrs. Oliver/I'd Hate To Be A Black man//There Is A Breeze/Pharaoh's Hand/About You Girl/All That Keeps You Going/The Great American Novel/Liberty

MST-6525-LP - Forgiven - Ron Salisbury & J.C. Power Outlet [1974] I Choose To Follow/Peace And Power/Oh My Jesus/Too Bad/My Friend/Give Him Your Love/Goodbye/My Sign/Don't Let Jesus Pass You By/Open Your Spiritual Eyes

MST-6526-LP - With Footnotes - 2nd Chapter of Acts [1974] Love Peace Joy/Which Way The Wind Blows/Goin' Home/With Jesus/The Devil's Lost Again/I Don't Wanna Go Home/Easter Song/He Loves Me/Good News/I Fall In Love-Change/The Son Comes Over The Hill

MST-6527-LP - Petra - Petra [1974] Reissued as MSA-6527. Parting Thought/Walkin' In The Light/Mountains And Valleys/Lucas McGraw/Wake Up/Back Sliding Blues/Get back To The Bible/Gonna Fly Away/I'm Not Ashamed/Storm Comin'

MST-6528-LP - Reflections of the Man Inside - Eddie Robinson [1974] Reissued as MSA- 6528. I Give My All To Thee/Reflections Of The Man Inside/Brand New/I Thank You Father/The Door Is Open/You Are Never Left Alone/I've Been Touched/God Is On My Side/I'm Leaving It Up To You

MST-6529-LP

MST-6530-LP - The Way I Feel - Honeytree [1974] Reissued as MSB-6530. Simple Song/I've Got A Lot To Learn/Precious Promises/I Believe In Heaven/Drinkin'/Honeytree/Little Things/You And Me/Hummer Bummer Bashmobile/Dove/Heaven's Gonna Be A Blast

At approximately this point, catalog number prefix changes and suffix is dropped. Some original issues from 1974 listed below still have the old numbering system.

MSA-6531 - Lighten Up - Barry McGuire [1975]

MSB-6532 - This Time, Lord - Ray Price [1975]

MSB 6533 - Now I Have Everything - Wanda Jackson [1975] Don't Ever Let Go Of My Hand/Let This Be My Attitude/Heaven's Gonna Be A Blast/When The Saints Go Marchin' In/Oh How I Love Jesus/Jesus Put A Yodel In My Soul//Now I Have Everything/Pick Me Up Lord/Jesus, I Love You/Some Call Him Jesus/Let's Just Praise The Lord/Pass Me Not O Gentle Savior

MSA 6534 - Wildwall - Malcolm & Alwyn [1975] I Feel Fine/I Love You More Than Yesterday/Spaceman/Someone To Sing To/I'll Carry You Through//Buried Alive/Stay With Me/I Love/Wildwall/England Goodbye

MSA 6535 - Just Being Alive - Henry Jackson Company [1975]

MSA 6536 - Days Go By - Aleksander John [1975] Hallelujah/I've Got A Real Home/Living Machine/Days Go By/Wings/Hymn/Me And The Tune Of This Song/Should I/Spare Our Families/Wedding Song

MSA 6537-LP - I Have Returned - Marijohn (Wilken) [1974] With liner notes by Kris Kristofferson and piano by Jerry Smith. One Day At A Time/It All Belongs To The Father/The Scars In The Hands Of Jesus/God Is Love/Behold The Man//Nearly 2,000 Years Ago/Speak Louder/Without You/Trial Trip/I Have Returned

MSB 6538 - Like Old Times Again - Ray Price [1975]

MSA 6539 - Jesus Is My Kind of People - Danny Thomas

MYR-6540 - Love Peace Joy - Various Artists [1974] Love Peace Joy - 2nd Chapter Of Acts/Fool's Wisdom - Malcom & Alwyn/I Give My All To Thee - Eddie Robinson/I Don't Have To Worry - Honeytree/It Ain't Easy - Randy Matthews/Think About What Jesus Said - Love Song//A Love Song - Love Song/Love Is - Barry McGuire/Hallelujah - Aleksander John/Simple Song - Honeytree/I Choose To Follow - Ron Salsbury/Parting Thought - Petra

MSA 6541 - Love Peace Joy: Jesus Music from Myrrh Records - Various Artists [1974] Promo issue. Love Peace Joy - 2nd Chapter Of Acts/Fool's Wisdom - Malcom & Alwyn/I Give My All To Thee - Eddie Robinson/I Don't Have To Worry - Honeytree/It Ain't Easy - Randy Matthews/Think About What Jesus Said - Love Song//A Love Song - Love Song/Love Is - Barry McGuire/Hallelujah - Aleksander John/Simple Song - Honeytree/I Choose To Follow - Ron Salsbury/Parting Thought - Petra

MSA 6542 - In the Volume of the Book - 2nd Chapter of Acts [1975] Start Every Day With A Smile/Yahweh/Something Tells Me/The Grey Song/Now That I Belong To You/Ps. 63/Prince Song//Morning Comes When You Call/Borrowed Time/Last Day Of My Life/Hey Whatcha' Say/Keep On Shinin'/I Can't Get Near You

MSA 6543 - Hill Climbing for Beginners - Water into Wind Band [1974]

MSA 6544

MSA 6545

MSX-6546 - Now I Understand - Randy Matthews [1975] (2-LP set)

MSA 6547 - Eyes to the Sky - Randy Matthews [1975] It Took A Carpenter/Oh My/Paid In Full/There's A Shadow Over The Land/Wounded Warrior//Captain/Guardian Angel/Pennsylvania Song/In The Morning/Four Horsemen

MSX-6548 - To the Bride - Barry McGuire & 2nd Chapter of Acts [1975] (2-LP set) Disc 1: Intro/Come To Praise The Lord/Little Bitty Dude/He's Comin' Back/Sad Song/Happy Road/Acts Intro//Which Way's The Light/Love, Peace, Joy/Layers/I Wonder/Ogre/Am I Seeing You/Denomination Blues/A Friend/Jimmy's Song/Snow White/Prince Song; Disc 2: He Alone Is Worthy/Easter Song/He Is Coming/Anyone But Jesus/The Only Way/Sing The Melody/Shock Absorbers/Chosen Generation//Jesus People/I Walked A Mile/Dolphins/Callin' Me Home/Each Other/Doesn't That Bible Say/Brainwashed/Doesn't That Bible Say (Reprise)

MSA 6549 - Where I'm Going - Marijohn (Wilkin) [1975] Back In The Fold/Rest Me Jesus/Here I Am/Our Little Old Home Town/He Is God/His Kind Of Love//It's A Brand New World/He Is/Give It Away/He's Been Through It Too/Where I'm Going

MSA 6550 - The Pat Terry Group - Pat Terry Group [1975] Gospel Music/Forget There Was A Yesterday/You'd Be There/Holding On/I Can't Wait//That's The Way/When I Go Passing On/When The Lord Comes Back/Tell Them What I've Done/Meet Me Here

MSA 6551 - Shamblejam - Parchment [1975] Denomination Blues/Green Psalm/Shine On Me/Changes/Don't Let The Morning Come/Corners Of My Life/Speakers Corner/Morning Sky/My Man On Love/Light Of The World/Long As I Can See You

MSA 6552 - Sincerely, Walt Mills - Walt Mills [1975] You Got The Power/Little Flowers/I Can Make It/Jesus, Saviour, Pilot Me/I Call It Peace//Precious Lord, Take My hand/The Wonder Of It All/Top Of The Mountain/When Will You Surrender/The Lord Is My Shepherd


At approximately this point, the label changes from the green label to the orange label.


MSA 6553 - Evergreen - (Nancy) Honeytree [1975] Evergreen/It's Only Right/Lovely Jesus, Here I Am/Mary And Martha/Ruth/I Am A Servant/Rattle Me Shake Me/Searchlight/Say You Told Me So/Sometimes I Need You/Lullaby In Jesus' Name

MSB 6554 - Love Song & Other Greats - SonLight Orchestra

MSX-6555 - Jubilation - Various Artists (2-LP set) Disc 1: Enter In - Barry McGuire/The Sacrifice Lamb - Lamb/Easter Song - SonLight Orchestra/Johnny - Randy Matthews/Back Sliding Blues - Petra//You Got The Power - Walt Mills/I Choose To Follow - Ron Salsbury & J.C. Power Outlet/Clean Before My Lord - Evie/Light Of The World - Parchment/I Can't Wait - Pat Terry Group; Disc 2: I Fall In Love-Change - 2nd Chapter Of Acts/Didn't He - Ray Hildebrand/Heaven's Gonna Be A Blast - Honeytree/Days Go By - Aleksander John/A Love Song - Love Song//Dear Malcolm, Dear Alwyn - Larry Norman/Tomorrow's News - Malcom & Alwyn/Come Let Us Reason Together - Ken Medema/Think About What Jesus Said - Chuck Girard & Love SongWhere I'm Going - Marijohn

MSB 6556 - Make Me Like a Child Again - Wanda Jackson [1976] Make Me Like A Child Again/Fill My Cup, Lord/Victory Jesus/One Day At A Time/Say "I" Do//Touring That City/Scars In The Hands Of Jesus/Because He Lives/How Do You Treat God/Lord I'm Coming Home

MSA 6557 - Liberation Suite - Liberation Suite [1976] Led To Roam/Run, Run, Lucifer/My Lord Is A Remedy/Oh Lord, You Know (That I Feel So Fine)/Reachin' For The Sky/More Than A Matter/Presence Of The Lord/Hearken/I Wanna Be With You

MSB 6558 - Reach-Up - Marijohn (Wilkin)

MSB 6559

MSA 6560 - Sometimes Alleluia - SonLight Orchestra [1976] I Can't Wait/Prince Song/You Got The Power/Sometimes Alleluia/Searchlight//I Am A Servant/Say "I Do"/For Those Tears I Died/Clean Before My Lord/It Took A Carpenter

MSA 6561 - Mike Warnke Alive - Mike Warnke [1976] Preacher Lessons And Cookie Cutters/Tennessee Home And Blanlety-Blank/Catholics And Hell/Bible Stories And Jonah/Do's And Don't/The Occult/The Jesus Freaks/Scuzball/Catholics And Heaven/Suicide And The Gospel Trio/The Navy's Grade A Number One Fruitcake-WOW/Three To The Cubicle/The Gideon Bible And The Mop Closet/Like Yourself

MSA 6562 - David - David Meece [1976] I'll Sing This Song For You/Come Home America/Jesus/I Love The Way He Smiles At Me/I Love You, Lord//Touch My hand/Take Me Together/Got To Know You're There/Imagine What It'd Be Like/I'll Sing This Song For You (Reprise; Instrumental)

MSA 6563

MSA 6564 - White Horse - Michael Omartian [1976] Jeremiah/Fat City/The Orphan/Silver Fish/Add Up The Wonders/Take Me Down/Right From The Start/The Rest Is Up To You/White Horse

MSA 6565 - The Greatest of These Is Love: A Collection of Christian Love Songs - Various Artists [1976] I'll Sing This Song For You - David Meece/I Love You More Than Yesterday - Malcolm & Alwyn/God, A Woman And A Man - Lilly Green/That's The Way - Pat Terry Group/Flesh Of My Flesh - Randy Matthews//Answer To My Prayer - Pat Terry Group/Treasures - Honeytree/Kind Of A Woman: A Dedication To Carol - Al Mossburg/Window - Judy Kelly/Song For Sarah - Randy Stonehill

MSA 6566 - Songs of the South - Pat Terry Group [1976] Songs Of The South/You Got Me/Lord Of All/What Good's It Gonna Do Ya/Nothing You Can't Do/Home Where I Belong/Restored/Help Me Love You More/All I Ever Need/Daniel/Happy Man

MSA 6567 - In Touch Again - Suncast [1976] Glory/Watchin' The River Run/Long, Long Time/Lift Me Up/All That I Have//Love In My Heart/September/Farther Along/Driftin'/Evening Song/In Touch Again

MST 6568 - Jubilation, Too - Various Artists [1976] (2-LP set) Disc 1: You Ask Me Why - Chuck Girard/Sometimes I Need You - Honeytree/I Can't Wait - SonLight/What A Day - Phil Keaggy/Silver Fish - Michael Omartian//Jesus People - Barry McGuire/Deja Vu (If God Is My Father- Whay Don't You Look Into Jesus) - Larry Norman/Corners Of My Life - Parchment/Love In My Heart - Suncast/I Love You Lord - David Meece; Disc 2: Last Day Of My Life - 2nd Chapter Of Acts/Christmas Song For All Year 'Round - Randy Stonehill/Window - Judy Kelly/I Love - Malcolm & Alwyn/Guardian Angel - Randy Matthews//You Got Me - Pat Terry Group/Meet Me Here - Evie/Ode To Bethlehem - Lamb/For My Children - Paul Clark/Reachin' For The Sky - Liberation Suite

MSB 6569 - Chris Christian - Chris Christian [1976] Why Does The Devil (Have All The Good Music)?/Mountain Top/Starving Sinner, Sleeping Saint/Odessa Beggarman '74/Hallelujah//Get Back To The Bible/Great, Great Joy/Grave Cave/You Are Love/I Don't Deserve

MSB 6570 - Especially for You - Lilly Green [1977]

MSA 6571 - The Best of Randy Matthews - Randy Matthews [1976] Country Faith/Sunny Day/Johnny/Time To Pray/Brown-Eyed Woman/Holy Band/Evacuation Day/It Took A Carpenter/Guardian Angel/The Picnic/Didn't He

MSB 6572 - Face to Myrrh - Dave Pope

MSB 6573 - True Stories - Kevin Gould [1977]

MSB 6574 - Home Where I Belong - B.J. Thomas [1976] Without A Doubt/You Were There To Catch Me/Storybook Realities/Common Ground/Down Isn't So Bad//Home Where I Belong/Starving Sinner, Sleeping Saint/Shine On/I Wanna Be Ready/Hallelujah

MSB 6575 - Gary Limpic & Mark Rayburn with Dave Pollard - Limpic & Rayburn [1976] Sunshine In My Soul/Empty Words/Samuel/Love You/Come To The River//Flying Away/Freedom And Peace/Second Childhood/Door In My Life/Where Are You Gong?

MSA 6576 - Adam Again - Michael Omartian [1976]

MSB 6577 - Joy By Surprise - Bob Ayala [1976]

MSB 6578 - I Just Call on You - David Meece [1977]

MYR 6579 - Great Great Joy - Various Artists [1977]

MYR 6580 - Power Music - Various Artists [1977] Rock 'n' Roll Preacher - Chuck Girard/Storybook Realities - B.J. Thomas/No Matter What Shape You're In - Michael Omartian/Mansion on the Sand - Tom Howard/Searchlight - SonLight Orchestra//Keep Me Running - Randy Stonehill/Love Broke Thru - Phil Keaggy/The Rock That Doesn't Roll - Larry Norman Daniel - Pat Terry Group/You Are Love - Chris Christian

MSB 6581 - Truth Is the Power - Mighty Clouds of Joy [1977]

MSB 6582 - Come and Join Us - Petra [1977] God Gave Rock & Roll To You/Ask Him In/Sally/Without You I Would Surely Die/Come And Join Us//Where Can I Go/Holy Ghost Power/Woman Don't You Know/God gave Rock & Roll To You (Reprise)

MSB 6583

MSB 6584 - Me and My Old Guitar - Nancy Honeytree [1977]

MSB 6585

MSB 6586 - Amy Grant - Amy Grant [1977] Beautiful Music/Mountain Top/Psalm 104/Old Man's Rubble/Brand New Start/Grape, Grape Joy/Walking In The Light/What A Difference You've Made/Father/I Know Better Now/Lord Has A Will/On And On/He Gave Me A New Song

MSB 6587 - Fireworks - Fireworks [1978]

MSB 6588

MSA 6589 - Jester In the King's Court - Mike Warnke [1977]

MSB 6590 - Sweet Music - Pat Terry Group [1977] Ladder Of Love/To Me For You/I Feel Free/Wonder Of Your Love/Sweet Music/One Step Closer/Never Lose A Minute/New New New/You/Melody For You/Things I Never Knew

MSB 6591 - The Melodies In Me - Nancy Honeytree [1978]

MSB 6592 - Flyaway - Nutshell [1978]

MSB 6593 - Happy Man - B.J. Thomas [1978]

MSB 6594 - Gospel Seed...Growing - Gospel Seed [1977] Also issued with bonus disc SPL-130 (see bottom of page for contents). The Singer's Song/The Fool/Salvador/Top Ten/To The Father//Lines/A Colorful Little Tune/The Vow/Count The Cost/The Last Song (We Ever Sing)

MSB 6595 - Caught In the Crossfire - Limpic & Rayburn [1978]

MSB 6596 - The Prize - Alwyn Wall Band [1977] Also issued with bonus disc SPL-130 (see bottom of page for contents). Fly Me/Dreams On Sand/South California/Music Maker/Musical Thing//That's Life/Hall Of Mirrors/All That Really Matters/I Don't Care/All Because Of You

MSB 6597 - Love Song For the Earth - Garth Hewitt

MSY-6598 - How the West Was One - 2nd Chapter of Acts & Phil Keaggy [1977] (3-LP set) Concert Intro/Hey Whatcha Say/Keep On Shinin' (with spoken intro)/I Fall In Love-Change (with spoken intro)/Now That I Belong To You/Phil's Intro/What A Day (with spoken intro)/Love Broke Through (with spoken intro)/Take Me Closer (with spoken intro)/My Life (with spoken intro)/Another Try (with spoken intro)/Rejoice (with spoken intro)/Just The Same (with spoken intro)/Hallelujah (with spoken intro)/Time/Easter Song (with spoken intro)/Dance With You (with spoken intro)/Which Way The Wind Blows/Something Tells Me (with spoken intro)/Yahweh/Ps 61 (with spoken intro)/Grinding Stone/Receive/Medley: Morning Comes When You Call-Son Comes Over The Hill (with spoken intro)

MSA 6599 - Hey Doc! - Mike Warnke [1978] Out Of Place/Hell Bent/A Hippie's Luck/Blind Pockets/Sergeant Klutzo Goes To Nam/Harpooned Hippo/Circle The Wagons/Passin' Out//Teddy Bear's Snake/Hey Doc/Go!

MSB 6600 - Chance - Chris Christian [1978] Now I See The Man/Satisfaction Guaranteed/Passing Through/Please, Please/From The Start//Sail On/Lonely Man/The World Is A Jungle/Second Chance/First Morning In Heaven

MSB 6601 - Superjubilation! - Various Artists [1978] (2-LP set) Disc 1: To The Ancient Of Days - Bob Ayala/Sweet Music - Pat Terry Group/To The Father - Gospel Seed/A Nation's Prayer - Bruce Hibbard/The Prince Song - 2nd Chapter Of Acts/Follow Me (And I'll lead You Home) - David Meece//Aren't You Glad - Michael Omartian/Where Can I Go - Petra/Ain't It Grand (To Be A Christian) - Honeytree/Shipwreck - Paul Clark/All That I Can Do - Love Inn Company; Disc 2: Why Does The Devil (Have All The Good Music)? - Chris Christian/Flyaway - Nutshell/Song For Mom - Steve Camp/Life's Greatest Posession - Lilly Green/All Because Of You - Alwyn Wall Band/Hallelujah - B.J. Thomas//New day - Fireworks/Another Try - Phil Keaggy/To Learn By Living - Tom Howard/Mountain Top - Amy Grant/Caught In The Crossfire - Limpic & Rayburn

MSB 6602

MSB 6603 - Glad - Glad [1978] All Things/Epheaus/Rely On Your Love/Love That Never Dies/Master Of Us All/So Hard Alone/Trilogy:Three Voices/Psalm 121

MSB 6604 - Sayin' It with Love - Steve Camp [1978]

MSB 6605 - Behold! - Billy Preston [1978]

MSB 6606 - Seasons of the Soul - Michael & Stormie Omartian [1979] Ms. Past/Travel On With Me/Gonna Write Me A Song/More Like You//Where I Been/It All Comes Down To You/Heaven Will Wait For Me/Seasons Of The Soul

MSB 6607 - Universal Love - Billy Preston [1980]

MSB 6608 - Wood Between the Worlds - Bob Ayala [1978]

MSB 6609

MSB 6610

MSB 6611 - Lead Me Home - Dave Mattson

MSB 6612 - Strangers In a Strang Land - Salvation Air Force

MSB 6613 - Begin Again - Nutshell [1979]

MSB 6614 - With Your Love - Chris Christian [1979]

MSB 6615

MSB 6616 - Ordinary Man - Dogwood [1979]

MSB 6617 - Rev. Jesse L. Jackson-Push For Excellence - Operation Push Choir, Andre Couch [1979]

MSB 6618 - I Am Blessed - :Lilly Green [1978]

MSB 6619 - Everybody Needs a Little Help - David Meece [1978]

MSB 6620

MSB 6621 - Start Believing - Steve Camp [1980]

MSB 6622

MSB 6623

MSB 6624 - Hide Away - Brush Arbor [1979] Hide Away /Listen To Your Heart/Oh, I Love You/My Lord/Here I Am//Hello God/How Long/If I Didn't Have Love/You And Me All the Way/Please Make Yourself Known

MSB 6625 - My Father's Eyes - Amy Grant [1979] Father's Eyes/Faith Walkin' People/Always The Winner/Never Give You Up/Bridegroom/Lay Down/You Were There/O Sacred Head/All That I Need Is You/Fairytale/Giggle/There Will Never Be Another/Keep It On Going

MSB 6626

MSB 6627 - Gentle Touch - Gerry Limpic [1979]

MSB 6628 - Shatter the Darkness - Fireworks [1979] Change My Heart/Beautiful Woman/After The Rain/Calling My Name/Rock Band//Like Children/I Know Power/Love You Tonight/Shatter The Darkness/The World

MSB 6629 - Maranatha Marathon - Nancy Honeytree [1979]

MSB 6630 - Nothin' Could Be Better - Lanier Ferguson [1979]

MSB 6631

MSB 6632

MSB 6633 - You Gave Me Love (When Nobody Gave Me A Prayer) - B.J. Thomas [1979]

MSB 6634 - Beyond a Star - Glad [1980] The Reason/Take A Stand/Beyond A Star/Away/Sing A New Song//Iron Sharpens Iron/Lying/Lonely Love/It Is Good/Pierce My Ear

MSB 6635 - Journey - Bob Ayala [1980]

MSB 6636 - The Builder - Michael & Stormie Omartian [1980] Charlie's Dream/The Only Thing Missing Is You/The Builder/Mr. Trash Man/Anything You Ask Of Me//Dr. Jesus/Big Time/Half Past Three/End Times

MSB 6637 - Somebody Loves You - Bob & Pauline Wilson [1981]

MSB 6638 - Praise the Lord - Various Artists [1980]

MSB 6639 - Tony Comer & Crosswinds - Tony Comer & Crosswinds [1980]

MSB 6640 - Believe It or Not - Nutshell [1980]

MSB 6641 - Premiere Performance - Various Artists [1981] Every Little Beat Of My Heart - Milton Carroll/You Don't Have To Try To Be Somebody - Kenny Marks/Everything To Me - Dobie Gray/Until Whenever And Through Whatever - Sharron Bailey/God Has Smiled On Me - Isaiah Jones//Last Train To Glory - Dobie Gray/God's Love Teaches Me - Isaiah Jones/Without The Lord - Sharron Bailey/When I Least Expect It - Kenny Marks/Walking On Clover - Milton Carroll

MSB 6642 - Live Wires - Donn Thomas [1981]

MSB 6643 - Growing Up/Honeytree's Best - Nancy Honeytree [1981]

MSB 6644 - The Best of the Pat Terry Group - Pat Terry Group [1980]

MSB 6645 - Never Alone - Amy Grant [1980] Look What Has Happened To Me/So Glad/Walking Away With You/Family/Don't Give Up On Me/That's The Day//If I Ever Have To Die/All I Ever Have To Be/It's A Miracle/Too Late/First Love/Say Once More

MSB 6646 - Rejoice - Shirley Caesar [1980]

MSB 6647 - David Edwards - David Edwards [1981]

MSB 6648 - Northbound - Northbound [1981]

MSB 6649

MSB 6650 - The Best of Chris Christian - Chris Christian [1980] Myrrh/Home Sweet Home label. Praise The Lord/Mountain Top/Sail On/Get Back To The Bible/Satisfaction Guaranteed/Second Chance/Why Does The Devil (Have All The Good Music)/Odessa Beggarman '74/Now I See The Man/Pray Away/Heed The Call/Great Great Joy

MSB 6651 - Superfest 80 - Various Artists [1980]

MSB 6652 - Are You Ready? - David Meece [1980] Follow You/Peace In My Heart/Comin' Back/Gospel Train/Love One Another//Are You Ready?/Just A Little More Time/Just Have A Little Talk/Satan, Just Leave Me Alone/We Are The Reason

MSB 6653 - The Best of B.J. Thomas - B.J. Thomas [1980]

MSB 6654 - For Every Man - Steve Camp [1981] Jesus On Our Side/Gimme What It Takes/Farther And Higher/Jesus Drawing Me/The Net Of Peter//Thank You/The Only Story (Written In My Life)/You Just Talk To Me/Run To The Battle/Back In The Furnace/For Every Man

MSB 6655 - Nobody Knows Me Like You Do - Benny Hester [1981] Come Back/No Man's Land/Rubber Canoe/Nobody Knows Me Like You/Step By Step//One More Time/Goodbye Salty/Real Change/You Loved Me/Christ The Solid Rock

MSB 6656 - How Will They Know - Denny Correll [1980]

MSB 6657 - The Gathering - New York Community Choir [1981]

MSB 6658 - Young Messiah - New London Chorale [1982]

MSB 6659 - The Lord Reigns - Morris Chapman [1982]

MSB 6660

MSB 6661

MSB 6662 - Don't Give In - Leon Patillo [1981] Blessed Is/Star Of The Morning/My Sweet Lord/We Must Believe/others

MSB 6663 - Cloudburst - Mighty Clouds of Joy [1981]

MSB 6664 - Hero - Brush Arbor [1981] Only For The Love Of The Lord /Come Back Home/Witness/All I Want To Be/Hero//Key There Stranger/Running/Trust In The Lord/God Is Good/St. Peter

MSB 6665 - Go - Shirley Caesar [1981]

MSB 6666 - [number not assigned]

MSB 6667 - Tom Lewis & the Capitol Community Singers - Tom Lewis & Capitol Community Singers [1981]

MSB 6668 - In Concert - Amy Grant [1981] Beautiful Music/Old Man's Rubble/Mimi's House/Father's Eyes/Faith Walkin' People/Walking Away With You/Mountain Top/All I Ever Have To Be/Singing A Love Song/Don't Give Up On Me

MSB 6669 - We Are the Reason - Sonlight Orchestra [1981]

MSB 6670 - Coming Home - Mike Warnke [1981] No Place Like This Place/Radio Preachin'/We Ain't From Here/The Saga Of Dougie & Will//Hell/Repent/Coming Home

MSB 6671

MSB 6672 - I've Got a Reason - Richie Furay [1981] Recorded 1976.

MSB 6673 - Encores - 2nd Chapter of Acts [1981] Which Way The Wind Blows/Easter Song/Last Day Of My Life/Psalm 63/Prince Song//Hey Whatcha' Say/Yaweh/Morning Comes When You Call/Love Peace Joy/He Loves Me/The Son Comes Over The Hill

MSB 6674

MSB 6675 - Amazing Grace - B.J. Thomas [1981]

MSB 6676 - Front Row - David Meece [1982] Heaven Knows/Jesus/Rattle Me, Shake Me/Mother, Muffler, Mozart And The Beatles/All The Time/Never Gonna Serve Anyone Else But You//Gospel Train/Comin' Back/Crucifixion: There Once Lived A Man/Intermezzo/Ten Thousand Angels/The Bystander/Were You There/We Are The Reason

MSB 6677 - In Concert, Volume Two - Amy Grant [1981] Label title is "In Concert, Volume II" I'm Gonna Fly/Too Late/So Glad/Medley: You Gave Me Love-Fill Me With Your Love-What A Difference You've Made//If I Have To Die/That's The Day/Look What Has Happened To Me/Keep It On Going/Nobody Loves Me Like You

MSB 6678 - A New Horizon - Paul Clark [1981] Tell Them All/Breakaway/Broken Fool/The One You Love/He'll Use Me//Every Breath/Here To Stay/Hold On/Distant Shore/More Than Survivors

MSB 6679 - Between the Glory and the Flame - Randy Stonehill [1981] Glory And The Flame/Die Young/Fifth Avenue Breakdown/Grandfather's Song/Find Your Way To Me//Christine/Rainbow/Givin' It Up For Love/Letter To My Family/Farther On

MSB 6680 - You're the One - Donn Thomas [1981]

MSB 6681 - Truth Is The Power - Mighty Clouds of Joy [1981]

MSB 6682

MSB 6683

MSB 6684

MSB 6685

MSB 6686

MSB 6687

MSB 6688 - Higher Education - Mike & Rose Wanke [1982]

MSB 6689 - Giving Him Thanks - Brooklyn Tabernacle Choir [1982]

MSB 6690 - Over Easy - Various Artists [1981]

MSB 6691 - Live with the Oakland Symphony Orchestra - Edwin Hawkins [1982]

MSB 6692 - Longtime Friends - Morris Chapman [1982]

MSB 6693 - Soul Set Free - Bobby Jones [1982]

MSB 6694

MSB 6695 - Seasons of Change - Richie Furay [1982]

MSB 6696

MSB 6697 - Age to Age - Amy Grant [1982] In A Little While/I Have Decided/I Love A Lonely Day/Don't Run Away/Fat Baby//Sing Your Praise To The Lord/El Shadddai/Raining On The Inside/Got To Let It Go/Arms Of Love

MSB 6698 - Humanity Gangsters - Pat Terry [1982]

MSB 6699 - Something I Believe In - Denny Correll [1982] Wake Up Everybody/Too Many Lonely People/Keepin' My Eyes On You/Eternally/You Can Depend On Jesus//Your Love/The Promise/Jesus Is Everywhere/Goin't Up/Changin' My Heart

MSB 6700 - Live, Volume 2 - Edwin Hawkins [1982]

MSB 6701 - Live - Don DeGrate [1982]

MSB 6702

MSB 6703 - It Only Goes to Show - Dave Pope [1982] Reissue of 1979 LP.

MSB 6704 - Legacy - Benny Hester [1983] Legacy /Closer/It Took So Long/Melody Man/Sensitive Heart//Caught Away/Out Of The Natural/Nobody's Listening/Footprints/These Things Were Done By You

MSB 6705 - Miracle - B.J. Thomas [1982]

MSB 6706 - Walls of Glass - Russ Taff [1983] Tell Them/Walls Of Glass/I Want To Change/Pure In Heart/We Will Stand//Jeremiah/Inside Look/Just Believe/Kathryn's Song/Unto The lamb

MSB 6707 - Star of the Morning - Sonlight Orchestra [1982]

MSB 6708 - So In Love - Brooklyn Tabernacle Choir [1982]

MSB 6709 - Instrumental Appetite - Keith Thomas [1983]

MSB 6710 - Peace in the Valley - B.J. Thomas [1982] Peace In The Valley/Rock Of Ages/What A Friend We Have In Jesus/Love Lifted Me/Precious Lord Take My Hand//I'll Fly Away/Where No One Stands Alone/It Is No Secret/Family Bible/Softly And Tenderly

MSB 6711 - I'll Never Stop Lovin' You - Leon Patillo [1982]

MSB 6712

MSB 6713 - Dark Horse - John Fischer [1982] Packaged with bonus LP "Valualbum SPL- 135" (see contents at bottom of this page). Dark Horse/Beggar/Only A Few/Fallin' In Love/Christopher's Toes//Nobody Wants To Die/Losin' Is Winnin'/Roses On Wednesday/Lookin' Straight On/Leavin' It All To You

MSB 6714 - Follow Him - Kenny Marks [1982]

MSB 6715 - Come into His Presence - Paul Clark [1982]

MSB 6716 - Reachin' Out - New York Community Choir [1982]

MSB 6717 - Brother to Brother - Williams Brothers [1982]

MSB 6718 - Get the Picture - David Edwards [1983]

MSB 6719

MSB 6720 - Restless Heart - Paul Field [1983] Rock With The Best Of Them/Nothing Matters Without You/Radio/Has To Be You, Has To Be Me/Solo//Positive/The Storm Is Over/Fairfight/Stranger In Your Eyes/Just Around The Corner

MSB 6721 - Jesus - Shirley Caesar [1982]

MSB 6722

701 6723 062 - It's a Dying World - Steve Camp [1984]

MSB 6724 - The Master's Collection - Various Artists [1982] Praise The Lord - Imperials/Run To The Battle - Steve Camp/My Father's Eyes - Amy Grant/Star In The Morning - Leon Patillo/Nobody Knows Me Like You - Benny Hester/Home Where I Belong - B.J. Thomas/Mirror - Evie/I Believe Sweet Lord - Dion/Clean Before My Lord - Honeytree/We Are The Reason - David Meece

MSB 6725 - The Best of B.J. Thomas, Volume 2 - B.J. Thomas [1983] The Only Man Made Thing In Heaven Are The Scars On Jesus' Hands/Would They Love Him Now/Satan, You're A Liar/I Need A Miracle/Evermore//Odessa Beggarman/I Wanna Be Ready/Bridge Of Love/I Believe/Hallelujah

MSB 6726

MSB 6727 - Drawn to the Light - Paul Clark [1982]

MSB 6728 - Live Experience - Leon Patillo [1983]

MSB 6729 - Growing Up - Mike & Rose Warnke [1983] reissued as Myrrh 701 6729 060

MSB 6730

MSB 6731 - Omartian Odyssey: The Musical Journey of Michael & Stormie Omartian - Michael & Stormie Omartian [1982] Ain't You Glad/Ms. Past/Anything You Ask Of Me/Big Time/Seasons Of The Soul//Jeremiah/See This House/It All Comes Down To You/White Horse/Here He Comes

MSB 6732 - Shirley Caesar - Shirley Caesar [1983]

MSB 6733 - Abiding Praise - Various Artists [1983]

MSB 6734

MSB 6735 - White Heart - White Heart [1982] Myrrh/Home Sweet Home label. Hold On/You're The One/Listen To The Lonely/He's Returning/Carry On//Guiding Light/Everyday/Nothing Can Take This Love/Black Is White/Go Down Nineveh

MSB 6736 - Hear My Voice - Rance Allen Group [1982]

MSB 6737 - Not Ashamed - Don DeGrate [1983]

MSB 6738 - Come Together - Bobby Jones [1983]

MSB 6739 - I Will Follow - Brush Arbor [1983] Reissued as Myrrh 701 6739 066. Then Came You/Have I Got A Story For You/Love Is All I Need/Praise His Name/I Will Follow//I Got You/It's All Right/Psalm 103/Dancin' With The Angels/Let's All Go Down To The River

MSB 6740 - Be a Receiver - Benny Hester [1983] Be A Receiver/Squeeze You/Sure Of Your Call/Jesus Came Into My Life/The Door//Gonna Happen Here/Only You/Such A Relief/All You Can Do/We All Know He's Comin'

MSB 6741 - Eye of the Storm - Mark Heard [1983] Myrrh/Home Sweet Home label.

MSB 6742 - Equator - Randy Stonehill [1983]

MSB 6743 - Beyond Saturday Night - Leslie Phillips [1983] Hourglass Gina/Put Your Heart In Me/I'm Finding/Beyond Saturday Night/Bring Me Through/Heart Of Hearts/Will They Love Him/He's Gonna Hear You Cryin/Let Me Give

MSB 6744 - Count the Cost - David Meece [1983] CD reissue Myrrh 701 6744 612. Gloria/Making My Life Brand New/Falling Down/Pressing On/Some People They Never Believe//Count The Cost/I Don't Know What I'd Do Without You/Today Is The Day/And You Know It's Right/Replace It With Your Love

MSB 6745 - Feel the Spirit - Williams Brothers [1983]

MSB 6746 - Love Them While We Can - Chris Christian [1983] Love Them While We Can/Put Your Trust/We're Our Only Captain/Too Heavenly Minded/Give Up Yourself//Weight Of The World/One Man's Toy/Sweet Destiny/Why Are We First/Pray For Me Always

MSB 6747

MSB 6748 - Film at Eleven - Pat Terry Group [1983]

MSB 6749

MSB 6750 - Press On - Joe English [1983] Stop/Echoes Of The Spirit/Royal Priesthood/The Harvest/Press On//Power Of Prayer/All My Heart/Let Me Praise You Again/Roll Of Life/To Know The Heart Of Jesus

MSB 6751 - Through His Eyes - Steve Archer [1983] Also Myrrh/Home Sweet Home 701 6751 066

MSB 6752

MSB 6753 - More - Mylon & Broken Heart [1983]

MSB 6754 - Rock of Ages: Rock and Roll from the Third Dimension - Various Artists [1983]

MSB 6755

MSB 6756 - Record Makers - Various Artists [1983]

MSB 6757 - Straight Ahead - Amy Grant [1984] Reissued as 701 6757 064. Where Do You Hide Your Heart/Jehovah/Angels/Straight Ahead/Thy Word//It's Not A Song/Open Arms/Doubly Good To You/Tomorrow/The Now And The Not Yet

Numbering system changes to SPCN roughly late 1983:

701 6758 060 - Live Forever - Mylon & Broken Heart [1983]

701 6759

701 6760

701 6761 061 - Star Shower - Various Artists [1983]

701 6762

701 6763

701 6764 060 - Walk That Talk - Tom Franzak [1983]

701 6765 06? - Celebrate This Heartbeat - Randy Stonehill [1984]

701 6766

701 6767

701 6768 066 - A Christmas Album - Amy Grant [1983] Also issued as MSB-6768

701 6769 06? - Living Water - Denny Correll [1983] The Witness /You Can Depend On Jesus/New Life In Me/Standin' In The Light/Living Water//Jesus Is Everywhere/The Promise/Wings Of The Wind/Too Many Lonely People/How Will They Know

701 6770

701 6771 067 - The Sky's the Limit - Leon Patillo [1984]

701 6772 06? - The Praise in Us - Various Artists [1983]

701 6773 06? - Over Easy, Volume 2 - Various Artists [1983]

701 6774

701 6775

701 6776 069 - Only the Very Best - Steve Camp [1983]

701 6777

701 6778

701 6779

701 6780

701 6781 06? - Courts of the King - Ted Sandquist [1983] All That I Can Do/Waiting For The Lord/Lion Of Judah/others

701 6782 069 - Vital Signs - Whiteheart [1984] Myrrh/Home Sweet Home label. Sing Unto The Lamb/Draw The Line/Walking In The Light/Carried Away/Quiet Love/Following The King/Let Your First Thought Be Love/Undercover/Vital Signs/We Are His Hands

701 6783 065 - Trust in God - Al Green [1984] Don't It Make You Wanta Go Home/Up The Ladder To The Roof/Ain't No Mountain High Enough/Trust In God/No Not One//Lean On Me/Never Met Nobody Like You/Holy Spirit/Trust In God (Reprise)/All We Need Is A Little More Love

701 6784

701 6785

701 6786 06? - Out of the Shadow - Paul Clark [1984]

701 6787

701 6788

701 6789

701 6790 061 - Sheep in Wolves Clothing - Mylon & Broken Heart [1985]

701 6791

701 6792 064 - Medals - Russ Taff [1985]

701 6793

701 6794

701 6795

701 6796 06X - The Wonders of His Love - Philip Bailey [1984]

701 6797 066 - Ashes and Light - Mark Heard [1984] Myrrh/Home Sweet Home label.

701 6798 062 - Light Maneuvers - Servant [1984]

701 6799 069 - Let the Music Start - Chris Christian [1984] Myrrh/Home Sweet Home label.

701 6800

701 6801

701 6802 06X - Dancing with Danger - Leslie Phillips [1984] Dancing With Danger/I Won't Let It Come Between Us/Strength Of My Life/Give'Em All You've Got (Tonight)/By My Spirit//Hiding In The Shadows/Powder Room Politics/Light Of Love/Song In The Night/Here He Comes With My Heart

701 6803 066 - Inhabitants of the Rock - David & Giants [1984]

701 6804

701 6805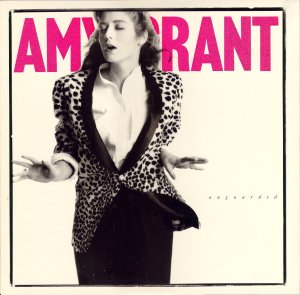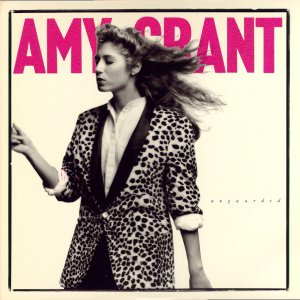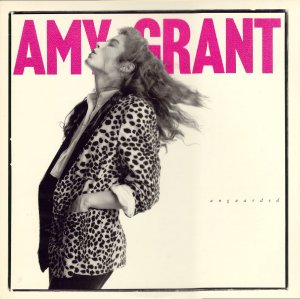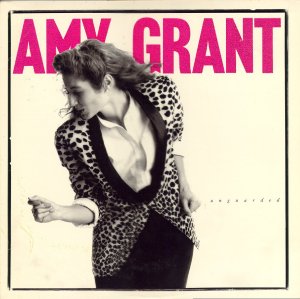 701 6806 065 - Unguarded - Amy Grant [1985] This album was issued with four different covers, each with a different pose from an Amy Grant photo shoot. The covers were coded with the letters W-O-R-D at the base of the spine of the record jacket. Above, from left, are the W, O, R, and D covers. Love Of Another Kind/Find A Way/Everywhere I Go/I Love You/Stepping In Your Shoes//Fight/Wise Up/Who To Listen To/Sharayah/The Prodigal

701 6807 061- Comin' on Strong - Carman [1984] CD 701 6807 614

701 6808

701 6809

701 6810

701 6811 069 - Love Beyond Reason - Randy Stonehill [1985]

701 6812 065 - 7 - David Meece [1985] You Can Go/Tumblin' Down/Forgiven/The Ladder/The Alien//We Can Overcome It All/The Unknown Soldier/Lean On Each Other/I Can See

701 6813 061 - What You Need - English Band [1985]

701 6814

701 6815 064 - One Heart at a Time - Don Francisco [1985]

701 6816 06? - Building Bridges - Paul Field [1985]

701 6817 06? - Feed the Hungry Heart - Adrian Snell [1985]

701 6818 063 - Walking in the Light - Cliff Richard [1984]

701 6819

701 6820 068 - Let the Wind Blow - Imperials [1985]

701 6821

701 6822 060 - Love Around the World - Leon Patillo [1985] Myrrh LA label.

701 6823

701 6824

701 6825 06X - Under Control - David & the Giants [1985] You Ain't Seen Nothing Yet/He's Got It Under Control/Taking It To The World/Rockin' For The Rock/Borrowed Time//It's Just A Matter Of Time/Sweet Inspiration/His Love Lifted Me Up/You've Really Got A Hold On Me/Almost Midnight

701 6826 066 - Black and White in a Grey World - Leslie Phillips [1985] Black And White In A Grey World/Smoke Screen/Walls Of Silence/Psalm 55/The More I Know You//When The World Is New/Tug Of War/Your Kindness/You're My Lord/You're The Same

701 6827

701 6828 069 - Shadowboxing - Tom Franzak [1985]

701 6829 065 - Swimming in a Human Ocean - Servant [1985] Power/The Dance/Timeless Love/Look Through His Eyes//Human Heart/I Will/Harder To Finish/Million/Love Never Fails

701 6830

701 6831

701 6832 066 - Bash 'N' the Code - Bash 'N' the Code [1986]

701 6833 062 - Casual Crimes - John Fisher [1986] I Still Love You/Time For You/Everything Matters/We Have Won The War/Until Then/24 Green Street/All Fall Down/For A Good Man/Changed Man

701 6834 069 - Triumph - Philip Bailey [1986] Myrrh LA label.

701 6835 065 - This Year's Model - Imperials [1987]

701 6836 061 - Kim Boyce - Kim Boyce [1988] Released on CD as Myrrh 701 6836 614. Love Resurrection/Darkened Hearts/Here/That's How You Touched My Heart//Love Knows/Sing And Dance/You Are The One/ I Want His Heart/How Will They Remember?

701 6837 068 - The Wild Frontier - Randy Stonehill [1986] Myrrh LA label.

701 6838 064 - Shadowlands - Sheila Walsh [1986] Sand In The Hand/Ship Of Love/Keeper Of The Key/The Hungry Night/Valley Of Tears//Christian/Big Boy Now/Last Word In Love/What Do You Know (That I Don't)/Never Give It Up. CD version has a bonus track at the end: I Hope And Pray [with Alvin Stardust]

701 6839

701 6840 069 - Dancing in the Dragon's Jaws - Bruce Cockburn [1986] Myrrh LA label.

701 6841

701 6842

701 6843 068 - The Collection - Amy Grant [1986] Myrrh CD 701 6843 270. Stay For Awhile/Love Can Do/Find A Way/Everywhere I Go/Angels/Thy Word/Emmanuel/Where Do You Hide Your Heart/Sing Your Praise To The Lord/In A Little While/El Shaddai/I Have Decided/Too Late (live)/I'm Gonna Fly (live)/All I Ever Have To Be/Father's Eyes/Ageless Medley

701 6844 065 - Chronology - David Meece [1986] Myrrh CD 701 6844 277 Seventy Times Seven/Come That Day/The Unknown Soldier/Falling Down/Gloria/Are You Ready?/Follow You/Everybody Needs A Little Help/Jesus (live)

701 6845

701 6846 067 - The River Is Rising - Greg X. Volz [1986] Myrrh also released a promotional 12" single of "Man Like You"/"Hold On To The Fire" as 901 6428 151-dj in a paper sleeve with the same graphics as the album. Barrier/Joyous Grave/Livin' For The Bell/Still Waters/All I Can Do//Heaven Is Within You/The River Is Rising/Hold On To The Fire/Man Like You

701 6847

701 6848

701 6849

701 6850

701 6851

701 6852 067 - Cornerstone: Leon Patillo's Best - Leon Patillo [1987] Myrrh LA label. Dance Children Dance/Born Again/Star Of The Morning/Flesh Of My Flesh/Don't Give In/Go//Cornerstone/John 3:17/Praise Ye The Lord/The Sky's The Limit/J-E-S-U-S/One Thing Leads To Another

701 6853 063 - Through the Window - Benny Hester [1987] Myrrh LA label.

701 6854

701 6855 066 - Diamonds and Rain - Choir [1986] Myrrh LA label.

701 6856

701 6857 069 - Magnificat - David & Giants [1987] He Is The Resurrection/Your Eyes/Heavenly Love/Why/Cold Cold Nights//Signs Of The Time/Ordinary Man/Hosanna/Everlasting Praise/Upper Room Experience

701 6858

701 6859

701 6860 06X - Big Mouth - Bash 'N' the Code [1987]

701 6861 066 - Time and Again - Kim Boyce [1988] I Just Want to Celebrate/Not For Me/You Can Be Mine/Say It/Lovin' You//Save Me/Lonely Man/Stop Fighting/You're Always There

701 6862 062 - Say So - Sheila Walsh [1988]

701 6863

701 6864 065 - Candle in the Rain - David Meece [1987]

701 6865 061 - Come Out Fighting - Greg X. Volz [1988] I Come Out Fighting/I Don't Know Why/Take Me To The End/Let The Mountains Fall/Dream On//What Will Remain/Backburner/Will You Take Me Back/I Know You By Heart/Up To The Mountain

701 6866

701 6867 064 - Can't Buy a Miracle - Randy Stonehill [1988]

From this point, CD numbers are given unless indicated otherwise.

701 6868 613 - Notes from the Lost Civilization - Tonio K. [1988]

701 6869 61X - Chase the Kangaroo - Choir [1988] Reissue of the 1988 album Chase the Kangaroo with five bonus tracks (indicated by "+") from the 1986 album Shades of Gray. Consider/Children Of Time/Clouds/Sad Face/Cain/Rifleman/Look Out (For Your Own)/Everybody In The Band/So Far Away/Chase The Kangaroo/+Fade Into You/+15 Doors/+More Than Words/+Tears Don't Fall/+All Night Long

701 6870

701 6871 614 - Lead Me On - Amy Grant [1988]

701 6872 610 - Personal Best - Benny Hester [1988] Nobody Knows Me Like You/Be A Receiver/Legacy/Secret Thoughts/Remember Me/Jesus Came Into My Life/Melody Man/Out Of The Natural/Underground River/Rubber Canoe/Hold Me/Whatever Touches You/To Fill Our Empty Hearts/Christ The Solid Rock/When God Ran

701 6873 064- I Predict 1990 - Steve Taylor [1987] Vinyl number.

701 6874 613 - Recollections - Leslie Phillips [1987] Your Kindness/No One But You/Heart Of Hearts/Walls Of Silence (home demo)/Libera Me/Love Is Not Lost/Answers Don't Come Easy/You're The Same/I'm Finding/When The World Is New/By My Spirit/Strength Of My Life/Your Kindness (Reprise)

701 6875

701 6876 616 - Sunday's Child - Phil Keaggy [1988]

701 6877

701 6878

701 6879 062 - Greatest Hits - Mylon & Broken Heart [1988] Vinyl number.

701 6880 613 - The Way Home - Russ Taff [1989]



701 6885 615 - Wide-Eyed Wonder - Choir [1989]

701 6886 611 - Love Is You to Me - Kim Boyce [1989]

701 6897 613 - Revival - David Mullen [1989]

701 6900 614 - Anonymous Confessions of a Lunatic Friend - Bryan Duncan [1990]

701 6902 617 - Beyond Nature - Phil Keaggy [1991]

701 6903 613 - Circle Slide - Choir [1990]

701 6905 616 - This I Know - Kim Boyce [1990] Good Enough/No Means No/Pain Pain Go Away/Time Marches On/Take Me Home/Longing For Someone/Weapon Of Good/True Love/Right For Me/All For You/Good Enough To Be Heard Again (Reprise)

701 6934 616 - One Big World - Area Code [1991]

701 6939 618 - Faded Blues - David Mullen [1991] Faded Blues/After The Hurricane/Libby/Functional Faith And Clothing/Papa/To Be With You/Under The Same Sun/Alone/Water Into Wine/Long Road/Solid As A Rock/Don't Let It Go To Your Heart

701 6943 615 - Live: Blow the House Down - One Bad Pig [1992]

701 6954 617 - Crimson and Blue - Phil Keaggy [1993]

701 6959 619 - The Wind and the Wheat - Phil Keaggy [1987] March Of The Clouds/Paradise Dream/The Wind And The Wheat/Where Travelers Meet/From Shore To Shore/Prayer/The Mission/The Promise/The Reunion/I Love You Lord

701 6966 615 - Into the Son - Dakoda Motor Co. [1993] Wind 'An' Sea/Grey Clouds/Need A Love/Ocean Seems/Only The Beginning/Everything/Sondancer/Wasteland/Freedom/All Good Generals/Sing Hallelujah

701 6967 611 - Soul Mission - Soul Mission [1993]

701 6968 618 - Sacred Journey - First Call [1993] Wanna Be/Freedom/Thank You Lord/Box Of Glory/Lazarus Unwound/Evidence Of Love/95 Reasons/Under The Water/Just Can't Help Myself/When You Fall/Timothy's Burden/Sacred Journey

701 6970 612 - Stories - Randy Stonehill [1993] I Thirst For You/Still Small Voice/Rachel Delevoryas/Bells/Starlings/Turning Thirty/Coming Back Soon/Charlie The Weatherman/Sing In Portuguese/Weight Of The Sky/Letter To My Family/Christmas At Denny's/Hope Of Glory (acoustic version)

701 6972 615 - We Will Stand - Russ Taff [1994] Also issued as Word-Epic EK 57867. Rock Solid/Walk Between The Lines/Here I Am/Believe In Love/Not Gonna Bow/I Still Believe/Silent Love/We Will Stand/Farther On/Winds Of Change/I Cry/Trumpet Of Jesus [Imperials]/Praise The Lord [Imperials]/Your Love Stays With Me

701 6973 611 - Slow Revival - Bryan Duncan [1994]

701 6974 618 - House of Love - Amy Grant [1994]

701 6975 614 - Vertical Reality - Eric Champion [1994]

701 6976 610 - Welcome Race Fans - Dakoda Motor Co. [1994] Alive/Truth/Trip To Pain/Uglier/Love Runs Home/Where Did It Go?/Stand Up/Ooh That Girl/Friend In My Eyes/Free/Rockin' In The Mall

701 6985 61X - I'm a Believer - Amy Morriss [1995] I'm A Believer/Faithfully/The Other Side Of Broken/Givin' It Up/Keepin' The Faith/Promise Land/The Best Of Me Is You/What God Deserves/Devotion/I'll Be Here Loving You

701 6988 619 - The Early Years - First Call [1995] Someday/Sweet Love/The Reason We Sing/Breaking Through/O Sifuni Mungu (All Creatures Of Our God And King)/Somethin' Takes Over/Lord Of All/Messiah/Snap To It/Undivided/The Future/Forever In His Care/True Love/Legacy/Parable Of The River/God Is Greater

701 6991 61X - Grover Levy - Grover Levy [1995] 2CD set

701 6997 618 - Time 1 - Phil Keaggy [1995] Introduction/I've Just Begun (Again)/Sunday's Child/Love Divine/I Will Be There/Time/Hope's Desire/Let Everything Else Go/Pilgrim's Flight/Find Me In These Fields/Theme/Where Is My Maker?/Do Lord/What A Day/Little Ones/March Of The Clouds/O God Our Help In Ages Past/The Answer

701 6998 614 - Time 2 - Phil Keaggy [1995] Hello Cleveland (M)/John The Revelator (S)/Be In My Heart (S)/Your Love Broke Through (S)/Shouts Of Joy (S, live)/Tell Me How You Feel (S)/Everywhere I Look (S)/Ryan's Song (S)/Like An Island (S)/Happy (S)/Strong Tower (S)/Sounds (S)/We'll Meet Again (M, demo rec. 1967)/Take A Look Around (S)/Sunday School (S)/County Down (S)/Maker Of The Universe (S)/Heaven Is Home (M, demo rec. 1970)

701 7001 613 - Buzz - Guardian [1995]

701 7003 616 - My Utmost for His Highest - Bryan Duncan [1996]

701 7004 612 - My Utmost for His Highest - The Covenant [1996]

701 7006 615 - Under the Influence - Anointed [1996] Also issued as Myrrh/Epic EK 67804.

701 7008 618 - Behind the Eyes - Amy Grant [1997]

701 7009 614 - Blue Skies - Bryan Duncan [1996]

701 7011 619 - Bottle Rocket - Guardian [1997]

701 7020 618 - Real Life Music - Various Artists [1996] Fields Of Wonder - Grover Levy/Un Lugar Celestial - Jaci Velasquez/Waiting In The Wings - Anointed/One Faith - Michael Card & John Michael Talbot/After This Day Is Gone - Bryan Duncan/Peaople Get Ready - Crystal Lewis/State Of Mine - Guardian/The Other Side Of Broken - Amy Morriss/Love Has A Hold On Me - Amy Grant/Through All The Years - Greg Long with Joanna Carlson

701 7023 617 - Wrestling Angels - Grover Levy [1997]

701 7024 613 - 100 Million Eyeballs - Miss Angie [1997]

701 7025 61X - Within the Sound of Your Voice - Amy Morriss [1997]

701 7027 612 - This Bright Hour - Fernando Ortega [1997] Angel Fire/Children Of The Living God/Anita's Heart/Don't Let Me Come Home A Stranger/How Firm A Foundation/Jehov  Se¤or De Los Cielos/I Will Sing Of My Redeemer/I Will Praise Him Still/All Creatures Of Our God And King/Grace's Waltz/If You Were Mine/Hear Me Calling Great Redeemer/I Will Wait For My Change/O Thou In Whose Presence

701 7031 61X - Takes a Little Time - Amy Grant [1997] 3-song CD


Special Issues:

These were "freebie" albums given away inside regular albums to promote other current titles, or to promote Myrrh's artists on radio.

SPL-130 - Bringin' a New Song - Various Artists [1978] This record was included as a bonus disc in many of the new albums released in 1978. It came in a special sleeve (titled "Jesus Music News") with biographical information and pictures of the artists. Fly Away - Wendell Burton/Gonna Keep My Mind (Stayed On You) - Nedra Ross/Open Your Eyes - Fireworks/Lord Make Me Humble - Steve Camp/Earthmaker - Farrell & Farrell/Lover Of My Soul - Pantano & Salsbury//Emmanuel - DeGarmo & Key/I Don't Care - Alwyn Wall Band/On And On - Amy Grant/We Owe It All To You - Andrew Culverwell/Time Enough - Terry Clark/The Singer's Song - Gospel Seed

SPL-135 - Valualbum - Various Artists [1982] Lean On Him - Kenny Marks/Bethlehem Morning - Morris Chapman/Cover Me - Andrew Culverwell/Dark Horse - John Fischer/Dreamer's Dream - Pete Carlson//Farther And Higher - Steve Camp/The Best - Dion DiMucci/Cornerstone - Leon Patillo/Sing Your Praise To The Lord - Amy Grant/I Was Made To Love You - Maria Muldaur/They Would Love Him Down In Shreveport - Mercy River Boys

901 6634 150 - Shake: Christian Artists Face the Music - Various Artists [1988] Promotional 2-LP set, oddly numbered. Disc 1: Russ Taff//The Imperials-Brown Bannister-Kim Boyce-Phil Keaggy/David Meese-The Choir-Benny Hester; Disc 2: Sheila Walsh/Steve Taylor- Bash-N-The Code-Greg X. Volz-Randy Stonehill//Mylon LeFevre/Promo One/Promo Two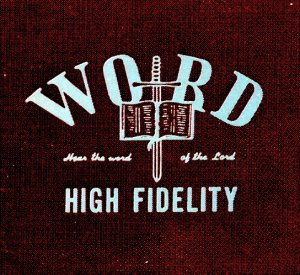 Back to the Word Records Story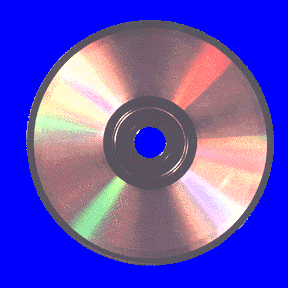 Back to the Discography Listings Page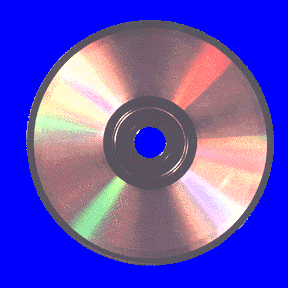 Back to the Both Sides Now Home Page