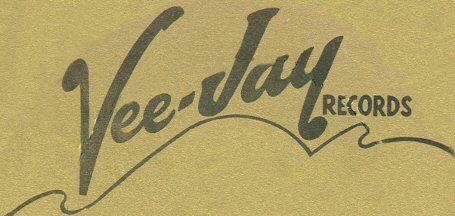 The Vee-Jay Story
by Mike Callahan
Last update: December 19, 2006




[Note: This story was first published in Goldmine, Issue #60, May, 1981. The story and illustrations have been updated to correct inaccuracies and provide better photo quality.Copyright 1981, 1993, 1997, 2006 by Mike Callahan. All rights reserved. Photos are from the personal collection of Mike Callahan unless noted otherwise. An excellent writeup of the singles on Vee-Jay can be found at Vee-Jay: The Early Years by Robert Pruter, Robert Campbell, Robert Stallworth, Bob Marovich, and Tom Kelly.]


The Vee-Jay Story, Part One:
Scenes from a Family-Owned Record Company

"Vee-Jay Records? Isn't that the label that had all those hits like 'Duke of Earl,' 'Sherry,' 'He Will Break Your Heart,' and 'Raindrops?' And didn't they have the Beatles at one time? I think I heard they went out of business or something...."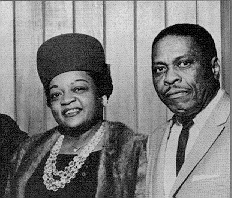 Vee-Jay Records. In cold, hard facts, Vee-Jay was founded in Gary, Indiana in 1953 by Vivian Carter and James C. Bracken (later that year, Mr. & Mrs. Bracken), who used their first initials for the label's name. The first song they ever recorded made it to the top ten of the national rhythm & blues charts. In a short time, Vee-Jay was the most successful black- owned record company in the United States. By 1963, they were charting records faster than some of the major labels. They were the first U.S. company to have the Beatles. In one month alone in early 1964, they sold 2.6 million Beatles singles. Two years later, the company was bankrupt.

So much for cold, hard facts. The trouble with these facts is that they really don't tell the story. It's not a story of a small business that becomes a giant corporation; rather, it's the collective stories of the people involved. I talked to several of the key Vee-Jay people during January and February, 1981. What follows is their story.

Let's go back to the late 1940s in Chicago, and start with Sid McCoy and Vivian Carter.

Sid McCoy: "Vivian Carter and I started out together in radio. There's a disk jockey in Chicago by the name of Al Benson, probably the biggest black disc jockey in the history of the business. He controlled ten commercial hours a day. Benson came up with a contest to find a young, deserving fellow and girl to put on the air. Vivian was the girl that won, and I was the fellow."

Vivian Carter: "There must have been 800 or a thousand people there to get an audition. You had to write a commercial and read it for him. I had never thought about writing a commercial, but heard him announce this contest about ten minutes before he went off the air. He said he was looking for a girl and boy disc jockey, and if you would like to enter, write a one-minute commercial and be at one of the hotels at seven o 'clock. That was like ten minutes to six when I heard about it. I hadn't even thought about a commercial, but I listened to his commercial on a clothing store and jotted down notes while he was talking. And I wrote my commercial that way. Winning the contest gave me a radio show, a fifteen minute program from 1:00 to 1:15 I think, and Sid went on from 1:15 to 1:30. We each got a 15 minute shot, and that's how we both broke into radio."

Sid McCoy: "Vivian stayed around Chicago maybe a couple of months after that, then split and went back home to Gary, where she ended up working out there under the aegis of a fellow who controlled some time. I, in the meantime, stayed on working in Chicago under Benson and I also worked for a record distributorship there in town as a salesman. Then I went out to Gary, and Vivian and Jimmy at that time had a record shop. I suggested that they might be able to really stock their shop, with the cooperation of the distributors, because of the fact that she had some air time. So they did that, and they started developing Vee-Jay Records."

The black music Vivian Carter was playing on her radio show at the time was not generally available on records. The Brackens decided to start recording some of this music themselves, and Vee-Jay was born. The first artists signed to the label were the Spaniels and Jimmy Reed. Vivian 's brother, Calvin Carter. recalls:

Calvin Carter: "Vivian and Jimmy borrowed $500 to produce the first record, borrowed it from a pawnshop. The pawnbroker's name was Maurice Tepper. The Spaniels graduated from the same high school my sister and I went to Roosevelt High School in Gary."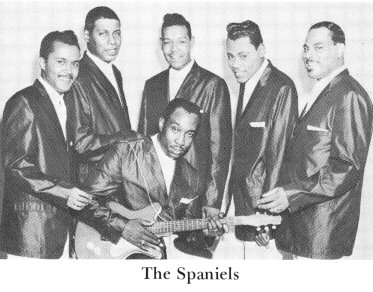 The Spaniels at that time consisted of lead singer James "Pookie" Hudson and four of his classmates. It was on May 5, 1953, that the group recorded the four tunes that launched the label: "Baby It's You, " "Sloppy Drunk, " "Since I Fell for You" and "Bounce. " They were backed by a small Red Saunders contingent.

Shortly thereafter, the first recording session for Jimmy Reed was held. Reed, originally from Leland, Mississippi, traveled north at the age of 15 and somewhat later worked in the Gary steel mills. This "Gary connection " has often been cited as the way Reed and Vee-Jay got together, but in fact Jimmy left the steel mills in 1950 to seek work in Chicago as a blues singer. His success as a full-time musician for the next few years was moderate.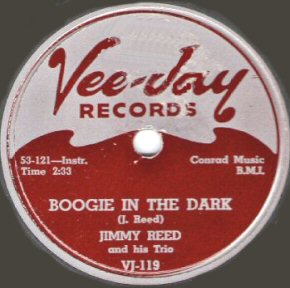 Calvin Carter: "When we first met Jimmy Reed in 1953, he was actually working in Chicago in the stockyards, where he was cutting up cattle. He was playing harmonica for a guy called King David that we were interested in. So we were having a rehearsal with them one day and we heard Jimmy play. We asked him, 'Do you have any songs that you've written?' And he says, 'No, but I've got some I made up.' And that was how we got Jimmy Reed."

Reed 's first session included "High and Lonesome" and the instrumental, "Roll and Rhumba, " which were coupled as Vee-Jay's first single, #100. About the same time, the Spaniels' "Baby It's You" and "Bounce " were issued as Vee-Jay 101. These two singles began to sell fairly well locally, especially "Baby It's You, " but the Brackens didn't have the distribution setup to handle anything larger than a local hit. The result was that both singles were leased to Chicago's Chance label, owned by Art Sheridan. "Baby It's You, " the first song ever recorded by Vee-Jay, went to #10 on Billboard 's R&B charts via the Chance label.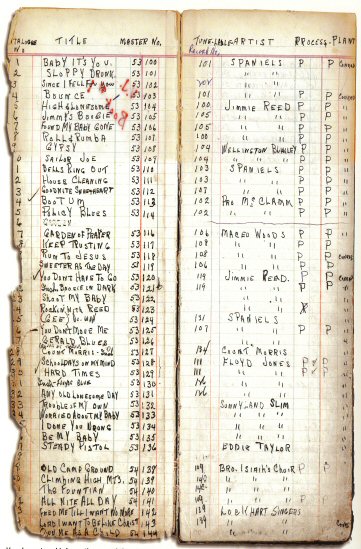 Vee Jay's initial success allowed them to make more records. Betty Chiappetta, the owner of Vee Jay International from 1967 to the 1990s, paged through the early Vee Jay master book:

Betty Chiappetta: "All the mastering information was put in a hand-written book, like a notebook, and they just called it 'the master book.' They filled in the information after the session was over because they never knew what they were going to record when they went in, and sometimes the titles would change 4 or 5 times. It was all hand written, and in the early years, it was all done by Vivian. In 1953, there were a total of 36 songs mastered. Besides the Spaniels and Jimmy Reed, they did a few other artists like Wellington Blakely, Pro McClam, Count Morris, Floyd Jones, and Sunnyland Slim. The first gospel single was by Maceo Woods [#106]. Another thing, they signed these artists to contracts immediately; it was all done professionally and in a straightforward manner. They all had recording contracts."

Many of the artists were signed by Calvin Carter. Singer Jerry Butler commented a couple of years ago on Calvin Carter's importance to the label: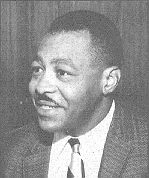 Jerry Butler: There's a man by the name of Calvin Carter. He did A&R for Vee Jay records, a company man. His job was to go out and cut hits. Today he would be called a promoter. Calvin did it for 12 years, and when you list the acts he signed, using no other ears to depend on but his own, it reads like a 'who's who' in the music business. He covered every base. For example, gospel acts he signed: Five Blind Boys, the Staple Singers, the Swan Silvertones, Maceo Woods, the Raspberry Singers. In the blues field, he signed Jimmy Reed and John Lee Hooker. In R&B, the Dells, the Spaniels, myself, the El Dorados. Female singers such as Priscilla Bowman and Betty Everett. The jazz artists included Eddie Harris and the MJT+3.... Unfortunately, the only industry people knowing him today are those who came in contact with him back in those days; but I think he deserves a place in R&B music on the same level as Phil Spector."

[Note: The Jerry Butler quote is from an interview with L. Carl Tancredi which appeared in Goldmine #36, May, 1979.]

Calvin Carter and Sid McCoy (who would later join Vee Jay as Jazz A&R man) had the following comments on the early recording sessions:

Calvin Carter: "Even back in the early days, everything we recorded was done at Universal Recording Studio in Chicago. They were on Ontario and then they later moved to East Wall St."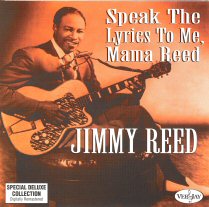 Sid McCoy: "Even before I started A&R-ing things for Vee Jay, I used to go down to Universal and just sit there, sit in on the sessions because they were really so fabulous. Calvin did the recording sessions with Jimmy Reed, which were always a gas. There was first of all the music that came out, and then there was the color. Jimmy Reed would sit there on a drum case, with the mike adjusted to it. Next to him would be his wife, Mama Reed, and Mama Reed would have to speak the lyric to him. He'd say 'Speak the lyric to me, Mama Reed!' And they would be things that he had composed himself, in many instances. She would be there to lay it on him phrase by phrase as he went through it. Just fantastic."

[Note: Though Mary (Mama) Reed was by no means audible on most of Jimmy Reed's records, occasionally, such as on "You Got Me Dizzy," she could be heard faintly a couple of seconds before many of Jimmy's lines.]

Calvin Carter: "Jimmy Reed was something else. He'd get drunk the day of the session, so I had a police officer that I'd get to 'arrest' him the night before and take him to jail. I'd come down the next morning and pick him up and take him right to the studios. He never knew that, I never told him that, because I don't think he would have appreciated it that I put him in the tank overnight. (Laughs.) Well, that's the only way that I could get him down to the studio sober. (Seriously) In most of his dates, he was drunk, he was dead drunk. If you notice, he slurred so very badly. But that's because he felt so insecure. He could read, but he was playing guitar and harmonica at the same time, so his wife would have to whisper the lyric in his ear. Sometimes you could hear her leaking through on the microphone, because at that time we didn't have vocal isolation, a single channel for the vocals. One day Jimmy Reed was singing a song called 'You Don't Have To Go.' And you know how the old blues used to be, (sings in 12-bar blues style) 'Oh, baby, you don't have to go, oh, baby, you don't have to go.' So he starts off the song and she gives him the first line, 'Oh baby, you don't have to go..., ' and he sings, 'Oh baby, you don't have to go.' Then she says, 'now repeat it.' And he threw the guitar down and says, 'Damn it, repeat hell! You tell me what to sing. If you're going to sit up there and tell me, then damn it you better tell me!'

"When he finished a song, we would always tell him 'Don't talk at the end of a song, because that would spoil the take.' So we'd say 'shhhh!' or 'keep silent and we'll give you the cue when it's OK to talk.' One song we'd done had taken a long time and by the time we were done, just as we finished a good take, Jimmy popped a string and he said, 'Awww, man. That ain't the way that was supposed to went!' He said the funniest things on these record dates. I intended to put out an album of outtakes before the company went out of business, because I always kept the microphones open as soon as Jimmy came in for the date; we recorded everything that he did. I had a wealth of that kind of stuff. There weren't any curse words on there, but it was just like what Amos & Andy did. I don't think Jimmy Reed would have appreciated it, it wouldn't have been funny to him. He wasn't really trying to be funny, that's just the way he was. When he was being very serious and you thought that it was very funny, he would think that you were talking down to him."

Even though the people Jimmy Reed worked with got a lot of mileage out of the country-city humor, it was obvious that Jimmy was a popular and respected artist. And he managed to place no less than seventeen singles on the national charts.

The Spaniels' second recording session in 1953 produced their second single, "The Bells Ring Out"/"Housecleaning" (Vee Jay #103), but this one didn't sell nearly as well as "Baby It's You." However, another tune from the session, "Goodnite, Sweetheart, Goodnite," took off locally upon its release in late 1953 (Vee Jay #107). This time, Vee Jay was ready for national distribution, and pushed the disc to #5 on the R&B charts on their own, although it took about six months for the record to break nationally.

With the success of "Goodnite, Sweetheart, Goodnite" in the spring of 1954, Vee-Jay began to form the nucleus of a "house band," with musicians like guitarist William "Lefty" Bates and saxophone player "Red" Holloway:

Lefty Bates: "Right after 'Goodnite, Sweetheart' we started working with them. I played on most of the early records."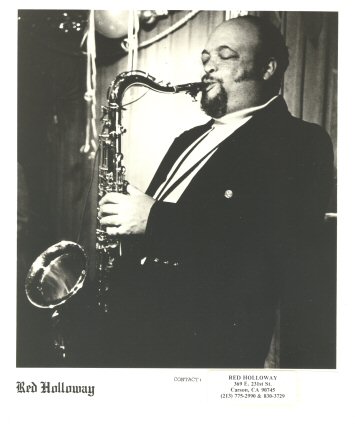 Red Holloway: "We were all with Chance Recording Company at the time. Ewart Abner, Al Smith, Lefty Bates, and myself. Vee Jay was just getting started, and they were in a garage on 47th Street in Chicago. They had something going with Jimmy Reed and the Spaniels, and looking back, I believe that 'Goodnite Sweetheart' really put them on the map. Vee Jay didn't have any money, really, but we'd do recording sessions for them. At that time they were paying $41.25, and you might have to wait a couple of months before you got that. So at that time Lefty, Al, and I were all working for both Chance and Vee Jay. The people at Chance and Vee Jay were all friends at the time, so you go along and try to help people out, because if they made it, it would mean that you would have some work. So we never refused, because we all needed money, and they were on the same basis as we were: poor and broke. We all had that in common. So we'd just record for them and get five dollars today, ten dollars the next day, and whatever. They were just down-to-earth people trying to make a living."

MC: Did Vee-Jay ever do any recording at the converted garage on 47th?

Red Holloway: "No. They did a lot of rehearsing and stuff at the garage, but they never recorded anything they were going to put out professionally. They always used the studio for that."

Historian Robert L. Campbell notes, "The $41.25 per session that Red Holloway mentions was Union Scale, and it stayed at the same level from at least 1946 to at least 1958. The leader (presumably Al Smith) got $82.50 per session"

Surprisingly, besides "Goodnite, Sweetheart, Goodnite," 1954 was a rather slow year for Vee-Jay.

Betty Chiappetta: "They only recorded 79 songs during 1954. A lot of the songs were never released, for instance the Willie Jones Trio. I don't know if anybody knows who they are. They did four tunes in a session, and Vee-Jay released one single on them, #121, which was 'My Thing' and the flip side 'My Other Thing.' They never released the other two, which were 'Betty's Mambo' and 'Willie's Blues.' "

[Note: As to who Willie Jones was, we have the following e-mail from Robert L. Campbell: "I can tell you who Willie Jones was. He was one of the farthest-out jazz pianists in Chicago (Sun Ra admired his playing). He was a member of Tom Archia's All Stars in 1947 and 1948, and made four sessions for Aristocrat with them. He also appeared on a very obscure Bennie Green Parkway date in 1950. I've heard 'My Thing' and 'My Other Thing' from a reissue on the Top Rank label (French, circa 1962). Jones' style when he made those sides was roughly halfway between Bud Powell and Cecil Taylor--in 1954!!! I hope the other two sides will see the light of day. There is only one other Willie Jones recording that I know of--he was on a Paul Gonsales LP for Argo in 1956.]

Betty Chiapetta: "They went heavily into gospel music in 1954 doing a lot of singles that never did get onto albums because there were not that many tunes by each artist. Brother Isaiah Pryor, the Lockhart Singers, Sammy Lewis, and artists like that. They also recorded four tunes by the Five Echoes (who had earlier recorded for Chance Records). The last master in '54, #215, was done by a group called the David Shipp Combo, who released another song from the same session on Vee Jay #145 called 'Swinging Easy.'"

Historian Robert L. Campbell pointed out to us that 79 sides for 1954 was an undercount, since Vee-Jay recorded two sessions in December, 1954 and stuck 55- prefixes on the songs. Campbell noted, "Tommy Dean cut 55-216 through 55-220 on December 20, 1954 (some with vocals by Jewel Belle), and trumpeter King Kolax had a session on December 22, 1954 that produced 54-222 through 54-226. That makes 90 songs for 1954."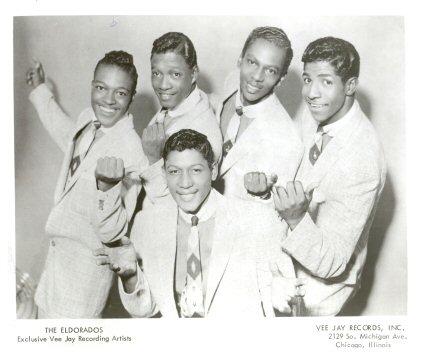 The El Dorados also came to Vee-Jay in 1954:

Calvin Carter: "The El Dorados were a group out of Chicago (Englewood High School). They had a manager named Johnny Moore who worked for them; he was also a janitor at the school. He brought the group to us. So we went in and recorded them, and made 'Baby I Need You' and 'My Loving Baby' (Vee Jay #115). Later, they popped wide open with the first record we ever had an outside arranger for, 'At My Front Door.'"

"At My Front Door," which hit in 1955, was a sizeable disc for the still-small company Not only did it make #2 on the R&B charts, but it also became Vee-Jay's first entry into the national pop charts. [At left, The El Dorados, 1955: Top row, left to right: Louis Bradley, James Maddox, Jewel Jones, Richard Nickens. Front: Pirkle Lee Moses.]

In December, 1954, the Chance label went out of business, and Ewart Abner moved over to Vee-Jay as manager of the label. A few years later, he was made a vice-president, then in 1961, became president of Vee Jay.

Calvin Carter: "Ewart Abner was the general manager, and 'public relations deluxe.'"

Red Holloway: "When Chance went down the drain, Abner went over to work with Vee Jay. Abner's role in Chance had been as administrator, and he had done all the book work, like he did at Vee Jay. In fact, he learned his tools of the trade at Chance Record Company; he learned the business there, but Chance just couldn't stay in business. They weren't selling enough records and they weren't getting their money on the ones they were selling, so Art Sheridan, the fellow who owned the company, just said, 'to heck with it,' and went out of business. Vivian and Jimmy didn't really know all that much about business things when it got into the real heavy paperwork, so since Abner had been doing that at Chance, they just made a deal with him and he went over there. Abner became pretty much the boss. Jimmy and Vivian still called the shots, because they owned the label, but when it came to the final details of making deals and stuff that's where Abner was the boss, because he knew more about it and had more insight into what was happening."

By 1955, the "house band" was also fairly well established. It included Bates on guitar, Quinn B. Wilson on bass, Paul Gusman on drums, Horace Palm on piano, saxophone players Holloway and Lucias Washington, Vernel Fournier on drums, McKinley "Mac" Easton on baritone, Harlen "Booby" Floyd on trombone, Von Freeman and Riley Hampton as arrangers, and bandleader Al Smith.

Lefty Bates: "This house band thing with Vee Jay went on for years, and there were quite a few guys in and out."

Red Holloway: "The Vee Jay management at that time didn't know much about (the technical aspects of) music. Al Smith was really the head of the band at that time, and he knew nothing about music! He didn't know one note as big as this house! But Al Smith was such a smart character, he had motherwits you might say. He had brains enough to say, 'I don't know anything about music, but I'm gonna surround myself with the best musicians I can possibly find for the money.' And that's what he did. He had arrangers, guitar players, drummers, and people who could really play. He was like a con man. He could come up to you and talk you out of your drawers, that's the type cat he was. He brought himself up from a third-grade education to the point that he was producer, with four or five acts he was handling, and he was head of the house band at Vee Jay."

MC: What were the studio sessions like?

Lefty Bates: When the company started out, we didn't lean to arrangements very much; there were lots of things thrown together by ideas between the musicians and Calvin Carter."

Red Holloway: "Calvin Carter was in charge of the recording sessions. Calvin was a singer, and when we recorded singers, he would be saying things, like, 'hey, you all didn't sing that do-do-wop right,' or 'you're out of tune with this one.' When it came to the musicians parts, certain fellows in the band, usually Lefty and I, would listen to the playback and take it upon ourselves to say 'let's take that over,' or 'you're not doing this or that,' or 'hey, that's not right, let's straighten that up.' We in the band basically directed our own part of it. When it came to the vocals, though, Calvin Carter would do that. He had a good idea of what harmonies were supposed to sound like. Abner would come around to the sessions every once in a while, but he didn't usually have much to say. Musically, Abner wasn't that sharp, but he was good at making deals and doing the things administratively."

Aided by Abner's promotional talents, things picked up for the label in 1955, resulting in four hits and their first #1 record, "Hands Off."

Calvin Carter: "That was a big one, 'Hands Off.' Jay McShann was out of Kansas City. My brother-in-law (Jimmy Bracken) found him, and brought the band to Chicago to record them. Priscilla Bowman was the vocalist with the band."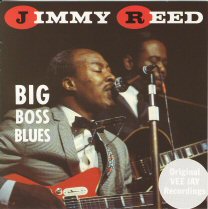 Betty Chiappetta: "In 1955, they also started recording Eddie Taylor, who of course never became the big artist that he should have been. They started recording Eddie as an individual artist, but he had been backing up Jimmy Reed on almost all his sessions."

Calvin Carter: "Eddie Taylor was actually very important for Jimmy Reed. He really made 'the Jimmy Reed sound' come out. Eddie played rhythm guitar and bass guitar, and he was the boogie. He would get a good roll; he was fantastic. He just didn't sing too well, and he was like, well, in the background. We put a record out or him, 'Just A Bad Boy' and 'Big Town Playboy.' Both sold pretty well, but he just didn't have the presence that Jimmy Reed or John Lee Hooker had in his vocal style. But he was actually the force behind that boogie feel that made Jimmy Reed famous. Jimmy played that single note harmonica that was very outstanding, but to me, it was that boogie of Eddie Taylor that really made it stand out."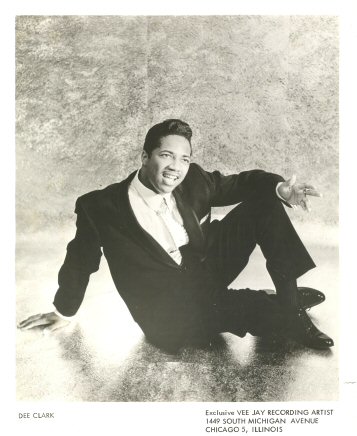 New groups to the label in 1955 included the Kool Gents and the Dells:

Calvin Carter: Dee Clark was in the group called the Kool Gents, and he was singing in the group. There was another singer called John McCall who was the lead singer at that time. We hired Dee Clark to work in our stockroom, and the guys who used to work with him there in the stockroom would kid him when he went to rehearsal: 'Dee Clark, from stockroom to stardom....' So one day, we were rehearsing, and I heard this very clear, bell-like falsetto voice in the background, and it was Dee Clark. So I asked him, 'Why aren't you singing lead? Do you know this song?' And he said, 'Yeah.' So I said, 'Why don't you sing it?' And he says, 'Because John McCall is singing.' I said, 'Well, let's hear you sing it,' and I made Dee Clark the lead singer of the group. On the first numbers by the Kool Gents, I would have him and John McCall switching leads on songs, but finally Dee just stood out.

"The Dells lived in Harvey, Illinois, which was about 20-25 miles from Gary, and they used to come over to my house every Sunday, trying to get on the label at that time. I had a group that sounded a lot like them called the Spaniels. So they would come I over every Sunday and rehearse and rehearse and rehearse, and finally we signed them. We cut a couple-three records, and finally they hit with 'Oh What A Nite.' We kept them together using them as background singers on basically all of our records later on. Prior to that, we were using Jay and the Jamies and the Anita Kerr Singers as background singers; they backed up Jerry Butler, Betty Everett, and others."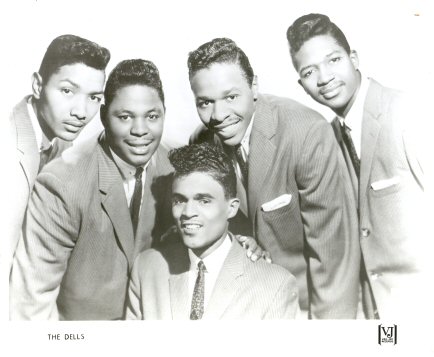 MC: The Anita Kerr Singers on R&B records? Far out.

Calvin Carter: "They were doing 'Nobody But You,' 'Just Keep It Up,' and 'How About That.' At that time, there were no black background singers. With Jay and the Jamies, they were Italian, and we would give them symbols like 'do-be-do-be-do-wop, do-be-do-be-do-wop' in the background. So one day Jay comes to me and he says, 'Hey, Cal, why do we have to say do-be-do-be-do-WOP? Why can't we just say do-be- do-be-do?'"

The Dells left Vee Jay after awhile and went back to Chess, where they were before coming to Vee Jay. Then later the Dells were back with Vee Jay again.

Calvin Carter: "We had the Dells for years, off and on. They were not really a consistent group; we recorded quite a few records on them before we got a hit. The first hit was 'Oh What A Nite,' but 'Why Did You Have To Go' was also a pretty good seller. But at that time we had the Spaniels who just superseded all of them."

The Dells, pictured above right, are (back row, l to r): Verne Allison, Marvin Junior, Charles Barksdale, and Mickey McGill. Front: Johnny Funches.

Calvin Carter was also pressed into service as a replacement for one of the Spaniels during their road trips: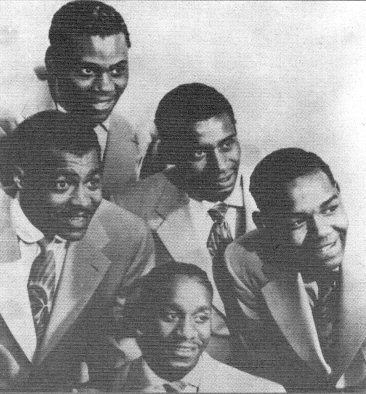 Calvin Carter: "I sang with the Spaniels for a short time. One of the kids was like sixteen years old, and he couldn't go out on the road, because he was still in high school. So I took his place until summer vacation, and then he came out. It was just a temporary thing for a few months."

Surprisingly, for a summer fill-in job, a promotional photo exists showing Calvin Carter with the group. In the photo at left, top: Gerald Gregory, second row (l to r), Calvin Carter, James "Pookie" Hudson, bottom row, Willie C. Jackson, Ernest Warren.

The next year, 1956, brought four more hits, including two Jimmy Reed singles, the Dells' "Oh What A Nite," and "Up On The Mountain" by the Magnificents.

Calvin Carter: "The Magnificent Montague (a Chicago disc jockey) brought us the group, and they hit with their first record, boom: 'Up On The Mountain.' We didn't record too much material by them because I don't think they stayed together too long.

Vee Jay also signed bluesman John Lee Hooker in 1956.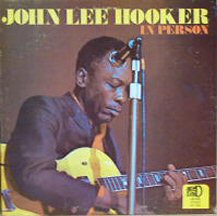 Calvin Carter: "We got John Lee Hooker out of Detroit. He was a guy who never rhymed, you know, he just didn't have the usual rhyme lines. We only did one take on everything he did; he'd never do it the same way twice. Of course you know he couldn't read music, but nobody could play with him either. His timing was off, he could only play by himself. So I put some plywood on the studio floor, on the tile floor, and that would be his drums. I just used him on guitar. Sometimes I would use Eddie Taylor, the backup player for Jimmy Reed, on some of John Lee Hooker's things that had a Jimmy Reed feel in the background music."

[Note: The "plywood drum" sound is particularly evident on songs such as "Crawiling Kingsnake," "Boogie Chillen," "Hobo Blues," and "I'm In The Mood."]

Since 1956 was also a presidential election year, the Vee Jay staff decided to have a little fun. Enter "The Convention" by The Delegates (Vee Jay #212):

Calvin Carter: (laughs.) "That was Dee Clark, Abner, and myself. This was the first time the Democratic Convention came on television, and we were doing a spoof of that. The group on the record was the Kool Gents, but we called them the Delegates. How the record sold I really don't know, but I do know we got fantastic airplay on it. We had a full court press on that record. The song was written by [jazz vocalist] Oscar Brown, Jr. He was from Chicago, and we were involved almost from high school, he and Sid McCoy. Oscar was a very prolific writer. I had the first shot at all of his material, but I never liked to sign someone I couldn't promote properly, and I didn't feel that we were in the right field to promote his work the way it should be. When he first wrote 'The Convention,' he actually had another lyric to it. It was a union lyric, the preservation society or something like that, I don't remember."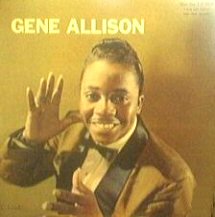 The year 1957 brought the usual two Jimmy Reed hits, another Spaniels hit, and "You Can Make it If You Try," a churchy-sounding tune by Gene Allison:

Calvin Carter: "We got Gene Allison from Nashville, from the Babb Brothers. The first master we acquired from Babb, but I recorded everything after that."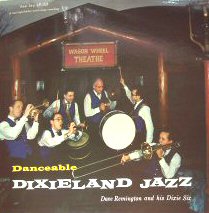 For the first time, however, all of Vee Jay's chart hits also made the pop charts. This success prompted Vee-Jay to enter the LP market. They had initially released an album that didn't have the Vee-Jay name on it as VJLP-100, but the first "official" album was #101.

Betty Chiappetta:"They were a little late in getting into the album market. The first album was a Dixieland album by Dave Remington, and they assigned it number VJLP-101. That evidentially proved to be confusing with their singles numbers, so they went back and started a 1000 series."

Calvin Carter: "When we put out the El Dorados album (VJLP-1001), there were a couple of songs by the Magnificents on the album because we didn't have enough product. At that time, we were using old 'B' sides of singles and things we didn't think were strong enough for singles on those albums. We didn't have enough material by the El Dorados for an album, but the Magnificents didn't have enough material for an album, either, so we put them together."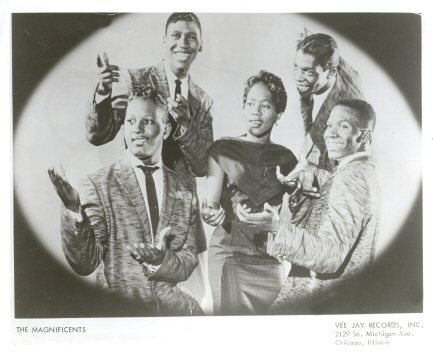 The Magnificents, pictured at left, late 1956: Top row (l to r): Johnny Keyes, Fred Rakestraw; Middle: Barbara Arrington; bottom row: L.C. Cooke, Willie Myles. Cooke was Sam Cooke's brother, and writer of Sam's first big pop hit, "You Send Me." Keyes and Cooke backed Bo Diddley on several of his hits, and Keyes later wrote "Too Weak to Fight," which sold a million for Clarence Carter in 1970.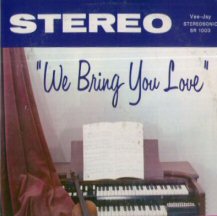 In addition to the El Dorados album, Vee Jay in 1957 issued the Spaniels' first album (VJLP-1002) and "We Bring You Love" by Sarah McLawler and Richard Otto (VJLP/SR-1003). The latter was a significant album from two points of view. First it was Vee Jay's first album venture into "pop" music, and second, it was their first stereo album. Since stereo on disc was only invented and demonstrated in late 1957, it showed a very innovative attitude on the part of Vee Jay to be recording in stereo this early.

Continued on Page 2...






---
We would appreciate any additions or corrections to this story. Just send them to us via e-mail. Both Sides Now Publications is an information web page. We are not a catalog, nor can we provide the records mentioned above. We have no association with Vee-Jay Records, which is currently inactive. Should you be interested in acquiring Vee-Jay products (which are all out of print), we suggest you see our Frequently Asked Questions page and Follow the instructions found there. This story and discography are copyright 1981, 1993, 1997, 1999, 2006 by Mike Callahan. All rights reserved.
Thanks to Robert Pruter and Robert L. Campbell.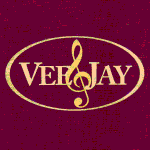 Back to the Vee-Jay Main Page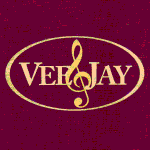 On to The Vee-Jay Story, Page 2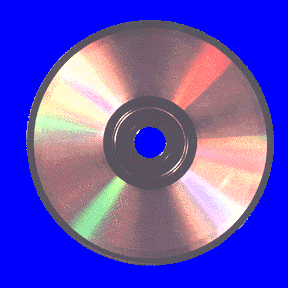 Back to the Discography Listings Page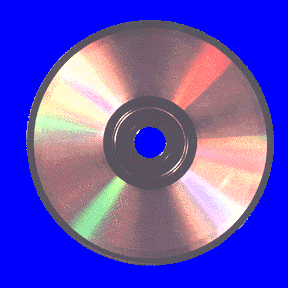 Back to the Both Sides Now Home Page