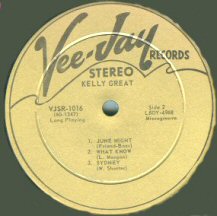 The Vee-Jay Story, Page 4
by Mike Callahan
Last update: December 19, 2006





[Note: This story was originally published as the column Both Sides Now in the May, 1981, issue of Goldmine (Issue #60). It is copyright, 1981, 2006 by Mike Callahan. All rights reserved. It has been updated. Discussions of some individual albums have been deleted in light of the extensive discography included in this web page.]



The Vee-Jay Stereo Story: Notes from the Studio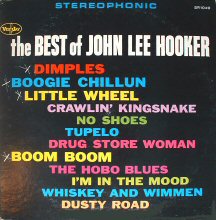 It would be nice to be able to say that all the Vee Jay material recorded after a certain date was done in stereo. It would even be nice to be able to say that you could believe the stereo markings on the front of a Vee Jay album. I'd even settle for saying that two "stereo" copies of the same album will have the same stereo content! But all I can say is, "what a mess!"

Let's start at the beginning. Vee Jay did almost all their recording at Universal Recording Studios in Chicago. I talked to Murray Allen, President of Universal, to get an idea of what the facilities were like back in the '50s and '60s:

MC: When did you start recording in stereo?

Murray Allen: "We had stereo in 1951! We were the first studio in the country to have stereo. We had one 2-track machine, with everything going onto quarter-inch tape, with no mixing possible in those days. Later we had two 2-tracks, then at the end of 1959 or early in 1960 we got our first 3-track machine, and by 1961 our third 2-track. In 1962, we got 4-track machines, in the late '60s, 8-track, and by 1969, 16-track. Tomorrow (January 16, 1981) we do our first digital recording, so it never ends I guess."

MC: Then you were doing stereo tapes long before they came out on records in late 1957?

Murray Allen: "That's true. When we recorded in stereo in the fifties, we usually would record mono and stereo simultaneously. Sometimes the stereo version wouldn't turn out too well, so it wouldn't be released. There was no mixing possible in those days, so if you didn't like the take there wasn't anything you could do to fix it. In the mid-fifties, we also did all the stereo tapes for Webcor and VM (Voice of Music), and this continued up until 1962 or '63, when they stopped. We even used a 6-track machine in the mid-'50s to make a demo tape for Clark Terry."

MC: What were the studios like in the fifties?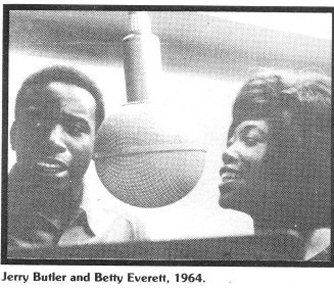 Murray Allen: "We had two studios, Studio A and Studio B. The recording business in the fifties was really funny. We would be recording somebody in Studio A and if they had a hot tune, some other company would call up before the session was over and ask that the musicians go next door to the other studio when they were finished and lay down the same thing so the second company could have their own singer do the same song. At that time, the time between recording and release of a record was sometimes only a few days, so we recorded a lot of songs that were copies of others, and had a lot of people running around doing rush recording sessions."

MC: What were some of the labels you recorded for?

Murray Allen: "We did a lot of recording for Vee Jay, in fact we stored their master tape library here for years. We also did an awful lot of recording for Mercury, some for Dot, Peacock, Liberty, and Word."

MC: What about Chess?

Murray Allen: "For Chess, we only did the larger dates, the physically larger dates, say 40 men or so. Chess had their own recording facilities and would only record here when they couldn't physically fit the musicians into their studio. Later on, in the mid-'60s, they built a bigger studio on the South Side, and after that they didn't come here at all."

MC: Did Vee Jay record very much in stereo?

Murray Allen: "It seems to me that they pretty much stuck to mono. Some of the things we probably simulcorded in both stereo and mono. It also depended on whether they used Studio A or Studio 8, because at one time one had stereo and the other one didn't, even though they were next door to each other. Eventually, of course, we got stereo in all the studios."

Calvin Carter, who was responsible for producing most of the Vee Jay recordings in the early years, had the following to add:

Calvin Carter: "The sessions were all mono until about 1958, then we got started in stereo."

MC: Murray Allen told me earlier that there were two studios, one with stereo and one without. Did this affect your choice of studios?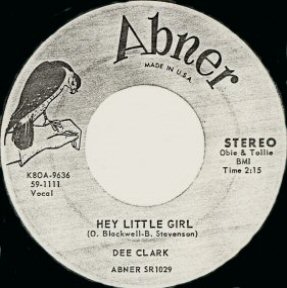 Calvin Carter: "Not much, it would usually depend on the size of the band I was using. Usually I did my blues things, because at the time it wasn't a big deal to have stereo, in Studio B (no stereo), and sometimes I would even use Studio C, which was a very small studio with an intimate sound. I'd do my larger arrangements in Studio A, which was a very big studio. After awhile, when stereo became a force, we went back and ran a lot of our old masters through another studio to give it another sound, we used to call it pseudo-stereo."

MC: Do you know anything about the two stereo singles on Abner in 1959 by Dee Clark?

Calvin Carter: "Yes, I did them. Stereo was just beginning to become a force, and those were some of our first stereo records; it was done to show off the stereo."

MC: But you didn't put out any stereo singles on Vee-Jay itself?

Calvin Carter: "That's because nothing came up at the time, or we would have."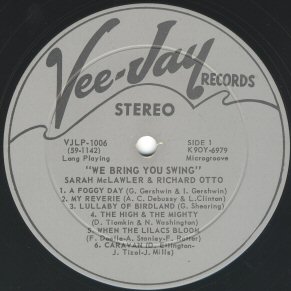 The first stereo album put out on Vee Jay was We Bring You Love, by Sarah McLawler and Richard Otto [Vee Jay SR-1003], mastered in 1957! From there, several of the following albums were also stereo, especially the jazz albums. Jazz A&R chief Sid McCoy remarked:

Sid McCoy: "Most of the jazz recordings were done in stereo. There were a couple, it seems to me, that were done monaurally, but these were later taken back into the studio and remastered by some process whereby they faked a second channel. But it became apparent early on that the jazz stuff should be done in stereo."

Early Vee-Jay stereo albums had a grey-colored script label, such as that pictured at left. Somewhat later, the stereo label changed to a gold color (see top of page).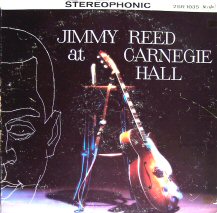 Except for the jazz albums and the Dee Clark albums on Abner, there weren't many hits in stereo on Vee-Jay until the Jimmy Reed at Carnegie Hall album [SR-1035] in 1961. Several of the songs from his previous album, Found Love [LP-1022], appear on the Carnegie Hall album in stereo, including "Baby What You Want Me to Do," "Found Love," "Big Boss Man," and "Hush-Hush." Surprisingly, "Take Out Some Insurance", originally on the Rockin' with Reed album, was also true stereo. In addition, there was a second disc of newly recorded songs, including "Bright Lights, Big City," all in true stereo.

From there, stereo seemed to be the order of the day. The new Dee Clark album, Hold On...It's Dee Clark [Vee-Jay SR-1037] was all stereo, including "Raindrops" and "Your Friends". SR-1038, Jerry Butler's Aware of Love, included "Find Another Girl", "I'm A Telling You," and others in stereo.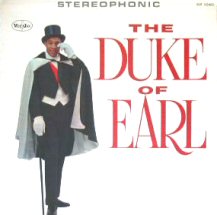 Then came the blockbuster, SR-1040, The Duke of Earl by Gene Chandler. Very few copies of the stereo album were sold, making it a true rock and roll rarity. The album is all true stereo, with a wonderful pressing that makes the sound breathtaking in its original stereo. Unfortunately, the stereo master has long since disappeared, and reissues with the stereophonic banner on the front cover have all been mono pressings inside. The original stereo pressing has "XCSV-82329-1C" mechanically stamped in the trailout wax of side one, and the matrix number corrected to "82339" by hand. The back cover slick also has a blurb at the top that starts "Important notice...This is a stereophonic record" (see above).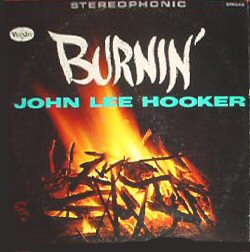 Another stereo master that has rarely turned up is the stereo version of SR-1043, John Lee Hooker's Burnin' album, which has the stereo version of his hit, "Boom Boom." The stereo master of his Best of John Lee Hooker package, SR-1049, is another one whose stereo master whereabouts are unknown, since the 1970s reissue is mono in the stereo cover. In fact, we have yet to locate a stereo copy of the original SR-1049, so we can't even report which songs were really stereo on that album. The other two Best Of packages issued around the same time, for Dee Clark [SR-1047] and Jerry Butler [SR-1048] are predominately true stereo, including a true stereo alternate take of "For Your Precious Love" by Jerry Butler & the Impressions on the latter. From this point, the Jimmy Reed albums [SR-1050 and beyond], and there were many, were all in stereo, as were John Lee Hooker's albums.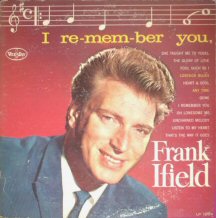 The Four Seasons albums, which started with Sherry [SR-1053], were generally in stereo, with a few tracks being exceptions (see accompanying discography). In general, "New Mexican Rose" and "Connie-O" did not appear in stereo. Another hard-to-find stereo hit is the original version of Frank Ifield's "I Remember You, which was included in (2-track) stereo on the I Remember You album [SR-1054] and also on the Beatles and Frank Ifield on Stage album [VJS-1085]. Aside from the fairly rare stereo versions of these albwums, the original stereo version didn't show up until much later, on CD. Ifield re-recorded the song and included it on countless albums in the 1960s and 1970s. Introducing the Beatles [SR-1062] was stereo except for "Love Me Do" and "PS I Love You" included on the first version of the LP.

From this point, most of the albums you'd expect to be stereo, are stereo, and compilations of oldies were generally just released in mono. A minor exception is Hoyt Axton, whose Hoyt Axton Explodes! [VJS-1098] was rechanneled, and whose Bessie Smith album [VJS-1152] has never turned up in stereo. This is surprising, since all the Horizon material before this had been true stereo.


---
We would appreciate any additions or corrections to this story. Just send them to us via e-mail. Both Sides Now Publications is an information web page. We are not a catalog, nor can we provide the records mentioned below. We have no association with Vee-Jay Records. Should you be interested in acquiring Vee-Jay products (which are all out of print), we suggest you see our Frequently Asked Questions page and Follow the instructions found there. This story and discography are copyright 1981, 1993, 1997, 1999, 2006 by Mike Callahan. All rights reserved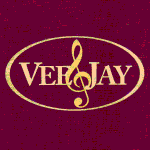 Back to the Vee-Jay Main Page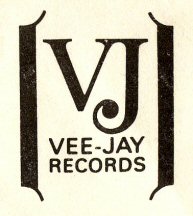 Back to The Vee-Jay Story, Page 3




On to The Vee-Jay International Story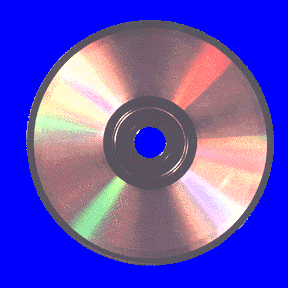 Back to the Discography Listings Page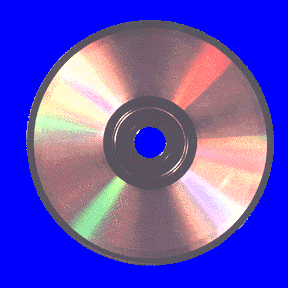 Back to the Both Sides Now Home Page