This is the third incarnation of Rondo Records, as a subsidiary of Kimberly Records, based in Long Island City, New York. Kimberly was in turn owned by Precision Radiation Instruments, Inc. (PRI) of Los Angeles. This incarnation of Rondo reissued old Rondo and P.R.I. masters. The logo was changed from the dated "musical note" logo to a smart new multi-color circular logo.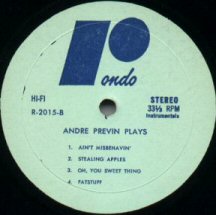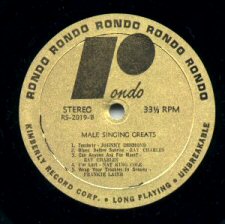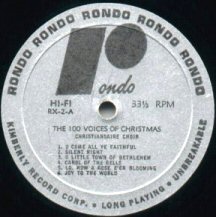 The Rondo/Kimberly label used at least three different label designs. The earliest was light blue with dark blue print, and except for the Rondo small-case "R" logo at the top, had very little additional information besides the song titles and artists. This blue label was followed by a gold label, and then later by a silver label, both of which mentioned Kimberly Record Corporation around the bottom of the label.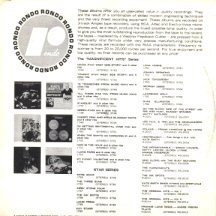 The Kimberly/Ronco albums, like other PRI labels, used a generic back cover for their albums, one which listed many of their other albums. The only seeming differences among album back covers was that for stereo albums, most had "STEREO" in large block letters near the lower left of the back cover, while for mono albums the notation was "HI-FI." Some albums had neither designation.

We would appreciate any additions or corrections to this discography.Just send them to us via e-mail. Both Sides Now Publications is an information web page. We are not a catalog, nor can we provide the records listed below. We have no association with Rondo Records. Should you be interested in acquiring albums listed in this discography (all of which are out of print), we suggest you see our Frequently Asked Questions page and follow the instructions found there. This story and discography are copyright 2002, 2003 by Mike Callahan.
| | |
| --- | --- |
| Cover | Number - Title - Artist - [Release Date] Contents |
| | R/RS-2000 Series: |
| | R-2001/RS-2001 - On The Sunny Side of the Street - Various Artists [1963] Artists include: Pee Wee Hunt, Muggsy Spanier, and Matty Matlock. |
| | R-2002/RS-2002 - Les Paul Trio & the Windjammers - Les Paul Trio/Windjammers [1963] |
| | R-2003/RS-2003 - Polkas - Fankie Yankovic & His Yanks [1963] |
| | R-2004/RS-2004 - Hootenanny: Folk Songs U.S.A. - Kate Smith [1963] The Wreck Of The Old 97 (M)/Scarlet Ribbons (M)/Cool Water (M)/Blue Tail Fly (M)/Kisses Sweeter Than Wine (M)//He's Got The Whole World In His Hands (S)/Greensleeves (S)/Down In The Valley (S)/Sixteen Tons (S)/On Top Of Old Smoky (S) |
| | R-2005/RS-2005 - The Incomparable - Various Artists [1963] Artists include: Sarah Vaughn, Ketty Lester, Gloria Lynne, and Margie Anderson. |
| | R-2006/RS-2006 - Sing Along with the Busy Beavers - Busy Beavers [1963] |
| | R-2007/RS-2007 |
| | R-2008/RS-2008 |
| | R-2009/RS-2009 - The Harmonicats - Harmonicats [1963] I'm Confessin' That I Love You/Rhapsody Boogie/If I Had My Way/Valse Bluette/Ritual Fire Dance//Peggy O'Neil/You Are Always In My Heart/Dance Of The Comedians/Cat's Blues/Fantasie Impromptu |
| | R-2010/RS-2010 - The Ink Spots in the Spotlite - Ink Spots [1963] |
| | R-2011/RS-2011 - Kate Smith Sings Hymns and Spirituals - Kate Smith |
| | R-2012/RS-2012 |
| | R-2013/RS-2013 - The Original Hits, Volume I - Various Artists [1963] |
| | R-2014/RS-2014 - The Original Hits, Volume II - Various Artists [1963] |
| | R-2015/RS-2015 - Frankie Laine Sings, Andre Previn Plays - Frankie Laine & Andre Previn [1963] You Can Depend On Me - Frankie Laine (E)/That's My Desire - Frankie Laine (E)/Rosetta - Frankie Laine (E)/Someday Sweetheart - Frankie Laine (E)/Wrap Your Troubles In Dreams - Frankie Laine (E)//Ain't Misbehavin' - Andre Previn (S)/Stealing Apples - Andre Previn (S)/Oh, You Sweet Thing - Andre Previn (S)/Fatstuff - Andre Previn (S) |
| | R-2016/RS-2016 - Piano Greats - Various Artists [1963] Artists include: Buddy Cole, Teddy Wilson, Joe Bushkin, Mary Lou Williams, Earl "Fatha" Hines, and Hank Jones. |
| | R-2017/RS-2017 - Dance Band Greats - Various Artists [1963] Artists include: Artie Shaw, Duke Ellington, Bunny Berrigan, and others. |
| | R-2018/RS-2018 - Jazz Greats - Various Artists [1963] Artists include: Woody Herman, Jack Teagarden, Talph Burns, and others. |
| | R-2019/RS-2019 - Male Singing Greats - Various Artists [1963] Perfidia - Billy Daniels/Can't Get Out Of This Mood - Billy Daniels/I've Got The World On A String - Mel Torme/Don't Worry About Me - Mel Torme/Rosetta - Frankie Laine//Tenderly - Johnny Desmond/Blues Before Sunrise - Ray Charles/Can Anyone Ask For More? - Ray Charles/I'm Lost - Nat "King" Cole/Wrap Your Troubles In Dreams - Frankie Laine |
| | R-2020/RS-2020 - Female Singing Greats - Various Artists [1963] Artists include: Lena Horne, Sarah Vaughan, Kay Starr, and others. |
| | R-2021/RS-2021 - Folk Singing Greats - Various Artists [1963] Artists include: Leadbelly, Josh White, Michael Strange, and others |
| | R-2022/RS-2022 - Organ Greats - Various Artists [1963] Artists include: Don Baker, Jesse Crawford, Marv Merlin, and others. |
| | R-2023/RS-2023 - Polka Greats - Various Artists [1963] Artists include: Walter Solek, Frank Yankovic, Vic Zembruski, and others. |
| | R-2024/RS-2024 - Country and Western Greats - Various Artists [1963] Artists include: Patsy Cline, Webb Pierce, Eddie Dean, and others. |
| | R-2025/RS-2025 - Country and Western Sacred Song Greats - Various Artists [1963] Artists include: T. Texas Tyler, Stewart Family |
| | R-2026/RS-2026 - Introducing the Merseyside Sound...Recorded Live in Great Britain - Liverpool Beats [1964] Mastered January, 1964. I Want To Hold Your Hand/This Is What I Mean/Tell Me I'm The One/Joshua/Maybe I Will//I Saw Her Standing There/Seems To Me/Got To Get Another Girl/Your Kind Of Love/There I Go |
| | 1740/9740 Series (Reissue of Tops LPs): |
| | 1743/9743 - "Maria" from West Side Story and 9 Other Magnificent Hits - Various Artists [1963?] |
| | 1744/9744 - "Tonight" from West Side Story and 9 Other Magnificent Hits - Various Artists [1963?] |
| | 1745/9745 - "76 Trombones" from The Music Man and 9 Other Magnificent Hits - Various Artists [1963?] |
| | 1746/9746 - "Till There Was You" from The Music Man and 9 Other Magnificent Hits - Various Artists [1963?] Till There Was You - Dave Pell & His Orchestra (S)/Gal From Joe's - Dave Pell & His Orchestra (S)/Jungle Drums - Dave Pell & His Orchestra (S)/Mood Indigo - Dave Pell & His Orchestra (S)/Pretending - Donald Simmons Orchestra (E)//It's A Good Day - Carroll Gentry Society Band (E)/In A Sentimental Mood - Dave Pell & His Orchestra (S)/You Made Me Love You - Dave Pell & His Orchestra (S)/Sophisticated Lady - Dave Pell & His Orchestra (S)/I Couldn't Sleep A Wink Last Night - William Laswell & His Orchestra (S) |
| | 1747/9747 - "Stardust" and 9 Other Magnificent Hits - Various Artists [1963?] Stardust - Dave Pell & His Orchestra (S)/Mr. Five By Five - Jerry Gray & His Orchestra (S)/Sweet Eloise - Jerry Gray & His Orchestra (S)/It's Been A Long Long Time - Dave Pell Orchestra (S)/Moonglow - Big Band Of Dave Pell (S)//Ciribiribin - Dave Pell & His Orchestra (S)/Frenesi - Dave Pell & His Orchestra (S)/Little Brown Jug - Dave Pell & His Orchestra (S)/Caravan - Big Band Of Dave Pell (S)/I've Heard That Song Before - Dave Pell & His Orchestra (S) |
| | 1748/9748 - "Green Eyes" and 9 Other Magnificent Hits - Dave Pell, His Orchestra & Big Band [1963?] Green Eyes - Dave Pell & His Orchestra (S)/O Sole Mio (My Sun) - Dave Pell Orchestra (S)/Little Brown Jug - Dave Pell & His Orchestra (S)/Ciribiribin - Dave Pell & His Orchestra (S)/Patricia - Big Band Of Dave Pell (S)//Frenesi - Dave Pell & His orchestra (S)/I'm Getting Sentimental Over You - Dave Pell Orchestra (S)/I Let A Song Out Of My Heart - Dave Pell & His Orchestra (S)/Listen To The Mocking Bird - Dave Pell & His Orchestra (S)/Why Don't You Do Right - Dave Pell & Orchestra (S) |
| | 1749/9749 - "Cherry Pink and Apple Blossom White" and 9 Other Magnificent Hits - Various Artists [1963?] |
| | 1750/9750 - "I'm Getting Sentimental Over You" and 9 Other Magnificent Hits - Dave Pell Orchestra [1963?] I'm Gettin' Sentimental Over You/The Breeze And I/Swannee River/Lonesome Road/Old Black Joe//Song Of India/Green Eyes/Lieberstraum/Priddy Blue Eyes/Dark Eyes |
| | 1751/9751 - "When the Saints Go Marching In" and 9 Other Magnificent Hits - Various Artists [1963?] |
| | 1752/9752 - "Now Is the Hour" and 9 Other Magnificent Hits - Various Artists [1963?] |
| | 1753/9753 - "I Love Paris" and 9 Other Magnificent Hits - Various Artists [1963?] I Love Paris - Martin Miller Orchestra (S)/In The Still Of The Night - Edward Caliguri & His Society Band (S)/I've Got You Under My Skin - Donald Olson & His Orchestra (S)/Wunderbar - Donald Olson & His Orchestra (S)/Use Your Imagination - Louis Brubaker & His Band (S)//Allez-Vous-En, Go Away - John Fisher & His Orchestra (S)/True Love - Jack Lose (S)/Could It Be You - William Davis & His Orchestra (S)/I Concentrate On You - Martin Miller & His Orchestra (S)/So In Love - Barry Seifer & His Band (S) |
| | 1754/9754 - "My Funny Valentine" and 9 Other Magnificent Hits - Various Artists [1963?] |
| | 1755/9755 - Mr. Clarinet - Artie Shaw [1963?] The Hornet (E)/How Deep Is The Ocean (E)/The Glider (E)/Anniversary Song (E)//I Don't Stand A Ghost Of A Chance (E)/My Heart Belongs To Daddy (E)/I've Got You Under My Skin (E)/Guilty (E) |
| | 1756/9756 - The Three Suns in Orbit - Three Suns [1963?] Out of This World (E)/Barcarolle (E)/Five Minutes More (E)/Chop Sticks (E)/Do You Love Me (E)//Oh Marie (E)/Chopin Dance (E)/All Through The Day (E)/I Love An Old Fashioned Song [label erroneously says "I Love An Old Fashioned Walk"] (E)/Dream (E) |
| | 1757/9757 - Kirby Stone Four - Kirby Stone Four [1963?] Alexander's Rag Time Band (S)/They All Laughed (S)/This Heart For Sale (S)/Ballin' The Jack (S)/I Wonder Who's Kissing Her Now (S)//How Deep Is The Ocean (S)/I Told You I Loved You (S)/Happy Little Island (S)/A Foggy Day (S)/Clyde (S) |
| | 1758/9758 - The Ink Spots - Ink Spots [1963?] |
| | 1759/9759 - Italian Favorites - Louis Prima & Phil Brito [1963?] Angelina/Please No Squeeza/Oh Marie/Tango Della Rosa/Worka John/Josephine/Comme Bella Stagione/others |
| | 1760/9760 - Kay Starr Sings - Kay Starr [1963?] |
| | 1761/9761 - The Incomparable Lena Horne - Lena Horne [1963?] More Than You Know/At Long Last Love/Sometimes I Feel Like A Motherless Child/Nobody Knows The Trouble I've Seen//Blue Prelude/Little Girl Blue/It's A Rainy Day/Frankie and Johnny |
| | 1762/9762 - Dance Party Featuring Johnny Desmond - Johnny Desmond [1963?] Orchestra conducted by John T. Williams. Reissue of Craftsmen C 8030. All Of You/The Last Time I Saw Paris/You'd Be So Nice To Come Home To/This Can't Be Love/That Old Devil Moon/There's A Small Hotel//It Ain't Necessarily So/I Can't Get Started With You/My Happy Time/It's The Talk Of The Town/I Got Plenty O' Nuttin' |
| | 1763/9763 - Swingin' Down in Dixie - Jack Teagarden [1963?] |
| | 1764/9764 - Her Nibs! Miss Georgia Gibbs! - Georgia Gibbs [1963?] The One I Love/Feudin' And Fightin'/Necessity/How Are Things In Glocca Morra/So Would I/Willow Road/Wrap Your Troubles In Dreams/You Keep Coming Back Like A Song/The Things We Did Last Summer/Fool That I Am |
| | 1765/9765 - Lawrence Welk - Lawrence Welk [1963?] Doll Dance/Kitten On The Keys/Josephine/Down Home Rag/Canadian Capers/Everything I've Got//Champagne Time/Loch Lomond [label says "Loch Lomand"]/Listen To The Mocking Bird/Scarf Dance/Rustic Dance |
| | 1766/9766 - In a Magenta Haze - Duke Ellington [1963?] In A Magenta Haze/Happy Go Lucky Local, Parts 1 & 2/Sultry Sunset/Tulip Or Turnip/Diminuendo In Blue/The Beautiful Indian |
| | RX Series (Christmas LPs): |
| | RX-1/RSX-1 - Christmas with Kate Smith - Kate Smith |
| | RX-2/RSX-2 - The 100 Voices of Christmas - Christiansaire Choir conducted by John Gustafson [1963] O Come All Ye Faithful/Silent Night/O Little Town Of Bethlehem/Carol Of The Bells/Lo How A Rose E'er Blooming/Joy To The World//Hark! The Herald Angels Sing/Away In A Manger/What Child Is This/Deck The Halls/We Three Kings Of Orient Are/Angels We have heard On High |