Elektra Album Discography, Part 4
EKL-5000/EKS-75000 Series (1960-1974)
By David Edwards, Patrice Eyries, and Mike Callahan
Last update: December 27, 2005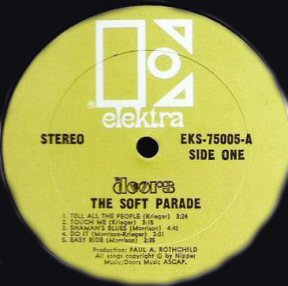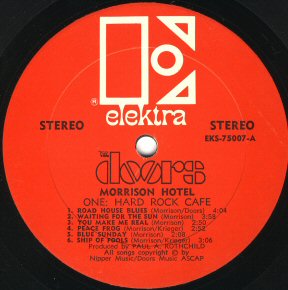 Elektra began the EKL-5000 series in 1960, and over the next few years had issued only five albums in the series total. When they wanted to start a new rock and roll oriented series in 1969, they just picked up where they had left off, with 75005. Of course, the new series was all stereo, so it became the 75000 series. The 75000 series started with the gold Elektra label on with the large white logo on 75005, the red Elektra label on 75006 and 75007, and by 75008 had switched to the "butterfly" label, which was used until the end of this series in 1974.

We would appreciate any additions or corrections to this discography. Just send them to us via e-mail. Both Sides Now Publications is an information web page. We are not a catalog, nor can we provide the records listed below. We have no association with Elektra Records. Should you be interested in acquiring albums listed in this discography (which are all out of print), we suggest you see our Frequently Asked Questions page and follow the instructions found there. This story and discography are copyright 2000, 2005 by Mike Callahan.



ELEKTRA ALBUM DISCOGRAPHY, PART 4

Number - Title - Artist [Release Date] (Chart) Contents

Elektra 5000 Series:

EKL 5000 - The Golden Apple - Original New York Cast [1960] Issued in mono only. Original 1954 New York cast. Musical based on the legend of Helen of Troy. Re-released by arrangement with RCA.

EKL 5001 - The Folk Song Kit/How to Play Folk Guitar - Lee Hays Issued in mono only.

EKL 5002 - Dramatic Cue and Mood Music 1 - Dramatic Cue Music Issued in mono only.

EKL 5003 - Dramatic Cue and Mood Music 2 - Dramatic Cue Music Issued in mono only.

EKL 5004 - Dramatic Cue and Mood Music 3 - Dramatic Cue Music Issued in mono only.


LPs from this point are stereo-only issues.

EKS 75005 - The Soft Parade - Doors [1969] (8-69, #6) Original pressings have gold Elektra label and fold- open jacket, with song lyrics printed on paper sleeve. Tell All The People/Touch Me/Shaman's Blues/Do It/Easy Ride//Wild Child/Runnin' Blue/Wishful Sinful/The Soft Parade

*EKS 75006 - I Am the President - David Frye [1969] (12-69, #19) Original pressings have red Elektra label. And The Winner Is/Blessed Event/Dear Dick/Dear Henry Cabot/Echoes Of His Mind/Golda Goes Washington/Historic Words/Hush, Hush, Sweet Spiro/Inside Hubert/It's A Gas/Late Night At The Office/New Tenants/Oh Dad, Poor Dad/Presidential Trip/Press Conference/Rocky Reports/Swing Vote/Ten O'Clock Shadow/Victory Speech

EKS 75007 - Morrison Hotel - Doors [1970] (3-70, #4) Original pressings have fold-open cover and red label. Lonnie Mack plays bass on "Roadhouse Blues" and "Maggie M'Gill". Side One: Hard Rock Cafe - Roadhouse Blues/Waiting For The Sun/You Make Me Real/Peace Frog/Blue Sunday/Ship Of Fools//Side Two: Morrison Hotel - Land Ho!/The Spy/Queen Of The Highway/Indian Summer/Maggie M'Gill

EKS 75008 - The Best of Josh White - Josh White [1970] (2 LPs) Free And Equal Blues/Where Were You, Baby?/You Don't Know My Mind/Sam Hall/Run, Mona, Run/Timber/Takin' Names/St James Infirmary/One Meat Ball/Peter/Jelly, Jelly/Jesus Gonna Make Up My Dyin' Bed/Halleleu/Prison Bound Blues/Midnight Special/Told My Captain/Going Home Boys/Trouble/Silicosis Blues/Southern Exposure/Empty Bed Blues/The Story Of John Henry

EKS 75009

EKS 75010 - Whales and Nightingales - Judy Collins [1970] (12-70, #17) Song For David/Sons Of/The Patriot Game/Prothalamium/Golden Thread/Gene's Song/Farewell To Tarwathie//Time Passes Slowly/Marieke/Nightingale I/Nightingale II/Simple Gifts/Amazing Grace

EKS 75011 - L.A. Woman - Doors [1971] (5-71, #9) Early copies of this album have a multi-part sleeve with a transparent window in the front, allowing the photo on the inner sleeve to be seen. The Changeling/Love Her Madly/Been Down So Long/Cars Hiss By My Window/L A Woman//L'America/Hyacinth House/Crawling King Snake/The WASP (Texas Radio And The Big Beat)/Riders On The Storm

EKS 75012 - A Child's Garden of Grass (A Pre-Legalization Comedy) - Michael Gwynne & Carl Esser [1971] (6-71, #148) The History Of Marijuana/Acquiring Marijuana, General Effects/Creativity/Physical Effects/Psychological Effects/Time And Space/Getting Hung-Up/Funniness//Meditation/Eating Food/Listening To Music/Making Love/Physical Games

EKS 75013 - Sometimes I Just Feel Like Smilin' - Paul Butterfield Blues Band [7/71] (9- 71, #124) Play On/One Thousand Ways/Pretty Woman/Little Piece Of Dying/Song For Lee//Trainman/Night Child/Drowned In My Own Tears/Blind Leading The Blind

EKS 75014 - Living - Judy Collins [1971] (12-71, #64) Joan Of Arc/Four Strong Winds/Vietnam Love Song/Innisfree (The Lake Of Innisfree)/Song For Judith (Open The Door)//All Things Are Quite Silent/Easy Times/Chelsea Morning/Famous Blue Raincoat/Just Like Tom Thumb's Blues

EKS 75015 - Alabama State Troupers - Alabama State Troupers with Nix and Greene [3/72] Listed in the New Entries section of the March 1972 Schwann Catalog.

EKS 75015 - Baby I'm-a Want You - Bread [1/72] (2-72, #3) Also available in Quad as EQ 5015. Mother Freedom/Baby I'm-A Want You/Down On My Knees/Everything I Own/Nobody Like You/Diary//Dream Lady/Daughter/Games of Magic/This Isn't What The Governmeant/Just Like Yesterday/I Don't Love You

EKS 75016 - Anticipation - Carly Simon [1971] (11-71, #30) Anticipation/Legend In Your Own Time/Our First Day Together/The Girl You Think You See/Summer's Coming Around Again//Share the End/The Garden/Three Days/Julie Through the Glass/I've Got to Have You

EKS 75017 - Other Voices - Doors [1972] (11-71, #31) 1st album as a trio, after Jim Morrison's death. In The Eyes Of The Sun/Variety Is The Spice Of Life/Ships W/Sails/Tightrope Ride//Down On The Farm/I'm Horny I'm Stoned/Wandering Musician/Hang On To Your Life

EKS 75018 - Beads and Feathers - Carol Hall [1/72] Carnival Man/Sandy/Thank You Babe/Hello My Old Friend/Uncle Malcolm/Sunday Lady/Nana/Hard Times Lovin/My House/Charlie's Waiting For The Snow/I Never Thought Anything Like This Would Happen

EKS 75019 - Kongos - John Kongos [1/72] Tokoloshe Man/Jubilee Cloud/Gold/Lift Me From The Ground/Come On Down Jesus//I Would Have Had A Good Time/Try To Touch Just One/Tomorrow I'll Go/He's Gonna Step On You Again

EKS 75020 - Bernie Taupin - Bernie Taupin [1/72] 1st solo album of Elton John's lyricist. Birth/The Greatest Discovery/Flatters (A Beginning)/Brothers Together/Rowston Manor/End Of A Day/To A Grandfather/Solitude/Conclusion//When The Heron Wakes/Like Summer Tempests/Today's Hero/Sisters Of The Cross/Brothers Together Again/Verses After Dark (La Petite Marionette-Ratcatcher-The Visitor)

EKS 75021 - Fog on the Tyne - Lindisfarne [1/72] Meet Me on the Corner/Alright on the Night/Uncle Sam/Together Forever/January Song//Peter Brophy Don't Care/City Song/Passing Ghosts/Train in G Major/Fog on the Tyne

EKS 75022 - Road Show - Alabama State Troupers featuring the Mt. Zion Band and Choir (Don Nix, Jeanie Greene, Furry Lewis) [1/72] Two record live album. Furry's Blues/Brownsville/I'm Black/A Chicken Ain't Nothin But A Bird//Will The Circle Be Unbroken/Amos Burke/Mighty Time/Jesus On The Mainline/Mary Louise/Yes I Do Understand//Opening (Part I)/Opening (Part II)/Living In The Country/Joa-Bim/Dixie/Heavy Makes You Happy/Iuka//Asphalt Outlaw Hero/Olena/My Father's House/Going Down

EKS 75023 - Heads & Tales - Harry Chapin [2/72] (3-72, #60) Could You Put Your Light On, Please/Greyhound/Everybody's Lonely/Sometime, Somewhere Wife/Empty//Taxi/Any Old Kind Of Day/Dogtown/Same Sad Singer

EKS 75024 - Live - JF Murphy & Salt [2/72] The Example/First Born/Waiting Hymn Of The Republic/Silver Horn//Country Jam/Soft September/Kansas City/If Wishes Were Horses

EKS 75025 - Hot Wacks - Wackers [1972] I Hardly Know Her Name/We Can Be/Oh My Love/Wait And See/Do You Know The Reason//Breathe Easy/Time Will Carry On/Maybe Tomorrow/Hot Wacks/Anytime-Anyday/Find Your Own Way/Time Will Carry On (Won't It)

EKS 75026 - Lunch - Audience [5/72] (6-72, #175) Stand By The Door/Seven Sore Bruises/Hula Girl/Ain't The Man You Need/In Accord//Barracuda Dan/Thunder And Lightning/Party Games/Trombone Gulch/Buy Me An Island

EKS 75027 - Ronee Blakley - Ronee Blakley [1972] Dues/Sleepin' Sickness Blues/Attachment/Down To The River/Gabriel//I Lied/Along The Shore/Fred Hampton/Cock O' The Walk/Bluebird/Graduation Tune

EKS 75028 - Tiptoe Past the Dragon - Marlin Greene [1972] Grand Illusion/Masquerade Ball/Jonathan's Dream/My Country Breakdown/Forest Ranger/Gemini Gypsy//Ponce De Leon/Who's The Captain Of Your Ship Of Dreams/Fields Of Clover/Good Christian Cowboy/Tiptoe Past The Dragon

EKS 75029 - Motorcycle Mama - Sailcat [5/72] (8-72, #38) Rainbow Road/The Thief/Highway Rider/Highway Riff/The Dream//If You've Got a Daughter/Ambush/B.B. Gunn/It'll Be a Long Long Time/Motorcycle Mama/Walking Together Backwards/On the Brighter Side of It All

EKS 75030 - Colors of the Day: The Best of Judy Collins - Judy Collins [5/72] (5-72, #37) Also available in Quad as EQ-5030. Someday Soon/Since You Asked/Both Sides Now/Sons Of/Suzanne/Farewell to Tarwathie//Who Knows Where The Time Goes/Sunny Goodge Street/My Father/Albatross/In My Life/Amazing Grace

EKS 75031 - Aztec Two-Step - Aztec Two-Step [6/72] Baking/Killing Me/The Persecution And Restoration Of Dean Moriarty (On The Road)/The Infidel/So Easy/Prisoner//Strangers/Almost Apocalypse/Dancers All/Cockroach Cacophony/Highway Song

EKS 75032 - American Gothic - David Ackles [7/72] (8-72, #167) American Gothic/Love's Enough/Ballad Of The Ship Of State/One Night Stand/Oh, California!/Another Friday Night//Family Band/Midnight Carousel/Waiting For The Moving Van/Blues For Billy Whitecloud/Montana Song

EKS 75033 - Jubal - Jubal [6/72] Lay Me Down/Friendly Goodbye/Yesterday (I Threw My Life Away)/Really Not a Rocker/Morning Of My Life/For Becky//Talk to Me Tonight/I'd Hate To Be a Black Man/Courage Of Your Convictions/Ridin'/Castles in the Sand

EKS 75034 - Circles - New Seekers [6/72] (7-72, #166) Dance, Dance, Dance/Changes IV/I Can Say You're Beautiful/Holy Rollin'/Just An Old Fashioned Love Song/Mystic Queen//Beg, Steal Or Borrow/A Perfect Love/The World I Wish For You/Out On The Edge Of Beyond/Jean's Little Secret Cafe/Circles

*EQ 5035 - The Best of the Doors - Doors [9/73] Quadrophonic album release only. Hello, I Love You/Light My Fire/Love Her Madly/Love Me Two Times/Moonlight Drive/People Are Strange/Riders On The Storm/Soul Kitchen/Take It As It Comes/Touch Me/Who Do You Love

EKS 75036 - A Contemporary Folk Music Journey - Ship [1972] A folk music concept produced by Gary Usher. The Ship/The Order/Innocence/The Man/The Calm/The Storm//Lost/The Island/The Reason/The Return/The Ship

EKS 75037 - There's an Innocent Face - Curt Boettcher [1/73] Curt had been a member of the Association and Millennium, and along with Gary Usher was the mastermind behind Sagittarius. I Love You More Each Day/Such A Lady/She'll Stay With You/Love You Yes I Do/Without Her/Bobby California//The Choice Is Yours/Malachi Star/Lay Down/I've Been Wrong/Wufferton Frog

EKS 75038 - Full Circle - Doors [1972] (8-72, #68) Trio of Manzarek, Krieger, and Densmore. Get Up And Dance/4 Billion Souls/Verdilac/Hardwood Floor/Good Rockin'//The Mosquito/The Piano Bird/It Slipped My Mind/The Peking King and The New York Queen

EKS 75039 - Made in England - Atomic Rooster [1972] (10-72, #149) Chris Farlowe (UK #1 Paint It Black version in '66) joined for this album and the next one. Time Take My Life/Stand By Me/Little Bit Of Inner Air/Don't Know What Went Wrong/Never To Lose//Introduction/Breathless/Space Cowboy/People You Can't Trust/All In Satan's Name/Close Your Eyes

EKS 75040 - Casey Kelly - Casey Kelly [1972] Silver Meteor/Making Believe/Run Away/Poor Boy/For Miss Julie//A Good Love Is Like a Good Song/You Can't Get There From Here/Escaping Reality/Resign Yourself To Me/Visiting An Old Friend

EKS 75041 - Goodthunder - Goodthunder [1972]

EKS 75042 - Sniper and Other Love Songs - Harry Chapin [1972] (10-72, #160) Sunday Morning Sunshine/Sniper/And The Baby Never Cries/Burning Herself//Barefoot Boy/Better Place To Be/Circle/Woman Child/Winter Song

EKS 75043 - Dingly Dell - Lindisfarne [1972] All Fall Down/Plankton's Lament/Bring Down the Government/Poor Old Ireland/Don't Ask Me/O, No, Not Again//Dingle Regatta/Wake Up Little Sister/Go Back/Court In The Act/Mandolin King/Dingly Dell

EKS 75044 - In Search of Amelia Earhart - Plainsong [1972] Short-lived band formed by Ian Matthews. For The Second Time/Yo Yo Man/Louise/Call The Tune/Diesel On My Tail/Amelia Earhart's Last Flight//I'll Fly Away/True Story Of Amelia Earhart/Even The Guiding Light/Side Roads/Raider

EKS 75045 - Sweet Salvation - Sweet Salvation [1972] Do A Number/Ain't Nobody's Fault But Your Own/I Just Find Myself Falling/Who's A Blue/Sail Away//Carry Me Home/Have You Ever Had The Blues/Stick With Me/Keep On Pushin'/Rock Steady

EKS 75046 - Shredder - Wackers [1972] Day And Night/Hey Lawdy Lawdy/I'll Believe In You/Puttin' Myself To Sleep/Eventually, Even You Even Me/Coming Apart//It's My Life/Beach Song/Buck Duckdog Memorial Jam (Our Ship's Comin' In-My Old Lady-You Really Got Me)/Last Dance

EKS 75047 - Guitar Man - Bread [1972] (11-72, #18) Welcome To The Music/The Guitar Man/Make It By Yourself/Aubrey/Fancy Dancer/Sweet Surrender//Tecolote/Let Me Go/Yours For Life/Picture In Your Mind/Don't Tell Me No/Didn't Even Know Her Name

EKS 75048 - Portland - Gary Ogan & Bill Lamb [1972] Send It Over/Reborn/Portland Rain/Love Lost Lady/Everything You Knew/Kac//Our Sweet Love/Just For Awhile/Ogan Tea/You Make Me Love You/I Wanna Live

EKS 75049 - No Secrets - Carly Simon [12/72] (12-72, #1) Also in Quad as EQ 5049 The Right Thing To Do/The Carter Family/You're So Vain/His Friends are More than Fond of Robin/We Have No Secrets//Embrace Me, You Child/Waited so Long/It Was So Easy/Night Owl/When You Close Your Eyes

EKS 75050 - Veronique Sanson - Veronique Sanson [1/73] French songstress who later married Stephen Stills. Amoureuse/Tout Est Cassé Tout Est Mort/L'Irreparable/Louis/Mariavah/Pour Les Michel//Pour Qui/Green Green Green/I Needed Nobody/Bahia/C'est Le Moment/Birds Of Summer

EKS 75051 - Best of the New Seekers - New Seekers [1/73] Also available in Quad on EQ-5051. Look What They've Done To My Song, Ma/Beautiful People/Nickel Song/Blackberry Way/A Perfect Love/Never Ending Song Of Love/I'd Like To Teach World To Sing/Tonight/Evergreen/Circles/Beg, Steal Or Borrow/Dance, Dance, Dance

EKS 75052 - Dana Cooper - Dana Cooper [1/73] Jesse James/others

EKS 75053 - True Stories & Other Dreams - Judy Collins [1/73] (2-73, #27) Cook With Honey/So Begins The Task/Fishermen Song/The Dealer (Down And Losin')/Secret Gardens//Holly Ann/The Hostage/Song for Martin/Ché

EKS 75054 - Special Delivery - Billy Mernit [1/73] Special Delivery/others

EKS 75055 - Heaven Help the Child - Mickey Newbury [1/73] (3-73, #173) Heaven Help The Child/Good Morning Dear/Sunshine/Sweet Memories//Why You Been Gone So Long/Cortelia Clark/Song For Susan/San Francisco Mabel Joy

EKS 75056 - Best of Bread - Bread [2/73] (3-73, #2) Also available in Quad as EQ-5056. (13th mastering was done 5-6-76.) Make it With You/Everything I Own/Dairy/Baby I'm - A Want You/It Don't Matter To Me/If//Mother Freedom/Down On My Knees/Too Much Love/Let Your Love Go/Look What You've Done/Truckin'

EKS 75057 - Homegrown - Don Agrati [3/73] Bloodstream/Love, Come My Way/Rocky Mountain Bear Hunt (Instrumental)/Heather Ann/Story/One Man Woman//Hollywood Song/Sunny Day/I Was A Man/Protoplasm Blues/Two-Bit Afternoon

EKS 75058 - Intergalactic Trot - Star Drive featuring Robert Mason [1973] Also available in Quad as EQ-5058. Rushes/Strawberry Fields Forever/Stardrive//Dr. Tandem (Takes A Ride)/Want To Take You Higher/Everything At Once/Intergalactic Trot

EKS 75059 - Capital City Rockets - Capital City Rockets [7/73] Ten Hole Dollars/Grab Your Honey/Little Bit O' Fun/Come Back Baby/People Are Losing//Breakfast In Bed/Newcomer Blues/My Orange Tie/Searchlight/Still Kicking

EKS 75060 - Fancy Dancer - Courtland Pickett [7/73] Formerly of Sailcat. Make It Good And Make It Last/You're Not There/The Homecoming/You Don't Grow Old/Fancy Dancer//It's All Over Now/Sad Thing/Oh, Little Darlin'/Alabama Smile/Softly Saying

EKS 75061 - Valley Hi - Ian Matthews [7/73] (9-73, #181) Former leader of UK band Matthews Southern Comfort. Keep On Sailing/Old Man At The Mill/Shady Lies/These Days/Leaving Alone//7 Bridges Road/Save Your Sorrows/What Are You Waiting For/Propinquity/Blue Blue Day

EKS 75062 - Dennis Linde - Dennis Linde [9/73] Singer-songwriter, formerly with Jubal. Hello, I Am Your Heart/Ridin' High/I Had A Dream/The Longer You're Gone/East St. Louis Nights//DR- 31/Don't Leave Me Here All Alone/Some Songs/All I Want To Do Is Be Your Man/Burning Love/Just A Song

EKS 75063 - Music Is Your Mistress - Linda Hargrove [7/73] Fallen Angel/New York City Song/Let It Shine/Sing, Feelin', Sing/My Secret Self/The Farmer's Former Wife//Music Is Your mistress/I Feel Free Now/Couples/Don't Let It Bother You/A Song I Was Too Foolish to Believe/When He Leads His Lambs Away

EKS 75064 - Queen - Queen [9/73] (11-73, #83) Early US copies of this album had a gold embossed cover. Keep Yourself Alive/Doing All Right/Great King Rat/My Fairy King//Liar/Night Comes Down/Modern Times Rock 'n' Roll/Son And Daughter/Jesus/Seven Seas Of Rhye

EKS 75065 - Short Stories - Harry Chapin [1973] (12-73, #61) Short Stories/W*O*L*D/Song for Myself/Song Man/Changes//They Call Her Easy/Mr Tanner/Mail Order Annie/There's a Lot of Lonely People Tonight/Old College Avenue

EKS 75066 - First - David Gates [9/73] (10-73, #107) Also available in Quad on EQ-5066. Sail Around The World/Sunday Rider/Soap (I Use The)/Suite: Clouds, Rain//Help Is On The Way/Ann/Do You Believe He's Comin'/Sight & Sound/Lorilee

EKS 75067 - Dennis Coulson - Dennis Coulson [9/73] Former lead singer with UK band McGuinness Flint (that included Benny Gallagher and Graham Lyle as well). Yesterday's Dream/Job On The Tyne/S.S. Man/Lady Of Fortune/Neurosis U.S.A.//What Went Wrong/Let It Shine/Only Friend/Mississippi/Is It Me ?/Sunset Song

EKS 75068 - Islands - Cyrus Faryar [1973] Bright Island/On The Sea/So We Sailed/Dolphins/Good Feeling/Livin' In A Land O' Sunshine/Ghosts/Paradise/At Sunset

EKS 75069 - Melba Montgomery - Melba Montgomery [9//73] Papa Was Kind/Hands Off/Keep Me Warm/Let Me Show You How I Can/others

EKS 75070 - Jobriath - Jobriath [1973] Take Me I'm Yours/Be Still/World Without End/Space Clown/Earthling/Movie Queen//I'maman/Inside/Morning Star Ship/Rock Of Ages/Blow Away

EKS 75071 - Painter - Painter [1973] West Coast Woman/Tell Me Why/Song For Sunshine/Goin' Home To Rock 'n' Roll/Space Truck/Kites and Gliders//Oh! You/Slave Driver/For You/Crazy Feeling/Going Down The Road

EKS 75072 - For Sale - Casey Kelly [1/74] Jus' Enjoy All You Can Stand/Bayou Country/All I Could Do/Airport Song/Reach Out For Me//It's Too Late To Change What's Happened/I Wish I Knew/Honey Wait For Me/Sometimes I Think I Love You More/And I'm Home

EKS 75073 - Skymonters with Hamilton Camp - Skymonters [1973] Gypsy/Kings/Steal Away/Disaster/All I Need//Long River/Time/Shadows On The Wall/Laksmi's Song/The Dalang

EKS 75074 - Atomic Rooster IV - Atomic Rooster [1973] Licensed from B&C Records in the UK. All Across The Country/Save Me/Voodoo In You/Jackie Avery/Moods//Take One Toke/Can't Find A Reason/Ear In The Snow/What You Gonna Do/Chris Farlowe

EKS 75075 - Pipe Dream - Allan Hull [3/74] Guitarist with Lindisfarne.

EKS 75076 - Cross Country Cowboy - Buzz Rabin [6/74]

EKS 75077 - Roll on Ruby - Lindisfarne [6/74] Taking Care of Business/North Country Boy/Steppenwolf/Nobody Loves You Anymore/When the War is Over//Moonshine/Lazy/Roll on River/Tow the Line/Goodbye

EKS 75078 - Some Days You Eat the Bear and Some Days the Bear Eats You - Ian Matthews [1974] Ol' 55/I Don't Wanna To Talk About It/A Wailing Goodbye/Keep On Sailing/Tried So Hard//Dirty Work/Do I Still Figure In Your Life/Home/Biloxi/The Fault

EKS 75079 - No Charge - Melba Montgomery [1974] (5-74, #14 country)

EKS 75080

EKS 75081 - Soakin' with Tears - Randy Lee [7/74]

EKS 75082 - Queen II - Queen [1974] (5-74, #49) Procession/Father To Son/White Queen (As It Began)/Some Day One Day/The Loser In The End//Ogre Battle/The Fairy Feller's Master- Stroke/Nevermore/The March Of The Black Queen/Funny How Love Is/Seven Seas Of Rhye


Thanks to Peter (JollyOz).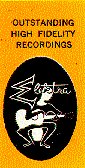 Back to the Elektra Records Story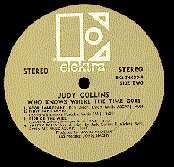 Back to the Elektra Album Discography, Part 3 EKL-4000/EKS-74000 Series (1966-1971)





On to the Elektra Album Discography, Part 5 Elektra/Asylum E- 1000 Series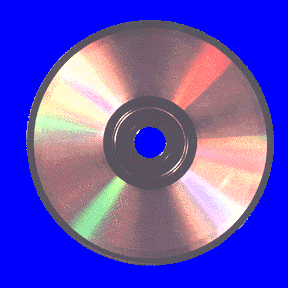 Back to the Discography Listings Page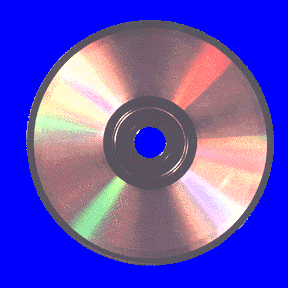 Back to the Both Sides Now Home Page