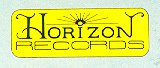 Horizon (of Oklahoma) Album Discography
By Mike Callahan, David Edwards, and Patrice Eyries
Last update: February 18, 2002






This was one of at least three different labels which used the Horizon name, and both of the others are far better known (the early 1960s Horizon folk-blues label from Los Angeles and the A&M Horizon jazz subsidiary in the 1970s). Sandwiched in between these two more famous namesakes was an obscure late-1960s Christian label out of Tulsa, Oklahoma.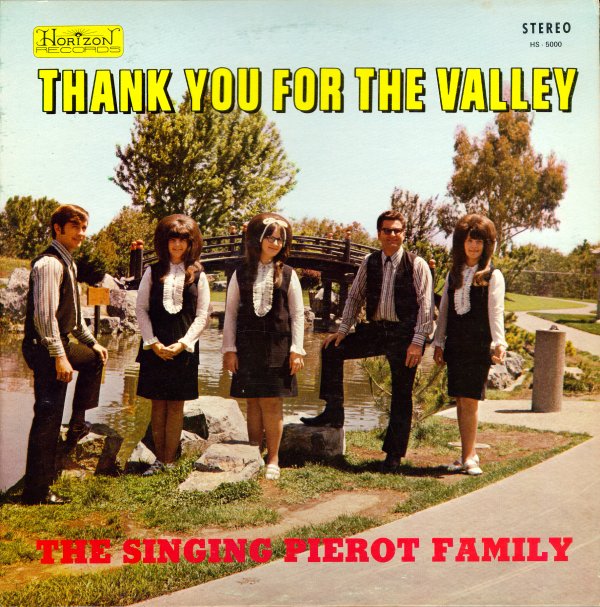 The one album we could find on this Oklahoma Horizon label is certainly memorable, but perhaps not in the way the artists or record company intended. It is a rather straightforward Southern Gospel quartet recording by a group called the Singing Pierot Family. They harmonize over the piano playing of daughter Debbie Pierot, who apparently learned from listening to Floyd Cramer records - - not bad, but a recognizable style.

Speaking of style, that brings us to the "memorable" part, which is the record jacket. The three women members of the group shock us back to the days of "big hair." That, and mother Helen Pierot's finishing-school pose on the cover make this a relic of a set of styles that were popular seemingly just momentarily.

Notwithstanding the startling record jacket (by 2002 standards), the music inside is certainly competent, and the stereo is mixed well. The vinyl, on the other hand, has a number of bubbles typical of budget manufacture. It was recorded at Sunmet Sound Studios in Dallas.

The Singing Pierots, as parents Bill and Helen became known, spent the next 30-odd years touring the United States. At one point, they appeared at the Grand Ole Opry. In March, 2000, the city of Durant, Oklahoma issued a Proclamation Recognizing the Lifetime Achievement of Bill and Helen Pierot of the Singing Pierots, and presented the proclamation to them. As of August, 2000, they were still appearing at churches in the Oklahoma area doing what has been termed as their blend of "southern gospel, country gospel, and blue country." At this point, they would probably just as well forget the album cover from long ago.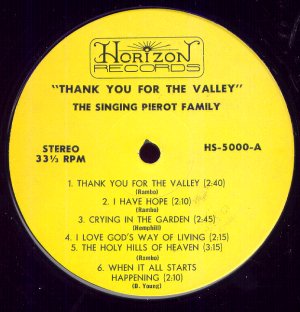 We are not certain that the albums from 5013 onward are the same company, although the label name and series are the same. The label is yellow with black print, with the Horizon logo at the top.

We would appreciate any additions or corrections to this discography. Just send them to us via e-mail. Both Sides Now Publications is an information web page. We are not a catalog, nor can we provide the records listed below. We have no association with Horizon Records of Oklahoma. Should you be interested in acquiring albums listed in this discography (all of which are out of print), we suggest you see our Frequently Asked Questions page and follow the instructions found there. This story and discography are copyright 2002 by Mike Callahan.



HORIZON (OKLAHOMA) ALBUM DISCOGRAPHY

Number - Title - Artist [Release Date] Contents

HS-5000 - Thank You for the Valley - Singing Pierot Family [196?] Thank You For The Valley/I Have Hope/Crying In The Garden/I Love God's Way Of Living/The Holy Hills Of Heaven/When It All Starts Happening//Is That The Lights Of Home/Why Pay The Cost/That's Just His Way/Satan Has No Claim On Me/Less Of Me/The Eyes Of Jesus

HS-5001

HS-5002

HS-5003

HS-5004

HS-5005

HS-5006

HS-5007

HS-5008

HS-5009

HS-5010

HS-5011

HS-5012

HS-5013 - Electronic Hymns

HS-5014 - Inspirational Songs - Bob Shurley

HS-5015 - Praise and Worship - Maranatha Strings

HS-5016 - Remix - Servant

HS-5017 - Country Gospel

HS-5018 - Aerobic Praise

HS-5019 - Hal Redekop - Hal Redekop

HS-5020 - Aerobic Praise

HS-5021 - Inspirational Songs, Vol. 2 - Bob Shurley

HS-5022

HS-5023 - The Value of Life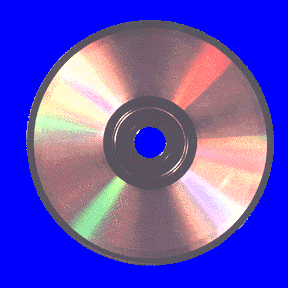 Back to the Christian Albums Discography Index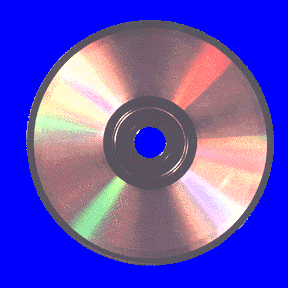 Back to the Discography Listings Page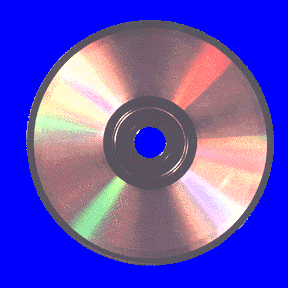 Back to the Both Sides Now Home Page