Exodus was a quasi-independent operation owned by Ewart Abner. Exodus was using Vee-Jay's masters and artwork while Vee-Jay struggled with bankruptcy in early 1966. The court which ordered liquidation of Vee-Jay in 1966 put a stop to Exodus at the same time, essentially contending that they were the same company for all practical purposes. Exodus had access to all Vee-Jay's "new" issues of the time, as well as their best sellers. Many of the albums that Vee-Jay was going to issue in late 1965 went unissued until they appeared on Exodus. Exodus EX-301, which was to have been a Vee-Jay issue, even has the Vee-Jay matrix number (scratched out) in the trailoff grooves and comes with a Vee-Jay inner paper sleeve.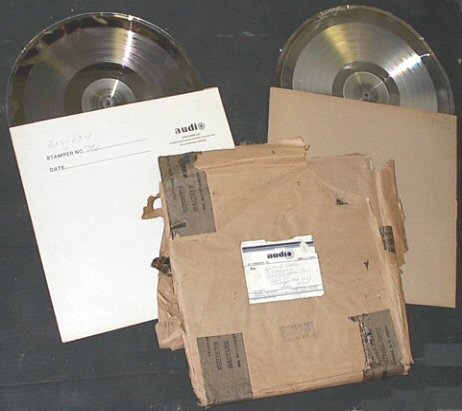 The operating conditions were somewhat chaotic, as you might expect with Vee-Jay going into bankruptcy. They didn't have a consistent label on their albums, and it is not clear that they actually issued all the catalog numbers. We have listed both the mono and stereo numbers in the discography below, because both numbers appear on the albums and either mono and stereo covers appeared on various albums. Nevertheless, it is clear that Exodus issued very few of the albums in stereo. Apparently, Exodus had access to one set of stampers for each album, and most of the time it was the mono set. Whichever set they had access to was the one used to press albums, and those albums went into jackets with whatever artwork they had access to, whether the mono or stereo artwork. Most of the time, the stereo artwork was used for the jackets and the mono stampers were available, so there were a lot of mono albums in stereo covers on Exodus. Some of the Exodus pressing hardware (mothers for pressing) were some time ago offered for sale on e-Bay (see photo at right).

Exodus Records did not operate for very long. It started in late 1965 and ended when Vee-Jay was liquidated, in August, 1966. It was clear that some people within Vee-Jay knew about the Exodus operation, and others didn't. Betty Chiappetta, who was an Vee-Jay official in the financial end of the company at the time, told me she had absolutely no knowledge that Exodus existed until August, 1966. As she was preparing to go to court in the bankruptcy proceedings, someone came to her with a book of Exodus album cover slicks, and said, "I think you need to know about this." The next day, she brought the "slick book" to court, and that's when the judge ruled that Exodus was in fact part of the assets of Vee-Jay, and ordered all of it liquidated.



| | |
| --- | --- |
| Cover | Number - Title - Artist - [Release Date] Contents |
| | Exodus EX/EXS-300 Main Series: |
| | EX/EXS-301 - Hoyt Axton Sings Bessie Smith - Hoyt Axton [1966] This album is the same as the unissued VeeJay VJLP-1152. Vee-Jay number is in the dead wax, crossed out, with the Exodus number written in. Black Exodus brackets label. Also issued with a different cover with a song list on the front and a totally blank back cover. You've Been A Good Ole Wagon/Poor Man's Blues/Nobody Knows You When You're Down And Out/J.C. Holmes Blues/Jailhouse Blues/Black Mountain//Long Old Road/Send Me To The Electric Chair/After You've Gone/Me And My Gin/Blue Spirit Blues |
| | EX/EXS-302 - American Folk Blues Festival - Various Artists [1966] Gatefold cover. Black Exodus brackets label. Recorded in Breman, Germany, during a European-wide tour of the Festival in 1965. The artists performed in various combinations as indicated (v=vocals, p=piano, g=guitar, b=bass, d=drums, h=harmonica, u=ukelele). Wish Me Well - Memphis Slim (p+v), Willie Dixon (b), Matt "Guitar" Murphy (g), Bill Stepney (d) (E)/I Have No Friends - Big Joe Williams (g+v) (E)/Sittin' And Cryin' The Blues - Willie Dixon (b+v), Memphis Slim (p), Matt Murphy (g), Bill Stepney (d) (E)/Crazy For My Baby - Willie Dixon (b+v), Memphis Slim (p), Matt Murphy (g), Bill Stepney (d) (E)/Grant Spivey - Victoria Spivey (v+u), Willie Dixon (b), Bill Stepney (d) (E)/Matt's Guitar Boogie - Matt Murphy (g), Memphis Slim (p), Willie Dixon (b), Bill Stepney (d) (E)//I Don't Know - Sonny Boy Williamson (v+h), Otis Spann (p), Willie Dixon (b), Bill Stepney (d) (E)/Sonny's Harmonica Boogie - Sonny Boy Williamson (h) (E)/It's Too Late To Cry - Lonnie Johnson (g+v) (E)/Had My Fun - Otis Spann (p+v), Willie Dixon (b), Matt Murphy (g), Bill Stepney (d), Sonny Boy Williamson (h) (E)/Five Long Years - Muddy Waters (g+v), Otis Spann (p), Willie Dixon (b), Bill Stepney (d) (E)/Bye, Bye Blues - Memphis Slin (p+v), jam session with Otis Spann, Sonny Boy Williamson, Big Joe Williams, Victoria Spivey, Lonnie Johnson, Willie Dixon, Matt Murphy, and Bill Stepney |
| | EX/EXS-303 - Shades of Django - George Cordoba [1966] This is the unreleased Vee-Jay VJS-1144. The stereo version of this LP is reported to be all true stereo, made from the Vee Jay stampers, with the Vee-Jay number crossed out and the Exodus number written in the dead wax area. Black Exodus label with brackets logo. Body And Soul/Tea For Two/Running Wild/I've Found A New Baby/Minor Mood/Lover//These Foolish Things/Night And Day/I'm Thinking Of You/Dark Eyes/Blues A La Guitar/Sweet Georgia Brown |
| | EX/EXS-304 - Early Hits of 1965 (aka Greatest Hits) - Billy Preston [1966] Reissue of Vee-Jay VJS-1142. Stop In The Name Of Love/The Birds And The Bees/Goldfinger/King Of The Road/You've Lost That Lovin' Feeling/My Girl//Eight Days A Week/Ferry Across The Mersey/Downtown/Can't You Hear My Heartbeat/Go Now/Shotgun |
| | EX/EXS-305 - Command Performance: Luis Varona Returns to World-Famous Eden Roc - Luis Varona [1966] Reissue of Vee-Jay VJLP/VJS-1143. Anabacoa (Rock Mambo)/Buscando La Melodia (Guajira Cha)/Aunque To Mami No Quiera (Cha-Cha)/Moods (Instrumental Ballad)/Muchacha Bonita (Meringue)/Whistling Cha (Cha-Cha/Frug)/Porta Diablo (Mambo)//Que Te Importa (Bolero)/Sabrosa Guajira (Guajira)/Toca Un Son /Cuando, Cuando (Bossa Nova)/Theme From Black Orpheus ("Carnivale")/Et Maintenant? (Bolero) |
| | EX/EXS-306 - |
| | EX/EXS-2-307 - Jimmy Reed at Carnegie Hall - Jimmy Reed [1966] (2-LP set) Reissue of Vee-Jay 2SR-1035. Bright Lights Big City/I'm Mr. Luck/What's Wrong Baby/Found Joy/Kind Of Lonesome//Aw Shucks, Hush Your Mouth/Tell Me You Love Me/Blue Carnegie/I'm A Love You/Hold Me Close/Blue Blue Water//Baby What You Want Me To Do/You Don't Have To Go/Hush-Hush/Found Love/Honest I Do/You Got Me Dizzy//Big Boss Man/Take Out Some Insurance/Boogie In The Dark/Going To New York/Ain't That Lovin' Baby/The Sun Is Shining |
| | EX/EXS-308 - The Best of Jimmy Reed - Jimmy Reed [1966] Reissue of Vee-Jay SR-1039. Baby What You Want Me To Do/You Don't Have To Go/Hush-Hush/Found Love/Honest I Do/You Got Me Dizzy//Big Boss Man/Take Out Some Insurance/Boogie In The Dark/Going To New York/Ain't that Lovin' Baby/The Sun Is Shining |
| | EX/EXS-309 - The Best of Jerry Butler - Jerry Butler [1966] Reissue of VJLP-1048. He Will Break Your Heart/For You Precious Love [with the Impressions]/Come Back My Love/Rainbow Valley/I'm A Telling You/A Lonely Soldier//Moon River/Find Another Girl/Aware Of Love/The Gift Of Love/Where Do I Turn/Couldn't Go To Sleep |
| | EX/EXS-310 - Just Jimmy Reed - Jimmy Reed [1966] Reissue of Vee-Jay SR-1050. I'll Change That Too/Let's Get Together/Good Lover/Take It Slow/Too Much//In The Morning/Oh John/Back Home At Noon/Kansas City Baby/You Can't Hide |
| | EX/EXS-311 - Jimmy Reed Sings The Best of the Blues - Jimmy Reed [1966] Reissue of Vee-Jay SR-1072. St. Louis Blues/Trouble In Mind/Wee Wee Baby/How Long How Long Blues/See, See, Rider/Roll "Em Pete//Outskirts Of Town/The Comeback/Cherry Red/Worried Life Blues/Five Long Years |
| | EX/EXS-312 - Sam Fletcher Sings - Sam Fletcher [1966] Reissue of Vee-Jay VJLP-1094. I Believe In You/More/Can't Buy Me Love/Hello Dolly/I'm Checking Out, Goodbye/Make Me A Present Of You/That Sunday Last Summer/Taste Of Honey/Moon River/Sophisticated Lady/I Won't Cry Anymore/People |
| | EX/EXS-313 - Delicious Together - Betty Everett & Jerry Butler [1966] Reissue of Vee- Jay LP/SR-1099. Let It Be Me/Love Is Strange/Just Be True/Since I Don't Have You/It's All Right/Our Day Will Come//Ain't That Loving You Baby/I Can't Stand It/The Way You Do The Things You Do/Let The Good Times Roll/Fever |
| | EX/EXS-314 - |
| | EX/EXS-315 - |
| | EX/EXS-316 - More of the Best of Jerry Butler - Jerry Butler [1966] Reissue of Vee-Jay VJLP-1119. [Note from Ron Dawson: "The last track on one side was taken off (although still listed on the cover) and replaced. I forget what the tune was but the way it was placed on was a doozy! You could actually hear the tonearm dropping onto the record and then the song starts. What an operation!"] Tracks from cover: I Stand Accused/I Don't Want To Hear It Anymore/Giving Up On Love/Need To Belong/Strawberries/Let It Be Me (With Betty Everett)//Just A Little Bit/Smile (With Betty Everett)/Message To Martha/Motherless Child/Just Be True/Ain't That Loving You Baby (With Betty Everett) |
| | EX/EXS-317 - The Very Best of Betty Everett - Betty Everett [1966] Reissue of Vee-Jay VJS- 1122. Smile [with Jerry Butler]/The Shoop Shoop Song/You're No Good/Chained To A Memory/Coming From You/June Night//Until You Were Gone/It's All Right [with Jerry Butler]/It Hurts To Be In Love/I Need You So/Getting Mighty Crowded/Let It Be Me [with Jerry Butler] |
| | EX/EXS-318 - The Most Exciting Organ Ever - Billy Preston [1966] Reissue of Vee-Jay VJS- 1123. If I Had a Hammer/Low Down/Slippin' & Sliding/Drown in My Own Tears/I Am Coming Through/The Octopus//Don't Let the Sun Catch You Cryin'/Soul Meetin'/Let Me Know/Billy's Bag/The Masqerade Is Over/Steady Gettin' it |
| | EX/EXS-319 - His Greatest Hits - Little Richard [1966] Reissue of Vee-Jay VJLP-1124. Although the cover of this album has a stereo sticker, the album is mono. Originally issued with the black Exodus label with the brackets logo. Later reissued with the light blue label. Good Golly Miss Molly/Baby Face/Tutti Frutti/Send Me Some Loving/The Girl Can't Help It/Lucille//Slippin' And Slidin'/Keep A Knockin' Rip It Up/She's Got It/Oh My Soul/Long Tall Sally |
| | EX/EXS-320 - |
| | EX/EXS-321 - Saturday's Child - Hoyt Axton [1966] Reissue of Vee-Jay VJS-1127. Black oval-logo Exodus label. Although the jacket says stereo, the record inside is mono. Saturday's Child/Trombone Charlie/St. James Infirmary/Hoochie Koochie Man/Willie Jean/Movin' Down The Line//They've Been On Their Jobs Too Long/Gamblers Blues/Voodoo Blues/Angel Cake And Wine/Make Me A Pallet/Rise Up |
| | EX/EXS-322 - |
| | EX/EXS-323 - Russ Morgan Plays and Sings Red Roses for a Blue Lady - Russ Morgan [1966] Reissue of Vee-Jay VJS-1139. Where'd You Get Those Eyes/Danke Schoen/Please Call Me Darling/It's A Waltz I'll Remember/Blue Velvet/No One's As Lonesome As Me//My Romance/All Or Nothng At All/The Trail Of The Lonesome Pine/Homespun/Dear Heart/Red Roses For A Blue Lady |
| | EX/EXS-324 - The Legend, The Man - Jimmy Reed [1966] Reissue of Vee-Jay LP-8501. High And Lonesome/You Don't Have To Go/Ain't That Lovin' You Baby/You Got Me Dizzy/Honest I Do/Going To New York//Baby What You Want Me To Do/Big Boss Man/Bright Lights Big City/Aw Shucks Hush Your Mouth/Shame Shame Shame/I'm Going Upside Your Head |
| | EX/EXS-325 - Is He the World's Greatest Blues Singer? - John Lee Hooker [1966] Reissue of Vee-Jay VJS-8502. Crawling King Snake/Blues Before Sunrise/Process/Want Ad Blues/Whiskey And Wimmen/Might Fire/Talk That Talk Baby/My First Wife Left Me/Wednesday Evening Blues/Maudie/Time Is Marching/Boom Boom |
| | Exodus EX/EXS-6000 Jazz Series: |
| | EX/EXS-6001 - My Babe - Bunky Green with Wynton Kelly [1966] Gatefold cover. Reissue of Vee-Jay LP-2509. My Babe/Polka Dots And Moonbeams/Counter Punch//Step High/Don't Blame Me/Cecile |
| | EX/EXS-6002 - For Bird and Bags - Eddie Harris [1966] Originally unissued; reissued in 1974 as Vee-Jay VJS-3058. Salute To Bird/I'm As Happy As I Want To Be/The River Nile//Salute To Bags/Samba De Orfeu/Only The Lonely/Checkmate |
| | EX/EXS-6003 - Leonard Feather's Encyclopedia of Jazz, Volume 3 - Various Artists [1966] Originally unissued; issued in 1977 as part of a 3-LP set on VJSP-400. Stool Pigeon Blues - Lightnin' Hopkins/Walk On - Brownie McGhee/In Blues - Jimmy Witherspoon/Downhearted Blues - Juanita Hall/Mean Mistreater - Joe Williams/It's A Mean Old Man's World - Dinah Washington//Jumpin' At The Woodside - Lambert, Hendricks & Ross/I Let A Song Go Out Of My Heart - Mavis Rivers/Until I Met You - Sarah Vaughan/My, How The Time Goes By - Bill Henderson/Undecided - Irma Curry/Dearly Beloved - Ann Richards |
| | EX/EXS-6004 - |
| | EX/EXS-6005 - The Eric Dolphy Memorial Album - Eric Dolphy [1966] Reissue of Vee-Jay VJS-2503. Jitterbug Waltz/Music Matador/Alone Together/Love Me |
| | EX/EXS-6006 - Exodus to Jazz - Eddie Harris [1966] Reissue of Vee-Jay SR-3016. Theme From Exodus (LP version)/Alicia/Gone Home/A.T.C.//A.M. Blues/Little Girl Blue/Velocity/W.P. |
| | Exodus EX/EXS-50 Gospel Series: |
| | EX/EXS-51 - The Caravans in Concert - Caravans [1966] Reissue of Vee-Jay 5077. Looking For You And Me/That's Why I Call Him Mine/Soul Salvation/I'll Wait On The Lord/Blessed Assurance/Old Man River//Hold Your Head Up High/Stand By Me/I Want To See Jesus/My Shelter My Rock/Hold Your Peace/My Soul Said Yes |
| | EX/EXS-52 - Singing Is Our Life - Harmonizing Four [1966] Reissue of Vee-Jay LP- 5078. Eyes Have Not Seen/What A Friend/Standing In The Need Of Prayer/Just Tell Jesus/In The Garden//Never Grow Old/Nobody Knows/Precious Memories/Michael Row The Boat Ashore/In That Land |
| | EX/EXS-53 - Hymns Speak from the Organ - William Everett Preston [1966] Reissue of Vee-Jay VJS-5083. Lay My Burdens Down/Do Lord/Gospel Groove/Praise God From Whom All Blessings Flow/Just A Closer Walk With Thee/Pass Me Not/How Great Thou Art/His Eye Is On The Sparrow/Gospel In My Soul/You'll Never Walk Alone/The Only Hope We Have/May The Good Lord Bless And Keep You/I Believe/Trees |
| | EX/EXS-54 - Presenting the Cogics - Cogics [1966] Originally unissued on Vee-Jay; reissued in the 1970s on Vee-Jay International VJS-18011. The Cogics were Billy Preston, Gloria Jones, Sondra (Blinky) Williams, Andrew Crouch, Frankie Karl, and Edna Wright. Don't Let It Be Said Too Late/It Will Never Lose It's Power/My Soul Loves Jesus/Since I Found Him/Nothing Is Greater/Won't It Be Sad//There Is A Fountain/Say Yes/He Included Me/Don't Stop Using Me/He Lives/It's A Blessing |
| | EX/EXS-55 - Uncloudy Day - Staple Singers [1966] Reissue of Vee-Jay LP-5000. Uncloudy Day/Let Me Ride/God's Wonderful Love/Help Me Jesus/I'm Coming Home/If I Could Hear My Mother//Low Is The Way/I Had A Dream/On My Way To Heaven/Going Away/I'm Leaning/I Know I Got Religion |
| | EX/EXS-56 - Amazing Grace - Maceo Woods [1966] Reissue of Vee-Jay LP-5001. Amazing Grace/Near The Cross/Old Rugged Cross/I Know/A Closer Walk with Thee/Canaan Land//The Lord Will Make A Way/Sunday Morning/Old Ship Of Zion/What A Friend We Have In Jesus/Steal Away/Precious Love |
| | EX/EXS-57 - The Harmonizing Four - Harmonizing Four [1966] Reissue of Vee-Jay LP- 5002. All Things Are Possible/Farther Along/Motherless Child/Where Could I Go But To The Lord/Happy Home In Jerusalem/I Shall Not Be Moved/Lived And He Loved Me/His Eyes Is On The Sparrow/When I've Done My Best/Go Down Moses/Will He Welcome Me |
| | EX/EXS-58 - The Swan Silvertones - Swan Silvertones [1966] Reissue of Vee-Jay LP- 5003. Mary Don't You Weep/Jesus Remembers/How I Got Over/That Day On Calvary/Sinner Man/Lady Called Mother/My Rock/Jesus Is A Friend Of Mine/The Lord's Prayer/Great Day In December/Come Out Of The Wilderness/When Jesus Comes |
| | EX/EXS-59 - The Original Five Blind Boys - Five Blind Boys of Mississippi [1966] Reissue of Vee-Jay LP-5004. I Never Heard A Man/Jesus Loves Me/I'm A Soldier/I'm A Rolling/My Robe Will Fit Me/Oh Why/Let's Have Church/I'm Willing To Run/You Don't Know/Where There's A Will/Waiting At The River/Don't Forget The Bridge |
| | EX/EXS-60 |
| | EX/EXS-61 - God Will Take Care of You - Harmonizing Four [1966] Reissue of Vee-Jay LP-5009. I Love To Call His Name/Glory To His Name/Pass Me Not/Close To Thee/God Will Take Care Of You/Mary Don't You Weep/Faith Of Our Fathers/Oh Sinner/My Lord What A Morning/Live Like Jesus/The Lord's Prayer |
| | EX/EXS-62 -Saviour Pass Me Not - Swan Silvertones [1966] Reissue of Vee-Jay LP-5013. Saviour Pass Me Not/Brighter Day Ahead/Get Right With God/What About You/Take The Lord With You/Bye And Bye/Feed Me Jesus/Blessed Quietness/Peace In The Valley/Amazing Grace/Carry Me Home |
| | EX/EXS-63 - Swing Low - Staple Singers [1966] Reissue of Vee-Jay LP-5014. Born In Bethlehem/Stand By Me/I've Been Scorned/Two Wings/Calling Me/Swing Low/Sit Down Servant/Day Is Passed And Gone/Good News/Let's Go Home/This May Be The Last Time |
| | EX/EXS-64 - The Best of the Staple Singers - Staple Singers [1966] Reissue of Vee-Jay LP-5019. Uncloudy Day/I Know I've Got Religion/Will The Circle Be Unbroken/God's Wonderful Love/Low Is The Way/Don't Knock/Let's Go Home/I've Been Scorned/Swing Low/Stand By Me/Pray |
| | EX/EXS-65 - Golden Bells - Harmonizing Four [1966] Reissue of Vee-Jay LP 5025. Hallelujah/In My Heart/Christian's Testimony/Precious Lord/Jesus Is Coming Soon/Golden Bells/Rock Of Ages/I'm Coming Home/Back To The Dust/Send Me/Bright Side/God Is So Good To Me |
| | EX/EXS-66 - Seek Ye the Lord - Caravans [1966] Reissue of Vee-Jay LP-5026. Amazing Grace/Just Like Him/Nobody Knows Like The Lord/Sacred Head/Lord Stay With Me/To Whom Shall I Turn/Must Jesus Bear The Cross Alone/I'm Ready To Serve The Lord/No Coward Soldiers/Seek Ye The Lord/Till I Meet The Lord/Jesus Will Save |
| | EX/EXS-67 - Swing Low Sweet Chariot - Staple Singers [1966] Reissue of Vee-Jay LP- 5030. I'm So Glad/Swing Down Chariot (Let Me Ride)/The Old Landmark/Good News/Each Day/Uncloudy Day//Let's Go Home/Pray On/Help Me Jesus/Going Away/Don't Knock/Swing Low Sweet Chariot |
| | EX/EXS-68 - Reach the Heart - Northeastern Michigan Church of God in Christ State Choir [1966] Reissue of Vee-Jay VJLP-5036. We're On Our Way Now/Reach The Heart/Jesus Is That Name/Motherless Child/Weeping Shall Endure/Shout Hallelujah!//Shelter In Time Of A Storm/Though You Slay Me/Because You've Been So Good To Me/Heaven Is Mine/Jesus Is My Friend/Don't Take This Away From Me |
| | EX/EXS-69 - Soul of the Caravans - Caravans [1966] 'Til You Come/Lord Don't Leave Us Now/Jesus And Me/One Of These Old Days/Everything You Need/What Will Tomorrow Bring//I Don't Mind/It Must Not Suffer Loss/I'm Going Thru/A Place Like That/My Religion/Unto Thee Oh Lord |
| | EX/EXS-70 |
| | EX/EXS-71 - True Convictions - Original Blind Boys of Alabama [1966] Reissue of Vee- Jay LP/SR-5048. I Can See Everybody's Mother/What He's Done For Me/After A While Old Time Religion/Just A Closer Walk With Thee/Tell God All About It//I'm Journeying On/Christian In My Heart/Precious Lord/God Is Real/I Just Rose To Tell You/How Far Am I From Canaan |
| | EX/EXS-72 - The Best of the Harmonizing Four - Harmonizing Four [1966] Reissue of Vee-Jay LP/SR-5050. All Things Are Possible/In My Heart/Farther Along/Wade In The Water/I Shall Not Be Moved/Go Down Moses/The Lord's Prayer/Back To The Dust/Lived And He Loved Me/Live Like Jesus/My Lord What A Morning/Rock Of Ages |
| | EX/EXS-73 - That Old Time Religion - Harmonizing Four [1966] Reissue of Vee-Jay LP/SR-5054. Old Time Religion/Without Him/Amazing Grace/Tell The Angels/Oh Happy Day//Calvary/Well Done/One Look/Standing There Wondering/Old Rugged Cross |
| | EX/EXS-74 - Walk Around Heaven All Day - Caravans [1966] Reissue of Vee-Jay LP/SR-5058. Walk Around Heaven All Day/Revive Us Again/Nothing Can Stop Me/The Lord Tried Me/Right Now God/Be Sure/That's The Way The Lord Works/Solid Rock/Without God/I've Gone Too Far (I Can't Give Up Now)/Since I've Been Born Again/Going Home |
| | EX/EXS-75 - Let's Go to Church Together - Swan Silvertones [1966] Reissue of Vee-Jay LP/SR-5059. Love Lifted Me/Call Him Jesus/Leave Your Burden Here/Cross For Me/I'll Be Satisfied/Send My Child//Look Down The Line/I Thank You Lord/Come To Jesus/Without A Mother/Search Me Lord/Bible Days |
| | EX/EXS-76 - The Soul of the Gospel Harmonettes - Gospel Harmonettes [1966] Reissue of Vee-Jay VJLP-5064. In My Heart/Love Lifted Me/He Died/Heaven Is A Beautiful Place/The Righteous On The March/You've Been Good To Me/I Must Tell Jesus/Step By Step/Don't Forget About Me/Royal Telephone/The Hymn |
| | EX/EXS-77 |
| | EX/EXS-78 |
| | EX/EXS-79 - Sing from the Top of the Hill - Highway QC's [1966] Reissue of Vee-Jay VJLP-5071. The Way Up The Hill/How I Love Jesus/I'll Trust His Word/He Lifted My Burdens/I Don't Want To Be Lost/All Men Are Made By God//Do You Love Him/Sad How They Done My Lord/Behold Thy Mother/Child Of God/Teach Me/Lord I'll Go |
| | EX/EXS-80 - Can I Get a Witness - Blind Boys of Alabama [1966] Reissue of Vee-Jay VJLP-5072. People Don't Sing/I Trust In God/Love Is Like A Prayer/Tell Jesus All/God Specializes/Thank You Jesus//Mother Loves Her Children/Come This Far By Faith/If You Miss Me From Singing/Lord Have Mercy/Old Christian/He's Alright |