New York based Red Bird, and its sister label, Blue Cat, existed for a very short time, from 1964-67, but during that time gave us some of the most memorable hits of the '60s. Although they apparently recorded in stereo, they only released the Dixie Cups LPs in that format. The Shangri-Las songs were also recorded in stereo, and have appeared later on several other non-Red Bird LPs (see "Related Discography" below). Recent CDs such as the Taragon CD below have finally allowed us to hear the Red Bird songs in excellent sounding true stereo.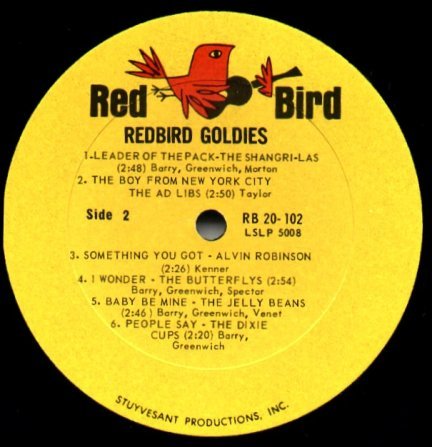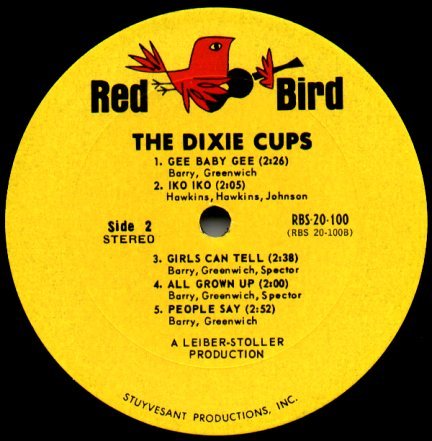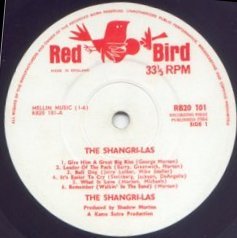 The Red Bird label was yellow with black print, with the red and black logo on top. Around the bottom of the label it read, "STUYVESANT PRODUCTIONS, INC." The stereo label was the same, with "STEREO" on the left of the label in small block letters.The UK version was white with red print.





We would appreciate any additions or corrections to this discography. Just send them to us via e-mail. Both Sides Now Publications is an information web page, and we have no association with Red Bird Records, which is not currently active. Should you be interested in acquiring albums listed in this discography (which are all out of print), we suggest you see our "Frequently Asked Questions" page and follow the instructions found there. This story and discography are copyright 1997, 2003 by Mike Callahan.
| | |
| --- | --- |
| Cover | Number - Title - Artist - [Release Date] (Chart) Contents |
| | RB 20-100/RBS 20-100 - Chapel of Love - Dixie Cups [1964] (8-64, #112) Chapel Of Love (S)/Gee The Moon Is Shining Bright (S)/I'm Gonna Get You Yet (S)/Ain't That Nice (S)/Thank You Mama Thank You Papa (S)/Another Boy Like Mine (S)//Gee Baby Gee (S)/Iko Iko (S)/Girls Can Tell (S)/All Grown Up (S)/People Say (M, except for a momentary separation during the bells in the bridge) |
| | RB 20-101 - Leader of the Pack - Shangri-Las [1965] (3-65, #109) Issued in mono only. Side 2 is "live," sort of. Give Him A Great Big Kiss/Leader Of The Pack/Bull Dog/It's Easier To Cry/What Is Love/Remember (Walking In The Sand)//Twist And Shout/Maybe/So Much In Love/Shout/Good Night My Love (Pleasant Dreams)/You Can't Sit Down |
| | RB 20-102 - Red Bird Goldies - Various Artists [1965] Issued in mono only. Chapel Of Love - Dixie Cups/Remember (Walking In The Sand) - Shangri-Las/New York's A Lonely Town - Trade Winds/I Wanna Love Him So Bad - Jelly Beans/Good Night Baby - Butterflys/Give Him A Great Big Kiss - Shangri-Las//Leader Of The Pack - Shangri-Las/The Boy From New York City - Ad Libs/Something You Got - Alvin Robinson/I Wonder - Butterflys/Baby Be Mine - Jelly Beans/People Say - Dixie Cups |
| | RB 20-103 - Iko Iko - Dixie Cups [1965] Essentially a reissue of the Chapel of Love LP [20-100] with a different cover. Issued in mono only. |
| | RB 20-104 - Shangri-Las-65! - Shangri-Las [1965] Issued in mono only. Red sticker on front of LP advertises "Right Now and Not Later." Right Now And Not Later/Never Again/Give Us Your Blessings/Sophisticated Boom Boom/I'm Blue/Heaven Only Knows//The Train From Kansas City/Out In The Streets/What's A Girl To Do/The Dum Dum Ditty/You Cheated You Lied/The Boy |
| | RB 20-104 - Shangri-Las-65! - Shangri-Las [1965] Issued in mono only. Transition album, has the track sequence of the I Can Never Go Home Anymore album below, with a white sticker on the front advertising "I Can Never Go Home Anymore." Right Now And Not Later/Never Again/Give Us Your Blessings/Sophisticated Boom Boom/I'm Blue/Heaven Only Knows//I Can Never Go Home Anymore/The Train From Kansas City/Out In The Streets/What's A Girl To Do/You Cheated You Lied/The Boy |
| | RB 20-104 - I Can Never Go Home Anymore - Shangri-Las [1965] Issued in mono only. A reissue of Shangri-Las-65! with a different cover and with the title track replacing "The Dum Dum Ditty" after the former song became a hit. This track lineup was also issued with the Shangri-Las '65! cover and a sticker advertising "I Can Never Go Home Anymore." Issued in mono only. Right Now And Not Later/Never Again/Give Us Your Blessings/Sophisticated Boom Boom/I'm Blue/Heaven Only Knows//I Can Never Go Home Anymore/The Train From Kansas City/Out In The Streets/What's A Girl To Do/You Cheated You Lied/The Boy |
| | RB-20-105 - The Wit and Wisdom of Adlai Stevenson - Adlai Stevenson [1965] Issued in mono only. The Annual Eleanor Roosevelt Award Dinner/1960 Democratic Convention In Los Angeles/First Speech On The Cuban Crisis/Second Speech On The Cuban Crisis/Tribute To Eleanor Roosevelt/Tribute To President John Kennedy/Ambassador Stevenson's Last Speech At The United Nations/Memorial to Ambassador Stevenson - Secretary General U Thant |
| | RB-20-106 - Steve Rossi - Steve Rossi [1965] Try To Remember/How Insensitive/My Heart Reminds Me/(others, probably including How Deep Is The Ocean/Nobody But You/Where's The Girl/I'll Set My Love To Music/My Claire De Lune) |
| | RELATED ALBUMS: |
| | Mercury SR-61099 - Golden Hits of the Shangri-Las - Shangri-Las [1966] Many of the LPs marked "mono" actually play in stereo, since this was the time that Mercury was going to mono/stereo albums. The wax in the runout grooves should say "2/61099" for these LPs instead of "MG-21099." Leader Of The Pack (S, missing first line of second verse, "One day my dad said find someone new." This line is missing from all stereo versions of this song released prior to the The Very Best of Red Bird/Blue Cat Records CD on Taragon, where it was the original 45 version in stereo.)/Past Present And Future (E)/Train From Kansas City (S)/Heaven Only Knows (S)/Remember (Walking In The Sand) (E)/Out In The Streets (S)//I Can Never Go Home Anymore (E)/Give Him A Great Big Kiss (E)/Long Live Our Love (S, narrow separation)/Give Us Your Blessings (S)/Sophisticated Boom Boom (E)/What Is Love (E) |
| | Post 4000 - The Shangri-Las Sing - Shangri-Las [1975] Remember (Walking In The Sand) (E)/Leader Of The Pack (E)/Right Now And Not Later (E)/Long Live Our Love (E)/Out In The Streets (E)/Past Present And Future (E)/He Cried (E)/Give Him A Great Big Kiss (E)//I Can Never Go Home Anymore (E)/Twist And Shout (E)/Maybe (E)/So Much In Love (E)/Shout (E)/Good Night My Love Pleasant Dreams (E)/You Can't Sit Down (E)/Give Us Your Blessings (E) |
| | Mercury/PolyGram 824 807-1 - Golden Hits of the Shangri-Las - Shangri-Las [1985] The 1985 Mercury/PolyGram reissue has several differences from the 1966 original. First, the mono version of "Leader Of The Pack," with the line in the second verse intact, has been substituted for the earlier stereo version. The rechanneling is also gone, as non-stereo cuts are now mono. Leader Of The Pack (M)/Past Present And Future (M)/Train From Kansas City (S)/Heaven Only Knows (S)/Remember (Walking In The Sand) (M)/Out In The Streets (S)//I Can Never Go Home Anymore (M)/Give Him A Great Big Kiss (M)/Long Live Our Love (S, narrow separation)/Give Us Your Blessings (S)/Sophisticated Boom Boom (M)/What Is Love (M) |
| | Buddah BDS-5014 - Incense and Oldies - Various Artists [1969] This is a strange album which features a spaced-out announcer between cuts introducing each song, more or less. The interesting thing here is that several of the Red Bird/Blue Cat songs appear in stereo, and some are alternate takes! Leader Of The Pack - Shangri-Las (S, missing the line)/Hello Hello - Sopwith Camel (S)/People Say - Dixie Cups (S, but only because an electric piano has been added to the mono song)/I Wanna Love Him So Bad - Jelly Beans (S)/The Boy From New York City - Ad Libs (S)/Give Him A Great Big Kiss - Shangri-Las (S, but without the overdubs and edit at beginning of song, and without voice overdub at end)//Chapel Of Love - Dixie Cups (starts S, but changes to E after first verse)/Mirage - Tommy James & Shondells (S)/Mind Excursion - Trade Winds (S)/Remember (Walking In The Sand) (S, alternate take, without beach sounds overdubs)/New York's A Lonely Town - Trade Winds (E)/I Think We're Alone Now - Tommy James & Shondells (E) |
| | SELECTED RELATED COMPACT DISCS: |
| | Charly (UK) CD 296-4 - The Red Bird Story - Various Artists [1991] (4-CD set) All tracks mono except "Bad As They Come," which is rechanneled. Disc 1: Bossa Nova Baby - Tippie & Clovers/My Heart Said (The Bossa Nova) - Tippie & Clovers/Big Bad World - Cathy Saint/Mr. Heartbreak - Cathy Saint/Everybody Come Clap Your Hands - Moody & Deltas/He Ain't No Angel - Leola & Lovejoys/I Won't Be Me Any More - Vic Donna/Go Now - Bessie Banks/It Sounds Like My Baby - Bessie Banks/The Boy From New York City - Ad Libs/Searchin' - Alvin Robinson/Somethin' You Got - Alvin Robinson/Chapel Of Love - Dixie Cups/I Want To Love Him So Bad - Jelly Beans/I Know He Loves Me - Chi Chi McCauley/Top Down Time - Rock Aways/Keep It Up - Soul Brothers/I Got A Dream - Soul Brothers/People Say - Dixie Cups/How Can I Get Over You - Alvin Robinson/I'm Gonna Put Some Hurt On You - Alvin Robinson/Remember (Walkin' In The Sand) - Shangri-Las/Goodnight Baby - Butterflies/Down Home Girl - Alvin Robinson/Let The Good Times Roll - Alvin Robinson; Disc 2: Bottom Of My Soul - Alvin Robinson/Fever - Alvin Robinson/Kind Of Boy You Can't Forget - Jelly Beans/Baby Be Mine - Jelly Beans/Ask Anybody - Ad Libs/He Ain't No Angel - Ad Libs/Welcome To My Heart - Bouquets/Having A Party - Ronnie Mitchell/Bad As They Come - Sam Hawkins (E)/Hold On Baby - Sam Hawkins/The Dum Dum Ditty - Goodies/Sophisticated Boom Boom - Goodies/Standing By - Dee Dee Warwick (surface noise)/Don't Think My Baby's Coming Back - Dee Dee Warwick/Leader Of The Pack - Shangri-Las/What Is Love - Shangri-Las/Take Me For A Little While - Evie Sands/Run Home To Your Mama - Evie Sands/I Know It's Alright - Sam Hawkins/Amy - Barry Mann/Gee Baby Gee - Butterflies/I Wonder - Butterflies/Little Bell - Dixie Cups/Another Boy Like Mine - Dixie Cups/Give Him A Great Big Kiss - Shangri-Las; Disc 3: Twist And Shout - Shangri-Las (live)/Maybe - Shangri-Las (live)/Shout - Shangri-Las (live)/I Can't Let Go - Evie Sands/New York Is A Lonely Town - Tradewinds/I'm Just A Down Home Girl - Ad Libs/Iko Iko - Dixie Cups (terrible, bottom-of-a-well sound)/Gee Baby Gee - Dixie Cups/I Hurt On The Other Side - Sidney Barnes/I'm Gonna Get You Yet - Dixie Cups/Out In The Streets - Shangri-Las/Our Love Can Still Be Saved - Jeff Barry/I'll Still Love You - Jeff Barry/Give Us Your Blessings - Shangri-Las/Heaven Only Knows - Shangri-Las/Gee The Moon Is Shining Bright - Dixie Cups/You Don't Know - Ellie Greenwich/Baby - Ellie Greenwich/Right Now And Not Later - Shangri-Las/The Train From Kansas City - Shangri-Las/If There's Anything Else You Want (Let Me Know) - Roddie Joy/Fugitive From Love - Linda Jones/You Hit Me Like TNT - Linda Jones/I'm So Glad - Sidney Barnes/I Hear You Say (I Love You Baby) - Andy Kim; Disc 4: Hey Little Girl - Jimmie Cross/I Can Never Go Home Anymore - Shangri-Las/Sophisticated Boom Boom - Shangri-Las/Long Live Our Love - Shangri-Las/He Cried - Shangri-Las/Dressed In Black - Shangri-Las/It Will Only Make Me Love You More - Ral Donner/He Will Break Your Heart - Kane & Abel/Past Present And Future - Shangri-Las/Paradise - Shangri-Las/Love You More Than Yesterday - Shangri-Las/Recollections - Mary Weiss/Let The Music Play - Didi Noel/It Was A Lie - Bobby Moore & Fourmosts/Dressed In Black - Shadow Morton; Jelly Beans In Session (all have studio talk): Chapel Of Love - Jelly Beans/Here She Comes - Jelly Beans/Ain't Love A Funny Thing - Jelly Beans/Whisper Sweet Things - Jelly Beans/Goodnight Baby - Jelly Beans/Do Wah Diddy - Jelly Beans |
| | Marginal (Belgium) 077 - Iko Iko - Dixie Cups [1992] Gee The Moon Is Shining Bright/Girls Can Tell/Chapel Of Love/Gee Baby Gee/Iko Iko/All Grown Up/Another Boy Like Mine/Little Bell/People Say/Ain't That Nice/Wrong Direction/Thank You Mama, Thank You Papa/You Should Have Seen The Way He Looked At Me/True True Love (No True Love)/I'm Gonna Get You Yet/What Goes Up, Must Come Down/Two-Way-Pac-Away/That's Where It's At/Sugar That I Need/I'm Not The Kind Of Girl (To Marry)/I've Got To Get That Boy/Danny Boy/Chances Are/Here It Comes Again/I'll Never Let The Well Run Dry/Promises Promises |
| | RPM (UK) 136 - Myrmidons of Melodrama - Shangri-Las [1994] Remember (Walking in the Sand)/It's Easier to Cry/Leader of the Pack/What Is Love/Give Him a Great Big Kiss/Maybe/ Out in the Streets/The Boy/Give Us Your Blessings/Heaven Only Knows/Right Now and Not Later/Train from Kansas City/Never Again/I'm Blue/What's a Girl Supposed to Do?/The Dum Dum Ditty/You Cheated, You Lied/I Can Never Go Home Anymore/Bull Dog/Long Live Our Love/Sophisticated Boom Boom/He Cried/Dressed in Black/Past, Present, and Future/Paradise/Love You More Than Yesterday/Wishing Well/Hate to Say I Told You So/Give Him a Great Big Kiss (alternate take)/How Pretty Can You Get?/Revlon Endorsement/Good Taste Tip from Mary Weiss/Dating Courtesy Tip from Mary Weiss |
| | Mercury 314 532 371-2 - The Best of the Shangri-Las - Shangri-Las [1996] On the good side, this has 25 tracks, and they're from tape (of some sort). On the bad side, everything except "Heaven Only Knows" and "The Train From Kansas City" are mono, the mono has a sound like mono-ed rechanneling, the sound quality is okay but not much more, and it has a premium price. All in all, a weak effort from the company that should have the stereo masters. Remember (Walkin' In The Sand) (M)/Leader Of The Pack (M)/What Is Love (M)/Give Him A Great Big Kiss (M)/Maybe (M)/Out In The Streets (M)/Give Us Your Blessings (M)/Heaven Only Knows (S)/ Never Again (M)/What's A Girl Supposed To Do (M)/The Dum Dum Ditty (M)/Right Now And Not Later (M)/The Train From Kansas City (S)/I Can Never Go Home Anymore (M)/Long Live Our Love (M)/Sophisticated Boom Boom (M)/He Cried (M)/ Dressed In Black (M)/Past Present And Future (M)/ Paradise (M)/Love You More Than Yesterday (M)/ The Sweet Sounds Of Summer (M)/I'll Never Learn (M)/Take The Time (M)/Footsteps On The Roof (M) |
| | Rebound 452 050-2 - Leader of the Pack - Shangri-Las [1998] Leader of the Pack/Heaven Only Knows/What's a Girl Supposed to Do?/He Cried/The Sweet Sounds of Summer/Give Him a Great Big Kiss/Bull Dog/Footsteps on the Roof/Love You More Than Yesterday/Out in the Streets/I'll Never Learn |
| | Taragon TARCD-1029 - The Very Best Of Red Bird/Blue Cat Records - Various Artists [1998] A long-awaited blockbuster. Finally, the true stereo mixes of some of the more memorable songs of the 1960s. Some of these have been available in stereo before on next-to-impossible to find LPs, and some have been available in the weird versions from the Incense & Oldies album on Buddah, and some just have never been available in stereo before. Sparkling clean sound, and yes, "Leader of the Pack" has all the lines intact, "Remember" has all the bird sounds, and "Give Him A Great Big Kiss" has all the vocal overdubs. There are other treats here, like "Remember" running longer than the 45, and at 2:30 of "I Can Never Go Home Anymore," the mixed-out "Listen, I'm not finished!" line restored. "People Say" is in real stereo for a change, not just the bells in the middle like on the original LP. Colin Escott's liner notes give interesting insights, such as "Iko Iko" was a recording of between-songs session diversion with later instrumental overdubs. All in all, the best various artists CD to come out in years. A must for all collectors. Chapel Of Love - Dixie Cups (S)/I Wanna Love Him So Bad - Jelly Beans (S)/People Say - Dixie Cups (S)/Remember (Walkin' In The Sand) - Shangri-Las (S, runs to 2:39)/Good Night Baby -Butterflys (S)/Baby Be Mine - Jelly Beans (S)/The Leader Of The Pack - Shangri-Las (S, including restored line from 1:01-1:11, slight hiss, runs long to 2:57)/You Should Have Seen The Way He Looked At Me - Dixie Cups (S)/Give Him A Great Big Kiss -Shangri-Las (S)/The Boy From New York City - Ad Libs (S)/Little Bell - Dixie Cups (S)/New York's A Lonely Town - Trade Winds (M)/Iko Iko - Dixie Cups (S, slight hiss)/He Ain't No Angel - Ad Libs (S)/I Can Never Go Home Anymore - Shangri-Las (S, slight hiss) |
| | MCA 182 507-2 - 20th Century Masters: The Millennium Collection - The Best of the Shangri-Las - Shangri-Las [2002] Remember (Walking in the Sand)/Leader of the Pack/Give Him a Great Big Kiss/Maybe/Out in the Streets/Give Us Your Blessings/Right Now and Not Later/I Can Never Go Home Anymore/Long Live Our Love/He Cried/Past, Present and Future/The Sweet Sounds of Summer |
| | Varése Sarabande/Varése Vintage 302 066 375 2 - The Complete Red Bird Recordings - Dixie Cups [2002] Chapel of Love (S)/Gee The Moon Is Shining Bright (S, LP version)/I'm Gonna Get You Yet (S)/Girls Can Tell (S)/All Grown Up (S)/Iko Iko (S)/Gee Baby Gee (S)/Ain't That Nice (M)/People Say (S, full stereo, unlike on the original LP where only the bells in the bridge were stereo)/Little Bell (S)/No True Love (M)/You Should Have Seen The Way He Looked At Me (S)/Another Boy Like Mine (M)/Thank You Mama, Thank You Papa (M)/Wrong Direction (M)/Gee The Moon Is Shining Bright (M, 45 version, slightly noisy at start)/People Say (S, full stereo alternate take)/Iko Iko (M, "acappella" version; i.e., alternate take without background vocals and bass overdubs) |