Canadian-American Records Ltd. was based, at least initially, in both New York in the U.S. and Winnipeg, Manitoba in Canada, hence the name Canadian-American. The label was started in 1957 in New York by Leonard Zimmer. The President of the company was Gene Orndorf and the General Manager was Neil Galligan. The label recorded pop music.


The biggest hit-makers for the label were brothers Santo and Johnny Farina from Brooklyn, New York. They wrote and recorded their first hit, "Sleepwalk," themselves, and then leased the master to Canadian-American. It was probably recorded by the brothers in mono, since it has never appeared in stereo. The song became a number one hit in August 1959. Santo and Johnny recorded half of the 18 albums that were released on Canadian-American Records.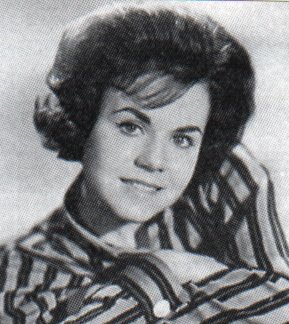 The only other hit-maker for Canadian-American was Linda Scott (Linda Joy Sampson), who was no relation to Jack Scott (Jack Scafone). Linda Scott was from New Jersey and recorded her biggest hit, "I've Told Every Little Star," when she was only sixteen years old. Linda had two albums on Canadian- American, an album of "star" songs, and a greatest hits compilation.

The Canadian-American Record Company lasted into the late '60s before going inactive. Zimmer appointed Joey Welz as President in 1966, and in 1998 turned the company over to Welz, who is the current owner. Welz issued a compilation called The Canadian-American Story in 1999, and is licensing masters for reissue. Joey Welz also controls the Caprice label, and has been doing business as Caprice International. As of July 1, 2003, Welz has reactivated the Canadian-American label for new artists. Welz can be reached at canadianamerican@webtv.net.

Because the original master tapes of the Canadian-American material have not been generally available for reissue, and most of the albums were originally issued in stereo, the stereo versions of the songs have been in demand with collectors and have been bootlegged on CD. The albums listed below with a "SCALP" prefix are known to have been issued in stereo, although in fact, all of the albums may have been issued in stereo. We do not know of a stereo issue of 1003, but soundtracks were usually issued in stereo.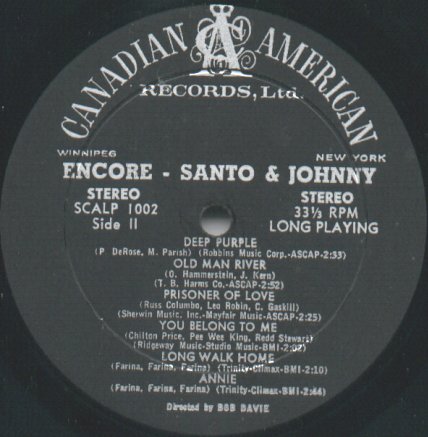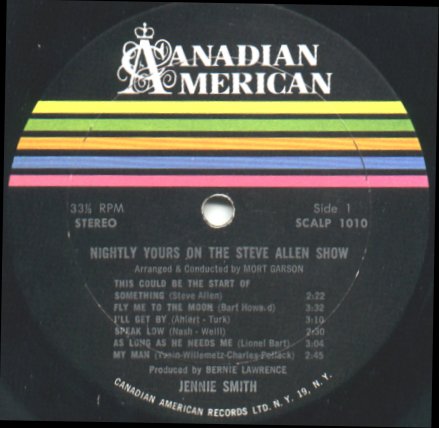 The first Canadian American label was black with silver print. "CANADIAN AMERICAN" above the center hole on one curved line with a "CA" logo between the two words. This label was used on the first few releases, and is known to exist at least as late as 1004. The second label was black with silver printing with five different colored bars running horizontally across the label above the center hole. Above the bars was "CANADIAN AMERICAN" on two lines with the "CA" logo representing the first letter in each word.

We would appreciate any additions or corrections to this discography. Just send them to us via e-mail. Both Sides Now Publications is an information web page. We are not a catalog, nor can we provide the records listed below. We have no association with Canadian-American Records, which is not currently active. Should you be interested in acquiring albums listed in this discography (which are all out of print), we suggest you see our Frequently Asked Questions page and follow the instructions found there. This story and discography are copyright 1998, 1999, 2003, 2011 by Mike Callahan.

Cover



Number - Title - Artist - [Release Date] (Chart) Contents



CALP 1001/SCALP 1001 - Santo & Johnny - Santo & Johnny [1959] (1-60, #20) Caravan (S)/Summertime (S)/All Night Diner (E)/Blue Moon (S)/School Day (S)/Sleepwalk (E)//Tenderly (S)/Slave Girl (E)/Dream (S)/Canadian Sunset (S)/Harbor Lights (S)/Raunchy (S)



CALP 1002/SCALP 1002 - Encore - Santo & Johnny [1960] (9-60, #11) Alabamy Bound (S)/Over The Rainbow (S)/Breeze And I (S)/Lazy Day (S)/Venus (S)/Teardrop (E)//Deep Purple (S)/Ol' Man River (S)/Prisoner Of Love (S)/You Belong To Me (S)/Long Walk Home (S)/Annie [Anna] (S)



CALP 1003/SCALP 1003 - Murder, Inc. (Soundtrack) - Jeff Alexander [1960] Music by Frank DeVol. Main Title Music/The Awakening (Sarah Vaughan, Vocal)/Peter And The Wolf Match Wits/Hey Mister (May Britt Vocal)/Eadie Loves Joey/Happy Dancer/Fan My Brow (Sarah Vaughan Vocal)/Eadie Loves Joey (Reprise)/The Awakening (instrumental)/Murder Merchants March/Brownsville's Bounce/Thematic Medley/End Title Music



CALP 1004/SCALP 1004 - Hawaii - Santo & Johnny [1961] (6-61, #80) Adventures In Paradise/Blue Hawaii/Pineapple Princess/Sea Shells/Aloha/Reflections//Hawaiian War Chant/Song Of The Islands/Sweet Lelani/Hawaiian Wedding Song/Isle Of Dreams/Now Is The Hour



CALP 1005/SCALP 1005 - Starlight-Starbright - Linda Scott [1961] Starlight Starbright (S)/Stars Fell On Alabama (S)/You Are My Lucky Star (S)/Stardust (S)/Little Star (S)/I've Told Every Little Star (S)//Count Every Star (S)/Blue Star (S)/Catch A Falling Star (S)/When You Wish Upon A Star (S)/A Thousand Stars (S)/Land Of Stars (S)



At approximately this point, label design changes from black and silver to black with colored bars. Reissues of all earlier LPs are known to exist with the colored bars label.



CALP 1006/SCALP 1006 - Come On In - Santo & Johnny [1962] Spanish Harlem/Birmingham/April Showers/Rattler/Mack The Knife/Theme From A Summer Place//Brazil/Goodnight Irene/Love In Space/Along The Navajo Trail/Hop Scotch/Misty



CALP 1007/SCALP 1007 - Great Scott - Linda Scott [1962] Count Every Star (S)/Bermuda (S)/It's All Because (S)/A Thousand Stars (S)/I've Told Every Little Star (S)/Blue Star (S)//Don't Bet Money Honey (S)/Starlight Starbright (S)/Little Star (S)/You Are My Lucky Star (S)/I Don't Know Why (S)



CALP 1008/SCALP 1008 - Around the World... with Santo & Johnny - Santo & Johnny [1962] Around The World/A Foggy Day In London Town/Poor People Of Paris/April In Portugal/Lady Of Spain/Arrivederci Roma//Istanbul/Cairo/Midnight In Moscow/Tokyo Twilight/Brazil/Manhattan



CALP 1009/SCALP 1009 - Bossa Nova for All Ages - Continentals [1963] Fly Me To The Moon/String Of Pearls/South American Patrol/Holiday For Strings/One O'clock Jump/Autumn Leaves/Moodglow/Boogie Woogie Bossa Nova/Undecided/Theme From A Summer Place/Cherokee/Bossa Nova Waltz



CALP 1010/SCALP 1010 - Nightly Yours on the Steve Allen Show - Jennie Smith [1963] This Could Be The Start Of Something/Fly Me To The Moon/I'll Get By/Speak Low/As Long As He Needs Me/My Man//Let's Face The Music And Dance/They've Got A Lot To Learn/Mean To Me/Gravy Waltz/Someone To Watch Over Me/Nice And Easy



CALP 1011/SCALP 1011 - Off Shore - Santo & Johnny [1963] Off Shore (S)/Stranger On The Shore (S)/Ebb Tide (S)/Lido Beach (S)/The Enchanted Sea (S)/How Deep Is The Ocean (S)//Beyond The Sea (La Mer) (S)/Red Sails In The Sunset (S)/Midnight Beach Party (S)/Love Letters In The Sand (S)/The Wandering Sea (S)/Beyond The Reef (S)



CALP 1012/SCALP 1012 - The Stinson Brothers in Las Vegas - Stinson Brothers [1963] There Oughta Be Records Of My Love For You/For Sale One Broken Heart/Starlight My Love/I'll Forget You/Who Besides Me/Waitin'/Take These Chains From My Heart/Make Me Know You Love Me/Every Step Of The Way/Within Your Arms/Brown-Eyed Jane/I'll Never Ever Love Nobody Else/There's A Chip On Your Shoulder



CALP 1013/SCALP 1013 - Favorite Folk Songs By the Pyramids - Pyramids [1964] John Henry/I Never Will Marry/Johnny Has Gone For A Soldier/Sylvie/Truly Do/Joshua Fit The Battle of Jericho//Winter's Night/Drill Ye Terriers Drill/Molly Malone/The Riddle Song/Swing Low Sweet Chariot/Boil That Cabbage Down



CALP 1014/SCALP 1014 - In the Still of the Night - Santo & Johnny [1964] Sherry (S)/Locomotion (S)/Sleep Walk (E)/Save The Last Dance For Me (S)/Tear Drop (E)/Road Block (S)//(I'll Remember) In The Still Of The Night (S)/Dream Lover (S)/Tequila (S)/Silhouettes (S)/Shake Rattle And Roll (S)/Crying In The Chapel (S)



CALP 1015/SCALP 1015 - Goldies by the Girls - Sunny Gale [1964] It's My Party/Be My Baby/Loco- Motion/Will You Still Love Me Tomorrow/He's So Fine/Too Bad For You/Da Doo Ron Ron/Loving You/I Will Follow Him/Just One Look/When He Kisses Me/others



CALP 1016/SCALP 1016 - Santo & Johnny Wish You Love - Santo & Johnny [1964] I Wish You Love/More/Our Day Will Come/Forever Mine/Fools Rush In/Melissa//San Francisco/There I've Said It Again/Since I Fell For You/Monte Carlo/Bullfighter/Sugar Song



CALP 1017/SCALP 1017 - The Beatles Greatest Hits Played by Santo & Johnny - Santo & Johnny [1964] A Hard Day's Night/Do You Want To Know A Secret/She Loves You/I Want To Hold Your Hand/The Beatle Blues/I Saw Her Standing There//And I Love Her/All My Loving/P.S. I Love You/Please Please Me/The Beatle Stomp/Can't Buy Me Love



CALP 1018/SCALP 1018 - Mucho - Santo & Johnny [1965] Brazilian Summer/Magic Is The Moonlight/Mucho Tempo/Bermuda/Miami Beach Rhumba/Brasilia//What Do You Know/Besame Mucho/You Belong To My Heart/Perhaps Perhaps Perhaps/Green Eyes/Amazon Ritual





RELATED COMPACT DISCS:
The compact discs below vary widely in quality. The early ones are mostly from records, and sound like it. Starting in 1997, the CDs began to use tape sources, and the sound quality improves dramatically.



Stardust (Canada) CD 1002 - The Best of Linda Scott 1961-1962 - Linda Scott [1991] This is the original 1991 version. Fairly loud surface noise on most tracks. I've Told Every Little Star (S)/Three Guesses (M, surface noise)/Don't Bet Money Honey (S)/Starlight Starbright (S)/I Don't Know Why (M, surface noise)/It's All Because (M, surface noise)/Yessiree (M, surface noise)/Count Every Star (S)/Land Of Stars (M, surface noise)/Bermuda (M, surface noise)/Lonely For You (M, surface noise)/Never In A Million Years (M, surface noise)/I Left My Heart In The Balcony (M, surface noise)/Catch A Falling Star (M, surface noise)/You Are My Lucky Star (M, surface noise)/Little Star (M, surface noise)/Blue Star (M, surface noise)/A Thousand Stars (M, surface noise)/Stardust (M, surface noise)/When You Wish Upon A Star (M, surface noise)



TNT-Laser (Holland) CD 1005/1007 - Great Scott! Her Greatest Hits/Starlight Starbright - Linda Scott [1991] Sound quality is okay on most tracks, but to suppress surface noise, many of the tracks annoyingly fade in. I've Told Every Little Star (S)/Don't Bet Money Honey (S)/Yessiree (M)/Who's Been Sleeping In My Bed (M)/This Is My Prayer (M)/Town Crier (M)/Never In A Million Years (M)/I Left My Heart In The Balcony (M)/I'm So Afraid Of Losing You (M)/My Heart (M)/Everybody Stopped Laughing At Janie (M)/That Old Feeling (M)/Patch It Up (M)/If I Love Again (M)/I'll See You In My Dreams (M)/Don't Lose Your Head (M)/You Baby (M)/I Can't Get Through To You (M)/Goody Goody (M)/The Things I Love (M, noisy)/Why Do Fools Fall In Love (M)/Yours (M)/Little Star (M, noisy)/You Are My Lucky Star (M, noisy)



Eclipse (Holland) 06471992 - Sleep Walk - Santo & Johnny [1993] Dropouts, surface noise, crummy sound. And as long as they're taking things from records, a lot of rechanneled stereo that should be real stereo, since the originals of the later LPs were true stereo. 'Nuff said. Sleep Walk (E)/Caravan (S)/All Night Diner (E)/Blue Moon (S)/School Day (S)/Slave Girl (E)/Raunchy (S)/Alabama Bound (S)/Theme From A Summer Place (E)/Hop Scotch (E)/Poor People Of Paris (E)/Lady Of Spain (E)/Istanbul (E)/Cairo (E)/Midnight In Moscow (E)/Brazil (E)/Cherry (E)/The Loco-Motion (E)/Save The Last Dance For Me (E)/Tear Drop (E)/Road Block (E)/In The Still Of The Night (E)/Dream Lover (E)/Tequila (E)/Silhouettes (E)/Shake Rattle & Roll (E)/Crying In The Chapel (E)/I Want To Hold Your Hand (E)/She Loves You (E)/All My Loving (E)



Stardust (Canada) CD 1002 - The Best of Linda Scott 1961-1962 - Linda Scott [1993] This 1993 version of the above CD is remastered, and can be identified by the notation "This compilation 1993" to the left of the CD center hole on the disc itself. Some improvement in sound, mostly in getting rid of the loud surface noise (now it's only slight surface noise). I've Told Every Little Star (S)/Three Guesses (M, slight surface noise)/Don't Bet Money Honey (S)/Starlight Starbright (S)/I Don't Know Why (M, surface noise)/It's All Because (M, surface noise, fades in)/Yessiree (M, surface noise)/Count Every Star (S)/Land Of Stars (M)/Bermuda (M, surface noise)/Lonely For You (M, surface noise)/Never In A Million Years (M, surface noise, turntable rumble, extraneous noise sounds like someone singing along with the record from 0:04-0:07)/I Left My Heart In The Balcony (M, surface noise)/Catch A Falling Star (M, surface noise)/You Are My Lucky Star (M, surface noise, turntable rumble)/Little Star (M, surface noise)/Blue Star (M, surface noise)/A Thousand Stars (M, surface noise)/Stardust (M, surface noise)/When You Wish Upon A Star (M, surface noise)



Globe (Holland) 3001/20 - Linda: Collector's Gold, Volume 40 - Linda Scott [1994] Definitely from vinyl, with quality good to bad with some surface noise. I've Told Every Little Star (S)/Don't Bet Money Honey (S)/A Thousand Stars (M)/Blue Star (M)/Catch A Falling Star (M)/Goody Goody (S, fades in)/I Don't Know Why (M)/It's All Because (M)/Little Star (M)/Stardust (M)/Starlight Starbright (S)/The Things I Love (S)/Three Guesses (M)/When You Wish Upon A Star (M)/Why Do Fools Fall In Love (S, fades in)/You Are My Lucky Star (M)/Yours (S)/Bermuda (M)/Count Every Star (S)/I Left My Heart In The Balcony (M)/I'm So Afraid Of Losing You (M)/Land Of Stars (M)/Lonely For You (M)/Never In A Million Years (M)/Town Crier (M)/Yessiree (M)/My Heart (M)/That Old Feeling (M)/This Is My Prayer (M)/Who's Been Sleeping In My Bed (M)/Don't Lose Your Head (M)/I'll See You In My Dreams (M)



Black Tulip (Holland) 2636424 - Santo & Johnny - Santo & Johnny [1997] Mostly excellent sound, with light surface noise on many tracks. A surprising amount of stereo. Most of these tracks come from the first two Santo & Johnny LPs and SCALP 1014. Sleepwalk (M, hissy)/In The Still Of The Night (S)/Caravan (S, light surface noise)/Over The Rainbow (S)/All Night Diner (M)/Crying In The Chapel (S)/Raunchy (S)/Teardrop (M)/Venus (S)/Summertime (S, dropout near end: 2:32-2:34)/School Day (S)/Theme From "Come September" (M)/Harbor Lights (S, surface noise)/You Belong To Me (S, surface noise)/Bulls-Eye (M)/A Thousand Miles Away (S, starts like a slow version of "Sleepwalk")/Deep Purple (S, hissy)/Save The Last Dance For Me (S)/Hop Scotch (M)/Blue Moon (S, with studio talk)/Lazy Day (S)/Dream Lover (S)/Prisoner Of Love (S, hissy, surface noise)/Canadian Sunset (S)/Tequila (S)/Tenderly (S)/Shake Rattle And Roll (S)/Teardrop (M, demo)/Annie {Anna] (S)/Dream (S, with studio talk)/Twistin' Bells (M)



Stardust (Canada) CD 1027 - The Best of Santo & Johnny - Santo & Johnny [1997] Sleep Walk (M)/All Night Diner (M)/Tear Drop (M)/Caravan (S)/Summertime (S)/Lazy Day (S)/Annie [Anna] (S)/Twistin' Bells (M)/Bulls-Eye (M)/Hop Scotch (M)/Theme from Come September (M)/I'll Remember (In the Still of the Night) (S)/A Thousand Miles Away (M)/Over the Rainbow (S)/Crying in the Chapel (S)/Venus (S)/School Days (S)/You Belong to Me (S)/Deep Purple (S)/Blue Moon (S)/Dream Lover (S)/Save the Last Dance for Me (S)/Canadian Sunset (S)/Tenderly (S)



Mr. Maestro 1005 - Memories: 29 Original Golden Oldies - Various Artists [1998] A various artists CD which contains a stereo version of Santo & Johnny's "Tear Drop," with slight phasing at the end which suggests that it may be a synch-up, but it is true stereo. Memories - Decoys (S)/I - Velvets (M)/Irresistible You - Bobby Peterson (M)/I'm In Love Again - Little Richard (S)/I Know I Know - Spaniels (M)/Cherry Lips - Robins (M)/The Chosen Few - Dion & Timberlanes (M)/Sugaree - Hank Ballard & Midnighters (S)/Silhouettes - Rays (M)/Searching For A New Love - Majestics (M)/Be My Boy - Paris Sisters (S, not the original Gregmark version, but a good remake with strings, breaks down at end)/That's The Way I Feel - Jimmy Prichett (M)/Diddle De Dum - Lovelarks (M, muffled)/Golden Rings - Turbans (M)/Nobody But You - Dee Clark (S)/Daddy Cool - Rays (M, muffled)/Tear Drop - Santo & Johnny (S, some phasing from 1:46-1:51, possibly a synch-up)/Let's Go Steady - Cindy & Lindy (M)/Rockin' Little Angel - Ray Smith (M)/The Sun - Del-Vikings (M)/Dead Wrong - 5 Stars (M, muffled)/Boom Boom - John Lee Hooker (S)/I Wish - Bertha Tillman (M)/Poco Loco - Gene & Eunice (M, hissy)/Bad Motorcycle - Storey Sisters (M)/Make With The Shake - Mark IV (M)/Freddie - Starlets (M, slight surface noise)/Ooh Shucks - 5 Stars (M)/High School Dance - El Pollos (M)



Caprice International 69910 0852 2 - The Canadian-American Story - Various Artists [1999] Sleepwalk - Santo & Johnny/I Have Waited - Joey Brooks & Group/Marianne - Fireflys/Short Skirts - Gerry Granahan/My Dear Little Doll - Jimmy Lee & Laurels/Three Guesses (takes 3 & 4) - Linda Scott/I've Told Every Little Star - Linda Scott/Mine, All Mine - Bobby Lindsey/I Wish I Weren't In Love - Jerry Landis/Magic Eyes - Nicki North & Citations/Candle In The Wind - Tony Mitchell, Malcolm Dodds & Tunedrops/Forever - Kimberlys/Hey Little Moonbeam - Joey Welz & The Angels/One Night - Four Kings/Zoom-A-Roo - Bermuda Keynotes/It's Cold Outside - Choir/Moonflight - Valiants/Someone To Watch Over Me - Roomates/He Likes To Rock & Roll - Citations/Only The Broken Hearted - Four Aces/Ziga Ziga Zoom - Relatives/I Found Someone - Carol Goldberg/Don't Say Goodbye - Criterions



Eric 11511-2 - The Complete Hits of Linda Scott - Linda Scott [2000] Excellent to outstanding sound, with very quiet backgrounds. I've Told Ev'ry Little Star (S)/Don't Bet Money Honey (S)/Starlight Starbright (S)/I Don't Know Why (S)/It's All Because (S)/Little Star (S)/A Thousand Stars (S)/You Are My Lucky Star (S)/When You Wish Upon A Star (S)/Blue Star (S)/Stardust (S)/Stars Fell On Alabama (S)/Count Every Star (S)/Three Guesses (S)/Yessiree (S)/Town Crier (S)/Bermuda (S)/Lonely For You (S)/Never In A Million Years (S)/Christmas Day (S)/I Left My Heart In The Balcony (S)/Who's Been Sleeping In My Bed? (M)