BigTop was a New York label owned by Julian and Jean Aberbach as a subsidiary of Hill and Range Music. It was run by their nephew, Johnny Bienstock (President) with Fred Beinstock named as Executive.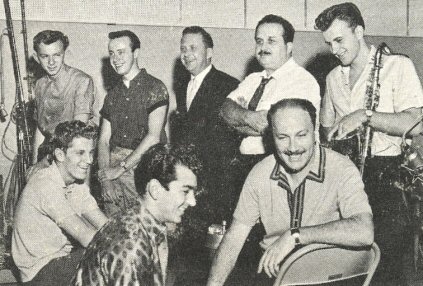 BigTop's acts were a variety of pop music, rock and roll, and even comedy. They issued few albums, and much of their singles output was never issued on album by them. Their singles catalog included such acts as Del Shannon, Sammy Turner, Bobby Pedrick, Jr. [Robert John], Johnny & The Hurricanes, Ocie Smith [O.C. Smith], Travis & Bob, Don Covay, Maximillian, the Shepherd Sisters, Arlene Smith [of the Chantels], Don & Juan, Johnny Gibson, Cliff Richard, Lou Johnson, Miss Toni Fisher, Jamie Coe, the V.I.Ps, and Andrea Carroll. Some of the major acts, such as Sammy Turner, were from Hill and Range in New York. Others, such as Del Shannon and Maximillian [Max Crook, Shannon's instrumental accompanist and co-writer of "Runaway"], were from Detroit, managed by a duo of Balk and Micahnik.

Harry Balk and the late Irving Micahnik were based out of Detroit and negotiated deals with BigTop as Embee Productions, including the Del Shannon and Johnny & the Hurricanes material, with rights reverting back to them after a short period of time. Balk was the "in studio" producer, with Micahnik more of the "wheeler-dealer." In the picture at right, Balk, Beinstock, and Michanik join Johnny & the Hurricanes in the studio during the recording session for The Big Sound of Johnny & the Hurricanes. [Back row, from left: Dave Yorko, guitar; Lionel "Butch" Mattice, bass; Johnny Beinstock, label executive; Irving Micahnik, manager; Johnny Pocisk (Paris), saxophone. Front row, from left: Paul Tesluk, keyboards; Bo Savich, drums; Harry Balk, producer.]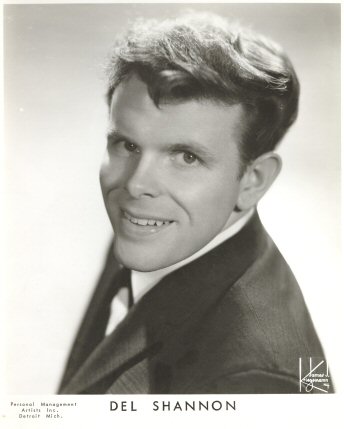 Del Shannon was born Charles Westover in Coopersville, Michigan, in December, 1934. His career spanned radio (a US Army show in Germany), hit singles as a singer/songwriter, and later in the studio doing production work for other artists such as Brian Hyland. He had eight chart hits for Big Top, including his #1 debut 45 "Runaway" [Big Top 3067] in the spring of 1961. He followed this with "Hats Off to Larry" [Big Top 3075, #8 in summer, 1961], "So Long Baby" [Big Top 3083, #28 in fall, 1961], "Hey! Little Girl" [Big Top 3091, #38 in late 1961]. His next single, released in spring, 1962, "Ginny in the Mirror"/"I Won't Be There" [Big Top 3098], failed to make the top 100, peaking at #113. It looked like Del was done for, like so many other artists of the day whose "sound" eventually wore out its welcome with the public. His next single, "Cry Myself to Sleep" [Big Top 3112] only made #99 in June, 1962, despite a driving, pounding rhythm. But in the fall of 1962, he took a different approach, recording a Roger Miller tune, "The Swiss Maid" [Big Top 3117], which was a completely new sound and was rewarded by making #64. By early 1963, Del was back in the top sellers with "Little Town Flirt" [Big Top 3131], which reached #12 and revived his career. The followup, "Two Kinds of Teardrops" [Big Top 3143], only reached #50 here, but the flip side, "Kelly," was a hit in Europe. His popularity in Europe led to a tour, where he heard a new British group, the Beatles, do a song called "From Me To You." He decided to cover the song and his version [Big Top 3152] made #77 in the US, while the Beatles' own version on Vee-Jay here could not crack the top 100! Del Shannon left Big Top in the fall of 1963, forming his own Berlee label, a contraction of his parents' names. He had chart records into the 1980s, and was inducted into the Rock and Roll Hall of Fame. He died in February, 1990.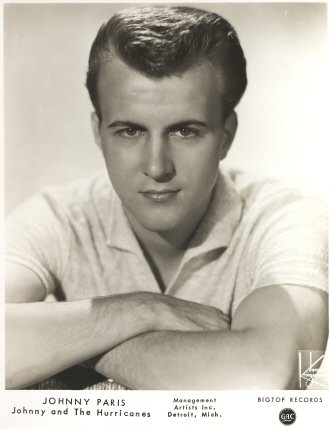 Johnny and the Hurricanes were formed in Toledo in 1958 as the Orbits, where they first recorded for the Twirl label for Harry Balk. By early 1959, they had signed with Morty Craft's Warwick label in New York, where they registered four chart hits ("Crossfire," "Red River Rock," "Reveille Rock," and "Beatnik Fly") before switching to Big Top in 1960. They had five minor chart hits for Big Top, including "Down Yonder" [Big Top 3036, #48], "Rockin' Goose"/"Revival" [Big Top 3051, #60/#97], "You Are My Sunshine" [Big Top 3056, #91], and "Ja-Da" [Big Top 3063, #86].

During 1962, Johnny and the Hurricanes toured Germany and appeared at the Star Club in Hamburg. We received a note from Tony Hendrik, owner of the Coconut label in Germany (Haddaway's "What Is Love," etc.), about Johnny and the Hurricanes' appearance: "I happened to discover your page when searching for Johnny and the Hurricanes. I ran a fan club in the sixties for them and had contact with Johnny Paris even in the late 80's. I met Irving Micahnik, their manager and co-producer, in Hamburg, Germany, in 1962 and 1963 , and recorded demos of German folk tunes for Johnny and the Hurricanes after a meeting with Rudy Slezak, the manager of Aberbach Music, Germany, and Irving Micahnik (songs that were never released, however). The concert of Johnny and the Hurricanes in December, 1962, at the Star Club, Hamburg, was unforgettable for me, as the Beatles were playing as one of the warm-up bands for the Hurricanes that night! I liked the Hurricanes' show very much, and when I asked Johnny Paris if they had records to sell, he said no, they were only touring! Quite a mistake, don't you think?? Kind Regards, Tony Hendrik"

Johnny Paris later issued the Star Club recordings on his own Attila label.



| | |
| --- | --- |
| Cover | Number - Title - Artist - [Release Date] (Chart) Contents |
| | 12-1301 - Lavender Blue Moods - Sammy Turner [1959] Possibly exists in stereo, although we've never seen a stereo copy. Honey/I'd Be A Fool Again/Fools Fall In Love/Paradise/I Want To Be Loved/Lavender Blue//The Things I Love/I Can Dream Can't I/Wrapped Up In A Dream/Falling/Symphony/Always |
| | 12-1302/12-1302 Stereo - The Big Sound of Johnny & The Hurricanes - Johnny & The Hurricanes [1960] Molly-O (S)/You Are My Sunshine (S)/Like...Rock (S)/Beatnik Fly (S)/The Kid (S)/Bye Bye Blackbird (S)//Traffic Jam (S)/Teensville Tonight (S)/Mister Irving (S)/Sheba (S)/Tom's Tune (S)/Corn Pone (S) |
| | 12-1303/12-1303 Stereo - Runaway with Del Shannon - Del Shannon [6/61] Misery (S)/Day Dreams (S)/His Latest Flame (S)/The Prom (S)/The Search (S)/Runaway (S, alternate take)//I Wake Up Crying (S)/Wide Wide World (S)/I'll Always Love You (S)/Lies (S)/He Doesn't Care (S)/Jody (S) |
| | 12-1304 - The Marathon Twist - Little Lou and His Band [1962] Little Lou Fowler with "42 Minutes of Continuous Twist Music Recorded Live at The Palace, Boston, Mass." What'd I Say/Hold It/Mashed Potatoes/Last Night//Big Boy/The Twist/You Can't Sit Down/I Don't Want to Cry/Don't Be Cruel |
| | 12-1305 - Mad "Twists" Rock & Roll - Various Artists [1962] (7-62, #108) Issued in mono only, but was reportedly issued previously on RCA in stereo. Artists are Geanne Hayes, Mike Russo, and The Dellwoods. "The Pretzel" and "Agnes The Teenage Russian Spy" were issued on a 45 in November, 1961 as by The Sweet Sick Teens (RCA 7940). Throwing The High School Basketball Game/She Got A Nose Job [Mike Russo]/Please Betty Jane Shave Your Legs/Somebody Else's Dandruff On My Lover Baby's Shirt/Blind Date Yaaaaaaahhh!/Agnes The Teenage Russian Spy//Let's Do The Pretzel And End Up Like One/Even If I Live To Be 22, I'll Always Remember Being Young/He Fell In Love With Me When My Pimples Turned To Dimples/She's A Serious (Yeah Yeah) Teenager In Love/All I Have Left Is My Johnny's Hubcap/I Found Her Telephone Number Written On The Boy's Bathroom Wall |
| | 12-1306 - Fink Along With Mad - Various Artists [1962] Let's Do The Fink/I'll Never Make Fun Of Her Moustache Again/The Biggest Mouth In Town/Her Dad's Got Money Cha Cha Cha/I Accidentally Messed Up His Hair/It's A Gas/Don't Put Onions On Your Hamburger/Loving A Siamese Twin/She Lets Me Watch Her Mom And Pop Fight/When The Braces On Our Teeth Lock/Contact Lenses/The Neighborhood Draft Board/Mad Extra |
| | 12-1307 - Marriage Is for Dinosaurs - Muriel Landers & Stanley Adams [1963] Muriel Landers played "Mrs. Blossom" in the 1960s film Doctor Dolittle, starring Rex Harrison and Anthony Newley. Bernie Boy/Allergies/Community Property Waltz/Nag, Nag, Nag/Dr. Goldfarb//Nightcap/The Kid/Child Psychology/Why Can't We Be Like The Jones [Ruth Batchelor & Muriel Landers]/Marriage Is For Dinosaurs |
| | 12-1308/12-1308 Stereo - Little Town Flirt - Del Shannon [1963] (6-63, #12) Some, if not all, stereo versions of this LP are not marked as such. The master numbers of the mono LPs in the dead wax are handwritten "715-1" and "716-1," while the stereo versions have a stamped "715S-1A" and "716S-1A." Two Kinds Of Teardrops (S)/Dream Baby (S)/Happiness (S)/Hey Little Girl (S, but without voice overdubs that were on the 45)/She Thinks I Still Care (S)/Runaway (S, alternate take)//Runaround Sue (S)/Hats Off To Larry (S)/Kelly (S)/Hey Baby (S)/Go Away Little Girl (S)/Little Town Flirt (S) |


Dunes Recordings on LP:

Dunes Records was distributed by Big Top. It was based in New York City and operated from 1960 to 1963. The labels' two hitmakers were Ray Peterson and Curtis Lee, who between them accounted for 21 of the 32 singles issued on the label. Another group with several singles was C.L. and the Pictures, probably C.L. Weldon from Houston. Although Dunes did not issue any albums on their own label, MGM acquired the Ray Peterson masters when the label folded and issued a greatest hits album in 1964 containing twelve tracks recorded for Dunes, and all in true stereo! Aside from this album, the only known issued stereo track from the label is Curtis Lee's "Under the Moon of Love," which is an alternate take included on a Warner- Spector collection of Phil Spector works.



MGM (US)
E/SE-4250 - The Very Best of Ray Peterson - Ray Peterson [1964] Corinna, Corinna [Corrine, Corrina] (S)/Missing You (S)/I Could Have Loved You So Well (S)/Give Us Your Blessing (S)/You Thrill Me (S)/Sweet Little Kathy (S)//Promises (You Made Now Are Broken) (S)/You Didn't Care (S)/Is It Wrong (S)/I Forgot What It Was Like (S)/Be My Girl (S)/I'm Not Jimmy (S)





Related LPs:



EDSEL (UK)
ED 174 - I Go to Pieces - Del Shannon [1986] Misery (M)/Wide Wide World (M)/Ginny In The Mirror (M)/You Never Talked About Me (M)/Don't Gild The Lily, Lily (M)/I Won't Be There (M)/Dream Baby (M)/She Thinks I Still Care (M)//From Me To You (M)/Broken Promises (M)/Why Don't You Tell Him (M)/Do You Wanna Dance (M)/I Go To Pieces (M)/Break Up (M)/Mary Jane (M)/That's The Way Love Is (M)



LONDON (Holland)
6454 801 - Down Yonder and Other Rockin' Hits - Johnny & Hurricanes [198?] Down Yonder (E)/Traffic Jam (E)/Sheba (E)/San Antonio Rose (E)/Bye Bye Blackbird (E)/Kaw-Liga (E)//Beatnik Fly (E)/Rocking Goose (E)/Old Smokie (E)/You Are My Sunshine (E)/Ja-Da (E)/Molly-O (E)



PHOENIX 20 (US)
P20-600 - Juke Box Giants - Johnny & Hurricanes [1980] Red River Rock (E)/You Are My Sunshine (E)/Ja-Da (E)/Rockin' Goose (E)/Revival (E)/Whatever Happened To Baby Jane (E)/San Antonio Rose (E)/Like...Rock (E)/Teensville Tonight (E)/Bye Bye Blackbird (E)//Reville Rock (E)/Down Yonder (E)/Sheba (E)/Time Bomb (E)/Walkin' (E)/Mr. Lonely (E)/Sheik Of Araby (E)/Crossfire (E)/Beatnik Fly (E)/Storm Warning (E)



SURPRISE! (Holland)
JTU AL 10 - Red River Rock - Johnny & Hurricanes [198?] Red River Rock (M)/Happy Time (E)/Buckeye (E)/Cutout (E)/Lazy (E)/Walkin' (S)//Crossfire (E)/Storm Warning (S)/Bambou (S)/Thunderbolt (S)/Joy Ride (S)/Rock Cha (S)





CD Reissues:



BACK LINE (Germany)
BLCD 9.00252 L - Hats Off to Del Shannon - Del Shannon [1989] This entire CD is very mildly rechanneled. The Swiss Maid (E)/Cry Myself To Sleep (E)/Ginny In The Mirror (E)/You Never Talked About Me (E)/Don't Gild The Lily, Lily (E)/I Won't Be There (E)/Hats Off To Larry (E)/The Answer To Everything (E)/Hey Little Girl (E, 45 version with overdubs)/I'm Gonna Move On (E)/I Don't Cry Anymore (E)/So Long Baby (E)



BEAR FAMILY (Germany)
BCD 15925 - Home and Away - Del Shannon [2005] (8-CD box set) Disc 1: The Search (mono)/I'll Always Love You (mono)/Runaway (mono)/Jody/Hats Off To Larry/Don't Gild The Lily, Lily/I Wake Up Crying/Wide Wide World/Misery/Daydreams/His Latest Flame/The Prom/Lies/He Doesn't Care/So Long Baby/The Answer To Everything/Hey Little Girl/I Don't Care Anymore/Ginny In The Mirror/I Won't Be There/You Never Talked About Me/Cry Myself To Sleep/I'm Gonna Move On/The Swiss Maid/Dream Baby/She Thinks I Still Care/Runaround Sue/The Search/I'll Always Love You/The Search (stereo)/I'll Always Love You (stereo)/Runaway (stereo, alternate take)/Hey Little Girl (stereo without overdubs); Disc 2: Little Town Flirt/The Wamboo/Two Kind Of Teardrops/Kelly/Two Silhouettes/My Wild One/Happiness/Hey Baby/Go Away Little Girl/From Me To You/Sue's Gotta Be Mine/Now She's Gone/That's The Way Love Is/Time Of The Day/Torture (version #1)/Nothin' /Froggy/Pursuit/Mary Jane/Stains On My Letter/I'll Be Lonely Tomorrow/I Can't Fool Around Anymore/Handy Man/Give Her Lots of Lovin'/Sorry (I Ran All The Way Home)/Memphis/Ruby Baby/Crying/World Without You/Twist And Shout/Torture (version #2) (instrumental); Disc 3: Do You Wanna Dance (mono)/This Is All I Have To Give/Keep Searchin' (We'll Follow The Sun)/Broken Promises/Stranger In Town/Over You/Your Cheatin' Heart/Kaw-Liga/I Can't Help It/Honky Tonk Blues/I Heard That Lonesome Whistle/You Win Again/Ramblin' Man/Hey Good Lookin'/Long Gone Lonesome Blues/Weary Blues/I'm So Lonesome I Could Cry/Cold Cold Heart/Wrong Day, Wrong Way/Table Reserved For The Blues/Pardon Me I Guess I'm In The Way/Queen Of The Honky Tonks/Break Up/Why Don't You Tell Him/She Cried/Needles And Pins/Do You Wanna Dance (stereo); Disc 4: I Go To Pieces/I'm Gonna Be Strong/Rag Doll/Running Scared/Move It On Over/She Still Remembers Tony/I Can't Believe My Ears/I Wish I Wasn't Me Tonight/The Big Hurt/I've Got It Bad (aka Never Thought I Could)/Show Me/For A Little While/Hey! Little Star/When You Walk In The Room/Oh, Pretty Woman/Everybody Loves A Clown/It's Too Late/Where The Action Is/Lightning Strikes/The Cheater/Kicks/Under My Thumb/She Was Mine/Show Me/Under My Thumb; Disc 5: Red Rubber Ball/The Pied Piper/Sunny/Time Won't Let Me/What Makes You Run/I Can't Be True/Summer In The City/Where Were You When I Needed You/The Joker Went Wild/She/Stand Up/The House Where Nobody Lives/It's My Feeling/Mind Over Matter/Silently/Cut And Come Again/My Love Has Gone/Led Along/Life Is But Nothing/Easy To Say/Friendly With You/He Cheated/Runaway '67/Thinkin' It Over/The Letter/River Cool/Colour Flashing Hair/Conquer; Disc 6: New Orleans (Mardi Gras)/Be My Friend/Silver Birch/I Think I Love You/Gemini/Runnin' On Back/Been So Long/Magical Musical Box/Something To Write Home About/Raindrops/You Don't Love Me/Leavin' You Behind/Never Be The Same/Comin' Back To Me/Sweet Mary Lou/Colorado Rain/How Can I Tell You?/Southern Part Of Town/She's Got Soul/Sister Isabelle/Good Love/Sun Don't Shine (Drip Drop)/Anita (I'm Walking On Fire)/Reason To Believe/She Even Woke Me Up To Say Goodbye/He Cheated (overdubbed)/Raindrops (with sound effects); Disc 7: Little Oscar/Living In Misery/Angel Of Love/Could Be, Can't Tell, Don't Know/What's The Use (In Trying)/This Feeling Called Love/This Is All I Have To Give (Everything I Have Is Yours)/Happiness/She's Your Girl/One More Time/Face Of An Angel/Johnny's Got The Blues/I Fell In Love With You/Condemned To Die (Version #1)/I Guess I'll Never Really Know/A Girl Of My Own/Time Marches On/Daydreams/Wishing On A Star (Counting Stars At Night)/Honey Bee (Version #1)/Lies/He Doesn't Care/The Prom/Honey Bee (Version #2)/Condemned To Die (Version #2)/I'm Gonna Sit Right Down And Cry Over You/Runaway/Jody/One Kiss/Pepsi Commercial #1/Pepsi Commercial #2/Pepsi Commercial #3/Pepsi Commercial #4; Disc 8: The Things She Said/I Can't Let You Go/Just You/If She Were My Girl/For A Little While/This Feeling Called Love/It's Funny/She/Where Is She/I've Got Eyes For You/Did I See What I Think I Saw/Makin's Of A Heartache/I'm Going Through It Too (Table Reserved For The Blues)/Pardon Me (I Guess I'm In The Way)/Pardon Me/The Jury/Deep In The Valley/I Never Caught Her Name/Thunder And Lightning/The Wedding (There Goes Billy)/Rest Your Mind/Lorrayne



BGO (UK)
BGOCD 367 - Runaway with Del Shannon/Hats Off to Del Shannon - Del Shannon [2002] Misery/Day Dreams/His Latest Flame/The Prom/The Search/Runaway (LP version)/I Wake Up Crying/Wide Wide World/I'll Always Love You/Lies/He Doesn't Care/Jody/The Swiss Maid/Cry Myself To Sleep/Ginny In The Mirror/You Never Talked About Me/Don't Glid The Lily, Lily/I Won't Be There/Hats Off To Larry/The Answer To Everything/Hey! Little Girl/I'm Gonna Move On/I Don't Care Any More/So Long Baby/Runaway (single version)/Hats Off To Larry (stereo version)/Hey! Little Girl (stereo version without overdubs)



BGOCD 388 - Little Town Flirt/Handy Man - Del Shannon [1998] Two Kinds of Teardrops/Dream Baby/Happiness/Two Silhouettes/She Thinks I Still Care/My Wild One/Runaround Sue/From Me to You/Kelly/Hey Baby/Go Away, Little Girl/Little Town Flirt/Memphis/That's the Way Love Is/ Ruby Baby/I'll Be Lonely Tomorrow/I Can't Fool Around Anymore/Handy Man/Crying/Mary Jane/World Without Love/Sorry (I Ran All the Way Home)/Give Her Lots of Lovin'/Twist and Shout



BLACK TULIP (Holland)
CD 2636882 - Runaway/20 Greatest Hits - Del Shannon [1988] Runaway (E)/Jody (E)/Hats Off To Larry (E)/Little Town Flirt (E)/So Long Baby (E)/Hey! Little Girl (E, LP version)/Do You Want To Dance (E)/Stranger In Town (E)/Two Kinds Of Teardrops (E)/The Swiss Maid (E)/Keep Searchin' (E)/Handy Man (E)/Sue's Gotta Be Mine (E)/From Me To You (E)/Cry Myself To Sleep (E)/Kelly (E)/The Answer To Everything (E)/Go Away Little Girl (E)/Crying (E)/Twist And Shout (E)



BLACK TULIP (US)
39217 - Red River Rock - Johnny & Hurricanes [1999] A must for stereo collectors, this has lots of stereo in pristine sound. In fact, it's the cleanest, best sounding offering of these tunes that I've ever heard. Here we have "Reveille Rock" in stereo, and "Beatnik Fly" in stereo without that annoying channel cut-in at the start as was on the stereo version of the album, and a dozen or so previously unreleased songs. Red River Rock (M)/California Here I Come (S)/Beatnik Fly (S)/Caravan (M)/What? (S)/Marty's Party (S)/Crossfire (M)/Joy Ride (S)/Cornbread (S, with studio talk and countoff)/Jay Dee's Boogie Woogie (M)/Hot Fudge (S)/Hucklebuck (S)/Lazy (M)/Sheeba (S)/Walking With Mr. Lee (S)/Ja-Da (M)/Rock-A-Long (S)/Reveille Rock (S)/Polly Wolly (S)/C'Est Si Bon (M)/Revival (M)/Cameron (M)/Rocking "T" (S)/Storm Warning (S)/Tweedlee Dee (S)/Down Yonder (M)/Sand Storm (S)/Rocking Goose (M)/The Third Song (M)/You Are My Sunshine (S)/Beatnik Fly (S, false start, outtake)



BUG/RHINO (US)
Bug 8/Rhino R2 70983 - Little Town Flirt - Del Shannon [1990] Two Kinds Of Teardrops (S)/Dream Baby (S)/Happiness (S)/Hey Little Girl (S, without overdubbed voice in choruses)/She Thinks I Still Care (S)/Runaway (S, alternate take) (S)/Runaround Sue (S)/Hats Off To Larry (S)/Kelly (S)/Hey Baby (S)/Go Away Little Girl (S)/Little Town Flirt (S)



Bug 9/Rhino R2 70977 - Greatest Hits - Del Shannon [1990] Runaway (M)/Hats Off To Larry (M)/So Long Baby (M)/Hey Little Girl (45 version with overdubs) (M)/Cry Myself To Sleep (M)/The Swill Maid (M)/Little Town Flirt (M)/Two Kinds Of Teardrops (M)/Kelly (M)/From Me To You (M)/Two Silhouettes (M)/Sue's Gotta Be Mine (M)/That's The Way Love Is (M)/Handy Man (M)/Do You Want To Dance (M)/Keep Searchin' (We'll Follow The Sun) (M)/Stranger In Town (M)/Why Don't You Tell Him (M)/Show Me (E)/Sister Isabelle (M)



CHARLY (UK)
CPCD 8001 - Greatest Hits - Del Shannon [1993] Runaway (M)/Hats Off To Larry (M)/Little Town Flirt (M)/The Swiss Maid (M)/Hey Little Girl (M, 45 version)/Two Kinds Of Teardrops (M)/So Long Baby (M)/Sue's Gotta Be Mine (M)/From Me To You (M)/Handy Man (M)/Do You Want To Dance (M)/The Big Hurt (S, EMI remix)/Keep Searchin' (We'll Follow The Sun) (M)/Stranger In Town (M)/Break Up (M, slightly muffled)/Cry Myself To Sleep (M)/Two Silhouettes (M)/Don't Gild The Lily Lily (M)/Ginny In The Mirror (M)/I Go To Pieces (M)



CLEOPATRA (UK)
484 - The Best of Del Shannon - Del Shannon [1999] Hats Off To Larry /Runaway/Little Town Flirt/Two Kinds Of Teardrops/Keep Searchin' (We'll Follow The Sun)/The Swiss Maid/Why Don't You Tell Him/You Never Talked About Me/Broken Promises/Hey! Little Girl/Dream Baby (How Long Must I Dream)/Two Silhouettes/Kelly/She Thinks I Still Care/Do You Wanna Dance/Handy Man/Ginny In The Mirror/Sue's Gotta Be Mine



COLLECTABLES (US)
COL-CD-2796 - Runaway/The Very Best of Del Shannon - Del Shannon [2002] Runaway/From Me To You/Little Town Flirt/Jody/I Go To Pieces/Happiness/Do You Wanna Dance?/(Marie's The Name) His Latest Flame/Hats Off To Larry/Go Away Little Girl/Ginny In The Mirror/Don't Gild The Lily, Lily/Keep Searchin' (We'll Follow The Sun)/Kelly/Runaround Sue/Stranger In Town/Running Scared/Hey Little Girl/The Swiss Maid/Handy Man/Dream Baby/Two Kinds Of Teardrops/That's The Way Love Is/So Long Baby/Two Silhouettes/Misery/I Won't Be There/Lies/Cry Myself To Sleep/Runaway (alternate take)



CONNOISSEUR COLLECTION (EEC)
VSOP CD 161 - Looking Back: His Greatest Hits - Del Shannon [1991] Runaway (E, 45 version)/Hats Off To Larry (S)/Don't Gild The Lily Lily (E)/So Long Baby (E)/The Answer To Everything (E)/Hey Little Girl (E)/I Don't Care Anymore (E)/You Never Talked About Me (E)/I Won't Be There (E)/Ginny In The Mirror (E)/Cry Myself To Sleep (E)/Swiss Maid (E)/Little Town Flirt (S)/Two Kinds Of Teardrops (S)/Kelly (S)/Two Silhouettes (E)/From Me To You (E)/Sue's Gonna Be Mine (E)/That's The Way Love Is (E)/Mary Jane (E)/Handy Man (E)/World Without Love (E)/Do You Wanna Dance (E)/Keep Searchin' (E)/Broken Promises (E)/I Go To Pieces (E)/Stranger In Town (E)/Break Up (E)/Why Don't You Tell Him (E)/Move It On Over (E)



CRIMSON (UK)
CRIMCD-52 - The Very Best of Del Shannon - Del Shannon [1997] Runaway/Hats Off To Larry/Hey Little Girl/Handy Man/So Long Baby/Cry Myself To Sleep/The Swiss Maid/Little Town Flirt/From Me To You/Do You Want To Dance/Break Up/Sea Of Love/I Go To Pieces/Two Kinds Of Teardrops/Keep Searchin' (We'll Follow The Sun)/Two Silhouettes/Sue's Gotta Be Mine/Mary Jane/Why Don't You Tell Him?/Broken Promises/That's The Way Love Is/Stranger In Town



CURB (US)
77756-2 - Greatest Hits - Del Shannon [1996] Runaway/Hats Off To Larry/Little Town Flirt/Keep Searchin' (We'll Follow The Sun)/Handy Man/So Long Baby/Stranger In Town/Hey Little Girl/Do You Want To Dance/Two Kinds Of Teardrops



DISKY (Holland)
243 564 024 2 - Runaway - Del Shannon [2001] Runaway/Stranger In Love/Keep Searchin' (We'll Follow The Sun)/Needles And Pins/Rag Doll/I Wake Up Crying/Wide Wide World/Lies/Do You Wanna Dance/I Go To Pieces/Over You/I'll Always Love You/The Prom/Broken Promises



72434 885512 - The Very Best of Del Shannon - Del Shannon [1998] Runaway/Stranger In Town/Keep Searchin' (We'll Follow The Sun)/Needles And Pins/Rag Doll/I Wake Up Crying/Wide Wide World/Lies/Do You Wanna Dance/I Go To Pieces/Over You/I'll Always Love You/The Prom/Broken Promises



DOUBLE PLAY
GRF024 - All the Hits and More! - Del Shannon [2001] Runaway/Hats Off Larry/Hey! Little Girl/So Long Baby/I Won't Be There/Cry Myself To Sleep/Little Town Flirt/Two Kinds Of Teardrops/Two Silhouettes/Keep Searchin' (We'll Follow The Sun)/Stranger In Town/Broken Promises/I Go To Pieces/The Swiss Maid/From Me To You/Handy Man/Do You Wanna Dance/Needles And Pins/You Never Talked About Me/Kelly/Give Her Lots Of Lovin'/Over You/Break Up/Why Don't You Tell Him/He Don't Care/Lies/I'll Always Love You/The Search/Jody/Sue's Gotta Be Mine/The Answer To Everything



EDSEL (UK)
ED CD 121 - Runaway Hits! - Del Shannon [1986] Runaway (M, 45 version)/Jody (M)/Hats Off To Larry (M)/So Long Baby (M)/The Answer To Everything (M)/Hey Little Girl (M, 45 version)/Cry Myself To Sleep (M)/The Swiss Maid (M)/Little Town Flirt (M)/Two Kinds Of Teardrops (M)/Kelly (M)/Two Silhouettes (M)/Sue's Gotta Be Mine (M)/Handy Man (M)/Keep Searchin' (M)/Stranger In Town (M)



ED CD 174 - I Go to Pieces - Del Shannon [1994] Misery/Wide Wide World/Ginny In The Mirror/You Never Talked About Me/Don't Gild The Lily, Lily/I Won't Be There/Dream Baby/She Thinks I Still Care//From Me To You/Broken Promises/Why Don't You Tell Him/Do You Wanna Dance/I Go To Pieces/Break Up/Mary Jane/That's The Way Love Is



EMI (Australia)
72438 14171 2 - The Most of Del Shannon Favourites: 18 Original Hits - Del Shannon [200?] Runaway/So Long Baby/Hats Off To Larry/Hey Little Girl/Cry Myself To Sleep/Sue's Gotta Be Mine/That's The Way Love Is/The Swiss Maid/Kelly/Little Town Flirt/Two Kinds Of Raindrops/Do You Want To Dance/Keep Searchin'/Stranger In Town/Break Up/Jody/Why Don't You Tell Him



EMI SPECIAL MARKETS (US)
72435-43472-2 - Classic Masters - Del Shannon [2003] Runaway/Hats Off To Larry/So Long Baby/Hey Little Girl/Little Town Flirt/Two Kinds Of Teardrops/Sue's Gotta Be Mine/Handy Man/Do You Want To Dance/Keep Searchin' (We'll Follow The Sun)/Stranger In Town/Sea Of Love



EVERGREEN (Korea)
2690812 - Greatest Hits - Del Shannon [1986] Runaway (M)/Little Town Flirt (M)/Two Kinds Of Teardrops (M)/So Long Baby (M)/Hats Off To Larry (M)/The Swiss Maid (M)/Hey Little Girl (M)/Stranger In Town (M)/Keep Searchin' (We'll Follow The Sun) (M)/Handy Man (M)



GLOBE (Holland)
CD 1302/18 - The Big Sound of Johnny and the Hurricanes - Johnny & Hurricanes [1993] Molly-O (S)/You Are My Sunshine (S)/Like...Rock (S)/Beatnik Fly (S)/The Kid (S)/Bye Bye Blackbird (S)//Traffic Jam (S)/Teensville Tonight (S)/Mister Irving (S)/Sheba (S)/Tom's Tune (S)/Corn Pone (S)/Rocking Goose (M)/Down Yonder (M)/Old Smokie (M)/Ten Little Indians (S)/Du, Du Liegst Mir In Herzen (M)/Oh, Du Lieber Augustin (M)/Revival (M)/Sanstorm (E)/You're The Blame (M)/Revived (M)/Walkin' With Mr. Lee (M)/Rock-A-Long (M)/Time To Rock (M)/After Midnight (M)/Ja-Da (E)/The "Hep" Canary (E)/High Voltage (M)/Kaw-Liga (M)



GOLDEN STARS (Belgium)
GSS 5164 - Runaway - Del Shannon [2000] Runaway/Hats Off To Larry/So Long Baby/Hey Little Girl/Cry Myself To Sleep/The Swiss Maid/Little Town Flirt/Two Kinds Of Teardrops/Two Silhouettes/Sues Gotta Be Mine/Handy Man/Keep Searchin' (We'll Follow The Sun)/Stranger In Town/Do You Want To Dance [GSS 5110 (Portugal) 1996 version had import cover]



GOLDEN STARS (Portugal)
GSS 5110 - Runaway - Del Shannon [1996] Runaway/Hats Off To Larry/So Long Baby/Hey Little Girl/Cry Myself To Sleep/The Swiss Maid/Little Town Flirt/Two Kinds Of Teardrops/Two Silhouettes/Sues Gotta Be Mine/Handy Man/Keep Searchin' (We'll Follow The Sun)/Stranger In Town/Do You Want To Dance



GOLDMINE (EEC)
GSCD-125 - Big Top Soul Cellar - Various Artists [200?] Big Top, American Arts, and Twirl singles' catalog numbers are given in brackets. Unsatisfied - Lou Johnson [Big Top 101]/I Just Can't Help Myself - Volumes [American Arts 18]/Walk On Into My Heart - Bobbie Smith [American Arts 2]/I Got The Power - Jo Ann Courcy [Twirl 2026]/Are You Putting Me On The Shelf - Don & Juan [Twirl 2021]/Magic Potion - Lou Johnson [Big Top 5153]/Jilted - Spencer Stirling [Big Top 3104]/Maintain Your Cool - Volumes [Twirl 2016]/Misery - Dynamics [Big Top 3161]/Stick Close - Gerri Granger [Big Top 514]/Wouldn't That Be Something - Lou Johnson [Big Top 3127]/What I Really Meant To Say - Don & Juan [Big Top 3121]/A Thing Called Jealousy - Buddy & Stacey [Twirl 2018]/And That's A Natural Fact - Dynamics [Big Top 516]/Wanted - Bobbie Smith [Big Top 3085]/I Got Love - Volumes [Twirl 2016]/You Better Let Him Go - Lou Johnson [Big Top 3127]/You Pulled A Fast One - VIP's [Big Top 518]/Beachcomber - Johnny Gibson Trio [Twirl 2012]/Breakdown - Gerri Granger [Big Top 514]/One Way Lover - Volumes [American Arts 18]/If I Never Get To Love You - Lou Johnson [Big Top 3115]/Lips - Azie Mortimer [Big Top 3041]/Angel - Buddy & Stacey [Twirl 2018]/I Wanna Know - Dynamics [516]/Gotta Give Her Love - Volumes [American Arts 6]/Now He's Gone - Bobbie Smith [Big Top 3129]/Please Don't Go - Sarah Cooke [Big Top 519]/Reach Out For Me - Lou Johnson [Big Top 5153]/Magic Potion [Instrumental] - Lou Johnson Orchestra [Big Top]



ML-O-D RECORDS (US)
CD #011 - Maximilian - Max Crook [2003] For those of us who liked the Maximilian 45s on Big Top, this is a gold mine. Maximilian was Max Crook, who co-wrote "Runaway" with Del Shannon and can be heard playing the Musitron on Shannon's hits. This is a CD-R, but one that's strictly legit, with the songs licensed from the publishers and the CD available only through Max Crook's website, www.maxcrook.com. It includes a new song, "The Last Ride," that Shannon had started years ago by laying down a basic guitar track, and Crook finished in 1997. The Snake (M)/The Wanderer (E)/The Breeze And I-The Theme To Peter Gunn (M)/The Twistin' Ghost (M)/Greyhound (M, slight surface noise)/Autumn Mood (M)/Blue Fire (M)/Mr. Lonely [Johnny & Hurricanes] (M)/Get That Fly [White Bucks] (M, slight surface noise)/Orny [White Bucks] (M, slight surface noise)/Crazy Beat [demo] (M)/Happy Hyena [demo] (M)/Beez Wax [demo] (M)/Beez Wax [alternate take] (M)/Bumble Boogie (M)/Rockin' 88 [demo] (M)/Seventh Hour [demo] (M, slight dropout)/Runaway [instrumental demo] (M)/Hats Off To Larry [instrumental demo] (M)/The Breeze And I-The Theme To Peter Gunn [live demo] (M)/Greyhound [demo] (M)/Greyhound [live] (M)/Autumn Mood [demo] (M)/Yakety Max [live] (M)/Wheels (S, with "4" countoff at start)/Runaway [unreleased instrumental] (S)/Razz My Berries (S)/Runaway [electro-stomp version] (M)/Runaway [instrumental version] (M)/The Last Ride (S)



MUSIC CLUB (US)
50044 - This Is Del Shannon: 16 Great Original Hit Recordings - Del Shannon [1997] Runaway (M)/Hats Off To Larry (M)/So Long Baby (M)/Little Town Flirt (S)/Two Kinds Of Teardrops (S)/From Me To You (M)/That's The Way Love Is (M)/Handy Man (M)/Do You Wanna Dance (M)/Keep Searchin' (We'll Follow The Sun) (M)/Stranger In Town (M)/Break Up (M)/Move It On Over (M)/I Go To Pieces (S)/I Can't Believe My Ears (M)/I Wish I Wasn't Me Tonight (M)



RAVEN (Australia)
RVCD-51 - Del Shannon 1961-1990 (A Complete Career Anthology) - Del Shannon [1998] (2-CD set) Disc 1: Runaway/Hats Off To Larry/So Long Baby/Hey Little Girl/Cry Myself To Sleep/You Never Talked About Me/Jody/The Swiss Maid/Ginny In The Mirror/Little Town Flirt/Two Kinds Of Teardrops/From Me To You/Two Silhouettes/Sue's Gotta Be Mine/That's The Way Love Is/Handy Man/Mary Jane/Keep Searchin' (We'll Follow The Sun)/Stranger In Town/Break Up/Why Don't You Tell Him?/Move It On Over/I Go To Pieces/Under My Thumb/Show Me/The Letter/Runaway '67/Cut And Come Again/Friendly With You/Led Along/Mind Over Matter/Thinkin' It Over; Disc 2: Gemini/Sister Isabelle/Kelly (live)/Distant Ghost/Deadly Game/Help Me/Oh How Happy/And The Music Plays On/Tell Her No/Cry Baby Cry/Restless/Sea Of Love/Drop Down And Get Me/To Love Someone/Cheap Love/Broken Down Angel/Something To Believe In/Hot Love/Walk Away/Calling Out My Name/Who Left Who?/Runaway (crime story version)/Crying (live)/Do You Wanna Dance? (live)/Pepsi Spot (with the Royaltones, 1965)



REPERTOIRE (Germany)
REP 4828-WG - The Best of Del Shannon - Del Shannon [2002] Runaway/Hats Off To Larry/Hey! Little Girl/So Long Baby/Cry Myself To Sleep/The Swiss Maid/Little Town Flirt/Two Kinds Of Teardrops/Kelly/From Me To You/Two Silhouettes/Sue's Gotta Be Mine/That's The Way Love Is/Mary Jane/Handy Man/Do You Want To Dance/Keep Searchin' (We'll Follow The Sun)/Broken Promises/Stranger In Town/Break Up/She Still Remembers Tony/Move It On Over/I Can't Believe My Ears/Kaw-Liga.



SEE FOR MILES (UK)
SEECD 677 - The EP Collection - Del Shannon [1998] Runaway (S, alt. take)/Hats Off To Larry (S)/His Latest Flame (S)/Lies (S)/So Long Baby (S, but odd mix, with music rechanneled-sounding, and vocal in middle)/Don't Gild The Lily (M)/Jody (S)/Hey Little Girl (S, LP version)/Cry Myself To Sleep (M)/Dream Baby (S)/The Swiss Maid (M)/I'm Gonna Move On (M)/Ginny In The Mirror (M)/Little Town Flirt (S)/Kelly (S)/From Me To You (M)/Two Kinds Of Teardrops (S)/Hey Baby (S)/Runaround Sue (S)/Do You Wanna Dance (M)/Mary Jane (M)/Handy Man (M)/Break Up (M)/Why Don't You Tell Him (S)/Keep Searchin' (M)/She Still Remembers Tony (M)/Move It On Over (M)/Stranger In Town (S)



SNAPPER MUSIC/RECALL (EEC)
SMDCD 197 - The Definitive Collection - Del Shannon [1998] (2-CD set) Disc 1: Runaway (S, alternate LP version)/Running Scared (S)/Hats Off To Larry (S)/(Marie's The Name) His Latest Flame (S)/I Wake Up Crying (S)/Cold Cold Heart (S)/Crying (M)/So Long Baby (M)/Runaround Sue (S)/Hey Little Girl (S, LP version with no vocal overdub)/Hey Baby (S)/Dream Baby (S)/She Cried (S)/She Thinks I Still Care (S)/Cry Myself To Sleep (M)/The Swiss Maid (M)/I Can't Help It (S)/Go Away Little Girl (S)/Your Cheatin' Heart (S)/Little Town Flirt (S); Disc 2: Ruby Baby (M)/Two Kinds Of Teardrops (S)/Kelly (S)/Twist And Shout (M)/From Me To You (M)/Two Silhouettes (M)/Sue's Gonna Be Mine (M)/Needles And Pins (S)/Mary Jane (M)/Sorry (I Ran All The Way Home) (M)/World Without Love (M)/Memphis (M)/Rag Doll (S)/Handy Man (M)/Do You Wanna Dance (S)/I'm Gonna Be Strong (S)/Keep Searchin' (We'll Follow The Sun) (S)/I Go To Pieces (S)/Stranger In Town (S)/Break Up (M)



TARAGON (US)
TARCD-1022 - Runaway with Del Shannon/One Thousand Six Hundred Sixty One Seconds with Del Shannon - Del Shannon [1997] These two stereo LPs were selling on the vinyl collectors' market a few years ago for several hundred dollars each, and the hits on the 1661 LP had not been issued in stereo at all since 1965! Somehow, Eliot Goshman obtained access to an excellent quality source, and with the studio magic of Tom Moulton they have come up with an astonishing, outstanding, CD. Runaway With Del Shannon: Misery (S)/Day Dreams (S)/(Marie's The Name) His Latest Flame (S)/The Prom (S)/The Search (S)/Runaway (S, LP version)/I Wake Up Crying (S) / Wide Wide World (S)/I'll Always Love You (S) /Lies (S)/He Doesn't Care (S)/Jody (S); 1661 Seconds With Del Shannon: Stranger In Town (S)/She Cried (S)/Needles And Pins (S)/Broken Promises (S)/Why Don't You Tell Him (S)/Do You Wanna Dance (S)/I Go To Pieces (S)/I'm Gonna Be Strong (S)/Rag Doll (S)/Over You (S)/ Running Scared (S)/Keep Searchin' (We'll Follow The Sun) (S)



TELDEC (Germany)
8.26592 ZP - The Big Sound of Johnny and the Hurricanes - Johnny & Hurricanes [1987] Red River Rock (E)/Buckeye (E)/Crossfire (E)/Reveille Rock (E)/Sandstorm (E)/Cyclone (E)/Rockin' "T" (E)/Beatnik Fly (S)/Tall Blonde (M)/Strange (M)/The Hep Canary (E)/Time Bomb (E)/Rockin' Goose (M)/Comin' Home Baby (M)/High Voltage (M)/Kaw-Liga (M)/Come-On Train (M)/You Are My Sunshine (S)/Priceless Posession (M)/Sheba (S)/San Antonio Rose (M)/Down Yonder (M)/Revival (M)/Molly-O (S)



TIME-LIFE (EEC)
? - Del Shannon - Del Shannon [199?] Runaway/The Swiss Maid/Little Town Flirt/Hats Off To Larry/So Long Baby/Two Kinds Of Teardrops/Sue's Gotta Be Mine/Do You Wanna Dance/Hey Little Girl/Stranger In Town/Cry Myself To Sleep/From Me To You/Handy Man/Two Silhouettes/Cold, Cold Heart/Go Away Little Girl/Crying/I Ran All The Way Home/That's The Way Love Is/Keep Searchin' (We'll Follow The Sun)



VARESE SARABANDE (US)
302 066 270-2 - 25 All-Time Greatest Hits - Del Shannon [2001] Runaway/Jody/Hats Off To Larry/So Long Baby/Hey! Little Girl/Cry Myself To Sleep/The Swiss Maid/Little Town Flirt/Two Kinds Of Teardrops/Kelly/From Me To You/Two Silhouettes/Sue's Gotta Be Mine/Mary Jane/Handy Man/Keep Searchin' (We'll Follow The Sun)/Stranger In Town/Break Up/I Go To Pieces/Sea Of Love/Life Without You/Out Of Time/Walk Away/Who Left Who?/I Go To Pieces