Amaret was the home of the group Crow, who had several chart records near the start of the 1970s, the biggest of which was "Evil Woman (Don't Play Your Games With Me)". The label began in 1969 distributed by Capitol, but in 1972 shifted to distribution by MGM.

Note from guitarist Mike Ciccarelli of the group Triangle: "I was happy to see the Triangle album (ST5001) in your listing under Amaret. I was the guitar player/vocalist on it and it was a remarkable outing. It got a five star rating in Billboard in June 1969 (Neil Young got four and a half), but was never supported with quantities or promotion. I spelled my name at the time Carelli for simplicity. The drummer, Ty Grimes went on to play for Ricky Nelson and left the group right before the plane crash that killed all members. The bass player went on to engineer/produce many hits including 'Freebird' by Lynyrd Skynyrd and the Leo Sayer hits. The Triangle album was also co-produced by Chris Huston, an Englishman who produced some Led Zeppelin albums."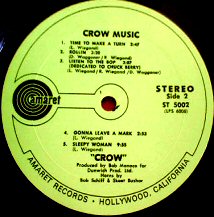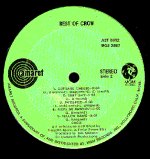 The Amaret label was green with black print, with the Amaret logo at the left side of the label. The logo featured a series of concentric circles, leading some dealers to mistakenly list the label name as "Camaret." Capitol-distributed issues had "stereo" and the record number to the right of the hole, but the MGM issies added the MGM logo at the far right side of the label.

We would appreciate any additions or corrections to this discography. Just send them to us via e-mail. Both Sides Now Publications is an information web page. We are not a catalog, nor can we provide the records listed below. We have no association with Amaret Records or MGM Records. Should you be interested in acquiring albums listed in this discography (which are all out of print), we suggest you see our Frequently Asked Questions page and follow the instructions found there. This story and discography are copyright 2000, 2005, 2010 by Mike Callahan.
| | |
| --- | --- |
| Cover | Number - Title - Artist - [Release Date] (Chart) Contents |
| | Distribution by Capitol Records: |
| | ST-5000 - Mrs. Miller Does Her Thing - Mrs. Miller [5/70] Renaissance of Smut/Up, Up, and Away/Anything Goes/Green Tambourine/Tiptoe Though the Tulips//Green Thumb/The Roach/I Sleep Easier Now/My Pet/Mary Jane/Granny Bopper |
| | ST-5001 - How Now Blue Cow - Triangle [1969] Music Music/99 1/2/Torn Down/Now She's Gone/Short Stuff//Magic Touch/Lucille/Love Me Thru the Night/Try Harder/Rolling Stone |
| | ST-5002 - Crow Music - Crow [1969] (9-69, #69) Evil Woman (Don't Play Your Games With Me)/White Eyes/Thoughts/Da Da Song/Busy Day//Time To Make A Turn/Rollin'/Listen To The Bop/Gonna Leave A Mark/Sleepy Woman |
| | ST-5003 - The Gift of Randy Johnson - Randy Johnson [1970] Beauty/Han's Polka/Gift Of Music/Back Stage/Garden Of Love/And I Say I Love Her/100 Songs In The Gutter/Candles & Cakes/Fly Superman Fly/Goddess Of Day |
| | ST-5004 - The New Life Sings the Sidehackers - New Life [1970] 3-D cover. Film was originally titled Five the Hard Way, which is the title of the first track. Studio band headed by Steve Wood, who previously was in an Oak Cliff (Dallas) band called the Penthouse. 5 The Hard Way (Vocal)/Love Theme (Only Love) (Instrumental)/Strollin' Sunday Mornin'/5 The Hard Way (Instrumental)/Ha Lese (Le Di Khanna)//Only Love (Instrumental)/Sidehacker/Psychedelic Rape/I Wanna Cry/5 The Hard Way (Reprise Instrumental)/Only Love (Vocal) |
| | ST-5005 - Fresh Air - Fresh Air [1970] For What It's Worth/Faces In The Fire/December/Somewhere A Mountain Is Moving/Get Away Car Car//I've Lost My Faith/Baby Lady/Sleeping On Sunshine/Sailor Man/I Finally Found A Friend |
| | ST-5006 - Crow By Crow - Crow [1970] (6-70, #181) I Stand To Blame/Colors/Smokey Joe/Medley: Death Down To Your Soul - Get Yourself A Number - Annie Fannie - Tha Last Prayer//Slow Down/Heading North/Cottage Cheese/Gone, Gone, Gone |
| | ST-5007 - Dave Antrell - Dave Antrell [1970] Straight From A Rainbow/Her World Of Sweet Pretend/Midnight Sunshine/Karen/Lost A Dream/Lost A Dream (See The People Going Down)//The Clock Strikes Twelve/For Isaiah 2:4/Children Of The Sun/Sunset/I'm Taking No Chances |
| | ST-5008 - |
| | ST-5009 - Mosaic By Crow - Crow [1971] (Don't Try To Lay No Boogie Woogie On) The King Of Rock And Roll/Easy Street/Yellow Dawg/Sky Is Crying/I Need Love//Keeps Me Runnin'/Watching Can Waste Up The Time/Satisfied/Watch That Cat/Let's Not Say Goodbye |
| | ST-5010 - A Girl for All Reasons - Dian Hart [1971] To Love/It's A Mighty Big Word/Don't Mention My Name/With Pen In Hand/Told You For The Last Time/San Francisco Is A Lonely Town//Son Of A Preacher Man/Johnny One Time/If You Don't Love Me/Always Leaving, Always Gone/It Only Hurts When They Laugh |
| | ST-5011 - Parts of Love - Judy Lynn [1971] Married To A Memory/The Closet I Ever Came/Angel Of The Morning/I'm His Old Lady/So Natural Is My Love/When The Love Starts To Come//Just To Be Kind/Parts Of Love/1927 Kansas City/Sparrow And The Hawk/Elusive Butterfly |
| | Distribution changes to MGM Records: |
| | AST-5012 - Best of Crow - Crow [1972] Evil Woman/(Don't Try To Lay No Boogie Woogie On The) King Of Rock And Roll/Colors/Gonna Leave A Mark/I Stand To Blame/Time To Make A Turn//Cottage Cheese/Busy Day/Satisfied/Keeps Me Runnin'/Yellow Dawg |
| | AST-5013 - David Wagner D/B/A Crow - David Wagner [1972] Mobile Blue/Cado Queen/Everything Has Got To Be Free/She Makes Me Warm/If It Feels Good, Do It//Before My Time/The Time That I Love You The Most/Load Up The Boat, Captain/I Don't Want My Love Refused/Victims Of The Darkness |
| | AST-5014 - Naturally - Judy Lynn [1973] Footprints On The Moon/Pour Me A Little More Wine/And You Love Me/Posters On The Wall/Two For The Show//I'll Never Sing You A Sad Song/Give Me Something To Believe In/1927 Kansas City/Winterwood/Most Of Us Are Sad |