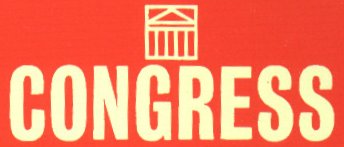 Congress Album Discography
by Mike Callahan, David Edwards and Patrice Eyries
Last update: March 21, 2013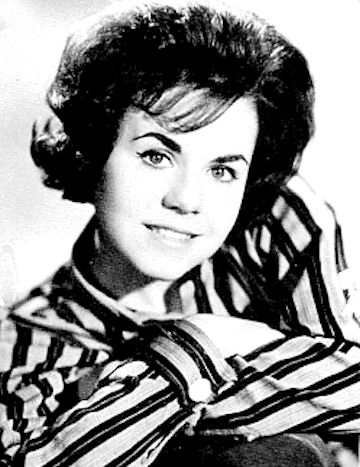 Congress was started in 1962 by Neil Galligan, the silent partner in Caprice Records and a former General Manager at Canadian-American Records. In fact, the address of Congress in 1962 was the same as Caprice, namely, 101 West 55th Street in New York City.

Galligan started Congress by taking Linda Scott (pictured at right) from Canadian-American. At Congress she had some success starting in February, 1962, with "Yessiree"/"Town Crier" [Congress101, #60/#116]. During the summer of 1962, she had her biggest Congress hit with "Never in a Million Years" [Congress 103, #15], and followed that in September with "I Left My Heart in the Balcony" [Congress 106, #74]. Congress released one album by Linda Scott, arranged by Robert "Hutch" Davie, who also was a part of the staff at Caprice. By 1963, when Gerry Granahan of Caprice and Neil Galligan had their break up and Caprice folded, Galligan wound up with singer James Ray, who put out several additional singles on Congress.

Galligan managed to release 11 singles and one album in 1962-63 before the label was sold. Besides Linda Scott and James Ray, the following artists has singles on Congress during the pre-Kapp years: Hutch Davie, the Bracelets, Dick Haymes, Jenny Lee & the Starlets, and Phil Brito.

In August, 1963, Galligan sold Congress to Dave Kapp, and it became a subsidiary of Kapp Records. Galligan stayed with the label as national sales manager and Hutch Davie remained head of A&R. The 45 numbering started over with number 200, but the album numbering remained the same. Kapp released over 70 singles and three albums on the label from 1963-1966, including two more singles by Linda Scott that "Bubbled Under" in 1963-64.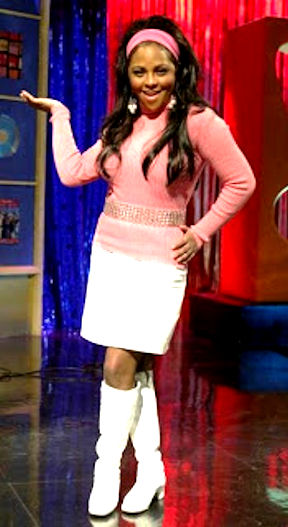 The biggest hitmaker for the Kapp incarnation of Congress was New York vocalist Shirley Elliston (aka Shirley Ellis, shown at left), who by herself accounted for seven of the singles (10%) and two of the three albums released by Congress/Kapp. In November, 1963, she started with a Lincoln Chase-penned hit called "The Nitty Gritty" [Congress 202], which made #8 on the pop charts and #4 on the R&B chart. Her next two releases showed a precipitous slide down the charts, however. "(That's) What The Nitty Gritty Is" [Congress 208] was a carbon copy of "Nitty Gritty" that only reached #74 pop and #14 R&B in February, 1964, followed by "Shy One" [Congress 210], which only reached #130 pop and #43 R&B three months later. The Lincoln Chase classic "Such a Night" [Congress 231] followed, but it didn't chart at all. Such goes many a career in pop music, and it usually ends right there.

But in December, 1964, defying the odds, she vaulted back into the top-5 on both the pop and R&B charts with her biggest hit, "The Name Game" [Congress 230], another Chase novelty that had everyone singing it and making up verses. It reached #3 pop and #4 R&B. Another pop top-10 song followed in March, 1965, "The Clapping Song (Clap Pat Clap Slap)" [Congress 234], which topped out at #8 pop and #16 R&B. Going to the "game song" well again proved to be one time too many, as "The Puzzle Song" [Congress 238] in late May struggled to #78 and then died. Three more Shirley Ellis singles failed to make it above #130. By 1967, after Kapp had deactivated Congress and sold it to MCA, Shirley Ellis signed with Columbia, where she enjoyed one more trip to the R&B top-40 with "Soul Time" [Columbia 44021, #67 pop/#31 R&B].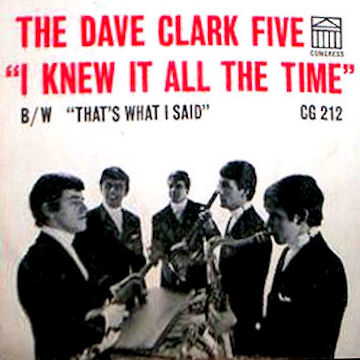 Other than Linda Scott and Shirley Ellis, Congress had but one other chart single during the Kapp era. When the British Invasion hit in January, 1964, record labels here were scrambling for British acts. Congress' parent label, Kapp, snared the Searchers, but didn't seem to be in the running for other groups. For Congress, they went back and leased a single the Dave Clark Five had put out in England over a year earlier, "I Knew It All the Time" [Congress 212], which hadn't even charted in the UK when it was released, but it reached #53 here on the group's name and picture sleeve alone (it didn't sound much like the "Glad All Over" band, truth be told).

Other artists with singles on Congress during the Kapp years included James Ray, Johnny Knight, the Initials, the V.I.P.s, Carolyn Brent, the Elgins, Larry Michaels, David Hutchins, Ritchie Adams, Los Moyas, Margie Bennett, the Squires, Robert Davie [Hutch Davie], Vicki Hill, Freddie Briggs, Angelo & the Initials, Art Grayson, Tammy St. John, the Motions, J.B. Love, Dean Christie, the Renegades, Frankie Cherval, the Compliments, the Halos [the Angels], the Scott Bedford IV, Peter Dayton, the 7th Avenue Aviators, Hugh McCracken, Patty & the Emblems, John Summers, Carson & Gaile, Doug Sheldon, Chico Rio, Susie Houston, Gino Washington, Tawney Reed, Andre Brasseur, and J.B. Quagmire.

Kapp Records continued using the Congress name into 1966 when it was deactivated. In December, 1967, Dave Kapp sold his labels, including Congress, to MCA.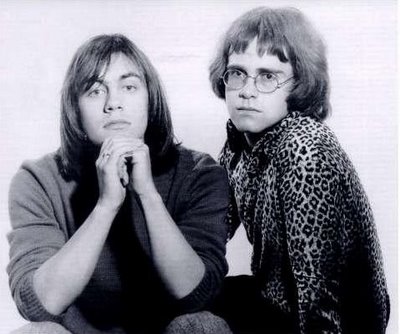 Initially, MCA chose not to use Congress. But starting in 1969, and lasting for about a year, MCA revitalized the Congress label and issued 23 singles and one album.

The most famous artist on the Uni/MCA version of Congress was one who didn't have much success on the label: Elton John. In the late 1960s, after lyricist Bernie Taupin and musician Reg Dwight (aka Elton John) had formed a songwriting partnership, they worked writing easy listening songs for other artists. John started recording their songs for the DJM label in England in 1968. The second of these, "Lady Samantha," was released here on Congress 6017 as the first Elton John single released in America. Elton John's second single here, "Border Song", was initially issued as Congress 6022 in 1970 (the final Congress single release). About that time, MCA decided to discontinue the Congress imprint and move its artists into its other labels. The Elton John single was moved to Uni 55246. This Uni reissue was Elton John's first chart record in the US. Had the Congress label survived, it would have had one of the most successful artists of all time.

The only chart hits the "new" Congress label had were by a British group called the Flying Machine. The Flying Machine had been formerly called Pinkerton's Assorted Colours, and had no connection with the American group of the same name that included James Taylor. Their first single on Congress, and the first single on the "new" MCA/Uni Congress label, "Smile a Little Smile for Me" [Congress 6000], was released in September, 1969, and went to #5 on the pop charts and #6 on the Adult Contemporary chart. Oddly enough, it didn't chart in England, and Congress didn't get the rights to the album, which was issued on Janus Records, a joint venture between the US-based GRT and the UK-based Pye Records (ergo, the two-faced "Janus"). Their followup, "Baby Make It Soon" [Congress 6012], released in January, 1970, only reached #87.

The only album issued on the post-Kapp Congress Records was a J.J. Jackson project called The Greatest Little Soul Band in the Land. After one single under that name, the second and final single was issued credited to J.J. Jackson. Neither charted, nor did the album. Other artists with singles in the Congress 6000 series included Tommy Vann, the Four J's, Majority of One, Travis Wammack, Gil Deonda, Tomorrow's Men, Helena Ferguson, Duane Eddy, Darrow Fletcher, Argosy, Dyna Might, Sandy & Dick, Kent Morrill, Carol Dunn, and Billy Wade McKnight.



| | | |
| --- | --- | --- |
| | | During the first phase of Congress Records, while it was still affiliated with Canadian-American and Caprice, the 45 label was black with silver print. There were two designs, but they didn't seem to be used sequentially. In one design (far left), the label name was in block letters, while in the other (near left), the letters used highlighting lines such as in the Academy Engraved font. |
| | | Both of the early labels had promotional counterparts using a white label with black print. |
| | | Before the sale to Kapp, Congress issued one album, LP/SLP-3001 by Linda Scott (far left). It had a white label with black print, with the label name in red at the top inside two lines of blue stars. After the sale to Kapp, the album labels from 1963-66 were red with black print, with the label name and new logo at the top in white. |
| | | The 45 label during the Kapp years (far left) was like the album label, red with black print with the label name and logo at the top in white. The catalog numbers also changed from the 100 series to the 200 series. Early Kapp promotional labels (near left) were white with red print, with thick lettering. |
| | | Later promotional singles during the Kapp era either used black print (far left) or red print (near left), with smaller lettering. |
| | | Many of the singles issued during the Kapp years used picture sleeves like those shown here. |
| | | When MCA reactivated the label in 1969 under its UNI Records subsidiary, the label was redesigned. The new album label (far left) was a series of concentric bands starting with dark pink at the edge and working through orange, yellow, and white at the center. To the right of the center hole was a wedge where the band colors were reversed. The label name was at the top in white letters. The commercial 45 label (near left) had a similar design. |
| | | Promotional labels during the 1969-70 period (far left) had the regular commercial label with a promotional overprint. MCA also used a special eye-boggling 45 sleeve during 1969-70 (near left). |



We would appreciate any additions or corrections to this discography. Just send them to us via e-mail. Both Sides Now Publications is an information web page. We are not a catalog, nor can we provide the records listed below. We have no association with Congress Records, which is not currently active. Should you be interested in acquiring albums listed in this discography (which are all out of print), we suggest you see our Frequently Asked Questions page and follow the instructions found there. This story and discography are copyright 2003, 2013 by Mike Callahan.

CONGRESS ALBUM DISCOGRAPHY
| | |
| --- | --- |
| Cover | Number - Title - Artist - [Release Date] (Chart) Contents |
| | Congress LP/SLP-3000 Series (distributed by Canadian-American): |
| | LP 3001/SLP 3001 - Linda - Linda Scott [1962] I Wonder, I Wonder, I Wonder/Sit Right Down And Write Myself A Letter/Never In A Million Years/I'll Walk Alone/Yessiree/The Lovliest Night Of The Year//Goody Goody/To Each His Own/The Things I Love/Through The Summer/Why Do Fools Fall In Love/Yours |
| | Series continues as Congress CGL/CGS-3000 Series (distributed by Kapp): |
| | CGL 3002/CGS 3002 - Shirley Ellis in Action - Shirley Ellis [1964] Such A Night/Bring It On Home To Me/The Nitty Gritty/C.C. Rider/Takin' Care Of Business/Don't Let Go//Stagger Lee/Stardust/Shy One/Kansas City/Get Out/(That's) What The Nitty Gritty Is |
| | CGL 3003/CGS 3003 - The Name Game - Shirley Ellis [1965] The Name Game/Don't Let Go/Kansas City/Shy One/Stardust/The Nitty Gritty//Such A Night/C.C. Rider/I Will Never Forget/Stagger Lee/Whisper To Me Wind/Bring It On Home To Me |
| | CGL/CGS-3004 - Piano Memories - Hutch Davie [1965] The Gypsy/Oh! What It Seemed to Be/All By Myself/Don't Blame Me/My Mother's Eyes/Call Me Irresponsible//As Time Goes By/If I Had My Way/I'll Get By/Because of You/The Things We Did Last Summer/Laughing on the Outside |
| | Congress CS-7000 Series (distributed by UNI/MCA): |
| | CS 7000 - The Greatest Little Soul Band In The Land - The Greatest Little Soul Band In The Land featuring J.J. Jackson [1968] Issued in stereo only. Tobacco Road/Tenement Halls/Something For My People/In The Same Old Way//A Change Is Gonna Come/Fat, Black, And Together/Win, Lose, Or Draw/That's Woman Loving Her Man |
| | RELATED ALBUMS: |
| | Janus JLS-3007 - The Flying Machine - Flying Machine [1969] This was a British group that formerly was called Pinkerton's Assorted Colours. Smile A Little Smile For Me [Congress 6000]/Marie Take A Chance/Waiting On The Shores Of Nowhere/That Same Old Feeling/There She Goes [Congress 6012]//Baby Make It Soon [Congress 6012]/Broken Hearted Me, Evil Hearted You/A Thing Called Love/My Baby's Coming Home/Send My Baby Home Again |
| | Uni 73090 - Elton John - Elton John [1970] Originally, "Border Song" was issued on Congress 6022, then reissued on Uni 55246 in 1970. Your Song/I Need You To Turn To/Take Me To The Pilot/No Shoe Strings On Louise/First Episode At Hienton//Sixty Years On/Border Song/The Greatest Discovery/The Cage/The King Must Die |
| | RELATED COMPACT DISCS: |
| | Taragon TARCD-1005 - The Very Best of Shirley Ellis: Original Congress Master Recordings - Shirley Ellis [1995] The Nitty Gritty (S)/(That's) What The Nitty Gritty Is (S)/Shy One (S)/Bring It On Home To Me (S)/The Name Game (S)/Whisper To The Wind (S)/The Clapping Song (Clap Pat Clap Slap) (S)/The Puzzle Song (A Puzzle In Song)(S)/I Told You So (S, with countoff)/Ever See A Diver Kiss His Wife (While The Bubbles Bounce Out Above The Water?) (S) |
| | Connoisseur Collection (UK) VSOP-CD 440 - The Complete Congress Recordings - Shirley Ellis [2001] The Nitty Gritty (M, live)/Give Me A List (M)/That's What The Nitty Gritty Is (M, live)/Get Out (M, live)/Shy One (S)/Takin' Care Of Business (M, live)/Such A Night (M, live)/Bring It On Home To Me (M, live)/The Name Game (M, live)/Whisper To Me Wind (S)/The Clapping Song (M)/This Is Beautiful (M)/The Puzzle Song (M)/I See It I Like It I Want It (M)/I Will Never Forget (M)/I Told You So (S)/One Sour Note (M)/You Better Be Good World (M)/Stardust (M, live)/Ever See A Diver Kiss His Wife While The Bubbles Bounce About Above The Water [with Lincoln Chase] (S)/Don't Let Go (M, live)/Kansas City (M, live)/C.C. Rider (M, live)/Stagger Lee (M, live) |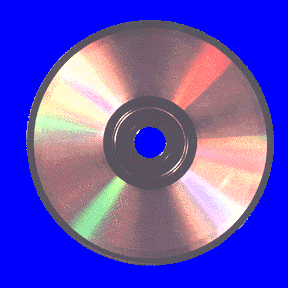 Back to the Discography Listings Page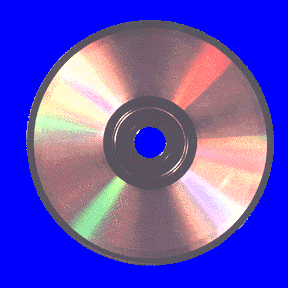 Back to the Both Sides Now Home Page