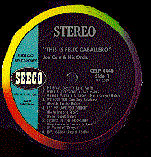 Seeco Album Discography
By Don Charles, David Edwards, and Mike Callahan
Last update: October 5, 2005





The Seeco Records Story
by Don Charles

SWING!
Glenn Miller, Count Basie, Benny Goodman and other legendary bandleaders plied the beat that set Americans Lindy Hopping in the '30s and '40s. However, the popularity of big bands waned during the years immediately after the end of World War II. The end of the swing era saw the rise of superstar balladeers like Sinatra, Tony Bennett, Perry Como, Nat "King" Cole and Rosemary Clooney. However, people still wanted to dance as much as ever. To satisfy this demand, rhythm and blues and western swing came into their own on the West Coast and in the southern and midwestern United States, respectively. Meanwhile on the East Coast, swingin' mambo sounds fit the bill. Jeweler Sidney Siegel noticed the growing popularity of Latin dance music during the height of the war. It was reportedly in 1943 that he poured the assets of his Casa Siegel jewelry store into the founding of a record label. His earliest releases were marketed in Canada due to wartime vinyl rationing; by the late '40s, he'd launched a full-fledged American operation.

Seeco Records was devoted to the kind of Latin music that Siegel loved. Rival labels would spring up in later years (most notably, Tico Records in 1948) which tended to specialize in the "New York Latin" sound of the most popular mambo bands. Seeco and its sister label Tropical created a niche for itself by seeking out (no pun intended) and recording only the most authentic sounds; and if that meant traveling to some far-flung locale to record, so be it. Seeco's catalogue included not only Afro-Cuban music (the foundation of mambo), but also native music from the French Antilles, South America, Western Europe, the Caribbean and all over the Latin diaspora. Over the next 25 years, Sidney Siegel would aggressively pursue distribution deals and fresh talent in Cuba, Puerto Rico, Colombia, Haiti, The Dominican Republic, Mexico, Spain and Argentina. His upstart independent label became famous both inside and outside the United States due to the pedigree of its product. The sleeve of each new release proclaimed in bold letters "The Finest In Latin-American Recordings." While a fair amount of dross was issued by his label, Siegel did his best to make the claim ring true.

A "world music" label long before the term had been coined, Seeco was the direct forerunner of present-day companies like Putumayo and Island Records. Although originally intended as strictly a Latin music label, by the late 1950s, its artist roster had diversified to include jazz, music hall and cabaret artists such as Cy Coleman, Elsa Maxwell, Billy Maxted, Tony Scott, continental sex kitten Eartha Kitt and cocktail pianist Hildegarde. The Polyphonics, a trio of eclectic harmonica wizards, recorded for Seeco. A Celebrity Series was launched which featured comedian Alan King and Broadway star Chita Rivera, among others. Seeco's A & R department was run by jazz-based arranger/producers such as Joe Cain, Morty Hillman and Jerry Shifrin. Nevertheless, Latin music in its most exotic varieties, be it Spanish, French or Portuguese in origin, remained the bread and butter of Seeco/Tropical. Sidney Siegel surely wouldn't have wanted it any other way.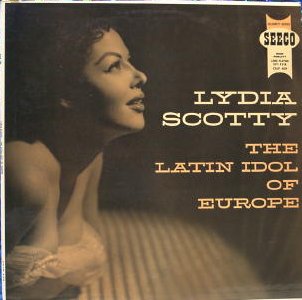 Anyone in the mood to take a musical trip around the world had to look no further than the international section of their nearest record outlet. There they'd find the latest Seeco product by indigenous singers such as Lydia Scotty, Haitian Nemours Jean-Baptiste, Argentinean Leo Marini and Spanish flamenco queen Lola Flores; travelogue recordings by Arturo Chaite covering various European locales; romantic French and Italian ballads as played by pianist Pierre Dorsey and The Aldo Bruschi Ensemble, respectively; and tropical jazz from talented José Melis, a Seeco mainstay who moonlighted as music director for TV's Jack Paar talk show. The label's two top-selling artists both hailed from Havana, Cuba. Vicentico Valdés, formerly the featured singer with Tito Puente's orchestra, thrilled millions of female hearts with his smooth ballad style, while Celia Cruz delivered world-famous rhumbas with her unique brand of industrial strength vocalizing. Housing the exotic treasures that Seeco marketed were eye-catching album sleeves that, in true Latin style, often depicted busty beauties dressed in costumes that barely concealed their feminine charms. Much like those bulging bodices, the Seeco/Tropical tape library is full-to-overflowing with a wealth of Latin music styles. What follows is a brief look at those styles which were favored in the United States, and the Seeco artists who specialized in them.

TANGO
The early part of the 20th century found wealthy Americans mesmerized by the tango, an Argentinean import with links to a Cuban rhythm called habanera. Played on violin, guitar and accordion, tango music inspired a sensuous dance among the lower classes of Buenos Aires; it quickly acquired a bad reputation because prostitutes danced to it in slit skirts while wearing no underwear! ¡Qué escándolo! The famed professional dance team of Irene and Vernon Castle cleaned up the tango, imported it to the United States during World War I, and promoted it to such an extent that its popularity swept the nation during the 1920s. Superstar Latin bandleader Xavier Cugat got his start playing tango accompaniment for early Hollywood movies, as well as for high society parties on the West Coast. Edmundo Rivero and Hugo Del Carril were perhaps the best known of several tango specialists who cut sides for Seeco, and authentic tango artistry can readily be found on Rivero's Tropical album El Gran Cantante Argentino.

MARIACHI
Mexican music is a combination of Native-American and European elements. Emigrants from the north of Spain brought their folk ballad tradition to Mexico, and the French (who briefly controlled the country during the 19th century) brought the waltz and the polka. These forms can still be heard in the Tejano music popular among Spanish-speaking Americans in the southern United States. Ultimately, Mexico became world-famous for its beautiful and melancholy ranchera ballads, as performed by guitar, trumpet, violin and accordion ensembles known as mariachis. Mariachi music and artists were always welcome at Seeco, as were the compositions of famed Mexican composers like María Grever, Agustín Lara and José Alfredo Jiménez. In fact, the great Jiménez was briefly part of Seeco's artist roster. The label's other Mexican music exponents included Tony Pizarro, the Johnny Rodríguez Trio, Mariachi México, the celebrated Trío Los Panchos, and popular 1940s film stars Tito Guizar and Chucho Martínez Gil. Most of the aforementioned may be sampled on the Tropical anthology Canciónes De México.

RHUMBA
El son, an infectious music based on a five-beat rhythm pattern, was developed in the Cuban countryside during the late 19th century. By the 1920s, it had migrated to Havana and formed the basis of rhumba, a style of music and dance that grew out of neighborhood street festivals. While initially taken up by impoverished Cuban city dwellers, the rhumba gradually became popular in polite society. Seven-piece musical ensembles formed to play this new music; one of the most popular was Septeto Nacional, led by composer and guitarist Ignacio Pineiro. Pineiro and his group cut a critically acclaimed album for Seeco in 1958. Americans vacationing in Cuba acquired a taste for this exotic new sound and brought it home with them. Rhumba also reached the United States via the great Cuban composer Ernesto Lecuona, in songs such as "Say Sí Sí" (known in Spanish as "Para Vigo Me Voy") and "Malagueña."

Among those principally responsible for the introduction and popularity of rhumba music in the USA were Noro Morales, Trío Matamoros, Miguelito Valdés, Machito and especially Xavier Cugat, the Rhumba King. More than any other Latin bandleader, Cugat understood the importance of image and marketing. His shows featured beautiful girl singers in Spanish mantillas, flashy tango and flamenco dancers, virile and handsome conga drummers, musicians in ruffled pink sleeves, stage sets decorated with potted palms, and more often than not. . . Chihuahuas! The colorful and flamboyant image he created for himself and his music captured the American public's fancy, and opened the door for other Latin artists to follow in his wake. Follow they did: Just as Cugat's popularity was peaking in the late '40s, Morales, Valdés and Trío Matamoros began laying down their classic Seeco sides. Machito waited just a little longer, signing with the label in the early '50s.

Miguel Matamoros founded his Trío in 1925 with Rafael Cueto and Siro Rodríguez. Trío Matamoros was one of the earliest Cuban groups to record in the United States (1927), and also one of the earliest to join the Seeco roster (1945). The Trío's touring band included the legendary Beny Moré on guitar; in the late '40s, Moré left the group to begin his celebrated singing career. Practically all of Trío Matamoros' songs are considered standards today, and their Seeco sides include the much-recorded "Coco Seco," about as primitive an example of rhumba as you could ever hope to hear. The product of a Cuban/Mexican cross-cultural marriage, Miguelito Valdés was arguably the Ricky Martin of his day. His impassioned conga-drumming and his handsome Latin looks brought him many ladies' telephone numbers scrawled on cocktail napkins, not to mention numerous offers to appear in Hollywood films. He helped himself to both the women and the movie exposure, starring with the likes of Rita Hayworth and Fred Astaire. His fame was consolidated in the 1950's when he toured the world his own band. Ironically, though, Valdés was eclipsed in popularity by Desi Arnáz, who admittedly copied his stage persona and much of his repertoire. Miguelito Valdés recorded the hit single version of Arnáz's signature tune "Babalú" in 1944, backed by Xavier Cugat's orchestra. One year later, he was in the studio with Noro Morales cutting tracks for Miguelito Valdés Sings, one of the finest and most collectible Seeco albums. With excellent selections like "Se Formo El Rhumbón" and "Amor Sagrado", this is an essential record for connoisseurs of vintage rhumba and bolero music.

The undulating "Tremendo Cumban" by Machito and his Afro-Cubans is probably the most frequently licensed track in the Seeco catalogue. Machito, whose true name was Francisco Pérez Grillo, came to New York from Cuba in 1937 to seek his fortune as a singer. He worked briefly with the Xavier Cugat orchestra before joining brother-in-law Mario Bauzá to form his own band in 1940. The Afro-Cubans quickly became the most popular Latin dance music ensemble in New York. In 1943, Machito was drafted for service in World War II, and Bauzá sent to Cuba for his talented sister, Graciela Pérez, who fronted the band in his absence. She remained with the band following her brother's return, and their wry duet vocal style became a hit with both audiences and record buyers. Graciela became famous throughout Latin-America for her quivering performances of ballads like "Novio Mio", but she was no slouch in the rhythm department, as her energetic Seeco recording of "Adivinanza" clearly demonstrates. The siblings joined forces on sizzling tracks like "Mambo Infierno" and other successful marriages of hot jazz and raw rhumba captured at Seeco recording sessions.

MAMBO
By the late 1930s, Havana orchestras began to reflect the instrumentation of carnival parade bands. These ensembles included guitar, trumpets, piano, bass and conga drums, and were called conjuntos. The most influential of the Cuban conjuntos was led by blind guitarist Arsenio Rodríguez, another future Seeco recording artist. Songs with false endings, like the hilarious "Dolorcito De Mi China", were his specialty. When Rodríguez emigrated to the USA, he formed a band that, along with that of Machito, set the stage for the mambo craze of the late '40s and '50s. Seeco producers captured his musicians at their best on the album Clasicas De Un Sonero.By the middle 1940s, the great rhumba bands of Rodríguez, Machito and Noro Morales were holding forth at various New York nightspots, as was Xavier Cugat's orchestra, ensconced at the Waldorf Astoria Ballroom.

A stylistic division was becoming apparent. "Uptown" bands like those of Machito and Rodríguez stressed rhythm more forcefully than did aggregations like Cugat's, which specialized in elaborate floor shows heavy on romantic ambiance. Strings were verboten with the new bands. Pianos and brass functioned as de facto rhythm instruments even while they carried the melody. Also, there was considerable jazz influence. Noro Morales, who emerged as Cugat's primary rival during this time, fell between the two camps. Known as "the Fats Waller of Latin music", the portly Morales courted society patrons with catchy piano-based melodies like "Bim Bam Boom" and "Walter Winchell Rhumba" (both of which were featured in wartime movie musicals), but he could also lay down some deadly rhythms, as evidenced by his Seeco recordings "Stop 21" and "Serenata Rítmica" from the excellent album Bailemos with Noro Morales.He holds the distinction of being Seeco's very first album artist.

As rhumba evolved into the mambo, the cream of Latin dance bands could be found playing several nights a week at New York's famed Palladium ballroom, which at the height of its popularity billed itself as "Home of The Mambo." As did other labels, Seeco capitalized on the dance hall's name with an album called Baile En El Palladium.The Machito band alternated with those of two talented young Puerto Ricans, Tito Puente and Tito Rodríguez (an alumnus of the Noro Morales orchestra) to provide red-hot dance music for the Palladium's patrons. In 1951, Pérez Prado traveled from his base in Mexico City to the US West Coast and wowed audiences with his bubbly, comedic personality and avant-garde mambo jazz experiments. The numbers of talented Latinos visiting the United States to perform swelled. These included Beny Moré, Daniel Santos ("the Puerto Rican Sinatra"), the exciting Orquesta Riverside, and La Sonora Matancera, the celebrated conjunto of Cuban radio fame which featured no less than three superstar vocalists: Celio González, Bienvenido Granda and the magnificent Celia Cruz. Younger musicians like Joe Cuba and Charlie Palmieri followed the lead of upstarts Puente and Rodríguez, and established their own popular bands. Significantly, every one of the aforementioned artists is represented in the Seeco catalogue. La Sonora Matancera arguably became the label's most important signing, providing studio accompaniment for Daniel Santos, Miguelito Valdés and many other vocal stars as well as recording its own extremely popular releases. Of particular note is Seeco's Desfile De Estrellas album, on which Sonora members Lino, Elpidio, Angel, Manteca, Caito, Calixto, Pedro and leader Rogelio back twelve different Latin stars.

CHA-CHA-CHA
In the mid-50s, mambo gave way to a new rhythm, the cha-cha-chá. Like the rhumba and the mambo, this rhythm also came from Cuba, and grew out of the musical experiments of bandleaders like Antonio Arcaño, Enrique Jorrín and Rosendo Ruiz, Jr. They led traditional dance orchestras known as charangas, whose violin and flute-dominated sound hearkened back to Xavier Cugat's tango-playing Gigolos. Cha-cha-chá rhythms inspired a sexy hip-swiveling dance that proved much easier to learn than the mambo. By the late '50s, cha-cha-chá was the only Latin rhythm that mattered, and charanga orchestras multiplied in NewYork City. Seeco's cha-cha-chá specialists included the Orquesta Cosmopolita, César Concepción, Chiquitín Socarrás and Luis Barretto, all of whom appear on the Tropical compilation Baile El Cha-Cha-Chá. One the most famous charanga bandleaders was Charlie Palmieri, and his version of "Lullaby Of Broadway" is one of the brightest gems in the catalogue. Around 1960, a fast cha-cha-chá style was invented by Dominican-born bandleader Johnny Pacheco. Dubbed pachanga by openly gay singer/songwriter Eduardo Davidson, it launched a brief dance craze which saw couples waving brightly colored scarves in the air as they twisted their hips. On Seeco, such artists as La Plata Sextette and The Cuban All-Stars became known as exponents of pachanga music.

PLENA and MERENGUE
Among New York's Puerto Rican population, a native form of dance music called plena became popular in the 1960s. Played on flat hand-held drums called panderetas, it was developed by 19th century Afro-Puerto Rican laborers. Puerto-Rican Americans considered the orchestra of César Concepción foremost among the importers of plena music, with Rafael Cortijo and his Combo running a close second. Ismael Rivera, who frequently appeared with Cortijo, was hailed as the best plena singer of all-time, and Joe Valle, who recorded with Concepción, was a perennial Puerto Rican favorite. Naturally, all of these artists recorded for Seeco. Rivera's "Alegría y Bomba" and Valle's "Para Salinas" were two of the biggest sellers in the catalogue. From the Dominican Republic came a piquant mix of Spanish melody and African rhythm called the merengue, and an accompanying dance with distinctive knee-bending steps. Cuban conjuntos added the popular merengue to their repertoires in the early '50s, sometimes adding an accordion to make the sound more authentic. Simón Damirón, teamed for years with singer Chapuseaux, was probably the most famous of the many merengue artists signed to Seeco, which also included bandleaders René Grand and Mario Hernández, and composer Luis Kalaff. Some of the finest big band merengue ever recorded appears on an obscure Seeco album titled Programa Bailable, recorded by Chucho Sanoja and featuring the incredibly rich vocals of Alberto Beltrán on "Ritmo Del Amor" and the fabulous "Ven Acá Mi Amor". ¡Sabroso!

LATIN BOOGALOO
Near the end of Seeco's time as an active label, a new sound called Latin boogaloo burst onto the scene. It melded rhythm and blues stylings with Latin rhythms (as well as English with Spanish lyrics), and was so danceable that it showed great potential for crossover. Latin boogaloo was one of the early precursors of '70s disco music. By 1966, the Palladium ballroom had closed, and Big Apple dancers were flocking to the Cheetah discotheque. There they could enjoy such boogaloo purveyors as Johnny Colón, Willie Colón, Pete Rodríguez, Pete Terrace and one-time Seeco recording stars the Joe Cuba Sextette. With his preference for "pure" Latin music, Sidney Siegel couldn't have been too happy with this development; even so, several boogaloo recordings found their way into Seeco's catalogue, most notably "El Matón" and other cuts by brothers Ricardo Ray and Bobby Cruz.

Sadly, Siegel didn't live to see the resurgence of traditional rhumba in the form of "salsa" music. Starting in the '50s, Seeco was rocked by dozens of lawsuits from song publishers alleging non-payment of royalties. Also during that decade, rock 'n' roll's rise knocked the wind out of the mambo/cha-cha-chá craze, negatively affecting the sales of all Latin music labels. More than one of Seeco's best producers and promotion men quit, complaining of low pay. Siegel's biggest setback came in 1965 when his top female star, Celia Cruz, defected to Tico Records. These stress factors may have contributed to his early death sometime in the late 1960s, after which Seeco's world headquarters at 39 West 60th Street closed its doors forever. Fortunately, Met-Richmond Record Sales purchased the Seeco catalogue in 1969, and kept albums by the likes of Celia Cruz, Ignacio Pineiro, Machito and Miguelito Valdés in print through the '70s and '80s. By listening to these classic recordings, salsa enthusiasts were able to trace the roots of their preferred sound. Many of those reissues can still be found in used record shops for quite reasonable prices.

In addition, reissue labels in England, Germany, Portugal, Spain and other European countries regularly mine the Seeco tape library for compilation material, although CD reissues often use records for masters, as there is surface noise audible. Now that Gloria Estefan, Jon Secada, Jennifer Lopez and Ricky Martin have crossed over to English-speaking pop audiences in a big way, and other Latin artists are poised to duplicate their success in the 21st century, these vintage recordings will likely be more in demand than ever. Plucking Spanish melodies on a harp up in heaven, Sidney Siegel is no doubt tickled pink to see that his faith in the longevity of Latin music has been vindicated. ¡MAMBO!

The Seeco label had several subsidiaries, including Dawn, Bronjo, and Tropical. These labels are also covered in this discography. We have constructed this discography from various sources, including a 1960 Seeco Records Catalog, Schwann Catalogs from various years, and our record collections. Don Charles thanks: Borders' Books and Music in Mission, Kansas; Ron and Nancy Rooks, Dave Conn, Charlie Stout, "El Mexicano" Darrell Edwards and Mark "Twelve-Inch" Reynolds livin' la vida loca at The Music Exchange, Kansas City, Missouri; and special thanks to Chuck Haddix and the staff of Marr Sound Archives at UMKC.

We would appreciate any additions or corrections to this discography. Just send them to us via e-mail. Both Sides Now Publications is an information web page. We are not a catalog, nor can we provide the records listed below. We have no association with Seeco Records, which is currently inactive. Should you be interested in acquiring albums listed in this discography (which are all out of print), we suggest you see our Frequently Asked Questions page and follow the instructions found there. Requests for our supplying of records or finding records for you will be ignored. This story and discography are copyright 1999, 2002 by Mike Callahan.



SEECO ALBUM DISCOGRAPHY

Number - Title - Artist [Release Date] Contents

10-inch LP series:
This series used a dark blue label.

SLP 1 - Rhumbas - Noro Morales [1949]
SLP 2 - Rhumbas - Pupi Campo [1950]
SLP 3 - Rhumbas & Sambas - Noro Morales [1951]
SLP 4 - Mambo/Boleros - Perez Prado [1951]
SLP 5 - Yo Canto Para Ti - Bobby Capo [1952]
SLP 6 - Tangos To Remember - Various Artists [1952]
SLP 7 - Stan Getz with Wardell Gray - Stan Getz/Wardell Gray [1952]
SLP 8 - Eva Garza - Eva Garza [1952]
SLP 9 - Favoritos de Damiron - Damiron [1952]
SLP 10 - Tangos - Hugo Del Carril [1952]
SLP 11 - Chucho Martinez - Chucho Martinez [1952]
SLP 12 - Eva Garza, Volume II - Eva Garza [1952]
SLP 13 - Leo Marini - Leo Marini [1952]
SLP 14 - Sonora Matancera - Sonora Matancera [1952]
SLP 15 - Ecos De España - Various Artists [1952]
SLP 16 - Miguelito Valdés - Miguelito Valdés [1952]
SLP 17 - Ecos De Puerto Rico - Various Artists
SLP 18 - Ecos De Cuba - Various Artists
SLP 19 - Favorites - Daniel Santos
SLP 20 - Ecos De Dominicanos - Various Artists
SLP 21 - Ecos De México - Various Artists
SLP 22 - Ecos De Ayer - Various Artists
SLP 23 - Mambo - Tito Puente
SLP 24 - Trio Maravilla - Trio Maravilla
SLP 25 - Horas De Reposo - Various Artists
SLP 26 - Ecos De Argentina - Various Artists
SLP 27 - Solo Para Novios - Various Artists
SLP 28 - Favorites - Celia Cruz
SLP 29 - Vlady and His Orchestra - Vlady
SLP 30 - Dance Date - Machito
SLP 31 - Cesar Concepcion and Orchestra - Cesar Concepcion & Orchestra
SLP 32 - Riverside Orchestra - Riverside Orchestra
SLP 33 - Favorites - Carmen Delia Dipiní
SLP 34 - Encores - Sonora Matancera
SLP 35 - Favorites - Don Byas
SLP 36 - Melodias De Navidad - Various Artists
SLP 37 - Canciónes Jibaras - Various Artists
SLP 38 - Danzas De Puerto Rico - Various Artists
SLP 39 - Vicentico Valdés Sings - Vicentico Vald's
SLP 40 - Encores - Bobby Capo
SLP 41 - Encores - Daniel Santos
SLP 42 - Encores - Eva Garza
SLP 43 - Encores - Leo Marini
SLP 44 - Encores - Hugo Del Carril
SLP 45 - Mambo - Benny Bennet [10/54]
SLP 46 - Tetiton Guzmán - Tetiton Guzmán
SLP 47 - Selecciones Favoritas - Trio Los Panchos

SLP-48 - A Bailar Porros - No Artist Given [1954] El Ermitaño/No Quiero Espejo/Compadre Pancho/La Hamace/Te Olvidé/Disimularne/Me Voy Pa'la Habana/No Quiero Tu Dinero

SLP 49 - Bienvenido Granda - Bienvenido Granda
SLP 50 - Canciones de Mi España - Lola Flores
SLP 51 - Charlie Palmieri - Charlie Palmieri
SLP 52 - Mambo Medley - Various Artists
SLP 53 - Mambo and Cha-Cha-Cha - Machito
SLP 54 - Celia Cruz Canta - Celia Cruz
SLP 55 - Desfile Estelar - Sonora Matancera
SLP 56 - Joe Valle - Joe Valle
SLP 57 - Selecciones Favoritas II - Trio Los Panchos
SLP 58 - Larry Sonn - Larry Sonn
SLP 59 - Manolo Leiva - Manolo Leiva
SLP 60 - Rancheras Favoritas - Various Artists
SLP 61 - Trio Avileño - Trio Avileño
SLP 62 - The Breeze and I - Skitch Henderson
SLP 63 - Baile en el Palladium - Various Artists
SLP 64 - Salute to Spain - Chavales De España
SLP 65 - Extasis - Various Artists



SCLP T-1 - Mambos - Various Artists
SCLP T-2 - Rhumbas - Various Artists
SCLP T-3 - Tangos - Various Artists
SCLP T-4 - Boleros - Various Artists



12-inch LP Series:

SS Series:

SS-1 - Around the World In One Night - Various Artists [1958] Havana: Micaela/Mexico: Alma Triste/Buenos Aires: Adios Muchachos/Rio: Samba Blanca/Madrid: El Belicario/Caracas: Tu Rica Boca/Puerto Rico: El Bombon de Elena/Lisbon: Uma Casa Portuguesa/Bogota: Cuando Vuelvas Conmigo/El Sombrero de Gaspar/Paris: Grands Boulevards/C'est Magnifique/Dans L'Ambiance/Viena a Nogent/Roma: Chichillo

SS-2 - Latin Rhythms - Various Artists [1958] Artists are: Tito Rivera & His Orchestra, Machito & His Afro-Cubans, Damirón & Chapuseaux, Noro Morales, Alak Bros. Orchestra, Nelson Pineda with Sonora Mantancera, Los Chavales de España, Celia Cruz, Eva Garza con Mariachis, and Trío Johnny Rodriguez. Tracks are: Mambo: Caravan/Cha Cha: Charinete/Merengue: La Maricutana/Rumba: Echa Pa' Ca/Tango: Adios Muchachos/Samba: Dengoso/Porro: El Ermitano/Pasodoble: Espana Cani/Bolero: A Econdidas/Matiagua/A Los Cuatro Venitos/Guaracha: Sara

SS-3 - Album Aniversario - Sonora Matancera [1962] Reissued in 1976 by Met- Richmond as SST-30 in fake stereo. El Congo/Sin Reproche/Por Tu Puerta No Paso Mas/Sonando Contigo/Eres El Motivo/Lo Anoro/Es Mi Suplica/El Amor No Existe/Como Me Da La Gana/Tamborilero

SS-4 - Most Spectacular Laatin Dance Rhythms - Various Artists [1962] Wedding Pachanga/Hollywood Cha cha/Tropical Rhapsody/Sweetheart Charanga/Brazil/Don Jose Pachanga/Catskill Cha Cha/Sugar Boy/Mambo & Cha Cha Cha/Cumparsita


Seeco 400 (Popular) Series: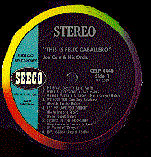 There are at least two Seeco labels, the first was black with silver print. "SEECO" in silver above the center hole. The second Seeco label was mainly black with silver print. On the permeter of the label was a narrow band that merged from yellow to red to purple to green. The left quarter of the label was blue with the "SEECO" logo in a black oval directly to the left of the center hole. A zero is added to number for stereo, for example 420 monaural becomes 4200 in stereo.



CELP-400 - Hildegarde - Hildegarde [5/56] I'm in Favor of Friendship/Chi-Chi-Cas-Ten- An-Go/C'est La Vie/That's Entertainment/Autumn Leaves/Songs Mother Taught Me/Milwaukee French/That's A Plenty/Great Adventure/Hi-Lili Hi-Lo/Man With a Dream/A Miss You Kiss/Wunderbar/My Heart Sings/Last Time I Saw Paris/I'll Be Seeing You

CELP-401 - Latin American Favorites - Skitch Henderson [1957] Medley of 21 Latin American songs. Solamente Una Vez/Quizas Quizas Quizas/Green Eyes/Maria Elena/Come Closer To Me/La Ultima Noche/Frenesi/Yours/Tango Of Roses/Perfidia/Come To The Mardi Gras/La Comparsa/The Breeze And I/Mama Inez/Amor/La Cumparsita/Adios/Flores Negras/A Media Luz/Besame Mucho/Noche De Ronda

CELP-402 - Cy Coleman - Cy Coleman [1957] Lover Come Back to Me/I'm Beginning to See the Light/Skylark/They Can't Take That Away From Me/From This Moment On/Heat Wave/Alexander's Ragtime Band/You Took Advantage of Me/Taking a Chance on Love/Get Out of Town/Wait Till You See Her/One-Two-Three

CELP-403 - Paris, I Love You - Pierre Dorsey [1957]

CELP-404 - A Latin In Paris - Lydia Scotty [1957] Rico Vacilon/Magicien/Arrivederci Roma/Je Me Sens Si Bien/Canta Brazil/Manana Me Lo Diras/Paraira/Piel Canela/No Se Me Lo Diras/Paraira/Piel Canela/No Se Que Tienes/Luna Azul/Bahia/Adios Pampa Mia

CELP-405 - Skitch Henderson's Tribute (To Porter, Rodgers, Kern) - Skitch Henderson [1957] Girl Friend/Bewitched/My Heart Stood Still/Lover/Smoke Gets in Your Eyes/I'm Old Fashioned/I Get a Kick Out of You/Touch of Your Hand/Long Ago and Far Away/Easy to Love/So Nice to Come Home To/I Love Paris

CELP-406 - Joe Loco Plays the Classics - Joe Loco [6/57] Andante Cantabile/Chopin Polanaise/Rachmaninoff Piano Concerto no. 2/Romeo and Juliet Overture/Melody in f/Song of India/Thais/Rachmaninoff Prelude in C Sharp Minor/Chopin Nocturne in E Flat/Hymn to the Sun/Schubert Serenade

CELP-407 - Sparkling Senorita from Spain - Margarita Sierra [1957] Ole Flamenco/Lisboa Antigua/Romancero Gitano/Te Quiero Dijiste/Sortija de Oro/Botijero/Cuando Vuelva a Tu Lado/A La Vera Del Agua/Malaguena/Latin Medley/Ay, Ay, Ay,/Paloma/Cielito Lindo/Mexican Hat Dance

CELP-408 - Dancing at the Tavern on the Green - Milton Saunders [1/58] I Can't Believe That You're In Love With Me/Sweet Lorraine/Between The Devil & The Deep Blue Sea/For Me And My Gal/I Can't Give You Anything But Love/Mademoiselle De Paree/Merry Widow/Tales From The Vienna Woods/Take Me In Your Arms/Serenade In The Night/All My Love/Sophisticated Lady/Solitude/Mood Indigo/Smoke Rings/It Must Be True/Cha Cha Cha In The Park/Stars Fell On Alabama/I Don't Stand A Ghost Of A Chance With You/I Surrender Dear/O Solo Mio/Tango In The Dark/That's My Desire/I've Got The World On A String/Blue Lou/Moonglow/Caravan/Who's Sorry Now/Hey Mr. Banjo/Girl Of My Dreams

CELP-409 - Latin Idol of Europe - Lydia Scotty [1958] Que Sera/Siboney/Esto Es Brazil/Maringa/Concierto de Otono/Diz Que Ten/Quien Lo Va a Saver/Mas y Mas/Tu y Yo/No Puede Ser Verdad/Un Compromiso/Cancion Del Mar

CELP-410 - Paris - Aimable [1959] Carrousel/Valse/Jullie La Rouse/Un Jour D'amour/La Canzonetta/Maman La Plus Belle Du Monde/Petronio/Basta Un Pocco Di Musica/Paulo/Hop Diguidi/Allo Mon Coeur/Chacum a Sa Chance/A La R'voyure

CELP-411 - Tonight with José Mellis - José Mellis [1959] Am I Blue/White Cliffs of Dover/Curacoa/Passing By/Love is a Simple Thing/Harbour Lights/My Ship/Indian Summer/One Morning in May/It Might as Well be Spring/Over the Rainbow/Love Letters

CELP-412 (mono)/CELP-4120 (stereo) - Elsa Maxwell, Her Voice and Music - Elsa Maxwell [1959] All mine/Once I Dreamed/Legs/Please Keep Out of My Dreams/If Ads Were True/Don't Look Back/Golfing/Ballad of Reading Gaol/Ivy/Chime Lullaby/Tango Dream

CELP-413 (mono)/CELP-4130 (stereo) - Enchantment Italy - Aldo Bruschi [1959] Passione/Lazzarella/Domino/Il Torrente/Vola Colomba/Scapricciatiello/Chella Lla/Canto Nella Valle/Core 'Ngrato/Voga E Va/Corde Della Mia Chitarra/Guaglione

CELP-414 (mono)/CELP-4140 (stereo) - José Mellis at Midnight - José Mellis [1959] Cuban Concerto/Symphony/Street Scene/I Know What You Want/Have You Met Miss Jones/Bright Lights of Brussels/Deep Purple/You Forgot Your Gloves/Smile/Sweet and Lovely/Lilacs in the Rain/Lost in a Fog

CELP-415 - Haifa in Hi-Fi - Shoshana Damari [1959] Adarim/Rahel Rahel/E-Ohim- Esh'ala/Kirya Yefeifya/Hinakh Yaffa Faayati/Emet El Shimkha/Raeh Veroah/Shnei Shoshanim/Ani Tsameh/Seyi Yona/Horoah-Haktana-Min-Haagai/Hatender Nosseah

CELP-416 - Paris 1900 - Lise Rolian with Raymond Legrand & His Orchestra [1959] Frou-Frou/J'ai Tant Pieure/Les Bas Noirs/Valse Des Ombres' La/Pourquoi Ne Pas M'aimer/La Valse Brune/Fascination/Reviens Veux Tu/Fiancailles/Amoureuse/L' Ame Des Giolons/Quand L'amour Meurt

CELP-417 (mono)/CELP-4170 (stereo) - The La Plata Sextet Swings For You - La Plata Sextet [1959] Que Buena Esta/Rumbao/Dig That Rock/Tremendo Coco/La Plata Swings/Guilli, Guilli/Las Caretas/No Me Hagas Eso/Merengue De Lao/Sandangongo/El Panadero/Despierta Guajira

CELP-418 - The Great Band Themes Go Latin - Cesar Conception Orchestra [1959]Ciribiribin/Moonlight Serenade/My Shawl/Rhapsody in Blue/When My Baby Smiles at Me/One O'clock Jump/I'm Getting Sentimental Over You/When It's Sleepy Time Down South/Let's Dance/Auld Lang Syne/Take the "A" Train/Artistry in Rhythm

CELP-419 - Accordion L'Aimable - Aimable [1959] Marches de Provence/Mon Ciel S'Eclaire/L'Aire de Paris/Sur Le Pont St. Louis/Tambourin Mexicain/Si Je N'Avais Plus/Non, Ne Dis Pas Non/Chagrins D'Amour/Mister Organ/Maryolaine/Accordeoneux/Retour de Liege

CELP-420 - My Song Goes 'Round the World - Leo Fuld [1959] My Song Goes 'Round the World/Pigalle/Zigany Melody/Vienna Dreams/Miserlou/Song of the Negev/Windmill Song/C'est Si Bon/Reflections on the Water/Meine Mutter/Vaass

CELP-421 (mono)/CELP-4210 (stereo) - Music For Chubby Lovers - Stubby Kaye [5/59] Mr. Five by Five/Let's Do It/'Sposin'/After You've Gone/Little Girl/I'll Never Smile Again/Everybody Loves My Baby/I'm Looking at the World Through Rose Colored Glassees/Linda/Undecided/It's Been a Long Long Time/One For My Baby

CELP-422 - Songs They Censored In The Hills - Sid "Hardrock" Gunter [8/58] Blood Shot Eyes/I'll Go Chasin' Women/She Came Runnin' Down the Mountain/Rye Whiskey, Rye Whiskey/It May Be Silly (But Ain't It Fun"/The Freckle Song/Oh! What a Beauty! //A Little Bit Ain't Gonna Help Us Much/Mountain Dew/With Only Two Hairs on His Chest/Take Away Your Rosy Lips/The Right Key But the Wrong Keyhole/Conversation With a Mule/Out Behind the Barn

CELP-423 (mono)/CELP-4230 (stereo) - Christmas with Mellis - José Mellis [1959] Sleigh Bells/Winter Wonderland/The Story Of Christmas/Jingle Bells/The Toy Piano/Merry Christmas Music/Silent Night/Adeste Fideles/God Rest Ye Merry Gentlemen/It Came Upon A Midnight Clear/Hark The Herald Angels Sing/Oh Little Town Of Bethlehem/Noel

CELP-424 (mono)/CELP-4240 (stereo) - The Singing Guizars - Tito and Lila Guizar [1959] Las Mananitas/Que Padre Es La Vida/Te Quiero Dijiste/Aun Se Acuerda De Mi/Tu Traicion/Puerto Rico/Capullito de Aleli/Te Digo Adios/Negra Consentida/Maria Elena/Cuando Se Quiere de Veras/Alla En El Rancho Grande

CELP-425 (mono)/CELP-4250 (stereo) - The Modern Art Of Jazz - Tony Scott [1959] Five/She's Different/Lady is a Tramp/Tenderly/Blues for 3 Horns/I Remember You/Lullaby of the Leaves

CELP-426 (mono)/CELP-4260 (stereo) - Afro-Cuban Rhythms - Oriza [1959] Nueva Oriza/Ven San Francisco/Malambo/Cabiosele Chango/Obanlaese/La Tumba Soy Yo/A Bailar Oriza/No Vayas A La Rumba/Babá/Ye Ma Ya/Africa/Leya Leya

CELP-427 - A Message From Garcia - Dick Garcia [1960] Reissue Of Dawn 1106.

CELP-428 - The Hi-Fi Land of Jazz - Tony Scott [1959] Have You Met Miss Jones/Stompin' At the Savoy/If I'm Lucky/Like Someone in Love/Kimona My House/Potatoes/I Don't Want to Set the World on Fire/It Could Happen to You/The Deacon/Ev'ry Nite About This Time

CELP-429 (mono)/CELP-4290 (stereo) - Igor Cassini Presents Pat Dorn & His Society Orchestra in "Dancing for Debutantes" - Pat Dorn Orchestra [1959] Are You Having Any Fun/Nice Work If You Can Get It/The Best Things In Life Are Free/People Will Say We're In Love/I Could Write A Book/Ridin' High/Sunny Side Up/It's Delovely/So In Love/Everything I've Got Belongs To You/She Didn't Say Yes/A Fine Romance/This Can't Be Love/The Gentleman Is A Dope/Wait Till You See Her/Have You Met Miss Jones/The Way You Look Tonight/I've Got My Eyes On You/Wish I Were In Love Again/June Is Bustin' Out All Over/You're The Cream In My Coffee/Keep It gay/Varsity Drag/The Lady Is A Tramp/C'Est Magnifique

CELP-430 - Shoshana Damari Sings Songs of Israel - Shoshana Damari [1959] Dodi Li/Ma Dodech Midod/Im Hashachar/Eil Ginat Egoz/Shim'ou, Shim'ou/Kol Dodi/Erev Shoshonam/Iiti Melevanon/Erex Shach/Ki Tin Amm/Hanaava Babnot/Mererey Israel

CELP-431 - Flamenco Fiesta - Various Artists [1960] La Reina de Los Cielos/Cuando Rines Con Tu Gente/Que Ame Vienen Persiguiendo/Tu Tanto Vales/Donde Esta La Novia/Puerto de Amparo/La Virgen Lleva Una Ros/Si Vuelvo a Hacerlo Otra Vez/Desamparada/A Este Pueblo Gaditano/Caracoles de Madrid/Que Le Pue Pasar a Cualquiera

CELP-432 (mono)/CELP-4320 (stereo) - Celia Cruz: Cuba's Foremost Rhythm Singer - Celia Cruz with La Sonora Matancera [1960] Por Que Sera/Isla Del Encanto/El Congo/Ven Bernabe/Mi Coquito/Ani No Ma/Africa/Ove Me Aggayu/Mi Tumba Se Rompio/Ritmo de Mi Cuba/Que Bella es Cuba/Mexico Lindo

CELP-433 (mono)/CELP-4330 (stereo) - Irving Berlin Goes Latin - Joe Cain & His Orchestra [1959] I've Got My Love To Keep Me Warm/Alexander's Ragtime Band/Cheek To Cheek/Heat Wave/They Say It's Wonderful/Be Careful It's My Heart/How Deep Is The Ocean/Easter Parade/A Pretty Girl Is Like A Melody/Marie/Always/Blue Skies/Say It Isn't So/Let's Face The Music And Dance

CELP-434 - Carnival in Cuba - Benny Bennet & His Orcheatra [1960] Patricia/Eso el Amor/Portofino/Coco Seco/Gitano/Trinidad/Concerrto Mambo/El Nuevo Paso/Tropical Baby/Une Petite Indiennee/Sa Cha Cha/Madagascar

CELP-435 (mono)/CELP-4350 (stereo) - The Swinging Leny Eversong - Leny Eversong with Pierre Dorsey & His Orchestra [1960] Granada/Ca C;est L'amour/Pourquoi/Um Tiquinho/Gitano/Solitude/Fascination/Dans Le Bleu Du Ciel Bleu/Swing Low, Sweet Chariot/Esmagando Rosas/Carmelita/I Want to Be Happy

CELP-436 (mono)/CELP-4360 (stereo) - The Many Moods of José Mellis - José Mellis [7/59] Sunrise Serenade/Sleeping Bee/Close Your Eyes/Lazy Afternoon/Anniversary Song/Monte Carlo/Answer Me/Linger Awhile/When Did You Leave Haven/Speedy Senor/Strange/Candle in the Wind

CELP-437 (mono)/CELP-4370 (stereo) - La Plata Sextet Swings Again - La Plata Sextet [1960] Moulin Rouge/Hollywood Cha Cha/Lessons in Cha Cha Cha/I Know You Like It/Sholom Alechem/Beauchamp/Green Moon/Out of the Hills/Do You Wanna Dance/He Plays Dumb/Ay, Maria/Mexican Fantasy

CELP-438 (mono)/CELP-4380 (stereo) - Bourbon St. Billy and the Blues - Billy Maxted & His Manhattan Jazz Band [1960] Bourbon Street Parade/Singing the Blues/Tailgate Ramble/New Orleans/Billy's Delight/Those Wedding Bells/Tin Roof Blues/Parade of the Saints

CELP-439 - Folk Singer - Ed McCurdy [1960] Reissue of Dawn 1127. Squid Jiggin' Ground/Pretty Little Black Eyed Susy/Lukey's Boat/Ride an Old Paint/Lavender Cowboy/Riders in the Sky //Ballad of Frank Slide/Cotton-Eyed Joe/It Takes a Worried Man to Sing a Worried Song/Western Wind/Black is the Color/Careless Love

CELP-440 - Make the Man Love Me - Joyce Carr [1960] Make The Man Love Me/Most Gentlemen Don't Like Love/My Future Just Passed/I Talk To The Trees/I Got It Bad And That Ain't Good/Little Girl Blues/Rolling Road/Sad Sad Sad//They All Laughed/Know What The Score Is/Hi Lili, Hi Lo/When The World Was Young

CELP-441 - Everybody Cha Cha Cha - Various Artists [1960] Cha Cha Clarinete - Machito/Jamaiquino - Machito/Circunstancia - Machito/Yo Quiero Tranquilidad - Vicentico Valdes/Rico Vacilon - Vicentico Valdes/Por Que Te Empenas en Decir - Sonora Matancera/Este Cha Cha Cha/Me Lo Dijo Adela - Bobby Capo/Joseito - Frank Souffront/Tunel - Trio Avileno/Oyeme Mama - Bienvenido Granda/Aprende - Chiquitin Trio

CELP-442 (mono)/CELP-4420 (stereo) - Dixieland Jazz - Mike White's Imperial Jazz Band [1960] New Orleans/Sweet Georgia Brown/Anything Goes/Yellow Dog Blues/I Love Paris/Basin Street/Steam Boat/Preacher/Savoy Blues/I Found a New Baby/Things Ain't What They Used to Be

CELP-443 - Folk Songs of Spain, Volume 1 - Various Artists [1960] Granollerina Xamosa/En Xiquet D'aigua Blava/Llevantina/Sentmanat Sardanista/De Casa Nostra/Saltiro de La Cardina/Flor de Anyoranca/Perelado

CELP-444 (mono)/CELP-4440 (stereo) - This Is Felix Caballero - Felix Caballero [1960] My Rival/Come Closer to Me/What a Diffrence a Day Makes/Magic Is the Moonlight/Without You/Martha/Let Me Love You Tonight/Time Was/Orchids in the Moonlight/Maria Elena/Idyl/Green Eyes

CELP-445 (mono)/CELP-4450 (stereo) - José Mellis Plays The Latin Way - José Mellis [1959] Reissued on Tropical TRLP-5157. La Comparsa/Rumba Chant/El Negrito Del Comparsa/No Te Importe Saber/Silencio/Campanitas de Cristal/Magdalena/Bacoso/Campanas de Escuela/Lamento Boringcano/My Concerto

CELP-446 - Folksongs of Spain, Volume 2 - Various Artists [1960] Prado/Jota de L'oferta/Copeo de Muntanyo/Jota Pagesa/Una Rosa en Cada Calta/Ale Curro/Jota de Sa Potada/Jota Menorquina/Gallet Jove/Ball de Ses Apetes/Jota Mallorquina/Bolero E'es Vermar/Boleras Mallorquinas/Mateixa de Primavera/Copeo D'es Pla/La Candelaria

CELP-447 (mono)/CELP-4470 (stereo) - This Time The Swing's On Me - Leon Merian[1960] This Time the Swings on Me/Deep Purple/You Took Advantage of Me/Mamselle/It's a Pity to Say Goodnight/Memories of You/Whiffenpoof Song/My Funny Valentine/I'm in the Mood for Love/C'est Ci Bon/Should I/Coquette/I Can't Get Started/I'll Remember April

CELP-448 (mono)/CELP-4480 (stereo) - Zounds, What Sounds! - Polyphonics [11/59] Meet Me Tonight in Dreamland/From Out of Nowhere/Cumbanchero/Woman, A Under Paris Skies/September Song/Caravan/La Ri Fifi/Pennies From Heaven/I Can't Give You Anything But Love/Medley: Tricht Tracht, St. Louis Blues, Lover

CELP-449 - Let's Talk About Love - Bob Stewart [1960] Reissue of Dawn 1103. Caravan/Skylark/Look Down that Lonesome Road/If I'm Lucky/Between the Devil and the Deep Blue Sea/Come Rain or Come Shine/When the Blues Come On/It's Mine After All/Avalon/Laura/Moonglow/Blue Prelude

CELP-450 - Folksongs of Spain, Volume 3 - Various Artists [1960] Cuando Se Canta En La Tierra/Estilo De La Fiera/Por Que Te Bese En La Cara/Veinte De Desinteres/Jotas De Ronda/Asomate A La Ventana/Hasta Mi Puerto/Ha Venido/Me Juraste Tu Querer/A Un Anciano Le Pegue/Teniendo El Agua En El Pie/La Jota Es Una Oracion/Si Estoy Lejos De Mi Tierra/Se Carta Y Vuelve A Nacer/Jotas De Ronda/Asomate Lorencica/Yo Me Tienes Asomada/Porque Queremos Cantar/De Jaca Por Hecho A Anso/Y Quiero La Pilarica/Que Contenta Esta La Virgen/Los Amantes De Teruel/Si Mi Madre Era De Andorra/Jotas De Ronda/Con Una Guitarra Roto/Cuando Te Encuentro En La Calle/En Teruel Esta La Fuente/Reina De La Hispanidad/Tienes La Cora Manica

CELP-451 - Sophomores - Sophomores [11/59] Reissue Of Dawn 1128. Linda/If I Should Lose Your Love/Cool Cool Baby/Is There a Someone For Me/Everybody Loves Me //Every Nite About This Time/Ocean Blue/I Get a Thrill/I Just Can't Keep the Tears From Tumbling Down/I Left My Sugar Standing in the Rain

CELP-452 - Modern Art Of Jazz - Zoot Sims, Bob Brookmeyer, G. Johnson and J. Williams [1960] Reissue of Dawn 1102. September in the Rain/Down at the Loft/Ghost of a Chance/Not So Deep/Them There Eyes/Our Pad/Dark Clouds/One to Blow on

From this point, only the mono numbers are listed; most were also issued in stereo with corresponding numbers (mono CELP-4xx = stereo CELP-4xx0)

CELP-453 - Let's Go Latin - Benny Bennet Orchestra [1960] Ismailia/Mambo Sonata/Harlem Cha-Cha/If You See My Mama/Ma Ma Du/Besame/El Canario/Sensual Woman/Mambo No. 7/Porque Negro Soy/Man in Black/A Bailar El Cha Cha Cha/Mambo in Cordoba

CELP-454 - Saints And Sinners Catch Fire at the Sheraton-Jefferson in St. Louis - Vic Dickenson [1960] Satin Doll/A La Mode/Keepin' Out of Mischief/Teach Me Tonight/When You're Smiling/Closer Walk With Thee/Tenderly/St. James Infirmary/Misty

CELP-455 - Folksongs of Spain, Volume 4 - Various Artists [1960] Issued in mono only. Canto a Manuel Vargas/Mujeres Son Las Flores/Ay, Bonita/Malaga Es Una Mocita/Alegrias Malacitanas/Soleares Por Bulerias/Tienes El Pelo Negro/Levantinas/Sevillanas Del Clavel/Timoteo/Ay Mi Barquito/Pregon Del Velonero

CELP-456 - Betty St. Claire At Basin St. East - Betty St. Claire [1960] You Took Advantage of Me/Moonlight in Vermont/Ah, Sweet Mystery of Life/'Tis Autumn/June's a Word/Lonelyville/You Turned the Tables on Me/Yuou're Laughing at Me/Crazy Rhythm/Easy to Say/I Get a Kick Out of You/Like Someone in Love]

CELP-457 - Mood In Mink - Joy Teal and Jack Quigley [1960] But Beautiful/Long Ago and Far Away/Alone in Paris/I Didn't Know What Time It Was/I Fall in Love Too Easily/I Remember You/Skylark/Alone in Paris/I Married an Angel/So Many People/They Didn't Believe Me

CELP-458 - Art Of Jazz - Billy Maxted [1960] Sugar Foot Strut/Heart of My Heart/Bill Bailey Won't You Please Come Home/Little Rock Getaway/San/Rose of Washington Square/Honky Tonk Train/High Society

CELP-459 - Fiorello! - Leon Merian Jazz Quartet [1960] Where Do I Go From Here/Till Tomorrow/On the Side of the Angels/Little Tin Box/When Did I Fall in Love/Gentleman Jimmy/I Love a Cop/Marie's Law/Very Next Man/Home Again

CELP-460 - It's Time for Rose Hardaway - Rose Hardaway [1960] But Not For Me/Please Send Me Someone To Love/Whatever Lola Wants/Do I Worry/Just For a Thrill/Someday Sweetheart/I Don't Want to Walk Without You/How Long, How Long Blues/It Had to Be You/I Never Knew/Faraway Boy/Dream Man

CELP-461 - Europe's Great Torroba Plays Best Of Broadway Musical Hits - Federico Torroba [1960] Who/You and the Night and the Music/Dancing in the Dark/I'll See YouAgain/You Do Something to Me/Alice Blue Gown/With a Song in My Heart/Look For the Silver Lining/Lovely to Look At/I'm Always Chasing Rainbows/I've Told Every Little Star/When the Spring is In the Air

CELP-462 - Jose Mellis Plays Jack Paar's Favorites - Jose Mellis [1960] Ebb Tide/Love Me or Leave Me/Shangrila/Liza/Girl of My Dreams/Jack Paar Theme/Blue Star/My Funny Valentine/Love is Here to Stay/My Concerrto/As Long As You Live/Mister Sandman

CELP-463

CELP-464 - Sing Along Amigos - Jose and Gang [1960] Siboney/Alla En El Rancho Grande/Noche de Ronda/Ultima Noche/Maria Elena/You Belong to My Heart/Cucaracha Cha Cha/La Paloma/Cielito Lindo/Yours/El Choclo/Besame Mucho

CELP-465 - Cool Jazz - Various Artists [1960] Sultry Mood/Umbrella Man/Aimlessly/June Night/Blues in Pigalley/Easin Livin'/Undecided/How About You/Stomping at the Savoy/Sleigh Ride/Wailing on the Left Bank/There Will Never Be Another You

CELP-466 - Smart Jazz For The Smart Set - Les Jazz Modes [1960] Reissue Of Dawn 1117. Town and Country/When the Blues Come On/Blue Modes/You Are Too Beautiful/So Far/Idle Evening/Garden Delights/Strange Tale/Two Songs

CELP-467 - Larry Kert Sings Bernstein - Larry Kert [1960] Maria/It's Love/Some Other Time/Lonely Town/Somewhere/Tonight/Lucky to Be Me/Quiet Girl/Ohio/It Must Be Me/My House/Something's Coming

CELP-468 - Ooh La La Lilo - Lilo [1960] Folies Bergere/Mais Oui, Mais Oui/Under the Bridges of Paris/They Do the Same In Paris/Mademoiselle of Paris/Prunes/Oui/La Parisienne/Oui, Oui/Je Vous Aime/They Are Too French For Me/My Man/Paris/My Oldest Pal

CELP-469 - La Plata Sextet Swings At Raleigh Hotel - La Plata Sextet [1960] Que Buena Esta/Rumbao/Dig That Rock/Tremendo Coco/La Plata Swings/Guilli, Guilli/Las Caretas/No Me Hagas Eso/Merengue De Lao/Sandangongo/El Panadero/Despierta Guajira

CELP-470 - Felix Caballero Sings Great Love Songs - Felix Caballero [1960] Mi Unico Amor/Nostalgia/Puro Amor/Tus Mentiras/Triste Retonos/Tus Divino Ojos/Extrand Amor/Donde Estas/Viva El Amor/Noche de Estrellas/Sueno de Amor/Maria de Amor

CELP-471 - Our Love - Jose Mellis [1961] Our Love/Story of a Starry Night/Things I Love/More Than Anything/You and Your Love/Always You/Moonlove/Tonight We Love/Always You/Moonlove/Tonight We Love/Isle of May/March of the Flowers/Forever

CELP-472 - La Plata Sextet Jumps The Charanga - La Plata Sextet [1961] Don Jose Pachanga/Pancha Caridad/Bilongo/Yo No Se/Mondongueros Pachanga/Café y Pan/Wedding Pachanga/Dance Pachanga/Son Las Bobitas/Pachanga Pa Gozar/Cana Brava/Bien Despacito

CELP-473 - Alan King - Alan King [1961]

CELP-474 - Piano Spectacular - Various Artists [1961] Am I Blue/White Cliffs of Dover/Love is a Simple Thing/It Might As Well Be Spring/Lover, Come Back to Me/From This Moment On/They Can't Take That Away From Me/My Heart Stood Still/Alexanders' Ragtime Band/I Love Paris/Bewitched/Smoke Gets in Your Eyes

CELP-475 - Broadway Show Stoppers - Various Artists [1962] I'm Looking at the World Through Rose Colored Glasses/Linda/After You've Gone/I'll Never Smile Again/Mais Oui, Mais Oui/Under the Bridges of Paris/La Parisienne/Oui, Oui, Oui/Maria/It's Love/Ohio/Tonight


Seeco 2100 Series:
These have a silver label.

SAW-2101 - Alan King in Suburbia - Alan King [1960]

SAW-2102 - Gloria Lynne and Her Girl Friends - Gloria Lynne [1962]

SAW-2103 - Product of Brasil - Nilo Lopes [7/63] Bossa Nova/Simpatico/Solamente/Digame/Creo Que Si/Ojos Azules/Porque No/Te Espero/Diablo/Estrella De Oro/Luna Negra


Seeco 3000 Series:

SCLP 3000 - 30 Años - Sonora Matancera

SCLP 3001 - Mi Diario Musical - Celia Cruz

SCLP 3002 - Mi Diario Musical - Vicentico Valdés

SCLP 3003 - Mi Diario Musical - Daniel Santos


Seeco 4000 Series:

Note that many of the albums that appear to be in the 4000 series, e.g., CELP-4360, are just the stereo issues of the 400 series above, which added a zero to the catalog number for stereo. The SP-4000 series below is a different series.

SP-4000 - Musical Travelogue of Europe - Arturo Chaite Orchestra [1961] Three record set. Aubada Des Printanieres/Under the Bridges of Paris/Je Tir'ma Reverence/Mademoiselle de Paris/Place Pigalle/Les Trois Cloches/La Seine/Pigalle/Mer/Gaucho Tango/April in Portugal/Domaine/Torna a Surrento/La Vita E;un Paraiso/Que Sera Sera/Three Coins in the Fountain/Arrivaderci Roma/Spring in Toscana/Autumn Cto/Anema e Core/Scampolo/Funiculi Funicula/Mandolina/Toselli's Serenade/Relicario Tango of the Bell/Granada/Flamingo/Mexican Fire Dance/Andalucia/Spanish Gypsy Dance/Lady of Spain/Corrida/Carmen/Spanish Pepper/Spanish Fiesta

SP-4001 - Musical Travelogue of the Carribean - Various Artists [1961] Three record set. Claro - Sonora Matancera/Estoy Loco - Sonora Matancera/Compay Lobo - Sonora Matancera/Ya No Puedo Creerlo - Sonora Matancera/Traguito - Sonora Matancera/Solo Tu - Sonora Matancera/Chivo - Sonora Matancera/Ayer te Espere - Sonora Matancera/Cuban Pete - Sonora Matancera/Yo No Se Que Me Pasa - Sonora Matancera/Mi Hobby Es Basar - Sonora Matancera/Descarga Sonora - Sonora Matancera/Te Rompi La Aldaba - Kalaff/Pelean Como Quiera - Kalaff/Dionisio - Kalaff/Me Gusta Adentro - Kalaff/Ligadura - Kalaff/Por Abajo Y Por Arriba - Kalaff/Zumbadora - Kalaff/Batolina - Kalaff/Salve Alegre - Kalaff/Amaneca - Kalaff/Auroras - Kalaff/Yo Hice Pero No Corrida - Kalaff/Carmen - Kalaff/Spanish Pepper - Kalaff/Spanish Fiesta - Kalaff/Aubade des Printanieres - Concepcion/Under the Bridges of Paris - Concepcion/Je Tir'ma Reverence - Concepcion/Mille. De Paris - Concepcion/Place Pigalle - Concepcion/Trois Cloches - Concepcion/Seine Pigalle - Concepcion/Mer - Concepcion/Gaucho Tango - Concepcion/Domaine - Concepcion/April In Portugal - Concepcion

SP-4002 - Musical Travelogue of the Carribean, Volume 2 - Various Artists [2/62] Three record set. Pa' Mi Pueblo - Cesar Concepcion Qrchestra /Sin Amor - Cesar Concepcion Qrchestra /Anastasia - Cesar Concepcion Qrchestra /A Bayamon - Cesar Concepcion Qrchestra /Sublimidad - Cesar Concepcion Qrchestra /Con El Alma - Cesar Concepcion Qrchestra /Cuba y Puerto Rico - Cesar Concepcion Qrchestra /Naturaleza - Cesar Concepcion Qrchestra /Comprendeme - Cesar Concepcion Qrchestra /Coamo - Cesar Concepcion Qrchestra /Tu Nada Mas - Cesar Concepcion Qrchestra /Honestamente - Cesar Concepcion Qrchestra/Te Rompi La Aldaba - Luis Kalaff Orchestra /Pelean Como Quiera/Dionisio - Luis Kalaff Orchestra /Me Gusta Adentro - Luis Kalaff Orchestra /Por Abajo Y Por Arriba - Luis Kalaff Orchestra /La Ligadura - Luis Kalaff Orchestra /Zumbadora - Luis Kalaff Orchestra /Batolina - Luis Kalaff Orchestra /Salve Alegre - Luis Kalaff Orchestra /Amaneca - Luis Kalaff Orchestra /Auroras - Luis Kalaff Orchestra /Yo Hice Pero No Vivo - Luis Kalaff Orchestra/Ya No Puedo Creerlo - Sonora Matancera /Claro - Sonora Matancera /Estoy Loco - Sonora Matancera /Chivo - Sonora Matancera /Compay Lobo - Sonora Matancera /Traguito - Sonora Matancera /Solo Tu - Sonora Matancera /Ayer Te Es Hobby es Besar - Sonora Matancera /Descarga Sonora - Sonora Matancera


Seeco 9000 (Gold Series):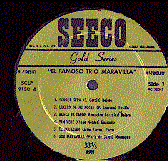 Note: A zero is added to the catalog numbers for stereo issues, e.g., mono issue SCLP-9115 becomes SCLP-91150 for stereo issue. The label was gold with black print, with SEECO at the top. Below the logo were two parallel horizontal bars, within which "Gold Series" was written in script. This series was reissued by Met-Richmond Records in the 1970s and 1980s, although not always with the same record numbers. Where we know an album was reissued by Met-Richmond, we note this. All albums are mono only until 1958, when some albums begin to be issued in stereo.

SCLP-9050 - Flamenco - No Artist Given [1955] Fandango/Granadina/Sos Cruces/Guajira/Zambra Gitana/Tientos/Fandango Flamenco/Alegrias

SCLP 9051 - Let's Dance the Merengue - Various Artists [1955] Mosaicos/Mantente Bronco/No Te Vayas/El Campesino Romantico/Ay, Como Me Gusta/Muerto De La Risa/Cualquiera No Se Casa/Mi Cielito Lindo/Calientame/Me Voy Pa' Quisqueya/La Sirena/El Merengue

SCLP-9052 - Stars in Your Eyes - Herbert Spencer, Daniel Santos, others [1955] Toda Una Eternidad/Si No Vuelves/Luna Gitana/Derrroche De Felicidad/Ter Quiero Solo A Ti/Estoy Confundido/Las Mirlas/La Mesera Del Bar/Nuestro Amor Triunfara/Corazon Ajeno/Lagrimas/Enamorado

SCLP 9053 - Una Noche en la Habana (One Night in Havana) - No Artists Given [1955] Traffic Mambo/Linda Calenita/Todo Me Gusta De Ti/En El Bajio/Yerbero Moderno/Mucho Gusto/Gallo Espuelerico/Guasabeo Nabu/Momposina/Micaela/Mambo Infierno/Mienteme

SCLP 9054 - Let's Dance the Cha Cha Cha - No Artists Given [1955] Cha Cha Charinete/Yo Quiero Tranquilidad/Tu No Me Quieres/Me Lo Dijo Adela/Oyeme Mama/El Jamalquino/Joseito/El Tunel/Rico Vacilon/Aprende Cha Cha Cha/Este Cha Cha Cha/Circunstancia

SCLP-9055 - Una Noche en Mexico (One Night in Mexico) - Various Artists [1955]

SCLP 9056 - Rendezvous en Mexico (Rendezvous in Mexico) - Various Artists [1955] Hay Una Estrella/El Abandonado/Tu y Las Nubes/Desde Que Dios Amanece/Vamos a Hacer Un Convenio/Por Que No Sales/Dos Arbolitos/Aguaceros De Mayo/Maldicion Ranchera/Veinte Anos/No Les Pido De Amor Caridad/Amar Sin Esperanza

SCLP-9057 - Una Noche en Buenos Aires (One Night in Buenos Aires) - No Artists Given [1955] Inspiracion/Adios Muchachos/A Media Luz/Precio/La Ultima Copa/Brindis De Tango/Don Juan/Se Va La Vida/Culpa Ajena/Che Bandoneon/La Cumparsita/Jorge Duval

SCLP 9058 - Una Noche en Rio (One Night in Rio) - No Artists Given [1955] Given Carnavalito/Baion De Nene/Dengozo/Baion de Dos/Samba Blanca/Mujer Hilandera/Anna/Orito Olale/Sassaricando/Maringa/Choro Brasileiro

SCLP 9059 - Una Noche en Madrid (One Night in Madrid) - Various Artists [1955]

SCLP 9060 - Una Noche En Caracas (One Night in Caracas) - Sonora Matancera [1955] Tu Rica Boca/Gozando/Sabrosito Asi/Apambichao/La Merenguita/Mi Chica y Yo/El Gavilan/Cha-Cha-Cha De Los Feos/No Encuentro Palabras/Recordando Mi Cuartito/De Ti Enamorado/Contentosa

SCLP 9061 - Canta (Lola Flores Sings) - Lola Flores [1955] La Lola Ya Esta a Tu Vera/Dolores, Ay Mi Doloras/Ay, Espana/Limosna De Amores/Tanto Tienes, Tanto Vales/Echale Guindas Al Pavo/La Nana/Junto Al Rio Magdalena/A Tu Puerta/La Veleta/El Gran Caesar/Maria Bonita/Espana Mia

SCLP 9062 - Canta (Nelson Pinedo Sings) - Nelson Pinedo [1955] Corazon Sin Puerto/Muneco De La Ciudad/Que Tienses/Fuiste Mala/Dimelo Pero Dimelo/Estas Delirando/Desesperacion/plus 5 others

SCLP 9063 - Canta (Hugo Del Carril Sings) - Hugo Del Carril [1955] Y Asi Paso/plus 11 others

SCLP 9064 - Canta (Bobby Capo Sings) - Bobby Capo [1955] Lo Que Quiera Lola/Locamente Enamorado/Con Toda La Ansiedad/Capullo/Que Te Coma Un Chivo/Gorrioncillo Pecho Amarillo/Me Lo Dijo Adela/Luna De Miel En Puerto Rico/Dime Que Si, Dime Que No/Ella, Ella/El Cu-Cu/Abril En Portugal

SCLP 9065 - Canta (Bienvenido Granda Sings) - Bienvenido Granda Muchachitas Del Cha-Cha-Cha/Calla/Hoy Se Mas/Micaela/Oyeme Mama/Sere Tu Amigo/Todo El Mundo Escucha/Renace Al Amor/Recordandote/Guajiriando/Ritmo De Mi Cuba/Noble Soy

SCLP 9066 - Canta (Daniel Santos Sings) - Daniel Santos [1956] Celos Con Lola/Asi Es La Humanidad/El Baile De La Lechuza/Le Gustan Los Marineros/El Juego De La Vida/La Corneta/El Sofa/El Preso/Cancion de La Serrania/Bula Waya/Gloria Incompleta/Vamos a La Fiesta

SCLP 9067 - Canta (Celia Cruz Sings) - Celia Cruz [1956] Contestacion de El Marinero/Mi Soncito/Munecas Del cha Cha cha/El Merengue/Yerbero Moderno/Oyela Gozala/Goza Negra/Sandungueate/Burun Danga/Nuevo Ritmo Omelenko/Pplegaria a La Roye/Juancito Trucupey

SCLP 9068 - Canta (Carlos Ramirez Sings) - Carlos Ramirez [1956] Begin The Beguine/Bienvenido Grandaolveras-Querido/Lagrimas/Orgulhosa/Meu Sapoto Velho/Las Mirlas/A Voz Da Morro/N'Oublie Jamais/Te Quiera Solo A Ti/Albericias/Samba Fantastico/Por Un Huequito Del Cielo

SCLP 9069 - Latin Dance Party - Cesar Conception, G. Roussel, Machito [1956] Cha-Cha Charinete/El Jamaiquino/Lemon Merengue/Bananas/La Suerte de Don Porfirio/Que Besitos Buenos/Samba BlancaVarsity Drag Mambo/3 D Mambo/La Danza a La Moda/Adios Muchachos

SCLP 9070 - Canta (Carmen Delia Dipiní Sings) - Carmen Delia Dipiní [1956] Si No Vuelves/Delirio/Vuelve Alma Mia/Regalame Un Minuto/Para Que La Oigas/No Te Demores/Be So De Fuego/Dimelo/Son Amores/Experiencia/Ignorancia/No Es Venganza

SCLP 9071 - Canta (Leo Marini Sings) - Leo Marini [1956] Lagrimas De Hombre/Pierdo La Calma/Por Un Punado de Oro/Rica Cha Cha Cha/Amor De Cobra/Historia de Un Amor/Me Siento Enamorado/Tomando Te/Agonia/Mi Dicha Lejana/Lagrimas de Novia/Lamento Borincano

SCLP 9072 - Baile (Dance to Sonora Matancera) - Sonora Matancera [1956] Las Muchachas/Un Poquitico de Carino/Cuartito 22/Me Siento Enamorado/Yambu Pa' Gozar/Por Que Te Empenas En Decir/You Quisiera Saber/Que Linda/Mi Redencion/Este Cha Cha Cha/En El Bajio/Canonazo

SCLP 9073 - Canta (Eva Garza Sings) - Eva Garza [1956] Nuevo Amor/No Se Que Pasa/Ella/Penita Contigo/Acurrucame/Ni Tu Ni Yo Jamas/En Adelante/Sooberbia/Viva El Amor/No Se Porque/Usted/Sera Por Eso

SCLP 9074 - Let's Dance the Cha Cha Cha, Volume 2 - S. Bolivar, C. Concepcion, others [1956] Clases De Cha Cha Cha/Cachita/Abrete Sesamo/Amor/Solamente Una Vez/Suse Y Baja El Telon/En Ti, Enti/El Zapatero/Cha Cha Cha Con Melodia/Quiereme Un Poquito Mas/Ay Lupit5a/Mentiras Criollas

SCLP 9075 - Machito and His Afro-Cuban Orchestra Play Cha Cha Cha and Mambo - Machito and His Afro-Cubans [1956] Reissued by Met- Richmond in 1980. Christopher Columbus Mambo/Sentimental Mambo/Mamboscope/Don't Tease Me/Dragnet Mambo/Feedin' The Chickens Mambo/Chattanooga Cha-Cha-Cha/Cha-Cha Charinete/Circunstancia/El Jamaiquino/Bananas/Relax and Mambo

SCLP 9076 - Cuban Dance Favorites - Orquesta Riverside with Pedro Villa [10/56] Begin the Beguine/Bien Explicao/Decidete/Dispensame/En La Cumbancha/El Rinconcito/Esto Si Es Coco/Levantate Manuel/Que Sabosura/Son Tus Celos/Guempa/Mienteme

SCLP 9077 - Latin Dance Party, Volume 2 - Cesar Conception, G. Roussel, Machito [1956] La CulebraAnque Me Muera/Quiereme Muchoo/I Want to Be Happy/Dondequiera Que Tu Vayas/Broadway Cha-Cha-Cha/Hasta Que Quiera Dios/El Pollino/Pa' Salinas/La Suerte de Don PorfirioBatanga No. 2/Guanica

SCLP 9078 - South of the Border - Trio Los Panchos [1956] La Enramada/Sin Venttura/Cerezo Rosa/Una Aventura Mas/Cuesta Abajo/Pena Penita/Sombras/Mis Tinieblas/Alma Llanera/Historia de Amor/Perdon/Abandonada

SCLP 9079 - Bravo - Los Chavales De España [1956] En Torremolinos/Morucha/Te Quiero/Zambra Gitana/Ole/Farruca Lerele/Luna de Espana/A Escondiadas/Morena/Carino/Triana Morena/Traicion/Mi Vida Es El Amor

SCLP 9080 - Una Noche en Puerto Rico (One Night in Puerto Rico) - No Artists Given [1957] Tus Promesas De Amor/Borinquen/Lechero/Una y Mil Veces/Conoci A Tu Papa/Que Coco/Cuando Te Decidas/Mienteme Mas/Llanto En El Cielo/Preocupacion/Bombon De Elena/El Mangoneo

SCLP 9081 - Canta (Vicentico Valdés Sings) - Vicentico Valdés [1957] Derroche De Felicidad/Baila Mi Cha Cha Cha/Como Fue/Cuchillo/Ataca Vicente/Plazos Traicioneros/Anoche Te Vi/Dulce Con Dulce/Jorobita Joroba/Tiernamente/Si Te Dicen/La Enganadora

SCLP 9082 - Latin Dance Party, Volume 3 - Noro Morales and his Orchestra [1957] Tu Regreso/Walter Winchell Rumba/Noro in Rumbaland/Rumbambola/Echa Pa' Ca'/Vamos Ya/Dame Un Cacho/Ya Empizo/La Reina/Mambo/Stop 21/Serenata Ritmica

SCLP 9083 - Latin Dance Party, Volume 4 - Pérez Prado and his Orchestra [1957] Mambo No. 5/Las Siete y Media/Habana/Mi Cazuelita/Chambeleque/Saca La Mano/Electricidad/Siempre Contigo/Kandela/Hembra Mala/Tu No Tienes Suerte/Actopan

SCLP 9084 - Latin Dance Party, Volume 5 - Pupi Campo and his Orchestra [1957] Son De La Loma/Mambo Rhapsody/Negra Consentida/What is This Thing Called Love/Wha' Happen/Que Te Parece/Cholito/How High the Moon/Capullito de Aleli/Mary Ann/Earl Wilson Mambo/Joe and Paul/Mambonick

SCLP 9085 - Joe Valle Sings - Jose "Joe" Valle [1957] Inesperadamente/El Dia Que Me Quieras/Toda Una Eternidad/Orgullo/Promesas Falsas/Acariciame/Caminando Hacia Ti/Granada/No Me Tricionaras/Eres Flor de Illusion

SCLP 9086 - Let's Dance the Merengue, Volume 2 - Tetiton Guzman Orchestra [1957] Las Mellizas/Oye Mi Negra/Merengue Universal/La Nina Del Rancho/Colombina/Pachuli/Maria Teresa/El Mismo Cuento/El Chivo/Jalaito/El Tapador/Mi Pareja

SCLP 9087 - Miguelito Valdés Sings - Miguelito Valdés [1957] Arroz Con Manteca/Tambo/Roncana/Lacho/Apasarse Un Pollo/Se Formo El Rumbon/Eguemio/Te Quiero Dijiste/En El Extranjero/Amor Sagrado/Zambele/Adiosito

SCLP 9088 - Carnival in Puerto Rico - No Artists Given [1957]

SCLP-9089 - Una Noche en Lisbon (One Night in Lisbon) - Marcel Bianchi [1957] Casa Portuguesa/Porto Santo/Maria De Fe Tudo Isto E. Tado/A Rosinha Dos Limoes/Adeus Mouraria/Nem as Pareded Confesso/Sinal De Cruz/Tu Nao Mereces/Maria Da Graca/Loiras Trancas/Sempre Que Lisboa Canta

SCLP 9090 - Una Noche en Bogata (One Night in Bogota) - Jesus Zapata [1957] Sublime Inspiracion/Ante Tu Reja/No, No Vuelvo/Triste Sin Ti/Ensuenos Del Magdalena/Ahora Que Tu Me Quieres/Hay Que Gozar La Vida/Arroyito Campesino/Si Mis Ojos Hablaran/El Peregrino/Cuando Vuelvas Conmigo/Para Querete a Ti

SCLP 9091 - Una Noche en Quisqueya (One Night in the Dominican Republic) - No Artists Given [1957] Vallad Vallende/Sombrero De Gaspar/En El Cachumbambe/El Sabroson/Negra Cacha/Melaito/Solo Tengo Un Amor/Palo Mayimbe/Rompecabezas/El Panadero/Merengue Esta De Moda/Altagracia

SCLP 9092 - Una Noche en Paris (One Night in Paris) - No Artists Given [1957]

SCLP 9093 - Una Noche en Roma (One Night in Rome) - No Artists Given [11/57] 'Na Voce 'Na Chitarra/O' Ciucciariello/Guaglione/Suspiranno/'Na Canzone/Porta Un Bacione a Firenze/Due cuori e Una Gandola/Arrivederci Roma/Canta/Se La Vudi Cantar/Vecchia Roma/Nanni'

SCLP 9094 - Melodias Navideñas - Various Artists [1957] Triste Navidad/Controversia-Seís Araucano/De La Montaña Venimos/Navidad Contigo/Reyes Magos/La Cartita/Clarin De Navida/La Virgen Lloraba/Navidad/Como Yo Te Quiero/Por La Banda Alla/Aires Navideños

SCLP 9095 - ¡Ole! - Lola Flores [1957] Angelitos Negros/Mora Gitana/Una Mundo Raro/Espinita/Algo De España/Esto Es Sevilla/Gitana Del Campo/Tu Rico Boca/Mi Ultima Fracaso/LaFaraona/Mil Besos/Magdelena

SCLP 9096 - Let's Dance the Cha Cha Cha, Volume 3 - Various Artists [1958]

SCLP 9097 - A Visit to Argentina - Prima Corchia Orchestra [1958] La Cumparsita/Yo No Se/Don Agustin Bardi/Ultimas Lagrimas/Ultimo Recuerdo/Adios Vaquero/Tango Turc/Adios Muchachos/Cancion Desperada/Angustia/Responso/Arrabal/Inutil/Sensual

SCLP 9098 - A Visit to Brazil - Various Artists [1958] Nao Devo Sonhar/Contigo En La Distancia/Rio e Amor/Agarradinha/Fala Menueira/Amor e Tado/Sinfonia do Samba/Carinhoso/Bem Te Vi Atrevido/Coisas de Mulher/Dora/Facundo/Vem Ver/Es Pinita/Terra Seca

SCLP 9099 - Fiesta de Toros in Spain - Various Artists [1958] España Coñi/Siete Rosas/Cielo Anduluz/La Morena De Mi Copla/El Zapatero/La Corrida/El Relicario/Milagro De Dios/Novillero/La Virgen De La Macarena/Lo Tengo Jurao/El Currito De La Cruz

SCLP 9100 - Carlos Argentino Sings - Carlos Argentino [1958] Cerca Del Rio Grande/En El Mar/Cuando Tu Seas Mia/Solo Tengo Un Amor/De Ti Enamorado/Cha Cha De Los Feos/Ay Cosita Linda/Apambichado/Cha Cha Internacional/En El Cachumbambe/Perdoname Vida/Tu Rico Boca

SCLP 9101 - Cuba's Queen of Rhythm - Celia Cruz [1958] Rock and Roll/Cha Cha Guere/Pa La Paloma/Me Voy a Pinas Del Rio/Tuya y Mas Que Tuya/Saoco/Lleva y Trae/Luna Sobre Matanzas/Y Mi Negro Esta Cansao/Mi Amor, Buenas Noches/Vamos A Guarachar/Dya Diosa y Fe

SCLP 9102 - Virginia López Sings - Virginia López [1958] Por Equivocaqcion/Carinito Azucarado/Tan Lejos/Dicelo a Ella/Extrano Sentir/Ya Tu Veras/Torturas de Amor/Tus Promesas de Amor/Mienteme Mas/Siempre Feliz

SCLP 9103 - For Listening and Dancing - Vicentico Valdés [1958] Fidelidad/Piensalo Bien/Cuando Estoy Junto a Ti/Todo Aquél Ayer/No Tengo Nada/Yo Vico Para Ti/Carnaval En Margarita/Pollo Atrasado/Bailar Por Bailar/Pellizcame Aquí/Si Yo Tuviera Una Millión/Rey Negro

SCLP-9104 - That Latin Beat - Celio Gonzales [1958] Micaela/El Pilón De Tomasa/Juan José/Changolo/Fué Por Tu Pecado/Felicidades/No Te Quedes Mirando/Amor Sin Esperanza/Sixto El Carcmelero/Te Engañaron Corazón/Linstead Market/Luces De Nueva York

SCLP 9105 - Latin Mementos - Arturo Chaite Orchestra [1958] Mexican Phantasy/Estrellita/Albeniz' Tango #1/Jamaican Rumba/Ravel's Bolero/Malagueña/Andalucia/Cuban Dance/Albeniz' Tango #2/Jealousy

SCLP 9106 - (Cortijo y Su Conjunto) Invites You to Dance - Cortijo Combo [1958] Ingratitudes/Mi Compay Chipuco/Palo Que Te Le Das/Maquino Landera/Lola La Coquetera/Bombom De Elena/Yoyo/Besitos De Coco/Calypso Bombay Plena/Caballeros Que Basmba/Zumbador/Saoco

SCLP 9107 - (Orquesta America Del '55) Invites You to Dance - Orquesta America Del '55 [1958] Carino Es El Mismo/Abuglubu, Abugluba/Cerveza/Cha Cha Cha Del Policia/Miedo Me Da/Callentana/Coco Liso/Mirala Que Linda Viene/Bomberos/Longina/Me Gusta el Cha Cha Cha/Matanceras Son

SCLP 9108 - El Disco de Oro (The Golden Record) - Various Artists [1958] Reissued by Met-Richmond. Maringa - Leo Marini/Quien Sera - Nelson Pinedo/Beso De Fuego - Carmen Delia Dipini/Mambo En España - Riverside Orchestra/La Mucura - Bobby Capo/Pa' Salinas - Cesar Concepcion/Esperme En El Cielo - Joe Valle/Plazos Traicioneros - Vicentico Valdés/Ay, Cosita Linda - Carlos Argentino/Burrundanga - Celia Cruz/Aunque Me Cueste La Vida - A. Beltran/Limosna de Amores - Lola Flores

SCLP 9109 - The Toast of Spain - Lola Flores [1958] Lola de Espana/Concha Veneno/Tu Cartel Por Las Murallas/Mi Pelo Negro/Mi Embajora/Val-Game La Magdalena/Venga Pronto El Volapie/Remedios La De Montilla/Pa Su Papa/Gritenme Piedras Del Camppo/Me Serenaste/Maldigo Tus Ojos Verdes

SCLP 9110 - A Visit to Cuba - Cosmopolina Orchestra [1958] Si Los Rumberos Me Llaman/Sensacion/Mi Desesperacion/Banaco/Barcarola en Cha Cha Cha/Ritmando Cha Cha Cha/Carita de Angel/Dos Corazones/Carta a Un Corazon/Cha Cha Rock/Hambre de Amor

SCLP 9111 - A Visit to Haiti - No Artists Given [1958] Chaise/A Pali Papa/Pardon Mamman/Ti Yaya Toto/Belle Toile/D'Leau/Femme St. Marc/Pardon Caporal/Ti Meli/Net Al Cole/Grogue/Marchane Calebasses

SCLP 9112 - A Visit to España - No Artists Given [1958] El Relicario/Tango of the Bell/Granada/Flamingo/Mexican Fire Dance/Andalucia/Spanish Gypsy Dance/Lady of Spain/Carmen/La Corrida/Spanish Pepper/Spanish Fiesta

SCLP 9113 - A Visit to France - Arturo Chaite [1958] Mademoiselle de Paris/April in Portugal/Aubade des Printanieres/Under the Bridges of Paris/Je Tir'ma Reverencee/Domaine/Place Pigalle/Les Trois Cloches/La Seine/Pigalle/La Mer/Gaucho Tango

SCLP 9114 - A Visit to Italia - Arturo Chaite [1958] Torna a Surriento/Vita E' Un Paradiso/Que Sera Sera/Three Coins in the Fountain/Arrivederci Roma/Spring in Toscan/Autumn Concerto/Scamolo/Funiculi-Funicula/Serenade (Toselli)/Mandolina/Anema e Core


From this point, some albums are issued in stereo.

SCLP 9115 (mono)/SCLP-91150 (stereo) - A Visit to Europe - Arturo Chaite [1958] Pizzicato Tango/Italian Theme/Pepita de Majorca/Passione/Festival in Santa Lucia/Siboney/Spanish Tango/La Jana/Mack the Knife/Tango Roulette/J'atenderai/Napoli

SCLP 9116 - Sonora Matancera Invites You to Dance - Sonora Matancera [1958] La Sopa En Botella/Ipso Calipso/Ay Que Rico Amor/Cruel Indeferencia/Y No Me Enganas Mas/Guaguanco No 3/Conoci a Tu Papa/Hablame Clara/Ayer y Hoy/El Novio Celoso/Consuelame/Queridos Padres

SCLP 9117 - Cabelleros - Martinez Gil Guiza [2/58] Zapaterito/No Me Niegues Tu Querer/Vida de Mi Vida/Tres Dias/Bahia/Por Eso No Debes/Para Que Sufras/Asi/Tu Sabes Bien/Inquietud/Mi Guadalupe

SCLP 9118 - Songs of Love - Leo Marini and Elsa Miranda [1958] La Chica Del 17/Muriendome de Amor/Ya Lo Veras/Baila Maria Antonio/Fumando Espero/Piropo/Punal En El Alma/No Puedo Ser Feliz/Noche Azul/No Sabras de Mi Amor/Mi Amor Se Fue

SCLP 9119 - Exitos de Johnny Rodríguez - Johnny Rodríguez [1958] Sara/Ay Amigo/Dos Campanadas/Media Noche en Mi Alma/Nuevo Amor/Todo Acabo/Fichas Negras/Idilio/Maria La O/Venganza/Que Dios Te Perdone/Portane Bien

SCLP 9120 - Desfile De Estrellas (Sonora Matancera's Parade of Stars) - Various Artists [1959] Reissued by Met-Richmond. Piel Canela - Bobby Capo/Ritmo Tambo y Flores - Celia Cruz/Aventura - Vincentico Valdés/Eso Se Hincha - Bienvenido Granda/Conciendo El Alma - Nelson Pinedo/Mambo Es Universal - Daniel Santos/Todo Me Gusta De Ti - Alberto Beltran/Margarita - Tony Alvarez/Ay Mi Vida - Gloria Diaz/Y No Me Enganes Mas - Celio Gonzalez/Mis Noches Sin Ti - Olga Chorens/Amor a La Fuerza, No - Rudolfo Hoyos

SCLP 9121 - Canciones Populares Infantiles - No Artist Given [1959] 40 selecciones populares con música y canto..

SCLP 9122 - Grandes Exitos de Daniel Santos - Daniel Santos [1959] Velore/Rosa/Siempre Contigo/Romance Del Campesino/Regreso/Cancion de La Serrania/Por Mi Honor/Mi Palabra de Honor/Lluvia O Sol/Bello Mar/A San Lazaro/Aqui En El Cielo

SCLP 9123 - Grandes Exitos de Bienvenido Granda - Bienvenido Granda [1960] En La Orilla Del Mar/Nostalgia/Nuestra Realidad/Ojos Malos/Otra Copa/Por Dos Caminos/Angustia/Celos Que Matan/Corazon Sin Fe/Encontre Mi Amor/Esperame Un Rato Mas/Florecilla de Amor

SCLP 9124 - Grandes Exitos de Celia Cruz - Celia Cruz [1960] Abre La Puerta Querida/Tu Voz/Ya Llego El Carnaval/Coucoune/Ritmo-Tambo y Flores/Tatalaibaba/Guajiritio Contento/Frutas y Mi Son Cubano/Guede Zaina/Reina Rumba/Danza Del Coyete/Rumba Para Parejas

SCLP 9125 - Vive La France - Various Artists [1960] Jacqueline/Casanova/L'amour Hirondelle/La Fete Est La/De San Domingo/Buenas Noches Mi Amor/Bambino/Le Roi de Chez Maxim/Festibal D'aubervillers/Ou Vas tu Bohemien/Un Femme En Pleurs/Ecoutez Le Trombone

SCLP 9126 - Ahí Viene La Sopnora Matancerra - Sonora Matancera [1960] Nadie Quiere Ser Culpable/Carta Para Ti/Quimera Fugaz/Oye Mima/Al Mirarte a Ti/Dejame Ya Mujer/Docena de Besos/Sale a Buscar/Equivocada/Guillante/Total/Besito de Coco

SCLP 9127 - Yo Canto Para Tí - Carlos Argentino [1960] La Buena Ventura/Este Rencor/Me Ensenaste a Querer/Baesame Puchunguita/Mi Madre Querida/Munequita/Dale-Dale-Dale/Chancel Teando/Sin Corazon En el Pecho/La Familia/Ave Maria Lola/El Solterito

SCLP 9128 - Reminiscencias - Leo Marini and Sonora Matancera [1960] Yo Vivo Mi Vida/Cobardia/Caribve Soy/Dos Alma/Cancion Del Dolor/Amigo/Dulce Aventura/Mi Todo/Tristeza Marina/Vieja Deuda/Fichas Negras/Falsaria

SCLP 9129 - The Gay Ranchero - Tito Guizar [1960] Yo No Me Caso Compadre/Te Estare Esperando/Tu y Mis Refranes/Fascinacion/You El Aventurero/Llorare Manana/Agaciada Golondrina/Uy- Uy-Uy Mariposa/La Higuera/Malaguena/Mi Barrio Alegre/Vuelta Al Mundo

SCLP 9130 - Baile Con Cortijo y Su Combo - Cortijo [1960] Negro Bembon/Alegria Y Bomba/Dejalo Que Sube/Te Lo Voy a Contar/Satelite/Huy Que Pote/Chivo de La Compana/Con La Punta Del Pie Teresa/Lo Deje Llorando/A Bailar Me Momba/Lo Tuyo Es Cronico/Bailala Bien

SCLP 9131 - Melodias Antillanas - Trio Taicuba [1960] Habana/Alma Llanera/Un Cuento/Reina de Mia Samba/El Reloj/Sabroson/Noche Cubana/Mi Canto Es Asi/Amor En Cha Cha Cha/Mi Delirio/Cancion Tropical/Refugiate En Mi

SCLP 9132 - Dulce y Sentimental - Adolfo Guzman [11/60] Seré Feliz Cuando Tu Me Quieras/Corazón/He Vuelto A Ti/Tendre Que Vivir Sin Ti/Que Rico Vacilón/No Puedo Ser Feliz/Flor De Yumuri/Drume Negritto/Me Voy Lejos De Tu Lado/Me Lo Dijo Adela

SCLP 9133 - Dos Voces y Un Corazon - Aguila Hermanas [1960] Piensa En Mi/Ay Chinita/Yo No Me Quieres/Son Tus Ojos Verde Mar/Te Me Olvidas/Tuya Soy/Que Te Vaya Bien/Extrano Amor/Tu y Yo/Esta Sellado/Rival/Marimba

SCLP 9134 - Los Ruffino En Alta Fidelidad - Los Ruffino [1960] Luna de Miel en Puerto Rico/Mienteme/Mi Amor Es Musical/No Te Importe Saber/Si y No/Serenata Huasteca/Triana Morena/Pensando En Ti/Yimboro/Siboney/Corazon, Corazon/Sin Motivo

SCLP 9135 - El Ritmico Nelson - Nelson Pinedo [1960] Muneca Adorada/Mi Barquito Marinero/Por Que Pensar/Mochilon/Muerto/Mi Casita Linda/Eres El Motivo/Vaquero/Tropico/Mi Pollito/Esas Cositas/Prieta y Santa

SCLP 9136 - La Incomparable Celia - Celia Cruz [1960] Chango Ta Veni/Bajo La Luna/Dile Que Por Me No Tema/Madre Rumbas/Palmeras Tropicales/Tumba/Cumbanchera de Belen/Poco a Poco/Baho Kendre/Ritmos Cambian/Que Voy a Hacer/Rareza Del Siglo

SCLP 9137 - El Gran Vicentico - Vicentico Valdés [1960] Lindas Criollas de Guaso/Hoy, Manana y Siempre/Por Favor/Cualquiera Baila Bantanga/Con Todo El Corazon/Como Te Quiero Yo/Oh, Mi Amada/One and Two/Me Divertire/Milagro de Amor/Te Beso y Te Regano/No Lo Creas

SCLP 9138 - Un Brindis de Marino Marini - Marino Marini [1960] La Panse'/Ciccio 'O Piscatore/'No Voce 'Na Chitarra/Basta Un Poco Di Musica/'E Calosce/Che C' E' Conce'/Sophia/Nanassa/Scapricciatiello/Aummo Aummo/La Piu' Bella Del Mondo/Guaglione

SCLP 9139 - Un Brindis de Edoardo Lucchina - Edoardo Lucchina [1960] Lazzarella/Casetta En Canada/L'Ultimo Raggio 'E Luna/Suspiranno 'Na Canzone/Napulo, Solo Mio/Malinconico-Autunno/Vogliamoci Tanto Bene/Chella 'Lla/Guaglione/Corde Della Mia Chitarra/Enammurate Dispettuse/Si Tu Me Dice "Si"

SCLP 9140 - Un Brindis de Aurelio Fierro - Aurelio Fierro [1960] Tu Vuo' Fa' L' Americana/Scapricciatiello/Guaglione/Nanassa/O' Nzisto/Lucianella/Lazarella/Storta Va...Deritta Vene/Chitarrella Chitarre/'O Treno D' A Fantasia/Serelatella-Sciue' Sciue'/'O Surdato 'Nnammurato

SCLP 9141 - Un Saluto Dall 'Italia - Various Artists [1960] Mister Napule/Il Pericolo No.1/Accarezzame/Io E Ciccio/Primo-Sicanda E Terza/Maliziusella/Musetta/Lazzarella/Statte Vecino A'mme/Casetta En Canada/'No Voce 'Na Chitarra/Souvenir D'Italie

SCLP-9142 (mono)/SCLP-91420 (stereo) - Polkas, Anyone? - Triads Plus 2 [1960] Francene/Lichtensteiner/Hot Pretzels/Cheesecake/Helena, Borghild Rinelander/Friday Polka/Eddie's Polka/Happy Birthday Polka/Swedish Polka/Grasshopper/Julida/Hop Polka/Carnival

SCLP 9143 - Cuba y Brazil - Bienvenido Granda [1960] Oracion de Amor/Hablame Y Jurame/Fango/Al Cielo/Quemame Los Ojos/Pasion Extrana/Tan Solito/Ten Piedad/Boemia, Es El Amanecer/La Primera/Aun Que Pagues

SCLP 9144 - Grandes Exitos de Carmen Delia Dipiní - Carmen Delia Dipiní [1960] Sin Dar El Corazon/Facil de Recordar/Todo/Verdadero Amor/Aquella Noche/Todavia/Mundo/Conozco La Vida/Reprochame/Sigue Tu Vida/Tan Lejos y Sin Embargo Te Quiero/Mijo Mio

SCLP 9145 - Premiati al Concorso di San Remo - Various Artists [1960] Fragole E Cappellini/Guiro D' Amarti Casi/Tu Sei Del Mio Paese/Mille Volte/La Canzone Che Place A Te/Sono Te/Fantastica/Amare Un'Altra/Nel Blu Dipinto Di Blu/Non Potray Dimenticare/Nozze D'Oro/Se Tormassi Tu/Campane Di Santa Lucia/L'Edera/Timida Serenata/Ho Disegmato Un Coure

SCLP 9146 - Canta Selecciones De Rafael Hernández - Joe Valle [1960] Romance/Lamento Borincano/Noche y Dia/Silencio/No Me Quieras Tanto/Perfume de Gardenia/Lejos de Ti/Preciosa/Campanitas de Cristal/Ahora Seremos Felices/Tu No Comprendes/Desvelo de Amor

SCLP 9147 - Selecciones de la Pelicula "La Violetera" - Frederico Moreno Torroba y su Orquesta [1960] Soy Cantanera/La Violetera/Senores, Venga Allegria/Flor de Te/Tus Ojitos Negros/Mala Entrana/El Polichinela/Ven Y Ven/Rosa de Madrid/Tapame, Tapame/Mimosa/Aqua Que No Has de Tomar

SCLP 9148 - El Anacobero (Sonora Matancera Presents Daniel Santos) - Daniel Santos [1959] A La Buena De Dios/Amnistia/Asi-Asi/Celos Con Lola/Como Me Da La Gana/Monito/Bob de La Yuca/Granito de Maiz/Siempre Contigo/Mambo Pide la Gente/Amor de Ayer/Escribeme

SCLP 9149 - Tocan Selecciones de Augustin Lara - Frederico Moreno Torroba y su Orquesta [1959] Solamente Una Vez/Maria Bonita/Granada/Mirame/Porque Ya No Me Quieres/Silverio/Madrid/El Organillero/Rosa/Cuerdas de Mi Guitarra/Santa/Nnoche de Ronda

SCLP 9150 - El Famoso Trio Maravilla - Trio Maravilla [1959] Porque Sera/Lucero De Mi Noche/Nunca Es Tarde/Yim Yere/El Aguacero/Que Maravilla/Mi Cafetal/Vuelve Paloma/Plena De San Anton/Lagarto Sea/Me Quieres Perjudicar/Toca La Bocina

SCLP 9151 - Grandes Exitos de Sonora Matancera - Sonora Matancera [1959] Sonando Contigo/P. de Parada/Cuando No Estas/Estas Como Mango/Bonifacio/Senora/Morena/Babae/Tu Precio/Guaguanco En La Timba/No Toques Ese Disco/Rico Guaguanco

SCLP 9152 - Los Ruffino in Alta Fidelidad, Volume 2 - Los Ruffino [1960] Poinciana/El Maraquero/Quiereme y Veras/Esto Es Felicidad/Chiquichi/Sola y Triste/Danza Hungara En Guaguanco/Un Desolado Corazon/La Cereza Rosa/Cha Cha Cha Del Futuro/Noche de Ronda/Que Paso/Mucho Corazon

SCLP 9153 - Joyas Españolas - Federico Moreno Torroba y su Orquesta [1960] Monte Carmelo/Alma de Dios/La Gran. Via/Dos Cascabeles/El Nino Judio/San Fermin/Mosaico Sevillano/Bulerias Del Guinol/Morucha/Luisa Fernanda/Clavelitos/El Caballero de Gracia/La Trantula

SCLP 9154 (mono)/SCLP-91540 (stereo) - Vicentico Valdés Con La Sonora Matancera - Vicentico Valdés [1960] Solo Por Rencor/Los Arettes de La Luna/Lo Que Estoy Viviendo/No Seas Asi/Algo Hay En Ti/Lo Andro/Con Un Poco de Fe/El Vaiven Arrullador/En Una Isla Encantada/Tu Mi Ros Azul/Has Vuelto a Mi/Me Interesa tu Opinion

SCLP 9155 - Canciones de España - Canta Imperio de Triana [1960] Mis Sueños De Chiquilla/La Cruz De Guerra/Rosas De Ayer/Corazó De Arena/Córdoba/La Comparsa/Damisela Encantadora/Amor, Que Bonito Has Vuelta/Yo Nada Puedo Hacer/Toda La Noche En Vela

SCLP 9156 - La Sonora Matancera Llegó/Canta: Celio Gonzalez - Sonora Matancera and Celio Gonzalez [1960] Es Mi Suplica/Aue Temor te Abraza/Me Siento Feliz/Centinela/Atribulando/Intruso Corazon/Coge El Trillo/Toitico Tuyo/No Aguanto Mas/Rey Del Amor/Baila Mi Rumba/Mambo Para Que Toce

SCLP 9157 - Navidades - Sonora Matancera [1960] Reissued by Met-Richmond. Recuerdos De Navidad/Feliz Navidad/Llegaron Las Navidades/En La Nochebuena/Aguinaldo Antillano/Mi Navidad/Vamos Pa'El Campo/Jingle Bells/Cuando Llegue La Navidad/A Los Reyes Magos/El Cha-Cha-Cha De La Navidad/Rumba En Navidad

SCLP 9158 - Festival di San Remo 1959, Volume 2 - Various Arttists [1960] Piove (Ciao Ciao Bambina) - Marino Marini y Su Cuarteto/Ne 'Stelle Ne'Mare - Marino Marini y Su Cuarteto/Avevamo La Stessa Eta - Marino Marini y Su Cuarteto/Una Martcia In Fa - Marino Marini y Su Cuarteto/Per Tutta La Vita - Marino Marini y Su Cuarteto/Li Per Li - Marino Marini y Su Cuarteto/Io Sono Il Vento - Marino Marini y Su Cuarteto/Conoscerti - Flo Sandon/Tua - Nella Colombo/Partir Con Te - Aurelio Fierro/Tu Sey Qui - Flo Sandon/Un Bacio Sulla Bocca - Germana Caroli

SCLP 9159 - Cante y Baile con Joe Valle - Jose "Joe" Valle [1960] Runidera/Paraiso Sonado/Fue Por Tu Pecado/Sabroso Merecumbe/Cancion Nostalgica/Cha Cha Cha Flamenco/Felicidades/Plena Para Gozar/Bello Amanecer/Bolemengue/Recordando Mi Borinquen/Clemencia

SCLP 9160 - Cortijo y Su Combo - Cortijo Combo [1960] Maria Teresa/Que Coco/Borinquen/Conoci a Tu Papa/Chongolo/Micaela/Mantequera/Jaun Jose/Pilon de Tomasa/Amarra La Cadena

SCLP 9161 (mono)/SCLP-91610 (stereo) - Cesar Concepcion and His Orchestra at the Flamboyan - Cesar Concepcion [11/60] Pa Mi Pueblo/Cuba y Puerto Rico/Sin Amoor/Naturaleza/Anastasia/Compr Endeme/Con El Alma/A Bayamon/Coamo/Sublimidad/Tu Nada Mas/Honestamente

SCLP 9162 - Los Compadres - Dúo Los Compadres [1960] Todo a Tus Pies/Yo Tengo Pena/Con Un Temporal/En El Monte/El Gato Y La Gata/Prube Este Tono/La Rebelion De Mayo/Descripcion De La Rumba/En La Casa De Don Juan/Paloma Mensajera/Envida De Amor/Preparen Candela

SCLP 9163 - Caliente y Sabroso - Daniel Santos, Bievenido Granda and Alberto Beltran [1960] Canelita/Muchacha de Quince Anos/Salve de Las Auroras/Tu Regreso/Alma Blanca/Mananita/Mi Tinajita/Va a Llover/Bruja/Se Perder/Cualquiera Va/Comimos Gato

SCLP 9164 - Baile el Merecumbé - Orquesta Pedro J Belisario [1960] Celosa (Cara Sucia)/A Bailar Maracumbé/El Cochero/Sancocho E' Guesito/El Bambón/Ay Que Rico Amor/Pegadito/Vamos A Guarachar/El Merecumbé (El Monito) El Yayabo/No Llores/Vaciladora

SCLP 9165 - Enamórame - Victor Perez y Rafa Galindo [1960] Noche de Mar/Maraquita/Ven/El Adios/Ay, Que Bueno/El Caiman/Compesino/Un Sueno/Enamorame/Quien Fue Quien Mato a Consuelo/Ron Con Coca Cola/Los Gustos de Victor Perez

SCLP 9166 - Nelson En Venezuela - Nelson Pinedo con Jesús "Chucho" Sanoja y Su Orquesta de Solistas [1960] Sabrosa, Mira Nena/Alla En Espana/Ven Aqui a La Realidad/Caramelito Santo/Cana Brava/El Enbrujao/Borracho Bohemio/Mi Casita Linda/Bella Mariposa/Por El Radio/El Tigrito

SCLP 9167 - Vida Nocurnal en Nueva York - Alci Sanchez [1960] Pesar/Mayba/El Bananero/Las Pilanderas/Preguntale a La Luna/Evocacion/Romance Del Campesino/Mi Boda Campesino/Boda Gris/Romance Bajo La Luna/Oye Mi Guaracha/Lija

SCLP 9168 - Programa Bailable - Jesús "Chucho" Sanoja y Su Orquesta de Solistas [1960] Lamento Naufrago/El Desorden/Ven Aca Mi Amor/Mentira/Nelly/Apagame La Vela/Sin Corazon En El Pecho/Mosaico Cubano/Oye Nena/La Moda Saco/Salvce Del Loco/Ritmo Del Amor

SCLP 9169 - Mil Lagrimas - Los Rubies Trio [1960] Vaiven/Caco Macaco/Ayer, Hoy, Manana/Y Entonces/Quiero Estar Contigo/Y Dale Con Lo Mismo/Cualquiera Comete Un Error/Mil Lagrimas/Por Que No Me Quieres/Calumnia

SCLP 9170 (mono)/SCLP-91700 (stereo) - Ultimos Exitos de Lola Flores - Lola Flores con la Orquesta de Frederico Moreno Torroba [1960] No Me Llames Dolores/Echame a Mi La Culpa/Marussella/Venta De Vargas/Ya No Te Quiero/Ave Maria Lola/El Televisor/En Una Esquina Cualquiera/Romance De Juan Limon/Jerezana/Coplas del Vito/Ay, Seguirillas

SCLP 9171 (mono)/SCLP-91710 (stereo) - Su Favorita - Celia Cruz con la Sonora Matancera [1960] Crocante Habanero/Saludo a Elegua/En Venezuela/Mulense/Suenos de Luna/Que Critquen/Dime La Verdad/Llego La Zafra/Asi Quiero Morir/De Noche/No Te Rompas el Craneo/Rumba Quiero Gozar

SCLP 9172 (mono)/SCLP-91720 (stereo) - El Inimitable - Carlos Argentino [1960] Reissued by Met-Richmond. Just One of Those Things/Falling in Love With Love/I'll Follow My Secret Heart/Most Beautiful Girl in the Sorld/Anita/My Silent Love/Musetta's Waltz/Laura/Honeysuckle Rose/How About You/Under Paris Skies/Clair de Lune/Misty/Sabre Dance/I'll Take Romance/Like Someone In Love/I've Got My Eyes on You

SCLP 9173 - La Favorita de Italia - Flo Sandon [1960] Vogliamoci Tanto Bene/Domenica E' Sempre Domenica/Viale D'Autunna/Malinconico Autunna/Tipitipitipso/T'ho Voluta Bene/Un Po' Di Cielo/Conosco Un Cow Boy/L'Aurore E' Nu Canario/T'Aggia Di No Casa/Troviamoci Domani A Portofino/La Luna Nel Rio

SCLP 9174 - Bailemos Merengue - Luis Kalaff y Sus Alegres Dominicans [1960] Te Rompi La Aldaba/La Zumbadora/Pelean Como Quiera/Batolina/Dionisio/La Salve Alegre/Me Gusta Adentro/La Amaneca/La Ligadura/Las Auroras/Por Abajo Y Por Arriba/Yo Hice Pero No Vivo

SCLP 9175 - El Disco De Oro: Volume 2 - Various Artists [1960] Me Voy a Pinar Del Rio - Celia Cruz/Mi Amor Ante Todo - Joe Valle/Yo Tengo Un Pecado Nuevo - Chito Galindo/Amor Siin Esperanza - Celio Gonzales/Por Equivocacion - Virginia Lopez/Negro Bembon - Cortijo Combo/Cuba Y Puerto Rico - Cesar Concepcion/Panadero - Plata Sextette/Sin Corazon En El Pecho - Carlos Argentino/Traicion - Chavales de Espana/Seguire Sin Ti - Vicentico Valdez/Faraona - Lola Flores

SCLP 9176 (mono)/SCLP-91760 (stereo) - Más Exitos de Vicentico Valdés - Vicentico Valdés [1960] Deja Que Sioga Solo/Seguire Sin Ti/En La Imaginacion/Que Ambicionabas Tu/Te Dire Muchas Cosas/En La Imaginacion/Tu Verdad/Estuve Pensando/Tu Dominas/Que Dificil Es/Que Te Has Creido/Lo Quiso Dios/Anorado Encuentro

SCLP 9177 (mono)/SCLP-91770 (stereo) - Más Exitos de La Sonora Matancera - Sonora Matancera con Celio Gonzalez [1960] Demanda El Corazón/Una Madrugada/Ciego Proceder/Dejan Bailar La Niña/Preludio/Estamos Chao/Dime Por Que/Ajiaco Caliente/Ofensa/Guachupita/Sin Reproche/En Los Jardines

SCLP 9178 - El Gran Cantante Italiano - Aurelio Fierro [1960] Magli Pericolose/Io/Non Restar Fra Gli Angeli/Zingara Bionda/Dai Che Vai/La Macchina Ce L'ha/Vecchio Frack/Baci-Bala- Ba/Mambo Toscano/Strada 'Nfosa/Farfalle/Calypso Ninna Nanna

SCLP 9179 - Canciones Ritmicas - Marfil-Morales Duo [1960] Ay Cosita Linda/En El Mismo Sitio/Rock and Roll/Pilanderas/Ay Que Contento Estoy/Se Estan Peleando En Mi Pueblo/Tropico/Negro Billetero/Tu Rica Boca/Camino Del Indio/La Chachatitis

SCLP 9180 - Un Viaje Musical Por España - Los Bocheros Viaje [1960] El Bocho/Pandereta Andaluza/Razas Hermanas/Camino Verde/Beti Maite/Virgen De Guadalupe/Puente De Piedra/Isla De Mallorca/Palmero Sube A La Palma/Suerte Loca/Salero Salero/Jolin Jolan/Regatas De San Sebastian/El Bocho

SCLP 9181 (mono)/SCLP-91810 (stereo) - En La Gloria - Gloria Mirabal [1960] Igual Como Aquel Dia/Recuerdos de Borinquen/Por Algo Es/Ya Nade Me Importa/Mi Tierra Linda/Experanza/Eres Un Caso Perdido/Que Te Pasa a Ti/Mis Penas/Credo de Amor/Maldito Amor/Color de Ausencia

SCLP 9182 - Fabuloso Grupo Italiano - Marino Marini y Su Cuarteto [1960] Pimpol&oacute'/Come Prima/Eso Es El Amor/Gira Girasole/Mamb0 17-23/Stella Stella/E Scalelle D'o Paraviso/Peppenella/Don Nicola O Cosacco/E'Sempe A Stessa/Rosi' Tu Si I'ammors/Piccolissima Serenata

SCLP 9183 (mono)/SCLP-91830 (stereo) - El Danzón Generoso y Su Danzonera - Danzón Generoso y Su Danzonera [1960] Tres Companas/El Cadete Constitucional/El Beso Que Te Di/Ansiedad/Papá Montero/Linda Melodia/Las Cuatro Milpas/Estrellita Del Sur/Virgen De Regla/Quien Tiró La Bomba/El Bombin De Barreto/El Himno De Los Marinos

SCLP 9184 - Yo Tengo Un Pecado - Chito Galindo with F. Mulens Orchestra [1960] Yo Tengo Un Pecado Nuevo/Toma Mi Vida/Tu Cabeza En Mi Hombro/Alguien Como Tu/Duerme Mi Amor/Injusticia/La Hiedra/Si Alguna Vez/Patricia Mia/Pastorcita de Amancay/No Debes Dudar/Mi Unico Amor

SCLP 9185 - Fiestas Navideñas - Various Artists [1960] Santo Nombre De Jesús/A Mi Puerto Rico/Brindis/Alegre Navidad/Trullas De Navidad/A Los Santos Reyes/Aguinaldo De Las Flores/Felicitación/Romance Del Compesino/Le Lo Lay/Parrandeando/A Gozar Y A Reir

SCLP 9186 (mono)/SCLP-91860 (stereo) - Alferdo Sadel - Alferdo Sadel acompañado por De San & His Satin Strings [1960] Gondolero Debi Llorar/Jarrito/Al Fin/En La Noche Tranquila/Cuando Llego a La Habana/Tengo Un Nuevo Amor/Como Es Posible/Jurame/Mala Noche/Ahora Seremos Felices/La Luz de Tu Ventana

SCLP 9187 (mono)/SCLP-91870 (stereo) - Ya Llegaron Los Mariachis! - Mariachi Los Rancheros [1960] Ojitos Traicioneros/Yo Soy El Adventurero/El Aguacero/Por Tu Orgullo/Guadalajara/El Gusto/La Feria De San Marco/Los Aguacates/Cocula/La Verdolaga/Voy De Gallo/Jarabe Tapatio

SCLP 9188 - Sabor Boricua - Ramito [11/59] Sabor Baricua/Hermano Contra Hermano/De Que Color Son Tus Ojos/Italia Dormia/Aguinaldo De Sentimiento/Amor Al Deseo/Fuego En Sodoma/Para Que Me Acariciaste/Mi Viaje A La Luna/La Noza De Tomasa/Amor Imposible/Mi Decision

From this point, only mono numbers are listed (stereo issue not known to us), but most albums from this point were also issued in stereo.

SCLP 9189 - Los Ultimos de Celio González - Celio González [1960] Baja Venganza/Carita de Cielo/Olvida Corazon/Poca Palabra/Veinte y Cuatro Horas/No Estoy Celoso/Historia de Un Beso/Mujer Fatal/Le Dio Con La Sarten/Cien Mil Cosas/Bombels/Corazon Borracho

SCLP 9190 - Fabulosa Lola Flores - Lola Flores [1960] Maria Belen/Torcuata/Nana Gitana/No, No, No y No/Catalina Fernandez La Lotera/Que Te Pasa Frasquita/Pidiendo Guerra/A La Sombra de Tu Pelo/Tientos Del Sombrero/Mercedes La de Chiclana

SCLP 9191 - En El Aire-Carlos Argentino - Carlos Argentino and Sonora Matancera [1960] Y Que/Mulata Linda/Mi Telefono (El 06660)/New York/Una Cancion/Pancho Calma/Boquita Golosa/Amor No Existe/No Seras La Mas Linda/Besito Santo/La PachangaArrimaditos

SCLP 9192 - Dinamica-Celia Cruz - Celia Cruz with Sonora Matancera [1960] Tamboliero/Juntitos Tu y Yo/Cuidate Bien/Baila Baila Vicente/Lalle Lalle/Nadie Me Lo Quita/Al Vaiven de Palmeras/Tumba La Cana Jibarito/Sigo Esperando/Para Tu Altar/Resurge El Omelenko/No Hay Nada Mejor

SCLP 9193 - Alma Jarocha - Trouadores Jarocha [1960] Guacamaya/Gusto/Vieja/plus 9 others

SCLP 9194 - Amar y Vivir - Carlos Melendez [1960] Que Mas Puedo Pedir/Palmeras/Amar y Vivir/Flores Negras/Nosotros/Un Ano Mas Sin Ti/Sueno Guajiro/Cuando Ya No Me Quieras/Jurame/Nocturnal/Rival/Asi

SCLP 9195 - Algo De Tí - Vicentico Valdés [1960] Algo de Ti/Te Falta Corazon/Y Con Tus Palabras/Tu Manera de Ser/Estoy Loco/Querer O No Querer/La Montana/Nunca Pienses Que Te Olvido/Salvame Reverso/Conozco Tu Historia/Cancion Por La Manana

SCLP 9196 - Mi Amor Ante Todo - Jose "Joe" Valle [1960] Mi Amor Ante Todo/Alma de Mujer/Verdad y Primavera/Corazon Se Paciente/Misterio de Amor/Casita Ideal/Raro Hechizo/No Me Traicionaras/Promesas Falsas/Melodia de Amor/Alrededor Del Mundo/Sin Saberlo Tu

SCLP 9197 - Regresa Alberto Beltrán - Alberto Beltrán [1960] Eterno Amor/Muy Despacito/Atardecer de Primavera/Maribel/Estrellita Ven a Mi/Te Busca Tu Mujer/Papa Boco/Venganza/Madre/Ven Para El Rinconcito/Compasion

SCLP 9198 - Saludos Roberto Faz - Roberto Faz [1960] Sabor a Mi/Nadie Baila Como Yo/Tumba Brava/En Cadenas/Jamaicuba/Mambo Con Cha Cha Cha/Olvida El Pasado/Comprension/Potaje/Rumba Pa Los Rumberos/Duena de Mi Corazon/Escucha Mi Ritmo

SCLP 9199 - Un Beso - Juan Arvizu with Chucho Martinez Cardenas Orchestra [1960] A Solas Contigo/Un Beso/Besame Mucho/Mi Novia/Munca Te Olvidare/Prisma/Noche Es Nuestra/Por Quye No He de Quererte/Dime/Farolito/A Una Ola/Plegaria

SCLP 9200 - Reflexiones - Celia Cruz and Sonora Matancera [1960] Marcianita/No Me Mires Mas/Caramelos/Mi Cocodrilo Verde/Ya Te Lo Dije/El Heladero/Magica Luna//Ven O te O Voy a Buscar/Pregones de San Cristabal/Bachame/Suena el Cuero/Taina

SCLP 9201 - El Rey Del Ritmo - Rey Caney [1960] Idioma Del Amor/No Vuelvas Por Mi Perdon/Para Usted Bailar/Tomando Soy Feliz/Me Voy a Querer/No Hace Falta Papel/Estoy Copnvencido/Contigo Lo Quiero Probar/30 Kilos/Consejo Sincero

SCLP 9202 - Canciónes Premiadas de Vicentico Valdés - Vicentico Valdés [1960] Anorado Encuentro/Todo Aquel Ayer/Como Fue/Plazos Traicioneros/Yo Vivo Para Ti/Derroche de Felicidad/Te Beso y Te Regano/Solo Por Rencor/Milagro de Amor/Arettes de La Luna/Piensalo Bien/Fidelidad

SCLP 9203 - Sonora Matancera En México - Sonora Matancera and Alberto Willie [1960] Claro/Estoy Loco/Compay Lobo/Ya No Puedo Creerlo/Traguito/Solo Tu/El Chivo/Ayer Te Espere/Cuban Zpete/Yo No Se Que Me Paso/Mi Hobby Es Besar/Descarga Sonora

SCLP 9204 - Juanchin Ramirez - Juanchin Ramirez [1960]

SCLP 9205 - Ultimos Exitos de Alfredo Sadel - Alfredo Sadel [1960] Luceritos/Flores Negras/Borracho Me Gritan/Na' Sere E' Maggio/Negra Helena/Ay, Mamita/Alhambra/Mattinata/You Do Something To Me/Calderetta/I Te Vurria Vasa/Vida Mia

SCLP 9206 - Celebremos Noche Buena con La Sonora Matancera - Sonora Matancera [1961]

SCLP 9207 - Canciónes Premiadas de Celio Gonzalez - Celio González with Sonora Matancera [1961]

SCLP 9208 - Mire Al Oriente - Tony D'Adario [1960] Aftos O Allos/Ue' Ue' Che Femmena/Luna Napoletana/Enfants du Piree/Arrivederci, Amor Mio/Serenata a Margelina/Nuvole, Nuvole/Gerakina/Asteri Asteraki/Hara Mou/La Hara Sou/Tabachera/Bello Bellisimo

SCLP 9209 - One Two Cha Cha Cha - Oscar Calle and the Cuban Boys [1961] Mama Inez/Chiquita Del Cha Cha Cha/Deuda de Maldad/Ali Baba/Puchunga/Capullito de Aleli/En El Silencio de La Noche/Rumba Tambah/Chi Chi Merengue/Cachita/Calabozo

SCLP 9210 - Bailemos Merengue, Volume 2 - Luis Kalaff [1961] Pichingolo/Vacaciones/plus 10 others

SCLP 9211 - Presentado Los Famosis Ferreira Hermanos - Ferreira Hermanos [1961] La Sampuesana/Nena, Nena/Soy Pachanguero/Porro Flamenco/Calipso Congo/Tu No Me Quieres Na'/Marinita/Colas/Maria En Bicicl;etas/El Cangrejo/Vida, Come to Me/Enojadita

SCLP 9212 - Bongos-Trompetas-Voces y Cuerdas - Joe Cain [1961] Sheherazade/Reverie/Polovetsian Dances/Evening Star/Theme From Romeo and Juliet/Concerto Themes/Liebestraum/My Heart at Thy Sweet Voice/Polanaise

SCLP 9213 - Escucha Mis Canciones - Leo Marini and Sonora Matancera [1961] En La Palma de La Mano/Luna Yumurina/Asi Como Tu Crees/Igual Que Una Sombra/Tuve La Culpa/Dejame Que Te Arrulle/Esta Cancion Es Prohibida/En Un tris/Lunita Bonita/Quiero Un trago Tabernero/Bajon Nene

SCLP 9214 - Alberto Beltran - Alberto Beltran with Rene Hernandez Orchestra [1961] Esposa/Dominicana/A Los Bailadores/Yo En Tu Vida/Rayito de Luna/Oh Luna/Lloraras Por Mi/Samana/Romance de La Habana/Vereda Tropical/Imposible Nuestro Amor/Sueno Azul

SCLP 9215 - Canciónes Premiadas de Celia Cruz - Celia Cruz [1961] Melao de Cana/Bonco/Pepe Antonio/Pai y La Mai/Vamos a Guarachar/Vallan Vallende/A Todos Mis Amigos/Matiagua/Cao Cao Mani Picao/No Se Lo Que Me Pasa/Agua Pa' Mi/Mambo Del Amor

SCLP 9216 - Charanga - Various Artists [1961] Despierta Viejo - Estrellas Cubanas/La Pachanga - Carlos Argentino/Galletana - Orquesta America Del 55/La Mantanceras Son - Orquesta America Del 55/Caramelos - Celia Cruz con La Sonora Mantancera/Ven Cosa Buena - Orquesta America Del 55/Que Me Digan Feo - Estrellas Cubanas/El Pachanguero - Hermanos Ferreira/Mirala Que Linda Viene - Orquesta America Del 55/Guachupita - Ceilo Gonzalez con Sonora Mantancera/Aqui Hay Un Hombre Gozondo - Orquesta America Del 55/Que Linda Es Caracas - Orquesta America Del 55

SCLP 9217 - La Voz De La Gaupachosa - Celeste Mendoza [1961] Te Di Un Beso Sin Importancia/Ponme La Mano/Eres Diferente/A Ti Na' Ma/Pobre Del Pobre/Cual Fue En Motivo/Un Congo Me Dio La Letra/Que Bien Me Siento Contigo/Sobre La Letra/Que Bien Me Siento Contigo/Sobre Una Tumba Una Rumba/Blancas Azucenas/Ladron de Gallinas/Te Agradezco el Consejo

SCLP 9218 - Mi Tesoro - Trío San Juan [1961] Mi Tesoro/Aqui Contigo/Los Colibries/No Te Detengas/Sigue Tu Camino/Contagio/En El Cielo y Mas Alla/Pecado de Los Dos/Pucha/Palabras de Mujer/Triste Vivir/Para Que te Duela

SCLP 9219 - Charanga, Volume 2 - Cuban All Stars [1961] Novia Pachanguera/Pachanga Cubana/Suena El Pachanga/Pachanga Caliente/Me Gusta El Trago/Pachanga de Sabrina/Conga Pachanga/Que Pachanga/Pachanguero/Al Compas de Mi Pachanga/Bachanga, Bachanga

SCLP 9220 - Espana Musical de Hoy - Lolita Rodriguez with Elcio Alvarez Orchestra [1961] Luna Enamora/Emigrante/La Rodriguez/Relicario/Morena de Mi Copla//Piconeros/Donde Estara Mi Vida/Burro de Pegas/Beso/Virgen de La Macarena/Ojos Verdes/Novillero

SCLP 9221 - Baila Conmigo - Roberto Faz Orchestra [1961] Baila Conmigo/Orgullo Y Altivez/Sabor Dominante/Cuando Tu Me Quieras/Pregon de La Montana/Quiereme y Veras/Cositas Que, Tiene Cuba/Guataquea/Vanidad/Senores Bailadores/Tu Mi Adoracion/Para Gozar Cubita

SCLP 9222 - ¡Viva Antonio Machin! - Antonio Machin [1961] Recuerdos de Andalucia/Envidia/Tengo Una Debilidad/Enamorados/No Te Burles/Con Los Brazos Abiertos/Esperanza/Manisero/Infamia/Cuatro Palabras/Aretes de La Luna/Implorar

SCLP 9223 - ¿Quién Sera? - Nelson Pinedo with Sonora Matancera [1961] Quien Sera/Ermitano/Mujer Celosa/Ya Es Muy Tarde/Hablame Claro/Una Borracha de Amor/Esquina Del Movimento/Encanto de Mujer/Carioquero/Te Enganaron Corazon/Hoy Lo Niegas

SCLP 9224 - El Estilo de Vicentico Valdés - Vicentico Valdés [1961] Sin Poder Comprender/Sere Feliz/Ayer No Es Hoy/Me Hiciste Un Favor/No Me Creas/Mi Son Tropical/Que Puedo Esperar de Ti/Sin Reciprocidad/Eso Pretendo Yo/Envidia/Privilegio/Por Todas Mis Locuras

SCLP 9225 - Duelo Musical - Sonora Matancera and Cortijo Combo [1961] Ingratitudes/Micaela/Palo Que Le Das/Pide Parada/Dejalo Que Suba/Oye Mima/Toitico Tuya/Lo Tuyo Es Cronico/Ay, Cosita Linda/Juan Jose/Ave Maria Lola/Calypso, Bomba y Plena

SCLP 9226 - Tributo a Los Artistas Puertorriquendos - Various Artists [1961] Madrid - Bobby Capo/Esperame en el Cielo - Joe Valle/Pa' Salinas - Cesar Concepcion/Bombon de Elena - Cortijo Combo/Beso de Fuego - Carmen Delia Dipini/Ponce - Davilita/Sollozo - Ruth Fernandez/Son Amores - Johnny Rodriguez and C. D. Dipini/Romance Del Campesino - Daniel Santos/Parece Mentira Jose Luis Monero/Mienteme Mas - jVirginia Lopez/No Toques Ese Disco - Tony Pizarro

SCLP 9227 - México, Que Grande Eres - Celia Cruz with Sonora Matancera [1961] Mexico, Que Grande Eres/Juventud del Presente.Mis Anhelos/Rico Changui/Sabroso Guaguanco/Mal Agradecido/Taco, Taco/Yo Te Invito a Mi Pais/Hasta Fuerate Mi Tambo/Aguijon/Negrita Inteligente/Viaje En La Panga

SCLP 9228 - En Gira - Xiomara Alfaro [1961]

SCLP 9229 - Reyes Del Ritmo - Sorora Matancera [1961]

SCLP 9230 - 50 Anos La Musica Mas Amada De La América Latina - Various Artists [1962] Lamento Borincano - Marini/Manisero - Machin/Te Lo Juro Yo - Capo/Adios Pampa Mia - Del Carril/Tu Sabes Bien - Martinez Gil/Cana Brava - Plata 6/Granada - M. Torroba/Perfume de Gardenia - Valle/Mambo en Espana - Orq. Riverside/Ultima Noche - Vega/Son de La Loma - campo/Palabras de Mujer - Trío San Juan

SCLP 9231 - Sere Nata - Trío San Juan [1962] Para que/Mi Unico Pecado/Tu Culpa/Mala Entrana/Llanto del Alma/Que Le Importa/Alma Joven/Tarde Gris/No Volvere/Jamas/Amor Frascado/Carino Nuevo

SCLP 9232 - Una Vez Más - Vicentico Valdés [1962] Mundo Extrano/Gloria Eres Tu/Que Has Hecho/Quiero Verte/Voy a Apagar La Luz/Comprendeme/Jamas sere Feliz/Me Faltabas Tu/Duena de Mi Corazon/Miranda/Sin Saber De Mi

SCLP 9233 - Let's Do the Twist - George Torres & His Twisters [1962] Oh This is Love/Swinging Papa/Yes She Knows/My Baby Couldn't Dance/I Need Your Love/I Just Couldn't Take It - The Twist/Hey Little Girl /Take a Chance/Loving You/After School

SCLP 9234 - Sarara - Sonora Matancera

SCLP 9235 -

SCLP 9236 -

SCLP 9237 -

SCLP 9238 -

SCLP 9239 - A Gozar - Damiron y Chapuseaux

SCLP 9240 -

SCLP 9241 - La Mecha - Luis Kalaff

SCLP 9242 - Con Ardor - Alfredo Sadel [7/63] Dame te Tus Rosas/Tengo Que/Acostumbrarme/Munequita Linda/Giannina Mia/Amapola/Non Tiscordar de Me/Lola Flores/Morena de Mi Copia/Curro Primero/Cesar Giron/Ah! Caminare/No Esuchan Mi Voz

SCLP-9243 - Bigote Que Canta - Bienvenido Granda [1963]

SCLP 9244 -

SCLP 9245 - Oye Mi Piano - Damiron [1963] Reissued by Met-Richmond. I Can't Give You Anything But Love/April Showers/No Me Empuje/Lullaby Of Birdland/Fuego Tropical/That Old Black Magic/Mi Hombre/Eslava 22/Cocktails For Two/El Pajaro Choui/Jack, Jack, Jack/Por La Madruga

SCLP 9246 - Tierna, Conmovedora, Bamboleadora - Celia Cruz [7/63] Conmovedora/Bamboleadora/Mi Bomba Sono/El Que Qiere Siembre Su Maiz/Virgen de La Macarena/Suavecito, Mango Mangue/Desvelo de Amor/Facundo/Clave de Oro/Nostalgia Habanera/Noche Criolla/Yemaya/Mania de Mamaita

SCLP 9247 - Riverenos-Traves del Rio Bravo - Yomo Toro [1963] Pena/Gorrioncillo Pecho Amarilo/Carabina 30-30/Espiga/Gabino Barrera la Palomita/Parodia de Juan Charrasqueado/Alteradas/Formula/Sube y Baja/Andan Diciendo/Bamba

SCLP 9248 - Steppin' Out - Joe Cuba Sextette [7/63] A La Seis/To Be With You/Oriente/Salsa Y Bembe/Rosalia/Callejero/Que Va/Como Rien/Wabble-Cha/Cachondea/Mujer/Yo Vine Pa Ver

SCLP 9249 - Suave - Vicentico Valdés [1963] Bendicion/Me Estas Envenenando/Quisiera Ser Feliz/Como Decirlo/Mi Gente/Noche Morena/Sintiendote Mia/Mi Dulce/Pobres Besos Mios/Me Inventaste/Todo En La Vida Pasara/Si No Bay Razon

SCLP-9250 - Excitante - Adilia Castillo with Torrealba [7/63] Angelica/Que Se Mueran de Envidia/Adios/Yegua/Sin Amor/Yo So Venezolano/Feliz/Que Vale Mas/Clamor/A Puerto Rico, Me Voy/Que Lastima/No Me Vayas a Enganar

SCLP 9251 -

SCLP 9252 -

SCLP 9253 - Con Trompetas y Violines - Vicentico Valdés

SCLP 9254 - En Puerto Rico - Sonora Matancera

SCLP 9255 -

SCLP 9256 -

SCLP 9257 -

SCLP 9258 -

SCLP 9259 - Diggin' The Most - Joe Cuba

SCLP 9260 - Merengues De Oro - Damiron y Chapuseaux

SCLP 9261 - Mr. Exitos - Vicentico Valdés

SCLP 9262 -

SCLP 9263 -

SCLP 9264 - La Primera y La Unica - Sonora Matancera

SCLP 9265 -

SCLP 9266 - Solo Lo Mejor - Vicentico Valdés

SCLP 9267 - La Guagua - Celia Cruz

SCLP 9268 - Comin' At You - Joe Cuba

SCLP 9269 - Homenaje A Los Santos - Celia Cruz

SCLP 9270 - En Sur America - Vicentico Valdés

SCLP 9271 - Sabor y Ritmo De Pueblos - Celia Cruz

SCLP 9272 -

SCLP 9273 -

SCLP 9274 - Mucho - Lucho Bowen [1965]

SCLP 9275 - El Exitante Freddy Quiroz con Orquesta - Freddy Quiroz [1965]

SCLP 9276 - Saluda a "El Trío Los Panchos" - Meza Perez with Mariachi Palmeros de Ramiro Jauregui [1965]

SCLP 9277 - En México - Odilio González

SCLP 9278 - Sones Cubanos - Septeto Nacional

SCLP 9279 - Un Brindis Musical - Daniel Santos

SCLP 9280 -

SCLP 9281 -

SCLP 9282 - El Nuevo Sonido Fabuloso - Sonora Matancera

SCLP 9283 - Canta Frankie Rodríguez - René Grand

SCLP 9284 - Con La Sonora Matancera, Vol. III - Bienvenido Granda

SCLP 9285 - Así Canta El Corazón - Vicentico Valdés

SCLP 9286 - La Guarachera - Celia Cruz Reissued by Met-Richmond. Hay Comentario/Lindo Puerto Rico/No Quiero Llorar/Rumbanacoa/Lo Tuyo Es Mio/Pila Pilandera/Con Mucho Cachet/Cuando Tu Me Querias/Egoismo/Bombolalle/Pegao/Cachunga

SCLP 9287 -

SCLP 9288 -

SCLP 9289 -

SCLP 9290 -

SCLP 9291 -

SCLP 9292 - No Puedo Olvidar - Vicentico Valdés

SCLP 9293 -

SCLP 9294 -

SCLP 9295 -

SCLP 9296 -

SCLP 9297 -

SCLP 9298 -

SCLP 9299 - El Idiota - Felipe Rodríguez

SCLP 9300 -

SCLP 9301 - Con La Sonora Matancera - Bienvenido Granda

SCLP 9302 -

SCLP 9303 -

SCLP 9304 - Lo Esperado - Leo Marini

SCLP 9305 -

SCLP 9306 - Recuerdame - Armando Vega

SCLP 9307 - Celos Sin Motivo - Odilio González

SCLP 9308 -

SCLP 9309 -

SCLP 9310 - Para Enamorados Solamente - Cheo Feliciano

SCLP 9311 - Homenaje a la Madama - Various Artists [19??] El Congo - Sonora Matancera/Ritmo Omelenco - Celia Cruz/Yambu Pa' Gozar - Sonora Mantancera/Rey Negro - Vicentico Valdes/Choucoune - Celia Cruz/Tumba - Celia Cruz/Baila Yemaya - Celia Cruz/Bonco - Celia Cruz/Agua Pa' Mi - Celia Cruz/Albanza A Chango - Daniel Santos/Virgen De Regla - Generosa/Papa Boco - Alberto Beltran

SCLP 9312 - Homenaje A Yemayá - Celia Cruz

SCLP 9313 -

SCLP 9314 - Oriza - Silvestre Méndez

SCLP 9315 -

SCLP 9316 - Lo Inedito - Dúo Los Compadres

SCLP 9317 - Festejando Navidad - Celia Cruz

SCLP 9318 -

SCLP 9319 - Canta Boleros - Daniel Santos

SCLP 9320 - El Sonero Mayor - Ismael Rivera

SCLP 9321 -

SCLP 9322 - Plenas - Joe Valle

SCLP 9323 - La Plata Sextette Jumps the Charanga - La Plata Sextette

SCLP 9324 -

SCLP 9325 -

SCLP 9326 - El Alma de un Pueblo - Cortijo y Su Combo [19??] Cela Que Te Cela/Volare/A Bailar Mi Bomba/Bahˇa/El manicero//Tequila/Virginia/Monta Mi Caballito/Almendra/Cucala

SCLP 9327 -

SCLP 9328 -

SCLP 9329 -

SCLP 9330 - Las 50 Navidades - Sonora Matancera

SCLP 9331 - ¡Charanga! - Orquesta América del 55

SCLP 9332 -

SCLP 9333 -

SCLP 9334 -

SCLP 9335 - El Unico - Alberto Beltrán

SCLP 9336 - Una Noche En La Habana - Various Artists Reissued by Met-Richmond in 1980. Traffic Mambo/Linda Calenita/Todo Me Gusta De Ti/En El Bajio/Yerbero Moderno/Mucho Gusto/El Gallo Espuelerico/Guasabeo Nabu/Momposina/Micaela/Mambo Infierno/Mienteme

SCLP 9337 -

SCLP 9338 - La Candela Matancera - Sonora Matancera Reissued by Met-Richmond in 1980. Bonco/No Se Lo Diga A Papa/Pan De Piquito/Se Formo El Rumbon/El Mambito/Se Que Tu/Cualquiera Resbala y Cae/Ni Novia Ni Luna/Mi Son Den Boso/El Bunuelo De Maria/Cao Cao Mani Picao/El Muerto

SCLP 9339 - Mambo Tata - Ricardo Ray y Bobby Cruz

SCLP 9340 -

SCLP 9341 -

SCLP 9342 -

SCLP 9343 -

SCLP 9344 -

SCLP 9345 - Boleros - Celia Cruz

SCLP 9346 -

SCLP 9347 -

SCLP 9348 -

SCLP 9349 - With Cheo Feliciano - Joe Cuba

SCLP 9350 - Se Formo El Rumbón - Vicentico Valdés y Miguelito Valdés

SCLP 9351 - Tremendo Cumban - Machito

SCLP 9352 - Clasicas De Un Sonero - Arsenio Rodríguez

SCLP 9353 - El Sonero Mayor, Vol. II - Ismael Rivera

SCLP 9354 - Con Johnny Rodriguez - Carmen Delia Dipiní

SCLP 9355 - Lo Mejor - Tony Pizarro

SCLP 9356 - Con La Sonora Matancera - Bobby Capó

SCLP 9357 - Sus 12 Grandes Exitos, Vol. II - Odilio González

SCLP 9358 -

SCLP 9359 - Puro Cañonazo - Laito


Thanks to Frank Betorina, Stuart C. Johnson, Jose Lopez, George Gimarc, Junior Acevedo, Ted Sonnenschein, Carmelo Esterrich, Bill Holzapple, Kalle Laar, Fernando Llanos, and Randy.





On to the Dawn/Bronjo label discographies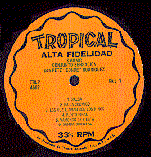 On to the Tropical label discography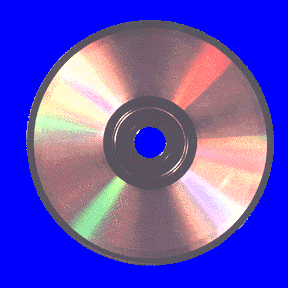 Back to the Discography Listings Page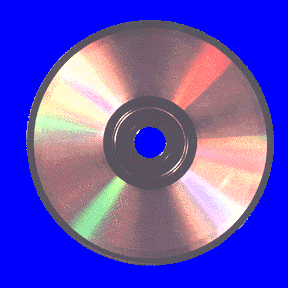 Back to the Both Sides Now Home Page