Bob Keane (formerly Keene, Kuhn) formed Del-Fi Records in Los Angeles in 1957. His first single, "Caravan"/"September Song" by Henri Rose [Del-Fi 4101], released early in 1958, immediately drew the attention of Warner Bros, who bought his contract from Keane and provided enough working capitol for Keene to buy out his partner and run the company.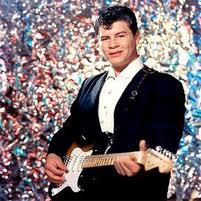 Del-Fi's first successful artist was Ritchie Valens, whose "Come On, Let's Go" entered the national charts in September, 1958, reaching #42. But the followup [Del-Fi 4110], released in November, 1958, turned out to be a two-sided smash: "Donna" reached #2; the flip, "La Bamba," made #22 but has since become a classic. Unfortunately, Valens was killed in the plane crash that also took the lives of Buddy Holly, J.P Richardson, and the pilot in the morning hours of February 3, 1959, while "Donna" was still in the top-10. Keane put out an instrumental soon after by Valens called "Fast Freight" under the thin pseudonym of "Arvee Allens" [Del-Fi 4111], but it didn't chart. Two additional Ritchie Valens records charted, "That's My Little Suzie" [Del-Fi 4114, #55] in April, and "Little Girl" [Del-Fi 4117, #92] in July, but Ritchie's career had just begun when it was snuffed out, and most of what Keane had left were unfinished masters. Valens, of course, has become a much more famous figure over the years than he was as a shy 17-year old.

Other notable singles in 1959 included "Cherrystone" by the Addrisi Brothers [Del-Fi 4116, 6/59, #62], who would become more famous as songwriters in the 1960s and as artists in the early 1970s. In September, Chan Romero's "Hippy Hippy Shake" went nowhere for the moment, but the song became a hit in 1964 when redone by the Swinging Blue Jeans, which brought new attention to the original.

Fifteen releases in 1960 passed without any top-100 chart action, although The Gallahads, a Seattle- based R&B group reached #111 with "Lonely Guy" [Del-Fi 4137]. The song had originally been issued on Donna 1322, but fared a bit better on the parent label. (This was a different Gallahads from the New Jersey outfit with Vincent Bell that hit #62 in 1956 with "The Fool".)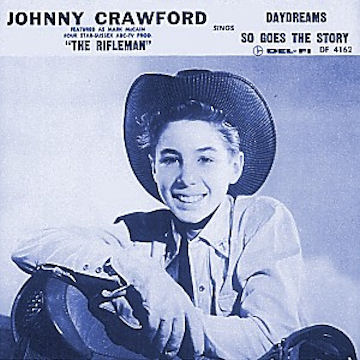 It wasn't until May, 1961, that Del-Fi had another hit: "Those Oldies But Goodies (Remind Me Of You)" [Del-Fi 4158], which put Del-Fi back in the top-10 at #9. Followup singles "Hully Gully Again" [Del-Fi 4164, #54] and "Memories Of Those Oldies But Goodies" [Del-Fi 4166, #101] charted, but failed to repeat the group's initial success.

By June, 1961, Keane had signed the artist who would have the most hits for Del-Fi, young actor Johnny Crawford, co-star of the western television series The Rifleman. Crawford reeled off ten successive chart hits, including three straight top-20 hits in 1962: "Cindy's Birthday" [Del-Fi 4178, 5/62, #8], "Your Nose Is Gonna Grow" [Del-Fi 4181, 8/62, #14] and "Rumors" [Del-Fi 4188, 11/62, #12].

Also in 1962, Del-Fi signed Canadian singing star Bobby Curtola, who contributed minor hits with "Fortune Teller" [Del-Fi 4177, 5/62, #41] and "Aladdin" [Del-Fi 4185, 10/62, #92].

But it was in 1963 that Keane began signing the surf/car bands who would become the mainstay of the label, especially on the album side, for the next couple of years. That year brought the Lively Ones, the Sentinals, the Impacts, Bruce Johnston, the Surf Stompers, Dave Myers & the Surftones, the Romancers, the De-Fenders, the Darts, and the Deuce Coupes.

By 1964, the label was winding down, with only eleven singles released, none of which charted. 1965 was even leaner, with only four singles released before Keane decided to discontinue Del-Fi (and Donna) in favor of Mustang and Bronco.


| | |
| --- | --- |
| Cover | Number - Title - Artist - [Release Date] (Chart) Contents |
| | Del-Fi DFLP/DFST-1200 Series: |
| | DFLP-1201 - Ritchie Valens - Ritchie Valens [3/59] (4-59, #23) Original pressings have the first label design with the circles around the edge of the label. That's My Little Suzie/In A Turkish Town/Come On Let's Go/Donna/Boney-Maronie/Ooh My Head//La Bamba/Bluebirds Over The Mountain/Hi-Tone/Framed/We Belong Together/Dooby-Dooby-Wah |
| | Note: At this point, label changes to the second design (light blue with sawtooth edges). |
| | DFLP/DFST-1202 - The Bob Keene Quintet - Bob Keene Quintet [9/59] Quintet includes Bob Keene (clarinet), Paul Moer (piano), Larry Bunker (vibes), Buddy Clark (bass), and Mel Lewis (drums). This cover was released to jazz outlets. Hey There (S)/Young At Heart (S)/Witchcraft (S)/On The Street Where You Live (S)/I Almost Lost My Mind (S)/Too Close For Comfort (S)//No Not Much (S)/I Could Have Danced All Night (S)/Learnin' The Blues (S)/True Love (S)/It's All Right With Me (S)/Unforgettable (S) |
| | DFLP/DFST-1202 - Unforgettable Love Songs of the Fifties - Bob Keene Quintet [11/59] This cover was released to pop music outlets. Hey There (S)/Young At Heart (S)/Witchcraft (S)/On The Street Where You Live (S)/I Almost Lost My Mind (S)/Too Close For Comfort (S)//No Not Much (S)/I Could Have Danced All Night (S)/Learnin' The Blues (S)/True Love (S)/It's All Right With Me (S)/Unforgettable (S) |
| | DFLP-1203/DFST-1203 - Masque D'Afrique - Voices of Africa [11/59] The Billboard review, in the December 21, 1959 issue, offered, "Another in the long list of albums of African music that are mainly rhythmic rather than musical. The tunes, if they can be called that, feature drums and clarinet, plus a girl's voice and a male voice. Strictly for off-beat buyers. The cover, however, is wild." Ironically, "The Voices of Africa" were Bob Keane, Elsa Nilsson, and Earl Burton. Keane was undoubtedly the clarinet player, with Burton probably playing drums and one of them (Keane?) joining Nilsson on vocals. Night Rain/Anticipation/The Spell/Council/The Tryst/Seduction/Persuasion/Return/The Voice Of Africa/Uprising/Impasse |
| | DFLP/DFST-1204 - Alive-O! - Balladeers [11/59] Callin' (S)/Poor Little Turtledove (S)/Alive-O! (S)/Hey! Fifi (S)/Whistling Thru Rome (S)/Durant Jail (S)//Hurtin' (S)/I'll Wait For You (S)/Morning Star (S)/Cindy (S)/Tom Gets The Last Laugh (S)/Bells Of Laredo (S) |
| | DFLP/DFST-1205 - The Many Sides of Pepino - Tony Martinez [11/59] Stereo information not available. Tony Martinez played farmhand Pepino Garcia on the television show "The Real McCoys." Real McCoys Theme/I Dig You The Most/Agite La Lata/Mandarin Mambo/Sugar Babe/Contigo A La Distancia/Perfume Ee Gardenia/Rum And Coca Cola/Pepino/Cuanto La Gusta/So Long Baby/La Bamba |
| | DFLP-1206 - Ritchie - Ritchie Valens [12/59] Stay Beside Me/Cry Cry Cry/Big Baby Blues/Paddi-Wack Song/My Darling Is Gone/Hurry Up//Little Girl/Now You're Gone/Fast Freight [instrumental released on Del-Fi 4111 as by Arvee Allens]/Ritchie's Blues/Rockin' All Night |
| | DFLP-1207 - To Mother with Love - Various Artists [12/59] This and the following album (1208) were promoted to be Christmas gifts for those who couldn't think of anything to buy their parents. Both albums came with a sheet that could be used as a gift card. The "Del-Fi Chorus" is led by Ray Henderson. To Mother With Love - Del-Fi Chorus/My Mom - Ned Romero/Mommy Darlin' - Elsa Nilsson/Dream Mother - Ned Romero/That Wonderful Mother Of Mine - Del-Fi Chorus//First Lullaby - Del-Fi Chorus/Pal Of My Cradle Days - Ned Romero/Old Fashioned Lady - Elsa Nilsson/You're Faithful To Me - Del-Fi Chorus/My Mother's Pearls - Elsa Nilsson/M-O-T-H-E-R - Del-Fi Chorus |
| | DFLP-1208 - To Dad with Love - Various Artists [12/59] Companion album to 1207 above. The "Del-Fi Chorus" is led by Ray Henderson. To Dad With Love - Del-Fi Chorus/Oh! My Papa - Elsa Nilsson/My Little Bunch - Ned Romero/Papa Won't You Dance With Me? - Elsa & Ilene Nilsson (The Nilsson Twins)/Everybody Works But Father - Del-Fi Chorus/Just A Baby's Prayer At Twilight - Elsa Nilsson//When Work Is Through - Del-Fi Chorus/Momma Loves Papa - Elsa Nilsson & Ned Romero/Poor Papa - Del-Fi Chorus/That Silver-Haired Daddy Of Mine - Ned Romero/Little Child - Del-Fi Chorus/What's The Matter With Father? - Del-Fi Chorus |
| | DFLP-1209 - Vital Organ ('Murder' at the Keyboard) - Ron Feuer [12/59] Too Close For Comfort/Smile/September Song/Heather On The Hill/Lullaby In Rhythm/I'll Remember April/I Love All Of You/Robin's Nest/Best Thing For Me Is You/Why Don't You Do Right |
| | DFLP-1210 - Del-Fi Record Hop - Various Artists [12/59] Hippy Hippy Shake - Chan Romero/La Bamba - Ritchie Valens/Taps To Summer Love - Bill Tracy/'Til The End Of Time - Buddy Landon/Morning Star - Balladeers/The Penalty - Rookies/Please Please Please - Prentice Moreland/Cherrystone - Addrisi Brothers/That's My Little Suzie - Ritchie Valens/You're My Girl - Bill Tracy/Saving My Kisses - Addrisi Brothers/You're A Blabbermouth - Rookies/Tom Gets The Last Laugh - Balladeers/The Old Salt Mine - Addrisi Brothers/We Belong Together - Ritchie Valens/Big Top - Nitehawks |
| | No# - Del-Fi Album Sampler - Various Artists [12/59] Promotional-only album pressed on green vinyl with a printed paper sleeve. Back of the sleeve has photos of DFLP-1201 to DFLP-1210. The album has the second (light blue sawtooth) label design. Come On Let's Go - Ritchie Valens/Donna - Richie Valens/Hey There - Bob Keene Quintet/Witchcraft - Bob Keene Quintet/Return - Voices of Africa/Uprising - Voices of Africa/Durant Jail - Balladeers/Poor Little Turtle Dove - Balladeers/Pepino - Tony Martinez/Sugar Babe - Tony Martinez//Stay Beside Me - Ritchie Valens/Hurry Up - Ritchie Valens/To Mother With Love - Del-Fi Chorus/My Mom - Ned Romero/To Dad With Love - Del-Fi Chorus/Oh! My Papa - Elsa Nilsson/Too Close For Comfort - Ron Feuer/September Song - Ron Feuer |
| | Note: At this point, label changes to the third design (black label with "diamonds" at edges). |
| | DFLP/DFST-1211 - Eden's Island - Eden Ahbez, "Nature Boy" [9/60] Stereo information not available. The album was released with an announcement that Eden Ahbez (writer of the Nat "King" Cole hit "Nature Boy") would walk coast to coast to promote his album, starting in Los Angeles. Original label has the "diamond" design. The Wanderer/Eden's Island/Myna Bird/Eden's Cove/Trade Wind/Full Moon//Mongoose/Market Place/Banana Boy/The Old Boat/Island Girl/La Mar |
| | DFLP/DFST-1212 - The Contemporary Jazz Classics of the Paul Moer Trio - Paul Moer Trio [12/60] Stereo information not available. Azure Blues/I Love Paris/Cutie/Short Politician/To A Folk Song/Moer Or Les//Mary Ann/We'll Be Together Again/Our Waltz/Untitled Melody |
| | DFLP-1213 - Sing Along with Drac - Sheldon Allman [11/60] Children's Day At The Morgue/Fangs For The Memory/Oh You Voo Doo Do Doll/They Can't Take That (Away From Me)/This Can't Be Blood/That Old Old Old Feeling/I Don't Stand A Chance With A Ghost/Amongst My Souvenirs/A Coffin For Sale/Don't Maim Me/These Ghoulish Things Behind Me Are You |
| | DFLP-1214 - In Concert at Pacoima Jr. High - Ritchie Valens [1961] Narration by Bob Keene. Side 1 is a series of home-quality tape recordings from a performance Ritchie gave at his junior high school after he had hit with "Donna." Side 2 includes unfinished tracks recorded at Bob Keane's home. Come On Let's Go (live)/Donna (live)/Summertime Blues (live)/From Beyond (live)/La Bamba (live)//Rhythm Song/Guitar Instrumental/Malagueña/Rock A Little Darlin'/Let's Rock And Roll |
| | DFLP-1215 - Hammond' Cheese - Ron Feuer [1961] Ron Feuer (organ), Frank Rosolino (trombone), Bill Perkins (tenor sax), Paul Moer (piano), Jimmy Bond (bass), and Billy Higgins [credited as Billy Wiggins] (drums). Too Close For Comfort/Smile/September Song/Heather On The Hill/Lullaby In Rhythm/I'll Remember April/I Love All Of You/Robin's Nest/The Best Thing For Me Is You/Why Don't You Do Right |
| | DFLP-1216 - Yazz Per Favore - Emil Richards' Yazz Band [1961] Oh Very Well /Half & Half /Blue Monk/Yazz Per Favore//Green Dolphin Street/Friday The 13th/Little Niles/Well You Needn't |
| | DFLP-1217 - Drunks: Hilarious Off-Guard Encounters with Inebriates - Sheldon Allman [1961] This is an "eavesdrop" LP. Sheldon recorded various drunk people in bars around LA. Phone Booth/Bus Driver/86'd//Parking Lot/Soup Line/Anniversary Present |
| | DFLP-1218 - Memories of Those Oldies but Goodies, Volume 1 - Little Caesar and the Romans [10/61] (There never was a volume 2). Those Oldies But Goodies (Remind Me Of You)/I Need You So/Ten Commandments Of Love/Little Star/Adorable/Memories Of Those Oldies But Goodies//Hully Gully Again/Work With Me Annie-Annie Had A Baby/Searchin'/Fever/C C Rider |
| | DFLP-1219 - A Barrel of Oldies - Various Artists [10/61] Donna - Ritchie Valens/Lonely Guy - Gallahads/Teardrops - Lee Andrews & Hearts/Eternally - Twiliters/I'm Sorry - Bo Diddley/To Be Loved (Forever) - Pentagons/So Long - Johnny Flamingo//Come On Let's Go - Ritchie Valens/Love You So - Ron Holden/Under Stars Of Love - Carlos Brothers/So Dearly - Rosie & Ron/My Babe - Ron Holden/La Bamba - Ritchie Valens |
| | DFLP-1220 - The Captivating Johnny Crawford - Johnny Crawford [3/62] Lucky Star/Treasure/Please Mr. Sun/That's All I Want From You/Tennessee Waltz/We Belong Together//Son Of The Moon/Your Love Is Growing Cold/Donna/Patti Ann/Daydreams/Vaya Con Dios |
| | DFLP-1221 |
| | DFLP/DFST-1222 - Twist to Radio KRLA - Bob Keene Big Band [1962] This version was released in southern California (also see below). Twist And Freeze/Mack The Knife (Moritat)/Ballin' The Jack/What'd I Say/La Bamba/The Peppermint Twist//Twistin' The Saints/The Hucklebuck/Boogie Woogie Twist/Twelfth Street Rag/The Twist |
| | DFLP/DFST-1222 - Military Twist - Bob Keene Big Band [1962] This version was released outside California (also see above). The back slick still says "The most twistin' station in the nation presents...". Label gives album title as Twist To:. Twist And Freeze/Mack The Knife (Moritat)/Ballin' The Jack/What'd I Say/La Bamba/The Peppermint Twist//Twistin' The Saints/The Hucklebuck/Boogie Woogie Twist/Twelfth Street Rag/The Twist |
| | DFLP/DFST-1223 - A Young Man's Fancy - Johnny Crawford [8/62] (9-62, #40) Stereo information not available. Your Nose Is Gonna Grow/Cindy's Birthday/Something Special/Sittin' And A Watchin'/Debbie/I'm Walkin'/Mr. Blue/In the Wee Small Hours/Moon River/Little White Cloud/Young at Heart |
| | DFLP/DFST-1224 - Rumors - Johnny Crawford [12/62] Stereo information not available. Devil Or Angel/Rumors/Lonesome Town/How High the Moon/Living In The Past/Since I Don't Have You//No One Really Loves A Clown/Janie Please Believe Me/Cry On My Shoulder/I Don't Need You/Petite Chanson |
| | DFLP-1225 - Ritchie Valens Memorial Album - Ritchie Valens [12/62] Black Cover, with a photo of Ritchie on cover. Record label is titled "Ritchie". Picture is the same as used of DFLP-1206. Apparently, the "downer" aspect of the black cover presentation was affecting sales, so the album was quickly retitled, rejacketed, and reissued (see below). Donna/We Belong Together/From Beyond/Stay Beside Me/Bluebirds Over The Mountain/In A Turkish Town//Malaguena/La Bamba/Come On Let's Go/Rockin' All Night/Cry Cry Cry |
| | DFLP-1225 - His Greatest Hits - Ritchie Valens [2/63] Retitled reissue of Ritchie Valens Memorial Album in a happier mode, with a white cover featuring a photo of Ritchie Valens with a broad smile. Back cover is same as above album. Record label is titled "Richie Valens". Donna/We Belong Together/From Beyond/Stay Beside Me/Bluebirds Over The Mountain/In A Turkish Town//Malaguena/La Bamba/Come On Let's Go/Rockin' All Night/Cry Cry Cry |
| | DFLP/DFST-1226 - Surf Rider! - Lively Ones [3/63] Surf Beat/Let's Go Trippin'/Misirlou/Guitar Man/Caterpillar Crawl/Walking The Board/Paradise Cove/Goofy Foot/Surf Rider/Happy Gremmie/Hotdoggen/Surfer's Lament |
| | DFLP-1227 - The Very Best of the Oldies - Various Artists [2/63] Goodnight My Love - Jesse Belvin/Once Upon A Time - Rochell & Candles/La Bamba - Ritchie Valens/Dance With Me Henry - Etta James/Come On Let's Go - Ritchie Valens/Love You So - Ron Holden/Cherry Pie - Marvin & Johnny/Something On Your Mind - Big Jay McNeely/Donna - Ritchie Valens//To Be Loved (Forever) - Pentagons/Girl Of My Dreams - Jesse Belvin/Stranded In The Jungle - Cadets/Sweet Sixteen - B.B. King/Those Oldies But Goodies - Little Caesar & Romans/Eddie My Love - Teen Queens/Why Don't You Write Me - Jacks |
| | DFLP/DFST-1228 - Surfers' Pajama Party - Bruce Johnston's Surfing Band [5/63] Stereo information not available. Ramrod/Last Night/Surfer Stomp/What'd I Say/Something On Your Mind//Pajama Party/Kansas City/Mashin' the Popeye/Gee But I'm Lonesome/Green Onions |
| | DFLP/DFST-1228 - Surfers' Pajama Party - Centurians [1963] Stereo information not available. For some reason, possibly a mistake at the pressing plant or a foul-up in the paperwork at the label office, the Centurions album was released using the same catalog number as the Bruce Johnston's "Surfers' Pajama Party". The cover is almost the same, being slightly modified by taking the titles off the front and removing "With the Bruce Johnston Surfing Band ". The record is completely different, crediting the Centurians (a misspelling of "Centurions"), and was probably scheduled to be issued as DFLP-1230. Bullwinkle, Part II/Intoxica/Body Surfin'/Holiday Girl/Church Key/Surf Bird//Vesuvius/Tuff Soul/Sano/Comanche'/Latinia (Latin'ia on reissue)/Surfin' at Mazatland |
| | DFLP/DFST-1229 - His Greatest Hits - Johnny Crawford [2/63] (5-63, #126) Proud (S)/Rumors (S)/Your Nose is Gonna Grow (S)/Cindy's Birthday (S)/Debbie (S)/Patti Ann (S)//Mr. Blue (S)/Sittin' And A Watchin' (S)/Moon River (E)/We Belong Together (E)/Donna (E)/Daydreams (E) |
| | DFLP/DFST-1230 - [This may have been the scheduled catalog number for the Centurions album mistakenly released as DFLP-1228, shown above.] |
| | DFLP/DFST-1231 - Surf Drums - Lively Ones [4/63] Stereo information not available. 40 Miles Bad Road/Surfer Boogie/Wild Weekend/Stoked/Surf Drums/Rumble/Shootin' the Pier/Hillbillie Surf/Mr. Moto/Rik-A-Tic/Bustin' Surfboards/Tuff Surf |
| | DFLP/DFST-1232 - Big Surf! - Sentinals [5/63] Stereo information not available. Big Surf/ Exotic/Latinia/Tough Soul/Revellion/Pismo Beach/Tor-Chula//Intoxica/Sunset Beach /Surfin'/Latin Soul/Shout/Hideaway/Surfin' Tragedy |
| | DFLP/DFST-1233 - ...My Son the Copy Cat... - Stan Ross [2/63] Stan Ross was co- owner of Goldstar Studios in L.A., where Bob Keane did most of his recording. Stereo information not available. Eli Weiss/Stanley Boy/Sunday Chinese Dinner/Butterball/School Days/The In-Law Song/Clement Stein/Nouveau Riche/Washing Gefilte/Solly M. Cohen/Leftovers |
| | DFLP/DFST-1234 - Wipe Out! - Impacts [5/63] Stereo information not available. Steel Pier/Tandem/Sea Horse/Beep Beep/Lisa/Church Key//Wipe Out/Fort Lauderdale/Tears/Revellion/Blue Surf/Impact |
| | DFLP/DFST-1235 - KFWB's Battle of the Surfing Bands! - Various Artists [1963] Stereo information not available. Also see the two albums below. Surf Party - Bruce Johnston/Surf Battle - Lively Ones/Vesuvius - Sentinals/Surfin' Tragedy - Jim Waller & Deltas/Soul Surfin' - Rhythm Kings/Get It - Soul Kings/Tor-Chula - Impacts/White Water - Dave Myers/Ramrod - Challengers/Revellion - Biscaynes/Delano Soul Beat - Charades/Driftin' - Dave Myers |
| | DFLP/DFST-1235 - KPOI's Battle of the Surfing Bands! - Various Artists [1963] Stereo information not available. Same record as the KFWB album above, but a different DJ on the back cover. Surf Party - Bruce Johnston/Surf Battle - Lively Ones/Vesuvius - Sentinals/Surfin' Tragedy - Jim Waller & Deltas/Soul Surfin' - Rhythm Kings/Get It - Soul Kings/Tor-Chula - Impacts/White Water - Dave Myers/Ramrod - Challengers/Revellion - Biscaynes/Delano Soul Beat - Charades/Driftin' - Dave Myers |
| | DFLP/DFST-1235 - KYA's Battle of the Surfing Bands! - Various Artists [1963] Different record with "Surfin' USA" by the Lively Ones replacing Revellion by the Biscaynes. Another different DJ on the back cover. Surf Party - Bruce Johnston/Surf Battle - Lively Ones/Vesuvius - Sentinals/Surfin' Tragedy - Jim Waller & Deltas/Soul Surfin' - Rhythm Kings/Get It - Soul Kings/Tor-Chula - Impacts/White Water - Dave Myers/Ramrod - Challengers/Surfin' USA - Lively Ones/Delano Soul Beat - Charades/Driftin' - Dave Myers |
| | DFLP/DFST-1236 - The Original Surfer Stomp - Surf Stompers [5/63] Stereo information not available. Surfer's Pajama Party/Kansas City/Mashin' The Popeye/Gee But I'm Lonesome/Green Onions//Ramrod/Last Night/The Original Surfer Stomp/What'd I Say/Something On Your Mind |
| | DFLP/DFST-1237 - Surf City - Lively Ones [6/63] Stereo information not available. Surf City/Telstar Surf/Head's Up/Malibu Run/Misirlou/Surf Rider//Soul Surfer/Sleep Walk/Crazy Surf/Livin'/Tranquilizer/40 Miles Of Bad Surf |
| | DFLP/DFST-1238 - The Great Surf Hits!! - Lively Ones [6/63] Stereo information not available. Surf Rider/Wipe Out/Surf City/Rik-A-Tic/High Tide/Shutdown/Pipeline/Misirlou/Surfin' U.S.A./Hot Pastrami/Surf Beat/Surfin' Safari |
| | DFLP/DFST-1239 - Hangin' Twenty! - Dave Myers and the Surftones [1963] Stereo information not available. Frog Walk Part II/Church Key/Smokey Stomper/Kings Surf/Aquavelva/Surferama//Moment Of Truth/Road To Rincon/Surfbreaker/Surfer's Theme/Passion/Wetwalkin' |
| | DFLP/DFST-1240 - Surfin' South of the Border - Lively Ones/Surf Mariachis [1963] Stereo information not available. Torquay - Lively Ones/Baja - Surf Mariachis/Mexico - Lively Ones/Limbo Rock - Surf Mariachis/More - Surf Mariachis/Exodus - Lively Ones//Tequila - Lively Ones/Watermelon Man - Surf Mariachis/Undertow - Surf Mariachis/Walking Memories - Lively Ones/Latinia - Lively Ones/Surf Fiesta - Surf Mariachis |
| | DFLP/DFST-1241 - Surfer Girl - Sentinals [1963] Stereo information not available. Surf 'N Soul/Gremmies Walk/The Sentinal/Free And Easy/Surfer Girl/The Pipe//Surf Stomper/Blue Booze/Ooh Poh Pa Doo/Nite Shuffle/Sensation/Twilighter |
| | DFLP/DFST-1242 - Drag Beat - De-Fenders [10/63] Stereo information not available. Deuces Wild/Taco Wagon/Movin' And Groovin'/Skin Diver/Loose Nuts/Little Deuce Coupe//Drag Beat/Wheelin' Home/Four Banger/Tequila Joe/Rum Runner/Road Runner |
| | DFLP/DFST-1243 - Hotrodder's Choice - Deuce Coupes [1963] Stereo information not available. Smooth Stick/Road Rattler/Tijuana Gasser/Gear Masher/Candy Apple Blue/Satan's Chariot//Hayburner/Dawn Patrol/Four Banger/Double A Fueler/Nite Surfer/Nite Prowler |
| | DFLP/DFST-1244 - Hollywood Drag - Darts [10/63] Stereo information not available. Corn Pone/Hippy's Delight/Street Machine/Gaucho/Shop Talk/Hollywood Drag//Top Eliminator/Alky Burner/ Detroit Iron/Slauson And Soto/Cruisin'/ Monkey Do |
| | DFLP/DFST-1245 - Do The Slauson - Romancers! [1963] Slauson Shuffle/Soto City/All Aboard/Slow Shift/Patricia/Tough Talk//Slauson Sax/Double Slauson/Huggy's Bunnies/Name It/Mint Julep/Sticky |
| | DFLP/DFST-1246 - Let's Do the Swim - Romancers [Unreleased] This number was probably going to have been used for the second Romancers album. The album was instead issued on Selma 1501, a Del-Fi subsidiary. Do The Swim/I Want To Swim/Sadie Wants To Swim/Birdland/Last Night/Goofie's Rabbits/Do The Blackstone/Elevation/Dog Paddle/Swim 'Til Dawn/Wiggle Wabble/Monkey Swim |
| | DFLP-1247 - His Greatest Hits Vol. 2 featuring La Bamba! - Ritchie Valens [1964] Record label has "La Bamba" as the title. La Bamba/That's My Little Susie/Ooh My Head/Let's Rock and Roll/Cry Cry Cry/Bonie Maronie//Donna/Rock Lil' Darlin'/Dooby Dooby Wah/Framed/Now You're Gone/Little Girl |
| | DFLP/DFST-1248 - His Greatest Hits Vol. 2 - Johnny Crawford [1964] The Girl Next Door/Cindy's Gonna Cry/What Happened To Janie/Cindy's Birthday/Sandy/Judy Loves Me//Petite Chanson/How High The Moon/Janie Please Believe Me/Your Nose Is Gonna Grow/When I Fall in Love/Lonesome Town |
| | DFLP/DFST-1249 - Big Surf Hits - Various Artists [1964] Stereo information not available. Wipe Out - Impacts/Big Surf - Sentinals/Surfer Stomp - Surf Stompers/Surf Rider - Lively Ones/Bullwinkle Pt. II - Centurions//Undertow - Surf Mariachis/Hillbilly Surf - Lively Ones/Blue Surf - Impacts/Moment Of Truth - Dave Myers/Green Onions - Surf Stompers/Church Key - Dave Myers/Watermelon Man - Surf Mariachis |
| | Note: We believe the above album (DFLP/DFST-1249) was the last of the original Del-Fi releases in the 1960s. The album directly below was issued in 1987 to capitalize on the motion picture La Bamba. The following albums, issued starting in the 1990s on CD, continue the above numbering sequence. Del-Fi has also re-released many of the earlier LPs on CD (using Rhino's numbering system). An example of the numbering system is as follows: A Barrel of Oldies, originally DFLP-1219, becomes DFCD 71219-2 on CD. The CD reissues sometimes feature additional tracks not on the original vinyl. |
| | DF-1287 - La Bamba '87 - Ritchie Valens [1987] 12" EP, with "updated" versions of the title song. La Bamba '87 (Long Version)/La Bamba '87 (Uno Vez Mas)//La Bamba '87 (Latino Power Mix)/La Bamba '87 (Hi-Tone Rock Box Mix) |
| | Note: The following are compact disc issues. |
| | DFCD 71250-2 - Bullwinkle Part II - Centurions [8/8/95] This is a CD reissue of the mis-pressed DFLP-1228 "Surfer's Pajama Party" by the Centurions [aka Centurians] with a new cover. Stereo information not available. Reissued in 2004 on Collectors Choice Music. Bullwinkle, Part II/Intoxica/Body Surfin'/Holiday Girl/Church Key/Surf Bird//Vesuvius/Tuff Soul/Sano/Comanche'/Latin'ia/Surfin' at Mazatland |
| | DFCD 71251-2 - Hippy Hippy Shake - Chan Romero [8/8/95] This is a CD release of the Chan Romero Del-Fi material, plus his Challenge Records recordings, plus a demo tape recorded in Bob Keane's home. Stereo information not available. Reissued in 2006 on Collectables. My Little Ruby/I Don't Care/Hippy Hippy Shake/I Want Some More/If I Had A Way/Memories Of You/Your Love/It's Not Fair/Rock House/My Angel/Hippy Hippy Shake (alternate)/Baby Doll/Boppin' & Hoppin'/La Bamba/Playboy |
| | DFCD 71252-2 - The Slauson Shuffle - Romancers! [8/8/95] This is a CD reissue combining songs from DFLP-1245 Do the Slauson with Selma 1501 Let's Do the Swim. Stereo information not available. The Slauson Shuffle/Soto City/All Aboard/Slow Shift/Tough Talk/Slauson Sax/Name It/Mint Julep/Sadie Wants to Swim/Birdland/Last Night Again/Monkey Swim/Dog Paddle/Elevation/Goofie's Rabbits |
| | DFCD 71253-2 - Shake That Thing - Larry Bright [4/30/97] This has the original version of the minor hit "Mojo Workout (Dance)," which was on the Tide label in 1960, a Del-Fi subsidiary. Bacon Fat (M)/Shake That Thing (M)/Maybelline (E)/New Orleans (M)/I'm A Man (M, alternate take)/Got My Mojo Working (M)/When I Did The Mashed Potatoes With You (M)/Surfin' Queen (M)/My Hands Are Tied (M)/One Ugly Child (M)/Mojo Workout (Dance) (M)/Bloodhound (M)/Twinkie Lee (M)/(I'm A) Mojo Man (M)/Teenage Jailbreak (M, demo, with studio talk)/Ugly American (M, demo, with studio talk at start and end)/The Thing (M) |
| | DFCD 71254-2 - Cherrystone - Addrisi Brothers [7/24/97] Cherrystone (M, with studio talk)/Back To The Old Salt Mine (M)/Sugar Baby (M)/It's Love (M)/Un Jarro (M)/Saving My Kisses (M)/Honey Baby (M)/Lilies Grow High (M)/Gonna See My Baby (M)/Ven Ami (M)/My Pretty Baby (M)/I'll Be True (M)/Un Jarro (S)/Back To The Old Salt Mine (S, demo)/It's Love (S, demo)/Hurry Up (S, demo)/Cherrystone (S, demo) |
| | DFCD 71255-2 - Boss Soul: The Genius of Barry White - Various Artists [8/4/98] These are songs produced by Barry White for the Mustang and Bronco labels. I Don't Need It - Lee Barry [Barry White]/Man Ain't Nothin' - Lee Barry [Barry White]/I Got Love - Viola Wills/Lost Without The Love Of My Guy - Viola Wills/This Thing Called Love - Johnny Wyatt/To Whom It May Concern - Johnny Wyatt/Together Forever - Viola Wills/Don't Kiss Me Hello - Viola Wills/It May Be Winter Outside - Felice Taylor/Everybody's Going Mod - Johnny Wyatt/I Feel Love Coming On - Felice Taylor/You're Out Of My Mind - Viola Wills/Under The Influence Of Love - Felice Taylor/All In The Run Of A Day - Barry White/Don't Take Your Love From Me - Barry White/Love Theme - Barry White |
| | DFCD 71256-2 - Doo-Wop, Volume 1: To Be Loved Forever - Various Artists [3/17/98] To Be Loved (Forever) - Pentagons (M)/Be Fair - Gallahads (M)/You, You, You - Ercelle Tisby (M)/This Letter To You - Gallahads (M)/Deserie - Blue Angels (M)/I'm Gonna Love - Valentino & Lovers (M)/My Baby's All Right - Castaleers (M)/ Betty Jean - Little Caesar & Romans (M)/This Is The Answer To Love - Gallahads (M)/You're Mine - Johnny Flamingo (M)/I Like The Way You Look At Me - Pentagons (M)/That's Why I Cry - Castaleers (M)/What In The World Can I Do? - Hep Cats (M)/Tenderly Beloved - Al McGee (M)/I'll Never Stop Dreaming - Ercelle Tisby (M)/Memories Of Those Oldies But Goodies - Little Caesar & Romans (M); Hidden Bonus Track: Teardrops Fell - Larry Frost (M) |
| | DFCD 71257-2 - Doo-Wop, Volume 2: One Teardrop Too Late - Various Artists [3/17/98] Lonely Guy - Gallahads (M)/Twelve Months Of The Year - Little Caesar & Romans (M)/I - Johnny Flamingo (M)/Like Heaven - Blue Angels (M)/I`m Without A Girlfriend - Gallahads (M)/I`m Gonna Find Myself A Guy - Watesians (M)/One Teardrop Too Late - Valentino & Lovers (M)/Echo - Brenda Holloway (M)/For A Love That Is Mine - Pentagons (M)/Mr. Fabulous - Doretha Moore (M)/So Tough - Furys (M)/Read The Book Of Love - Hal Davis (M)/Jo Jo The Big Wheel - Gallahads (M)/My Love I Can`t Hide - Little Johnny McCall (M)/Gift Of Love - Van Dykes (M)/Wedding Bells - Little Joe Mosley & Sequins (M) |
| | DFCD 71258-2 - Doo-Wop, Volume 3: Honey For Sale - Various Artists [4/7/98] Chip Nelson is actually Earl Nelson of Bob & Earl and Jackie Lee ("The Duck") fame. The Dilly Up - Hep Cats (M)/Honey For Sale - Chip Nelson (M)/Hey Fool - Brenda Holloway (M)/My Wife Can't Cook - Blue Satins (M)/Down At The Beach - Pentagons (E, essentially mono with two-channel anomalies)/Please Please Please - Patrice Moreland (M)/Yoyo Yo Yoyo - Little Caesar & Romans (M)/Chinese Junk - Patrice Moreland (M)/Looking For Your Heart - Patrice Moreland (S)/Alley Oop Cha Cha Cha (S, essentially mono with percussion that goes from side to side)/Lookin' For A Job - Little Joe Mosely & Sequins (M)/Quiet As It's Kept - Chip Nelson (M)/Heads Up High Hopes Over You - Pharaohs (E)/Wagon Wheels - Prentice Moreland (M)/Foolish One - Dorothea Moore (M)/Choo-Choo Train - Mystery Artist (M) |
| | DFCD 71259-2 - An Afternoon Affair - Verrill Keene [11/7/96] Clarinet instrumentals. Looks like Bob Keene on the cover. Lily's Back/An Afternoon Affair/Chanelle's Theme/Velvet Waters/Night Scene/Norwegian Wood/Salt Water Taffy/Adios Marquita Linda/Heartbreak/Hot Pink |
| | DFCD 71260-2 - Reverb Explosion! - El Caminos [10/3/97] Japanese surf band. Exotic/Sumo Wrestler/Big Surf/Hornet's Nest/Pachuko Soul/Exodus/Reverb Explosion, Part 1/The Wedge/Rolling Sushi/Shock Wave '95/T.J. Slough/Death Race/Quite A Surf Party/Gerugugu/How! |
| | DFCD 71261-2 - Cucamonga - Frank Zappa [2/17/98] Dear Jeepers - Bob Guy/World's Greatest Sinner - Baby Ray & The Ferns/How's Your Bird? - Baby Ray & The Ferns/Every Time I See You - Heartbreakers/Cradle Rock - Heartbreakers/Slow Bird - Paul Buff/Slow Man's Buff - Paul Buff/Mr. Clean - Mr. Clean/Jesse Lee - Mr. Clean/Cathy My Angel - Pauls/'Til September - Pauls/Heavies - Rotations/The Cruncher - Rotations/Letter From Jeepers - Bob Guy |
| | DFCD 71262-2 - Toga! Toga! Toga! - Little Caesar & the Romans [4/7/98] Those Oldies But Goodies (Remind Me Of You)/She Don't Wanna Dance/I Need You So/Ten Commandments Of Love/C.C. Rider/Little Star/Adorable/Memories Of Those Oldies But Goodies/Fever/Popeye One More Time/YoYo Yo YoYo/Hully Gully Again/Frankie And Johnny/Work With Me Annie - Annie Had A Baby/Searchin'/Quarter To Three/Twelve Months Of The Year/Memories/Betty Jean/Three Weeks Ago Today |
| | Note: The following three CDs feature cover photos of actress Kari Wührer. |
| | DFCD 71263-2 - Del-Fi Beach Party! - Various Artists [4/18/98] This album is mono. Mazatlan - Bruce Johnston/Dancing In The Sand - Wayne Hollers/Church Key - Gonzos/Bikini - Ricky Dean/Aquavelva - Dave Myers & Surftones/Sammy The Sidewalk Surfer - Surfettes/Surfin' Queen - Larry Bright/Only Donna's Friend - Tom & Larry/Twist To KCBQ - Centavos/Okie Surfer - David Gates/Surfer's Delight - Bruce Johnston/Twist & Freeze - Bob Keene Orchestra/Little Bitty Limbo - Ricky Dean/Surfboard - René & Ray/Bongo Beach - Preston Epps |
| | DFCD 71264-2 - Del-Fi Pool Party! - Various Artists [10/6/98] This album is mono. Watusi Bongos - Preston Epps/High Dive - Bill Lewis/Wild Twist - Rollercoasters/Soupy Shuffle Stomp - Bruce Johnston/La Bamba - Bob Keene Orchestra/The Goose, Part 1 - Don Markham & The Marksmen/Here Comes Ringo - Tributes/Come On, Let's Go - Enchanters/Willie & The Hand Jive - Moongooners/Moon Shot (a.k.a. Soupy Shuffle Stomp, Part 2) - Bruce Johnston/Phone Call - Mystery Artist/Mack The Knife - Bob Keene Orchestra/Jimmy's Party - Jack Herbst/Hard Way Four - Little Joe Washington/Swim Beat - Bill Lewis |
| | DFCD 71265-2 - Jungle Jive! - Various Artists [1/26/99] Seduction - Voices Of Africa/Swahili - Bob Keene Orchestra/Native Love - Enchanters/Jungle Fever - Shadows/Beachcomber Song - Rockyfellers/Moonglow Cha Cha Cha - Executives/Rum and Coca-Cola - Pepino/Bongo Twist - Preston Epps/Karate Again - Bedwells/Night Rain - Voices Of Africa/Warsw Concerto - Philharmonics/Woman Needs Man - Rockyfellers/Mandarin Mambo - Pepino/On The Alamo - Executives/La Cubalibra - Rene Hall/Terror - Grippers/On The Ginza - Yo Yo Hashi/Uprising - Voices Of Africa |
| | DFCD 71266-2 - Del-Fi Girl Groups: Gee Baby Gee - Various Artists [7/9/99] It's The Last Time - Ladybugs/Sooner Or Later - Ladybugs/Gee Baby Gee - Sisters/Every Little Bit Hurts - Brenda Holloway/Ooh Poo Pah Doo - Sisters/My Love (For Thee) - Pippy Shannon/The Home Of The Boy I Love - Lori Martin/I'll Give My Life - Brenda Holloway/All Grown Up - Sisters/He Is - Pippy Shannon/Mine 'Til Monday - Lori Martin/Shade Of Red - Pippy Shannon/I Pretend - Pippy Shannon/Tourne Toi - Pierre & Anne-Lyse/Splish Splash Twist - Desda/His Name Was John - Sisters/Happy New Year Baby - Sisters/Wait 'Til My Bobby Gets Home - Sisters/For Sentimental Reasons - Sisters/A Lover's Plea - Mary Sawrey/Those Memories Of You - Mary Sawrey |
| | DFCD 71267-2 - |
| | DFCD 71268-2 - Sunset Beach: The Best of the Sentinals - Sentinals [7/13/99] Big Surf/Exotic/Latin'ia/Tough Soul/Revellion/Pismo Beach/Shout/ Tor-Chula/Sunset Beach/Surfin'/Intoxico/Latin Soul/ Hideaway/Surfin' Tragedy/Surf 'N Soul/Gremmies Walk/The Sentinal/Free and Easy/Surfer Girl/The Pipe/Surf Stomper/Blue Booze/Ooh Poh Pa Doo/Nite Shuffle/Sensation/Twilighter/Vesuvius |
| | DFCD 71269-2 - The Moment of Truth: The Best of Dave Myers & the Surftones - Dave Myers & the Surftones [8/3/99] Frog Walk Part II/Church Key/Smokey Stomper/King's Surf/Aquavelva/Surferama/Moment Of Truth/Road To Rincon/Surf Breaker/Surfer's Theme/Passion/Wet Walkin'/Driftin'/White Water |
| | DFCD 71270-2 - Hollywood Hot Rods - Various Artists [2000] Gear Masher - Deuce Coupes/Nite Prowler - Deuce Coupes/Candy Apple Blue - Deuce Coupes/Monkey Si - Deuce Coupes/Road Rattler - Deuce Coupes/Hayburner - Deuce Coupes/Slauson & Soto - Darts/Monkey Do - Darts/Gaucho - Darts/Shop Talk - Darts/Hippy's Delight - Darts/Corn Pone - Darts/Four Banger - De Fenders/Deuces Wild - De Fenders/Skin Diver - De Fenders/Wheelin' Home - De Fenders/Moovin' N' Groovin' - De Fenders/Loose Nuts - De Fenders/Backseat '38 Dodge - Opus I/Candymatic - Roadsters/Mag Rims - Roadsters/The Fastest Car In Town - Crockett Brothers |
| | DFCD 71271-2 - Wild Eleki Deluxe - Royal Fingers [4/24/01] This album is mono. Go Royal Fingers Go/Bluejean No. 1/Black Sand Beach/Bonneville/Hey Chance!/Golden Guitar/Ace Of Toyota/Running Donkey//Point Panic/Violet Sky/Test Driver/West Side Guitar/Wild Datsun/Burning 240Z/Crazy Sue Sax/Ajoen Ajoen/The L.A./Echo Rocket '66 |
| | DFBX 2359 - Come On, Let's Go! - Ritchie Valens [1992] (3-CD box set) The catalog number is obviously made up from the date of the plane crash, i.e., 2/3/59. This set contains a double-CD and a third one in a paper sleeve (Pacoima Jr.High), two booklets, seven "Lobby cards", a 14-1/2"x 22-1/2" "Movie poster" and two cards for voting Ritchie Valens into the Rock & Roll Hall of Fame. Disc 1 (Ritchie Valens and Ritchie LPs): That's My Little Suzie (M)/In A Turkish Town (M)/Come On Let's Go (M)/Donna (M)/Boney Maronie (M)/Ooh! My Head (M)/La Bamba (M)/Bluebirds Over The Mountain (M)/Hi-Tone (M)/Framed (M)/We Belong Together (M)/Dooby Dooby Wah (M)/Stay Beside Me (M)/Cry Cry Cry (M)/Big Baby Blues (M)/Paddi-Wack Song (M)/My Darling Is Gone (M)/Hurry Up (M)/Little Girl (M)/Now You're Gone (M)/Fast Freight (M)/Ritchie's Blues (M)/Rockin' All Night (M)/Cry Cry Cry (M)/That's My Little Suzie (S)/La Bamba (S); Disc 2 (Bob Keane's Home Recordings): We Belong Together (S)/Come On, Let's Go (S)/In A Turkish Town (S)/Doobie Doobie Wah (S)/Ritchie's Blues (S)/Bluebirds Over The Mountain (S)/Blues With Drums (S)/I Got A Gal Named Sue (S)/Donna (take #2) (S)/Blues Instrumental (S)/Cry Cry Cry (take #1) (S)/Stay Beside Me (M)/Malagueña [with the Silhouettes] (S)/Blues Slow (S); Goldstar Studio Outtakes: In A Turkish Town (S)/Bluebirds Over The Mountain (M)/Cry Cry Cry (M); Disc 3 (In Concert at Pacoima Jr. High): Bob Keane Intro from Side 1 (M)/Come On Let's Go (M, live)/Donna (M, live)/Summertime Blues (M, live)/From Beyond (M, live)/La Bamba (M, live)/Bob Keane Intro from Side 2 (M)/Rhythm Song (M)/Guitar Instrumental (M)/Malagueña (M)/Rock A Little Darlin' (M)/Let's Rock And Roll (M); Bob Keane's Home Recordings: Cry Cry Cry (take #2) (M)/Donna (take #1) (M)/; Goldstar Studio Outtakes: Dooby Dooby Wah (M)/That's My Little Suzie (M)/Ooh! My Soul (early test fragment) (M)/La Bamba (band track) (M)/Donna Commercial (M) |
| | RELATED LPs: |
| | MGM GAS-117 - Ritchie Valens: Golden Archive Series - Ritchie Valens [1968] Donna (M)/We Belong Together (M)/From Beyond (M)/Stay Beside Me (M)/In A Turkish Town (M)//Malaguena (M)/La Bamba (M)/Come On Let's Go (M)/Rockin' All Night (M)/Hurry Up (M) |
| | Rhino RNBC-2798 - The History of Ritchie Valens - Ritchie Valens [1981] (3 LP box set) Reissue of Ritchie Valens, Ritchie, and Ritchie Valens in Concert at Pacoima Jr. High School as a box set. Disc 1 (Ritchie Valens): That's My Little Suzie/In A Turkish Town/Come On Let's Go/Donna/Boney-Maronie/Ooh My Head//La Bamba/Bluebirds Over The Mountain/Hi-Tone/Framed/We Belong Together/Dooby-Dooby-Wah; Disc 2 (Ritchie): Stay Beside Me/Cry Cry Cry/Big Baby Blues/Paddi-Wack Song/My Darling Is Gone/Hurry Up//Little Girl/Now You're Gone/Fast Freight [Arvee Allens]/Ritchie's Blues/Rockin' All Night; Disc 3 (In Concert at Pacoima Jr. High): Come On Let's Go (live)/Donna (live)/Summertime Blues (live)/From Beyond (live)/La Bamba (live)//Rhythm Song/Guitar Instrumental/Malagueña/Rock A Little Darlin'/Let's Rock And Roll |
| | Rhino RNDF-200 - The Best of Ritchie Valens - Ritchie Valens [1981] La Bamba/Bluebirds Over The Mountain/In A Turkish Town/Ooh! My Head/Paddiwack Song/Stay Beside Me/Malegueña//Come On, Let's Go/Donna/Fast Freight [Arvee Allens]/We Belong Together/That's My Little Suzie/Hurry Up/Little Girl |
| | Rhino RNDF-202 - The Best of Johnny Crawford - Johnny Crawford [1982] Cindy's Birthday (S)/Patti Ann (E)/No One Really Loves A Clown (E)/Daydreams (E)/What Happened To Janie (E)/Your Nose Is Gonna Grow (E)/Lonesome Town (M)//Rumors (S)/The Girl Next Door (E)/Proud (S)/Cindy's Gonna Cry (E)/Sandy (E)/Judy Loves Me (E)/We Belong Together (E) |
| | Ace (UK) CH-63 - Those Oldies But Goodies From Del-Fi - Various Artists [1982] Hippy Hippy Shake - Chan Romero (M)/High Dive - Bill Lewis (M)/My Babe - Ron Holden (M)/Love You So - Ron Holden (M)/Little Deuce Coupe - Defenders (M)/Come On Let's Go - Ritchie Valens (M)/ (M)/Ooh My Head - Ritchie Valens (M)/My Little Ruby - Chan Romero (M)/Under Stars Of Love - Carlos Brothers (M)/It's Love - Addrisi Brothers (M)/Cherrystone - Addrisi Brothers (M)/Fast Freight - Arvee Allens (M) |
| | Rhino RNLP-70178 - The Best of Ritchie Valens (Golden Archive Series) - Ritchie Valens [1987] (8-87, #100) Repackaging of RNDF-200, reissued to coincide with the movie La Bamba. La Bamba/Bluebirds Over The Mountain/In A Turkish Town/Ooh! My Head/Paddiwack Song/Stay Beside Me/Malegueña//Come On, Let's Go/Donna/Fast Freight [Arvee Allens]/We Belong Together/That's My Little Suzie/Hurry Up/Little Girl |
| | Rhino RNLP-70231 - Ritchie Valens - Ritchie Valens [1987] Reissue of Del-Fi DFLP 1201. That's My Little Suzie/In A Turkish Town/Come On Let's Go/Donna/Boney-Maronie/Ooh My Head//La Bamba/Bluebirds Over The Mountain/Hi-Tone/Framed/We Belong Together/Dooby-Dooby- Wah |
| | Rhino RNLP-70232 - Ritchie - Ritchie Valens [1987] Reissue of Del-Fi DFLP 1206. Stay Beside Me/Cry Cry Cry/Big Baby Blues/Paddi-Wack Song/My Darling Is Gone/Hurry Up//Little Girl/Now You're Gone/Fast Freight [Arvee Allens]/Ritchie's Blues/Rockin' All Night |
| | Rhino RNLP-70233 - In Concert at Pacoima Jr. High - Ritchie Valens [1987] Reissue of Del-Fi DFLP-1214. Narration by Bob Keene. Come On Let's Go (live)/Donna (live)/Summertime Blues (live)/From Beyond (live)/La Bamba (live)//Rhythm Song/Guitar Instrumental/Malaguena/Rock A Little Darlin'/Let's Rock and Roll |
| | Rhino RNPRO-1987 - Bob Keane Tells the Ritchie Valens Story - Bob Keene with Ritchie Valens Music [1987] Promotional disc in a plain white jacket with an 8-1/2x11-inch white paste-on sheet on front cover. Yellow Rhino/Del-Fi label with black printing. Interview sequence is listed on the paste-on sheet, but there are no bands on the LP, which runs 14:27. Record has only one side ("The Only Side"), with the other side blank. Introduction/How Did You First Meet Ritchie Valens?/What Led You To Sign A Mexican-American Teenager From Pacoima, California To Your Label?/When Did You First Hear Ritchie Sing "La Bamba?"/Bob Intros "La Bamba"/Were You Surprised That A Major Motion Picture Was Made On The Life Of Ritchie Valens?/How Does The Movie La Bamba Compare To The Real Ritchie Valens Story?/Did You Really Record "Donna" In The Basement Of Your Home?/Bob Intros "Donna"/What Happened When You Heard Ritchie Had Died In A Plane Crash?/What Do You Think About Ritchie's Music Being As Popular As It Was 30 Years Ago?/What Do You Remember Most Fondly About Ritchie Valens?/Bob Intros "Come On Let's Go"/Why Didn't They Use Ritchie Valens' Original Recordings In The Movie?/How Do You Feel About Seeing Ritchie's Music Back In The Stores Again?/"La Bamba" Reprised. |
| | RELATED CDs: |
| | Ace (UK) CDCHD 313 - The Def-Fi & Donna Story - Various Artists [1991] Hippy Hippy Shake - Chan Romero (M)/That's My Little Suzie - Ritchie Valens (M)/My Babe - Ron Holden (M)/Jungle Fever - Shadows (S)/Love You So - Ron Holden (M)/I Don't Care Now - Chan Romero (M)/Rumors - Johnny Crawford (S)/Little Cupid - Carlos Brothers (M)/Gonna See My Baby - Addrisi Brothers (M)/I Want Some More - Chan Romero (M)/Marie - Dick Dale (M)/The Untouchables - Rene Hall (M)/Fast Freight - Arvee Allens (Ritchie Valens) (M)/Blabbermouth - Fantastics (M)/Is It A Dream - Johnny Flamingo (S)/Under Stars Of Love - Shadows (S)/When I Did The Mashed Potato - Larry Bright (M)/A Little More Wine My Dear - Hawks (M)/Cherrystone - Addrisi Brothers (M)/My Little Ruby - Chan Romero (M)/La Bamba - Ritchie Valens (M)/Proud - Johnny Crawford (S)/To Be Loved (Forever) - Pentagons (M)/Everything's Gonna Be Alright - Ron Holden with the Thundertones (S)/Back To The Old Salt Mine - Addrisi Brothers (M)/Please Please Please - Ronnie & Pamona Casuals (M)/Miserlou - Lively Ones (M)/Big Surf - Sentinals (M)/The Okie Surfer - David Gates (M)/Original Surfer Stomp - Bruce Johnston (S)/KRLA Jingle - Surfettes (M) |
| | Ace (UK) CDCHD 317 - The Lost Tapes - Ritchie Valens [1992] This is a 40-track CD of demos and outtakes from Bob Keane's home recordings and studio sessions at Goldstar. We Belong Together (S)/Blues With Drum (S)/Ritchie's Blues (S)/Come On Let's Go (S)/In A Turkish Town (S)/Dooby Dooby Wah (S)/Bluebirds Over The Mountain (S)/That's My Little Suzie (S)/Let's Rock And Roll (M)/Donna (S, two takes)/Blues Instrumental (S)/Cry Cry Cry (S, two takes)/Malegueña (S)/Slow Blues (S)/Stay Beside Me (M)/Rhythm Song (M)/Guitar Instrumental (M)/Rock Li'l Darlin' (M)/Cry Cry Cry (S, two takes)/Cry Cry Cry (M, two takes)/Dooby Doody Wah (M, two takes)/In A Turkish Town (S, two takes)/La Bamba (M, four takes)/Bluebirds Over The Mountain (M, four takes)/That's My Little Suzie (M, two takes)/Ooh! My Head (M)/Donna (Ritchie Valens Commercial) (M) |
| | Ace (UK) CDCHD 489 - The Return of the Def-Fi & Donna Story - Various Artists [1994] Intro From Pacoima Junior High - Fan Club Secretary (M)/Come On Let's Go - Ritchie Valens (M)/Alone And Blue - Addrisi Bros. (M, with studio talk)/Wild Twist - The Roller Coasters (M)/For Your Love - Chan Romero (M)/She Don't Wanna Dance (No More) - Little Caesar & Romans (M)/Quiet As It's Kept - Chip Nelson (M)/You're Mine - Johnny Flamingo (M)/Fussy - Hawks (M)/Big Top - Nitehawks (M)/Unjarro - Addrisi Bros. (M)/Dancing In The Sand - Wayne Hollers (M)/Watusi Bongos - Preston Epps (S)/Seeing Double - Ron Holden (M)/If I Had My Way - Chan Romero (M)/Sugar Baby - Addrisi Bros. (M)/Terror - Grippers (M)/Rockin' Matilda - Swags (M)/Summertime Blues - Ritchie Valens (M, live)/Hippy Hippy Shake - Chan Romero (S, demo)/Rock House Party - Chan Romero (S, demo)/Playboy - Chan Romero (S, demo)/La Bamba - Chan Romero (S, demo)/My Little Ruby - Chan Romero (S, demo)/Slauson Sax - Romancers (M)/Tell Me - Gerry Langford (M)/Blowin' The Blues - Swags (M)/Betty Jean - Little Caesar & Romans (M)/True Love Can Be - Ron Holden (S)/Walking Alone - Pentagons (M)/I Want Some More - Chan Romero (M, demo)/I Want Some More - Chan Romero (M) |