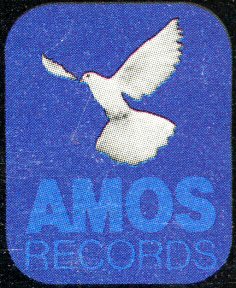 Amos Album Discography
By Mike Callahan, Patrice Eyries, and Dave Edwards
Last update: June 23, 2007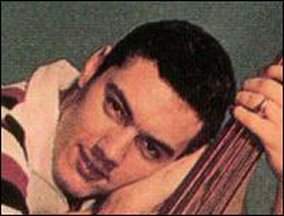 Amos Records was founded in mid-1968 in Los Angeles by Jimmy Bowen. Bowen was a veteran of the music business, having had both hits himself and hits as a producer in the studio for others. The label was located at 6565 Sunset Boulevard in Los Angeles, with a branch office in New York City. (This Jimmy Bowen is not the same as the North Carolinian of the same name who fronts the bluegrass band Santa Fe.)

Jimmy Bowen grew up in the Texas Panhandle town of Dumas, a town of a few thousand people in the middle of nowhere. He and a friend, Buddy Knox, started singing together as students at West Texas State College (now West Texas A&M University). WTSC was in Canyon, Texas, not far from Amarillo, the largest city in the Texas Panhandle. They formed a band they called the Orchids (after the color of their shirts), which featured Knox on guitar/lead vocals and Bowen on bass/vocals, along with guitarist Don Lanier. They played around town and in Dumas and became popular. When Roy Orbison and the Teen Kings played at WTSC, Orbison met the Orchids and told them about a little recording studio run by Norman Petty in Clovis, New Mexico, about 80 miles from Canyon. The Orchids decided to go do some recording, and recorded a couple of sides there in three all-night sessions in 1956 (the all-night recording being necessary because trucks on the road outside the studio during the day would be audible on the recordings).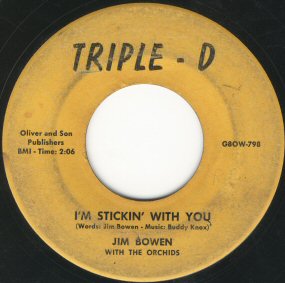 The Orchids didn't have a drummer, so they used one who was at the studio, Dave Alldred, who later joined the band. Alldred didn't even have a drum kit for the sessions, just a couple of drum sticks and a box stuffed with tissue. A local high school girl played cymbals. Buddy Knox's sister and two of her friends added background vocals.

Chester Oliver, who owned Blue Moon Records, heard that they had some masters and asked if he could press up some copies for them (Oliver also had a publishing company). The boys paid and this was done, with the label being called Triple-D, after the Dumas radio station, KDDD, where Jimmy Bowen had worked at one time and where the group performed regularly. One side, "Party Doll," was billed as "Buddy Knox with the Orchids," while the other side, "I'm Stickin' with You," was credited to "Jim Bowen with the Orchids." The disc had no record number — either on the label or in the dead wax — other than the master number (G8OW-797 and G8OW-798), which was obviously different for each side. For some reason, the record is usually referenced by the last three digits of the master number of the B-side (i.e., "I'm Stickin' with You") — "Triple-D 798." The Orchids' record was played on the radio, but it sold only a few hundred copies in the Panhandle and nearby cities such as Lubbock. Today the Triple-D record, the first for Rockabilly Hall-of-Famer Buddy Knox and legendary producer Jimmy Bowen, is so rare that it is listed in catalogues for a thousand dollars in mint condition.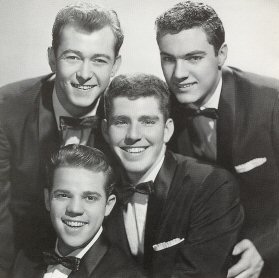 Their break came when Don Lanier's sister, who was a model in New York, heard that New York record mogul Morris Levy was looking for new talent. She dropped off a copy of the record with Phil Kahl, Levy's partner, and Levy and Kahl liked what they heard. Levy signed them to his new Roulette label, and split their single into two different releases. Kahl became Knox's manager. "Party Doll" was reissued with a new flip as Roulette 4002, where it soared to #1 nationally after its release in early 1957. Likewise, Jimmy Bowen's side was issued, with a new flip, as Roulette 4001, where it managed to make the national top-15. An album followed for each. Even though the album liner notes claimed that the Triple-D songs had been re-recorded for Roulette, this was not true. The versions on the Triple-D single are exactly the same as the later Roulette releases. Buddy Knox later recalled that once they gave the masters to Chester Oliver, they never saw them again. Obviously, Levy retrieved them from Oliver when the group signed with Roulette.

For some time, both Knox and Bowen had records on Roulette released under their names, backed by the now-renamed Rhythm Orchids, but essentially, it was all the same group. Knox continued to have pop hits until 1961, after which he edged into country music, where he charted in 1968 with "Gypsy Man" [United Artists 50301]. Dave Alldred later became the drummer for the group Dicky Doo and the Don'ts, who had several chart singles. Don Lanier also recorded later, as a solo artist, but did not have the success the others had.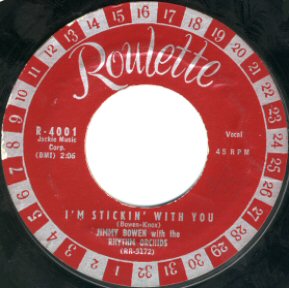 The Roulette reissue of "I'm Stickin' with You" was a two-sided hit, with the flip, "Everlovin' Fingers" reaching #63. Bowen placed two other singles for Roulette on the top-60, but that was it for chart records, although he put out many more singles over the next 10 years or so. With his radio background, however, Bowen showed a real knack for the studio, and began producing records for others. He went to Los Angeles and eventually was good enough (at age 25) to be hired by Frank Sinatra for his Reprise Records, where Bowen produced hit records for Dean Martin, Frank Sinatra, and Sammy Davis, Jr., among others. He was married in 1965 to singer Keely Smith; the couple later divorced.

In 1968, after six years and dozens of production hits with Reprise, Bowen decided to set up shop for himself as Amos Productions, Inc., with a record division called Amos Records. During the years Amos Records was issuing product, from 1969 to 1971, Jimmy Bowen himself did most of the studio production.

Bowen went into country and western music production in the early 1970s as Amos was winding down, eventually moving to Nashville. He worked for MGM, Elektra, and took over MCA-Nashville in 1977. Later he headed up Capitol-Nashville during Garth Brooks' heyday. A cancer scare gave him pause (his friend Buddy Knox died of cancer on Valentine's Day, 1999), and he retired to Hawaii as a country music legend.


Interestingly, the Amos label is noted today not only as a stage in Bowen's career between Los Angeles and Nashville, but for a key event in the history of one of America's best-known popular music bands, the Eagles. It was at Amos Records that the two primary members of that group met: drummer/guitarist/vocalist Don Henley and guitarist/keyboardist/vocalist Glenn Frey. Frey was signed to Amos as part of the group Longbranch/Pennywhistle, and Henley was in Shiloh, another group signed to Amos. As do most musicians signed to small labels, neither of the two felt their albums were getting "the promotion they deserved," and spent time with other Amos musicians down at the Troubadour night club commiserating about how their careers were going down the drain. It was during this time that unknowns such as Henley, Frey, John David Souther, Jackson Browne, and others hung out and wrote songs, and it was shortly thereafter that Henley and Frey formed the Eagles, adding guitarist Bernie Leadon and bassist Randy Meisner to fill out the original quartet. Some of their hit songs were collaborations with friends from that time such as Jackson Browne and John David Souther.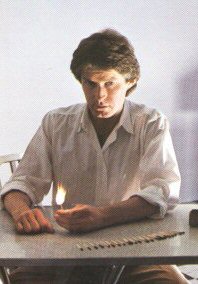 Don Henley was originally from Linden, Texas, and attended North Texas State University (now University of North Texas) during the 1967 and 1968 school years. He had been in a band called the Four Speeds in high school, and after his sophomore year at NTSU, decided to reconnect with the band, who had changed their name to Shiloh. While still in Texas, the band recorded a single ("Jennifer"/"Tell Her to Get Out of Your Life") and got it released on Amos Records [Amos 140]. Although it flopped, the band members (now including future Nashville record executive Jim Ed Norman, who produced many hits for Anne Murray) decided to move to California, and by the early summer, 1969, they were in Los Angeles, where they recorded the album for Amos (the first single was not included on the album, oddly enough). The album and a new single taken from it didn't do much better than the first single.

Glenn Frey had grown up in the Detroit area, where his parents provided him piano lessons as a boy. When he heard the Beatles in 1964, he took up the guitar in earnest (as Elton John once observed, it's hard to be a rock idol chained to a piano). He recorded some singles and played backup guitar on Bob Seger's "Ramblin' Gamblin' Man," but decided that his future lay in California, especially since his girlfriend was moving there. He moved to Los Angeles in 1968, where he met a fellow Detroit expatriot, John David Souther, who was dating his girlfriend's sister. Souther taught Frey how to play country music, and the two formed a band called Longbranch/Pennywhistle. They signed with Amos Records. Like Henley, Frey became disillusioned with Amos, and both Henley and Frey soon became backup musicians for Linda Ronstadt, where Leadon and Meisner eventually joined them before the four split off to become the Eagles.

Other than Shiloh and Longbranch/Pennywhistle, who are interesting in retrospect but were unknown at the time, Amos had several artists who were very well known. The roster included Bing Crosby, Frankie Laine, Johnny Tillotson, and Mel Carter. The last album released on Amos' pop music series was the first album by future star Kim Carnes. On the singles side, Amos also issued records by Frankie Avalon, the Hondells, and Mike Settle (formerly of the New Christy Minstrels and First Edition). Other singles artists signed to the label included Jerry Fisher & Timepiece, the Great Awakening, Steve Colt & Paradox, Ebony Jam, Erik, Dove, Casey Anderson, Headstrong, Lola Falana, the Standards, George McCannon, Little Helen, Don & Debbi, the Buffalo Hunters, Manuela, John Bahler, Pat Shannon, Sam Nesbit, Jane Crutchfield, Kim & Dave, J.B. Pickers, Billy Olive, Running Bear, Kim Vassy, and Dave Ellingson.


| | | |
| --- | --- | --- |
| | | The Amos label (far left) was black with silver print. The dove-in-flight logo, in white, was to the right and above the center hole. Below the dove, on two lines in red, was "AMOS RECORDS, INC." Around the bottom of the label in an arc, in red print, was, "AMOS RECORDS - A DIVISION OF AMOS PROD. INC. - MADE IN U.S.A." In the U.K., Amos was issued on the London label (near left), with both the Amos logo and the London logo on the front jacket. |


We would appreciate any additions or corrections to this discography. Just send them to us via e-mail. Both Sides Now Publications is an information web page. We are not a catalog, nor can we provide the records listed below. We have no association with Amos Records. Should you be interested in acquiring albums listed in this discography (which are all out of print), we suggest you see our Frequently Asked Questions page and Follow the instructions found there. This story and discography are copyright 2007 by Mike Callahan.


AMOS ALBUM DISCOGRAPHY
| | |
| --- | --- |
| Cover | Number - Title - Artist - [Release Date] (Chart) Contents |
| | Amos AAS-7000 Popular Music Series: |
| | AAS 7001 - Hey Jude/Hey Bing! - Bing Crosby [1969] (3-69, #162) Hey Jude/Those Were The Days/It's All In The Game/Both Sides Now/The Straight Life/Little Green Apples/Livin' On Lovin'/More And More/Just For Tonight/Lonely Street |
| | AAS 7002 - The Ballad of Evergreen Blueshoes - Evergreen Blueshoes [1969] Life's Railway To Heaven/Walking Down The Line/Line Out/Amsterdam In 1968/Everything's Fine Right Now/Johnny B. Goode//The Hedge Hog's Song/The Raven/Mrs. Cohen's Little Boy/Moon Over Mt. Olympus/Jewish Teahouse/The Everblue Express |
| | AAS 7003 - El Camino Real - Lee Dresser [1969] El Camino Real/If I Were A Carpenter/Hey Jude-Yesterday/Bring All Your Lovin' Back To Me/Abraham, Martin And John/A Hundred Pounds Of Clay//Baby, The Rain Must Fall/Amen (This Little Light Of Mine)/Listenin' To The Rain/I'm Walkin'/Bright Lights, Big City/A Place In The Sun-This Land Is Your Land |
| | AAS 7004 - Where's My Daddy? - West Coast Pop Art Experimental Band [1969] Where's My Daddy?/Where Money Rules Everything/Hup Two! Hup Two!/My Dog Back Home/Give Me Your Lovething/Outside-Inside//Everyone's Innocent Daughter/Free As A Bird/Not One Bummer/Have You Met My Pet Pig/Coming Of Age In L.A./Two People |
| | AAS 7005 |
| | AAS 7006 - Tears on My Pillow - Johnny Tillotson [1969] My Girl/Joy To The World/Hey Girl/Only The Lonely/Tears On My Pillow//We've Got Ourselves Together/Rainin' In My Heart/What Am I Living For/Remember When/Today I Started Loving You Again |
| | AAS 7007 - Longbranch/Pennywhistle - Longbranch/Pennywhistle [1969] Basically a duo of future Eagles star Glenn Frey and country-rock pioneer John David Souther. Backing musicians include Doug Kershaw, Ry Cooder, and veteran L.A. session men James Burton, Larry Knechtel, and Joe Osborne. Jubilee Anne/Run Boy Run/Rebecca Lucky Love/Kite Woman//Bring Back Funky Woman/Star Spangled Bus/Mister, Mister/Don't Talk Now/Never Have Enough |
| | AAS 7008 - Armageddon - Armageddon [1969] Armageddon Theme/Water Lilly/Another Part Of Our Life/Come Tomorrow/Cold Cold Tracks//Cave Of The Winds/The Lamp/Bilbo Baggins/Tales Of Brave Ulysses/The Magic Song |
| | AAS 7009 - Frankie Laine's Greatest Hits - Frankie Laine [1970] These are not the original hit versions, but newly-recorded versions. I Believe/Your Cheatin' Heart/Moonlight Gambler/Jalousie/That's My Desire//Jezebel/On The Sunny Side Of The Street/Don't Make My Baby Blue/Shine/That Lucky Old Sun |
| | AAS 7010 - This Is My Life - Mel Carter [1971] Personality/Secret Love/A Very Precious Love/Kiss Tomorrow Goodbye/San Francisco Is A Lonely Town/(others) |
| | AAS 7011 - Michael Seven - Michael Seven [1970] Michael Seven was Mike Melvoin. |
| | AAS 7012 - A Salute to Motown - Believers [1970] Wait A Minute Before You Leave Me/You've Made Me So Very Happy/Psychedelic Shack/The Love You Save/With Love Lighting Up My Life//War/I Wish It Would Rain/Love Child/Yester-Me, Yester-You, Yesterday/I Can't Get Next To You |
| | AAS 7013 - A Brand New Day - Frankie Laine [1971] Mr. Bo Jangles/Don't Blame The Child/Talk About The Good Times/My God And I/Proud Mary//Put Your Hand In The Hand/Going To Newport/California Blood Lines/Brand New Day/Po' Folks |
| | AAS 7014 - Occult Concert - Wilburn Burchette [1971] Summons To The Sacrificial Feast/Arise/The Lords Small Fight/Awakening The Third Eye/Triumphed Gloriously//Witches' Sabbath/Dance Of The Zodiac/The Enlightened One/Lo! (Deliverance)/The Alchemist's Death |
| | AAS 7015 - Shiloh - Shiloh [1971] Group includes future Eagles star Don Henley. Simple Little Down Home Rock And Roll Love Song For Rosie/I'm Gone/Left My Gal In The Mountains/It's About Time/Swamp River Country/Railroad Song/Same Old Story/Du Raison/Down On The Farm/God Is Where You Find Him |
| | AAS 7016 - Rest on Me - Kim Carnes [1971] Sweet Love Song To My Soul/Everything Has Got To Be Free/Do You Want To Dance/I Won't Call You Back/To Love//To Love Somebody/Fell In Love With A Poet/One More River To Cross/You Can Do It To Me Anytime/Rest On Me |
| | Amos AAS-8000 Soundtrack Series: |
| | AAS 8001 - Beneath the Planet of the Apes - Leonard Rosenman [1970] Opening Statement - Cornelius/Main Title/General Ursus' Address/Ape Fury-Students-Peace & Freedom- Underground City/Turkish Bath (Ursus And Zaius)/March Of The Apes/The Chase/Brent's Interrogation/Captured/Mass Of The Holy Bomb/Doomsday |
| | AAS 8002 - Vanishing Point - Various Artists [1971] Super Soul Theme - J.B. Pickers/The Girl Done Got It Together - Bobby Doyle/Where Do We Go From Here - Jimmy Walker/Welcome To Nevada - Jerry Reed/Dear Jesus God - Segarini & Bishop/Runaway Country - Doug Dillard Expedition/You Got To Believe - Delaney & Bonny & Friends/Love Theme - Jimmy Bowen Orch. & Chorus/So Tired - Eve/Freedom Of Expression - J.B. Pickers/Mississippi Queen - Mountain/Sing Out For Jesus - Big Mama Thornton/Over Me - Segarini & Bishop/Nobody Knows - Kim & Dave |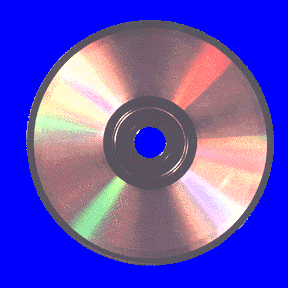 Back to the Discography Listings Page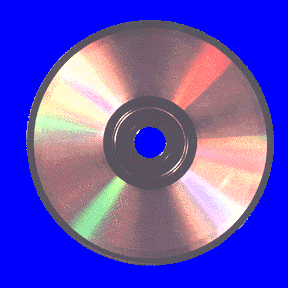 Back to the Both Sides Now Home Page