In late 1958, King Records owner Syd Nathan formed a budget subsidiary label called Audio Lab. During the next three years, Audio Lab released a lot of material that had never appeared in album form, including rare albums by Bullmoose Jackson, Annie Laurie, April Stevens, Lattie Moore, Will Penny, the Light Crust Doughboys, Bob Newman, H-Bomb Ferguson, Sticks McGhee and John Lee Hooker.

Back in the 1950s, when the name "Shura" and "piano" were spoken in the same sentence, the name "Shura Cherkassky" lept immediately to mind. Cherkassky was a world-renowned classical pianist. In 1956, King records hired a pop pianist who just went by the name "Shura" (a diminutive for Alexander), who recorded two quick albums for the label. The two albums on Audio Lab by "Shura" are reissues of those King albums, not albums by the more famous Shura Cherkassky.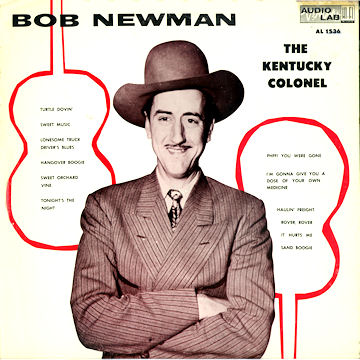 Another interesting album in this series is the one by Bob Newman, The Kentucky Colonel [AL- 1536]. For years, the television series Hee Haw used a song on the show called "Phfft! You Were Gone", often credited to Buck Owens. Earlier appearances of the song on record attributed writer's credit to Lee Roberts, Susan Heather, or Marian B. Yarneall. Bob Newman's son Bob Jr. recently wrote to us to untangle the mystery of authorship of this classic. It was first recorded by Bob Newman July 3, 1952, at King Studios in Cincinnati. It was released on King 45-1131 shortly thereafter, with writer credits to Lee Roberts. Bob Newman actually wrote the song under the name Lee Roberts, which was his usual pen name (he had over 80 songwriting credits for both ASCAP and BMI under that name), and was the first to record it. Newman sold the song to Bix Reichner in 1958. Reichner, who wrote many songs including "Papa Loves Mambo" for Perry Como and "I Need Your Love Tonight" for Elvis Presley, assigned the song to his wife's name — Marian B. Yarneall, aka Susan Heather. By the time the Audio Lab album came out in 1959, the writer credit had changed to Susan Heather. The original version of the song made its first (only?) LP appearance on his Audio Lab album.

Late in 1959, Audio Lab announced that they would be starting a 1600 series, a stereo-only series that would begin with an album by Eddie Davis and Charlie Ventura. Although the album was announced, it was apparently not released, and instead released as King KSD-1601. There were no more issues in the 1600 series of which we are aware.



| | |
| --- | --- |
| Cover | Number - Title - Artist - [Release Date] Contents |
| | Audio Lab AL-1500 Series: |
| | AL-1501 - Music for a Quiet Evening - Shura [1959] Reissue of King 395-512 (Shura with His Trio) minus two songs. |
| | AL-1502 - Mister Dixieland - Pee Wee Erwin & the Village Five/Preacher Rollo [12/58] Sugar - Preacher Rollo/Wolverine Blues - Pee Wee Irwin/Carolina In The Morning - Preacher Rollo/When The Saints Go Marching In - Pee Wee Irwin/Tin Roof Blues - Pee Wee Irwin/Eccentric - Pee Wee Irwin/Indiana - Preacher Rollo/Shake It And Break It - Pee Wee Irwin/Tiger Rag - Pee Wee Irwin/Ja Da - Preacher Rollo/If I Had You - Preacher Rollo |
| | AL-1503 - Sing and Dance Along with Johnny Long & His Orchestra - Johnny Long & His Orchestra [1959] We'll Build a Bungalow/Calico Ball/In the Evening By the Moonlight/The Bee-I-Ee-I- Ee/Keep Your Skirts Down Mary Ann/Just Friends//Silver Dollar/Anytime is Sweetheart Time/Dixie/Hello/Nobody's Sweetheart/Just Like That |
| | AL-1504 - Songs of Faith - Various Artists [1959] There's A Leak In This Old Building - Brother Claude Ely/The Arm Of God - Jimmie Osborne/I've Got A Longing To You - Trace Family Trio/Wings Of Faith - Tommy Magness/Gathering Buds - Cope Brothers/Since His Sweet Love Has Rescued Me - Shannon Grayson & His Golden Valley Boys//I Need The Prayers - Clyde Moody/When The Hand Of God Comes Down - Mac O'Dell/I Cried Holy - Harlan County Four/Mother Left Me Her Bible - Esco Hankins/When We See Him Face To Face - Blue Valley Boys/He's Passing This Way - Wade Mainer |
| | AL-1505 - The Fabulous Benny Carter Band - Benny Carter Band [1959] Reissue of Deluxe 295-84 with some additions and track lineup changes. Diga Diga Doo/Looking For A Boy/Twelve O'Clock Jump/Rose Room/Mexican Hat Dance//Jump Call/I'm The Caring Kind/Who's Sorry Now/Some Of These Days/Re-Bop Boogie |
| | AL-1506 - Honky Tonk Time (See What The Boys in the Back Room Will Have) - Eddie Smith at the Piano [1959] A collection of King 78s by Eddie Smith & the Super Chiefs, mostly recorded 1951-1953. Honky Tonk Time/Red Wing/Snow Deer/Exhibition Special/The Preacher And The Bear/When You And I Were Young Maggie/Smoking/Red Suspender Blues/Sweet Bunch Of Daisies/Hot Shot Rag/Over the Waves/Jumping Jennie/Silver Star Stomp |
| | AL-1507 - Songs of the Trail - Denver Darling [1959] Old Shep/Tennessee Central #9/Silver Stars/I'm Gonna Sue Sioux City Sue/Ding Dong Polka/Cool Water/Roly Poly/Think Of Home/I Still Say Your Name In My Prayers/I'm Gonna Leave This Old Town others |
| | AL-1508 - Hank Penny Sings - Hank Penny [12/58] Bloodshot Eyes/I Was Satisfied/Tell Me About Georgia/Time Will Tell/Flamin' Mamie/We Met Too Late//Wham Bam! Thank You Ma'am/Hillbilly Be-Bop/One Heart, One Love, One Life/Steel Guitar Polka/Remington Ride/I'm Gonna Have My Picture Book |
| | AL-1509 - Dixieland All Stars - Tommy Reynolds and Band [1959] Reissue of King 395-510. Sweet Lips/Satchel Mouth Swing/Gulf Coast Blues/Potato Head/Arkansas Blues/Happy Feet/Monday Date/Mecca Flat Blues/Squeeze Me/Hotter Than That/Waitin' For My Baby/Cornet Chop Suey |
| | AL-1510 - It Hurts to Be in Love - Annie Laurie [12/58] It Hurts to Be In Love/Hand in Hand/Nobody's Gonna Hurt You/We Found Love/You're the Only One For Me//Out Of My Mind/Please Honey Don't Go/I'm a Slave to You/Not Wanted/Love Is a Funny Thing |
| | AL-1511 - Avenue of Prayer - Bailes Brothers [1959] There's a Difference Between Religion and Salvation/Roman's Ten and Nine/Somebody's Praying For You/Jesus Is the One/Jesus' Blood/An Empty Mansion/Daniel Prayed/Building on the Sand/Goodbye Hallelujah I'm Gone/That's What We Need/Avenue of Prayer/Ashamed to Own the Blessed Savior |
| | AL-1512 - Two Shades of Blue - Jimmy Rushing/Jack Dupree [12/58] The Way I Feel - Jimmy Rushing/In the Moonlight - Jimmy Rushing/She's Mine, She's Yours - Jimmy Rushing/Go Get Some More You Fool - Jimmy Rushing/Somebody's Spoiling These Women - Jimmy Rushing//Walking the Blues - Champion Jack DuPree/Harelip Blues - Champion Jack DuPree/Overhead Blues - Champion Jack DuPree/Silent Partner - Champion Jack DuPree/Everybody'' Blues - Champion Jack DuPree |
| | AL-1513 - Musical Madness - Homer & Jethro [1959] Boll Weevil/Blue Tail Fly/I Feel That Old Age Creeping On/Bill Bailey Won't You Please Come Home/It Bruised Her Somewhat/Goodbye Old Booze//Rye Whiskey/Cielito Lindo/Groundhog/Poor Little Liza, Poor Girl/All Night Long/Three Night Experience |
| | AL-1514 - Guitar/Vibes - Bill Jennings [1959] It's Easy to Remember/You Don't Know What Love Is/Ja-Da/Answer Me My Love/Angel Eyes/Easy Living/Nature Boy/What Is This Thing Called Love/Mood Indigo/One For My Baby |
| | AL-1515 - Songs of the Hills - Various Artists [1959] The Death of Little Kathy Fiscus - Jimmie Osborne/Good Night Cincinnati, Good Morning Tennessee - Shorty Long/Shenandoah Waltz - Clyde Moody/Honey, Won't You Please Come Home - Luke McDaniel/Thy Burdens Are Greater Than Mine - Redd Stewart/My Lonely Heart - Jimmy Martin and Bob Osborne//The Death of Hank Williams - Jack Cardwell/God Gave Me You - Ann Jones/Big Blue Diamonds - Red Perkins/If God Can Forgive You, So Can I - Charlie Gore/The Lights Are Growing Dim - Harvie June Van/Money, Marbles and Chalk - Pop Eckler |
| | AL-1516 - Jazz on the Rocks - Cecil Young Quartet [1959] Reissue of King 395-505 (A Concert of Cool Jazz) minus two songs. Race Horse/Stomping at the Savoy/Imagination/Ooh-Diga-Gow/Flying Home/Who Parked The Car/Jumpin' With Symphony Sid/The Campbells Are Coming |
| | AL-1517 - Traditional Christmas Carols - Caroleers [11/59] Noel/Adeste Fideles/Good King Wenceslas/O Little Town Of Bethlehem/It Came Upon A Midnight Clear/Joy To The World/I Have A Desire/Hark The Herald Angels Sing/Rejoice/Was He Quiet Or Did He Cry/Silent Night/Away In A Manger/God Rest Ye Merry, Gentlemen |
| | AL-1518 - A Time for Prayer - Various Artists [1959] Jesus Will Save Your Soul - Tommy Magness/John Three Sixteen - Horton County Four/Little David Play Your Harp - Brother Claude Ely/I Feel Like Traveling On - Clyde Moody/Paradise - Kitty Mann/I'm On the Battlefield For My Lord - Musical Millers Quartet/I'm Gonna Walk On - Sherman Grayson/My Mother's Dying Message - Trace Family Trio/Be On Time - Mac O'Dell/Walking For The Lord - J.E. Mainer/I'll Have A New Life - Cope Brothers/Savior Of The Old Rugged Cross - Gurney Thomas |
| | AL-1519 - A Day in the Country - Various Artists [1959] A Cherokee Waltz - Clyde Moody/My Love For You Would Fill Ten Pots - Jack Cardwell/You Can't Live With 'Em - Mattie, Marthie & Minnie/Sweeter Than The Flowers - Esco Hankins/Strange Love - Bob Newman/Blue Eyed Darling - Jimmy Martin & Bob Osborne//Blue Days & Lonely Nights - Jimmie Osborne/So Goes My Heart - Leon Jackson & Johnny Bryant/Wildwood Flower - Mac O'Dell/A Long-Necked Bottle & A Big Water Glass - Red Perkins/My Sins Of Yesterday - Harvie June Van/Dog Bite Your Hide - Jimmy Vernon |
| | AL-1520 - Highway of Blues - John Lee Hooker/Sticks McGee [5/59] Nightmare Blues - John Lee Hooker/Moaning Blues - John Lee Hooker/Don't Go Baby - John Lee Hooker/Thinking Blues - John Lee Hooker/Late Last Night - John Lee Hooker/Devil's Jump - John Lee Hooker//Whiskey, Women and Loaded Dice - Sticks McGhee/Sad, Bad, Glad - Sticks McGhee/Head Happy with Wine - Sticks McGhee/Dealin' From the Bottom - Sticks McGhee/Get Your Mind Out of the Gutter - Sticks McGhee/Jungle Juice - Sticks McGhee |
| | AL-1521 - Ann Jones and Her American Sweethearts - Ann Jones & Her American Sweethearts [1959] God Gave Me You/I've Had It/Out Of Sight Out Of Mind/Knockin' Blues/I Love You More As Time Goes By/Hi Ballin' Daddy//Too Old to Cut the Mustard/I'll Carry Your Picture in My Heart/A Big Fat Girl Like Me/Be Safe-Be Sure-Be Careful/Monkey Business/How Many Years |
| | AL-1522 - Shura in Grand Piano Moods - Shura [1959] Reissue of King 395-511 (Love Is Here to Stay) minus two songs. The Story of Three Loves/The Bells Of St. Mary's/Love Is Here to Stay/Hi Lili, Hi Lo/Stella By Starlight/Story Of A Starry Night/Dream Dust/Granada/Laura/Swedish Rhapsody |
| | AL-1523 - Songs of Faith, Volume 2 - Various Artists [9/60] Let Me Travel Alone - Shannon Grayson/Jesus Wonderful One - Trace Family Trio/He'll Come Like A Thief In The Night - Jimmie Osborne/You've Got To Move - Brother Claude Ely/Before Judgement Day - J.E. Mainer's Mountaineers/What Then - Mac O'Dell//When I Safely Reach That Other Shore - Tommy Magness/Through The Pearly Gate - Clyde Moody/God's Radio Phone - Wade Mainer/This World Can't Stand Long - King's Sacred Quartet/The Ten Commandments - Harlan County Four/Jesus, My Lord, My King - Kitty Mann |
| | AL-1524 - Bull Moose Jackson Sings His All-Time Hits - Bull Moose Jackson [3/60] I Love You Yes I Do/I Can't Go On Without You/Cherokee Boogie/My Little Baby/I Want a Bow-Legged Woman/Have You No Mercy//All My Love Belongs To You/Little Girl Don't Cry/Why Don't You Haul Off and Love Me/Sometimes I Wonder/Sneaky Pete/I Never Loved Anyone But You |
| | AL-1525 - The Light Crust Doughboys - Light Crust Doughboys [9/60] Recorded in 1947 and 1948. At that time, the famous LCD from the 1930s (that at times had included Bob Wills, Tommy Duncan, Leon McAuliffe, Hank Thompson, Slim Whitman, and other famous musicians) had disbanded and Marvin "Smokey" Montgomery (the banjo virtuoso who joined in 1935) was holding the name together, although the musicianship was quite competent. The 1947-48 band consisted of Marvin Montgomery (rhythm guitar, tenor banjo), Melissa "Mel" Cox (fiddle, vocals), Hal Harris (guitar, vocals), Carroll Hubbard (fiddle, vocals), Wilson "Lefty" Perkins (steel guitar), Bruce Pierce (guitar), Knocky Godwin (accordion) and Roscoe Pierce (vocals). Guitar Jump/The New Sow Song/Starlight Waltz/Pappy's Banjo Boogie/Honolulu Lou/I Cried And Cried And Cried//Fisherman's Polka/No Suh/Oklahoma Waltz/Billy Goat Rag/Ezra's Waltz/It's A Dirty Shame |
| | AL-1526 - The Country Gentleman - Charlie Gore [1960] Over You/Mabel Mabel/Each Time I Pray/Railroaded/If God Can Forgive You So Can I/Heaven Sent You To Me/This Orchid Means Goodbye/It's A Long Walk Back To Town/Who's Been Dragging Your Little Red Wagon/Gonna Take Another Walk Downtown/Stumbling Block |
| | AL-1527 - Jimmy Osborne Singing Songs He Wrote - Jimmy Osborne [3/60] The Death of Little Kathy Fiscus/It's Just a Habit With You/Give Back My Ring and Picture/We Can't Take It With Us To Our Grave/How Many Hearts Can You Break/You Get the Roses, I Get the Thorns//God Has Taken My Flower/This Evil Life Don't Pay/I Hate to Be Jealous/Nag, Nag, Nag/Mama Don't Agree/The Moon is Weeping Over You |
| | AL-1528 - Redd Stewart Sings Favorite Old Time Tunes - Redd Stewart [3/60] Thy Burdens Are Greater Than Mine/Gotta Get Back To Dixie/If You'll Come Back To Me/My Little Wild Rose Of The Hills/I've Decided/Alone//It's All Over (But The Tears I'll Shed For You)/Brother, Drop Dead/When You Are Waltzing With The One That You Love/Perhaps It Is Better That Way/When I'm In My Indiana Home/Blow Out All The Candles (Happy Birthday To You) |
| | AL-1529 - Clyde Moody, The Genial Gentleman of Country Songs - Clyde Moody [3/60] These are King recordings from 1947-1951. Shenandoah Waltz/Ivy/Waltz Of The Wind/The Blues Came Pouring Down/Cherokee Waltz/You'll Never Know What I've Been Through//Carolina Waltz/I've Only Myself To Blame/That Little Log Cabin Of Mine/What Can I Do/Next Sunday Darling Is My Birthday/If You Only Knew |
| | AL-1530 - Great Swing Bands of the Forties - Various Artists [1960] Artists include Lucky Millinder, Charlie Spivak, Erskine Hawkins, and Elliott Lawrence. Issued in the UK as Ember CJS 808 (picture at right). Ram-Bunk-Shus/O Sole Mio/Double Shot/A Little Wake-Up Music - Elliott Lawrence/Backslider's Ball/Old Spice/Down The Alley/Sentimental Trumpet/Steel Guitar Rag/Heavy Sugar |
| | AL-1531 - Andy Iona and His Islanders/Eddie Martin and His King Serenaders - Andy Iona/Eddie Martin [1959] A collection of King 78s. The Andy Iona 78s are from 1950, the Eddie Martin from 1949. Hawaiian Interlude - Andy Iona and His Islanders/The Five Hula Lessons - Andy Iona and His Islanders/Echoes Of Hawaii - Eddie Martin and His King Serenaders/When I Hear The Song Of The Islands - Eddie Martin and His King Serenaders/In An Old Hawaiian Garden - Andy Iona and His Islanders/Song Of The Islands - Eddie Martin and His King Serenaders/The Roses Will Remember - Andy Iona and His Islanders/I Lost My Irish Heart (In Hawaii) - Andy Iona and His Islanders/Moonrise Over Pali - Andy Iona and His Islanders/Aloha Oe - Eddie Martin and His King Serenaders/New Song Of The Islands - Eddie Martin and His King Serenaders/Ua Like No Alike - Eddie Martin and His King Serenaders |
| | AL-1532 - Old Time Vaudeville Nite - Carroll & Gorman/Willie Shore [1960] Little Hotel Down The Street - Carroll & Gorman/Los Angeles - Carroll & Gorman/Far Rockaway - Carroll & Gorman/A Bus Ride - Carroll & Gorman/The Bassett Family Overhead - Carroll & Gorman/Canasta - Carroll & Gorman/First Time In Miami - Carroll & Gorman/The Landlady's Daughter - Carroll & Gorman/Telephonitis - Willie Shore/Willie Mc Shore - Willie Shore |
| | AL-1533 - A Bouquet of Songs for Mama - Eddie Berger [1960] Dream/Golondrina/Return To Me/Blue Danube Waltz/Vienna Life/Tales From The Vienna Woods/Artist's Life/True Love/I'll Take You Home Again Kathleen/My Happiness/Juanita/Love Letters In The Sand/Skaters Waltz/Croce Di Oro/Spagnola |
| | AL-1534 - Torrid Tunes - April Stevens/Marge Phelan [1960] Hot Tamale - April Stevens/Treat Me Nice - April Stevens/C'est Si Bon - April Stevens/Soft Warm Lips - April Stevens/You Said You'd Do It - April Stevens//Don't Try to Take It With You When You Go - Marge Phelan/The Hussy Song - Marge Phelan/I Want a Man - Marge Phelan/The Goodbye Song - Marge Phelan/How Could Red Riding Hood - April Stevens |
| | AL-1535 - Latin Dance Party - Sacasas & His Orchestra/Don Ipplito & His Orchestra/Linda Lopez & Her Mambo Orchestra [1960] Take Me Out To The Ball Game - Don Ipplito & His Orchestra/Swanee River Mambo - Don Ipplito & His Orchestra/Camptown Races Mambo - Don Ipplito & His Orchestra/Can't Do It Mambo - Don Ipplito & His Orchestra/Drume Negrita - Linda Lopez & Her Mambo Orchestra/Chopsticks Mambo - Linda Lopez & Her Mambo Orchestra/Limehouse Blues Mambo - Linda Lopez & Her Mambo Orchestra/Nursery Mambo - Linda Lopez & Her Mambo Orchestra/Mambo Jet - Sacasas & His Orchestra/Trumpcrazy - Sacasas & His Orchestra/Ronde - Sacasas & His Orchestra/Mamsaca - Sacasas & His Orchestra |
| | AL-1536 - The Kentucky Colonel - Bob Newman [1959] This album has the original 1952 version of "Phfft! You Were Gone," which was later sung often on the Hee Haw television series. Turtle Dovin'/Lonesome Truck Driver's Blues/Sweet Orchard Vine/Hangover Boogie/Sweet Music/Tonight's The Night//Rover Rover/It Hurts Me/Haulin' Freight/Phftt! You Were Gone/I'm Gonna Give You A Dose Of Your Own Medicine/Sand Boogie |
| | AL-1537 - Country Music in a Turner Style - Zeb Turner [1960] Chew Tobacco Rag/I'm In Love With Someone Else/Huckleberry Boogie/You're Gonna Be Lonesome Downhearted And Blue/Tennessee Boogie/A Drunkard's Confession//Back Back Back To Baltimore/I'm Glad That It's Over/Travelin' Boogie/Beside Your Picture Frame/Boogie Woogie Lou/How Can I |
| | AL-1538 - Big Band Modern - Gerald Wilson [1960] Algerian Fantasy/Bull Fighter/Lotus Land//Theme/Mambo Mexicano/Black Rose/Romance/Since We Said Goodbye |
| | AL-1539 - A Whole Lot of Blowin' - Don Byas/Willis Jackson/Joe Holiday [1960] Try A Little Tenderness/Nightcap/Song Is You/I Told You So/Double Talk/Fruit Salad/Spots/Down Boy/Cracker Jack/Howling At Midnight |
| | AL-1540 - Grade "A" Dance Music with a Swing Beat - Joe Thomas & Band/Al Sears & His Orchestra [1960] Baltimore Bounce - Al Sears & His Orchestra/Marshall Plan - Al Sears & His Orchestra/Azores - Al Sears & His Orchestra/Nell Don't Wear No Button Up Shoes - Al Sears & His Orchestra/Rollin' The Blues - Joe Thomas & Band/Raw Meat - Joe Thomas & Band//Now Ride D Train - Al Sears & His Orchestra/Berry Well - Al Sears & His Orchestra/Groove Station - Al Sears & His Orchestra/Steady Me Eddie - Al Sears & His Orchestra/Wham-A-Lam - Joe Thomas & Band/Big Foot - Joe Thomas & Band |
| | AL-1541 - Organ Melodies - Billy Mayson [1960] The single shown here is Mayson's first release, "Billy Jean Boogie"/"After Hours", released July 25, 1955, on King 1491. The King promotional copies were known for having a writeup on the artist on the promo label. This single's writeup is: "Organist-pianist Billy Mayson was born in Memphis, Tennessee. His father was a talented musician, played a dozen or more instruments, and also taught them. His dad taught Billy and encouraged him to play. He made his professional debut in Cleveland, Ohio, when he was seventeen years old. With this first recording by Mayson, we predict the public will immediately accept him as a top drawer artist.//Although Billy Mayson was taught to play the classics by his father, he soon learned that in order to make a living he would have to turn to some other form of music. His talented fingers on both the piano and organ led him to the jazz field where he was an immediate success. Especially popular with the teen-agers, Billy's music appeals to people of all ages and musical tastes." It apparently was the only single King issued by Mayson. Down The Road Apiece/Blues Nocturne/Near You/Mary's Boogie/Fox Hunt/Honeysuckle Rose/After Hours/Blue Jean Boogie/Honky Tonk Train/Mayson |
| | AL-1542 - Slim Willet - Slim Willet [1960] Tell Me How/Don't Let the Stars Get In Your Eyes/Mata Hari/My Love Song To You/Love Me Baby/When Lovers Go By/Let Me Know/Don't Laugh at Me Now/Red Rose/Starlight Waltz/Lonely Tide/If Winter Comes |
| | AL-1543 - Polkas - Various Artists [1959] |
| | AL-1544 - Hymns for Country Folks - Mac O'Dell [9/60] The Kiss of Betrayal/Let's Pray/Set Your Dial on Heaven/Heaven Bound Gospel Train/The Stone Was Rolled Away//A Crown He Wore/Are You Practicing His Love/I'd Rather Have God/Life's Elevator/Wolves in Sheep's Clothing |
| | AL-1545 - Presents for Kiddies - Various Artists [10/60] Tommy Riggs was a well-known ventriloquist, and Betty Lou was his dummy. Child's Garden Of Manners, Parts 1 & 2 - Tommy Riggs & Betty Lou/Hotel For Dogs - Beth Brown & Co./Tingo (Story Of A Clown) - Jerry Bartell |
| | AL-1546 - Swing Billies: Western Swing for Dancers Only - Various Artists [1960] Remington Ride - Hank Penny/Texahoma Boogie - Fiddlin' Linvilles/Twin Guitar Polka - Ocie Stockard/Hora Sta Cotton Picker - Paul Howard/Guitar Jump - Melissa (Mel) Cox & Light Crust Doughboys/Tuxedo Junction - Hank Penny//Steel Guitar Stomp - Hank Penny/Jimmie's Jump - Jimmie Widener/Fisherman's Polka - Melissa (Mel) Cox & Light Crust Doughboys/Cowtown Boogie - Ocie Stockard/Linville Schottische - Fiddlin' Linvilles/Jersey Bounce - Hank Penny |
| | AL-1547 - Esco Hankins Country Style - Esco Hankins [1961] The Rising Sun/Branded Wherever I Go/Beneath That Lonely Mound Of Clay/All The World Is Lonely Now/Streamlined Cannon Ball//Waiting For My Call To Glory/Glory Bound Train/No One Will Ever Know/What Good Will It Do/I'm Building A Home |
| | AL-1548 - Songs for Salvation - Parker Family [1960] My Soul Shall Be Satisfied/God Knows My Heart/I Care Not What The World May Say About Me/He'll Part The Waters/Over The Line/Build Your Treasures In Heaven/I Am The Way/Stop, Look And Listen, And Don't Forget To Pray//Take Up Thy Cross/Jesus Died Upon The Cross/Little Jimmy The Crippled Boy/Family Bible/There Must Be A Change/Suppertime/I'm Not Afraid To Die |
| | AL-1549 - Mr. B - Billy Eckstine and His Orchestra [2/60] Featuring Sarah Vaughan, Dizzy Gillespie, Trummy Young, Rudy Rutherford, Wardell Grey, Oscar Pettiford, Al Killian, Gene Ammons, Dexter Gordon and Bud Johnson. The Real Thing Happened To Me/Opus 1/I'll Wait And Pray/I'm the Caring Kind/I Stay In The Mood For You/If That's The Way You Feel/I Want To Talk About You/Blowing The Blues Away/I Got A Date With Rhythm/Good Jelly Blues |
| | AL-1550 - Joe Howard's Gay 90's Revue - Joe Howard with the Elm City Four and the Floradora Girls starring Nancy Donovan [1960] I Wonder Who's Kissing Her Now/Saturday Night/Good Bye My Lady Love/Honeymoon/Toodle-I-Ay Song/Hello My Baby/What's The Use Of Dreaming/Let's Take A Ride On A Rocket/Silver In Your Hari/Making Love Mountain Style |
| | AL-1551 - The Whole Town's Dancing to the Music of Ernie Berger - Ernie Berger [1961] Also issued in stereo with a red label. It Had To Be You/Serenade/Beyond The Reef/Cold, Cold Heart/Tesoro Mio/Beautiful Dreamer//Who's Sorry Now/I Cried A Tear/After The Ball/Drifting And Dreaming/Love's Old Sweet Song/Santa Lucia |
| | AL-1552 - 4 Star Hits - Frank Simon [1960] Just Out Of Reach/Let Me Be The One/Bumming Around/I Can See An Angel/Honky Tonk Merry Go Round/Release Me//Send Me The Pillow You Dream On/If I Could Only Stay Asleep/Don't Let The Stars Get In Your Eyes/Truer Love/Walking After Midnight/There She Goes |
| | AL-1553 - Miller Brothers - Miller Brothers [1960] Water Baby Blues/Stepping It Off/If You Only Cared A Little/Dream Bait/It's Too Late To Cry/The Champ/Honeysuckle Rose/Dark Eyes/Indian Love Call/Forever And A Day/I Wanna Be Free |
| | AL-1554 - A Variety of Christmas Songs - Ernie Berger [10/60] Also issued in stereo with a red label. Hark The Herald Angels Sing/Silent Night/O Tannenbaum/Jolly Old St. Nicholas/Gesu Bambino/It Came Upon The Midnight Clear/Medley: Away In A Manger-Joy To The World/O Holy Night/O Little Town Of Bethlehem/Jingle Bells/O Come Little Children/The First Nöel |
| | AL-1555 - Best of Lattie Moore - Lattie Moore [1960] Under A Mexican Moon/Pull Down The Blinds/Foolish Castles/I'm Gonna Tell You Something/What Am I Supposed To Do//Lonesome Man Blues/I'm Not Broke But I'm Badly Bent/100,000 Women Can't Be Wrong/They're Not Worth The Paper They're Written On/Don't Trade The Old One For A New One |
| | AL-1556 - Hit and Run - Ann Jones & Her Western Sweethearts [1961] Hit And Run/Goodbye And Good Luck/As Long As There's A Tomorrow/You Keep Leavin' Me (I'm Comin' Back)/To Know You Is To Love You/Blue Jean Baby/Pieces Of My Heart//Let Me Love You/Jack Rabbit/How Can I Win You/Love That Man/Never Again/I Gotta Walk/Another Woman Haunts My Life |
| | AL-1557 - A Variety of Country Sacred Songs - Various Artists [1961] Holy, Holy, Holy - Brother Claude Ely/No Wars In Heaven - Shorty Long/Show Me The Way - Harlan County Four/That Moon's No Stopping Place For Me - Bill Franklin/Wait For The Light To Shine - Esco Hankins/If I Could Hear My Mother Pray Again - J. E. Mainer's Mountaineers//I'm Not Looking Backward - Wade Mainer/Take Time To Understand - Trace Family Trio/I Won't Tell Anybody But My Lord - Gene Davis/My Bright Tomorrow - Kitty Mann/I'll Be Listening - King's Sacred Quartet/Jesus And Mother - Gurney Thomas |
| | AL-1558 - Mr. New Orleans Himself - Wingy Manone [1960] Isle of Capri/What Good Is You/Hot Peanuts/My Blue Heaven/Route 66//Salt Pork, W.Va./Sugar/Cement Mixer/I'm Confessin'/When It's Sleepy Time Down South/Patience And Fortitude |
| | AL-1559 - A New Star on the Horizon - Pete Pike [1960] I Can See An Angel/In The Jailhouse Now/Yellow Leaves/A Friend Of The Bride/At My Side/In The House Of My Lord//I'm Walking Alone/All Because Of My Jealous Heart/I'm Burning All Your Letters/It's Just Between Us Two/Maybe She Would Like To Know/No Peace Of Mind |
| | AL-1560 - Dance Date - Trudy Erwin & the Rhythmaires/Opie Cates & His Orchestra [1961] Cherokee/Madame X/Blues In B Flat/Sheik Of Araby/I've Found A New Baby/To Each His Own/Whatta Ya Gonna Do/All The Cats Joined In/Out Of Nowhere/Am I Correckit |
| | AL-1561 - A New Singing Star - Rocky Billy Ford [1960] Beer Drinking Blues/A Little Less/You Married For Money/I Don't Wanta/Have I Overstayed My Welcome/In All My Dreams//There She Goes/Aggravatin' Woman/Drifting Apart/Watchin' The Clock & Grievin'/Blowing Suds Off My Beer/Love Me Love Me Not |
| | AL-1562 - The Fine Country Singing of Frankie Miller - Frankie Miller [4/63] I Can't Run Away/Baby, We're Really In Love/I Don't Know What To Tell My Heart/You Just Had/I Dreamed You Were Here Last Night/I'm Only Wishin'//I Don't Know/I Won't Forget/I'm Still In Love With You/I'm Getting Rid Of You/I'm So Blue I Don't Know What To Do/I'd Still Want You |
| | AL-1563 - Webb Pierce/Marvin Rainwater/Stuart Hamblen Sing for You - Various Artists [1960] Groovy Boy - Webb Pierce/I Saw Your Face in the Moon - Webb Pierce/Hawaiian Echoes - Webb Pierce/I've Loved You Forever It Seems - Webb Pierce/I Gotta Go Get My Baby - Marvin Rainwater/Daddy's Glad You Came Home - Marvin Rainwater//Korea's Mountain Northland - Marvin Rainwater/Tainted Gold - Marvin Rainwater/Ace in the Hole - Stewart Hamblen/Bluebonnets ( In Her Golden Hair) - Stewart Hamblen/My Old Hound Dog - Stewart Hamblen/Our Anniversary - Stewart Hamblen |
| | AL-1564 - Polite Jazz - Nick Esposito [1960] Rosetta/Tina's A Dancer/On The Sunny Side Of The Street/His Majesty The Wolf/Someday We'll Meet Again/Ramona//I Dreamt I Dwelt In Harlem/Penny/Blue Skies/What Is This Thing Called Love/Junior Blues/Trip To The Moon |
| | AL-1565 - Songs Everybody Knows - Cecil Surratt and Smitty Smith [1961] Old Joe Clark/Darlin' Oh Darlin'/Wreck of the Old 97/Last Mile of the Way/Counting the Days/Never Grow Old/Chicken Reel/Sippin' Cider/All Because of Calvary/Sittin' In/Boil Them Cabbage Down/Lost Indian/Read the Bible Every Day/Waltz You Saved For Me/I'm Never to Marry |
| | AL-1566 - Featuring Swing Billies, Vol. 2 - Various Artists [1962] Swing Billy-A-La-Mode - California Cutups/Mountain Mambo - Nashville Swingsters/Three Miles South Of Cash (In Arkansas) - Carolina Cotton/Hi-De-Ho Boogie - Al Dexter/In My Arms - Down Homers//Hot Strings - Nashville Swingsters/You've Been Cheating Baby - Al Dexter/I Love To Yodel - Carolina Cotton/Hop-Scotch - Nashville Swingsters/Mocking Bird Yodel - Carolina Cotton |
| | AL-1567 - A Little Rock & Roll for Everybody - Various Artists [1960] Mary Little Mary - H-Bomb Ferguson/I'm So Lonely - H-Bomb Ferguson/The Mess Around - H- Bomb Ferguson/I'm Crying Boo-Boo Hoo - H-Bomb Ferguson/Lady Queen - H-Bomb Ferguson/Midnight Ramblin' Tonite - H-Bomb Ferguson//Whatcha Bet - Escos/Golden Rule of Love - Escos/We Dance - Escos/(Do the) Wiggle - Mascots/Lonely Rain - Mascots/That's the Way I Feel - Mascots |
| | AL-1568 - Moon Mullican Instrumentals - Moon Mullican & His Fabulous Piano plus Cowboy Copas, Hank Penny & Mel Cox [1962] Country Boogie - Moon Mullican/Jamboree - Cowboy Copas/Piano Breakdown - Moon Mullican/Moon's Blues - Moon Mullican/Showboy Special - Moon Mullican//Moonshine Polka - Moon Mullican/Hillbilly Jump - Hank Penny/Over The Waves - Moon Mullican/Steel Guitar Polka - Hank Penny/Guitar Jump - Mel Cox & Light Crust Doughboys |
| | AL-1569 - Banjos Country Style - Various Artists [1962] Raggin' The Banjo - Marvin Montgomery/Rocky Roads - Leon Jackson & Johnny Bryant/Buddy's Stomp - Cecil Surrat & Smitty Smith/Swanee River-Old Black Joe-My Old Kentucky Home - Marvin Montgomery/Buttahatchee - Johnny Bryant & Leon Jackson//Ring Ring De Banjo - Marvin Montgomery/White Oak Mountain Breakdown - Leon Jackson & Johnny Bryant/Blue Bells Of Scotland-Sweet & Low - Marvin Montgomery/Slippin' Banjo - Bill Duncan/Hear Dem Bells - Marvin Montgomery |
| | AL-1570 - Emil Coleman Invites You to Dance - Emil Coleman & His Society Orchestra [1962] Reissue of King 395-517 minus two songs. La Cumparsita/Jalousie/El Choclo/La Cucuracha/Maria Elena/The Peanut Vendor/Lady In Red/Carioca/Mama Inez/Green Eyes |
| | AL-1571 - Cha Cha Cha - Freddy Calo & His Latin Orchestra [1962] Reissue of King 636 (shown), less two songs. Ramona/Around the World in 80 Days/Pega Palo/Flores Negras/In a Little Spanish Town/Cuban Love Song/Se Acaso Voce Chegasse/Carinoso/Arrivederci Roma/Historia Del Amor/others |
| | AL-1572 - Dancing on the Sunset Strip - Dick Stabile, His Saxophone & Hollywood Orchestra [1962] Reissue of King 623, less two songs. We'll Be Together Again/For You/Do I Love You/My Fate Is in Your Hands/Broadway Beat//Oh Baby/Ballet Bleu/Without a Song/Man With a Horn/I Lead a Charmed Life |
| | AL-1573 - Country Side - Lattie Moore [1962] Here I Am Drunk Again/Mine Again/I Gotta Go Home (And Catch Up On My Sleep)/Cajun Doll/A Brand New Case Of Love//Driving Nails/Out Of Control/If The Good Lord's Willing And The Creek Don't Rise/Sundown And Sorrow/Don't Trade The Old For The New |
| | AL-1574 - Songs of Salvation, Volume Two - Parker Family [1962] Please Think It Over/Thank God/Show Me The Way/Sinner's Dream/Daddy Is Sleeping Up In Heaven/Don't Wait Any Longer Dear Sinner/Sinner's Warning//I've Answered God's Call/Oh Sinner Man/You Can Have The Whole Wild World/I've Got A Longing/Our Baby's Memory/God Overpowered Satan/He'll Set You Free/Will He Hear You Cry |
| | Audio Lab AL-1600 Series: |
| | AL-1601 stereo - Eddie Davis and Charlie Ventura in Stereo - Eddie Davis/Charlie Ventura [scheduled 1959, probably unissued] Abridged reissue of King 665 (Battle of the Saxes). Issued as King KSD-1601. Side 1 (Eddie Davis) recorded June 14, 1958, in New York City; Side 2 (Charlie Ventura) recorded March 30, 1957, in Hackensack, NJ. Mean To Me/All God's Chillun Got Rhythm/This Can't Be Love/All Of You/If I Were A Bell/Out Of Nowhere//Liza/If I Had You/Give Me The Simple Life/I Can't Give You Anything But Love/Sweet Georgia Brown |