Movietone was a budget subsidiary of 20th Century Fox' record division. They issued 29 albums starting in 1965 and ending in 1967. Most or all of these were reissues of albums that had appeared earlier on the 20th Fox label.

Actually, the name "Movietone" had been used by Fox since 1926, when it was coined by William Fox to name the process he had bought for putting sound on film for "talkies." By the time the 1965 incarnation of the record label came along, Fox had issued some 78s on the Fox Movietone label decades earlier, but these were not commercial issues, as far as we know. "Movietone" was also the name Fox gave to its TV and Newsreel coverage.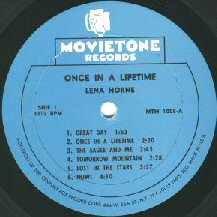 In 1965, the catalog numbering system started as MTM 1000 for mono and MTS 2000 for stereo, starting with x001 and going to x009. The next year, when ABC took over as distributor, mono albums used 71 as a prefix and stereo albums used S72, continuing with the last three digits from the MTM/MTS sequence (71010/S 72010, etc.) The Movietone label was a medium blue with black print, with the white Movietone logo at the top of the label.

We would appreciate any additions or corrections to this discography. Just send them to us via e-mail. Both Sides Now Publications is an information web page. We are not a catalog, nor can we provide the records listed below. We have no association with Movietone or 20th Century Fox Records. Should you be interested in acquiring albums listed in this discography (all of which are out of print), we suggest you see our Frequently Asked Questions page and follow the instructions found there. This story and discography are copyright 2006 by Mike Callahan.
| | |
| --- | --- |
| Cover | Number - Title - Artist - [Release Date] Contents |
| | MTM 1000/MTS 2000 series: |
| | MTM 1001 - On the Good Ship Lollipop - Shirley Temple [1965] Issued in monaural only. On the Good Ship Lollypop/Polly-Wolly-Doodle/Early Bird/Animal Crackers In My Soup/I Love To Walk In The Rain/But Definitely/Goodnight, My Love/He Was a Dandy/Hey! What Did The Bluejay Say?/If All The World Were Paper/Swing Me An Old Fashioned Song/Come And Get Your Happiness/We Should Be Together/Picture Me Without You/Noointjie Van Die On Transvaal |
| | MTM 1002/MTS 2002 - That Old Feeling - Al Martino [1965] I Can't Get You Out Of My Heart/Time After Time/They Don't Believe Me/My One And Only Love/And I Have You My Love/It's All Over But The Crying//Hello, My Love/When Your Lover has Gone/That Old Feeling/I've Got You Under My Skin/My Side Of The Story/There's No Tomorrow |
| | MTM 1003/MTS 2003 - Glenn Miller's Shindig - Glenn Miller Orchestra [1965] In The Mood/Moonlight Sonata/Serenade In Blue/Moonlight Serenade/At Last//American Patrol/I've Got A Gal In Kalamazoo/Sun Valley Jump/Chattanooga Choo Choo/Bugle Call Rag. |
| | MTM 1004/MTS 2004 - Tommy Dorsey's Hullabaloo - Tommy Dorsey Orchestra [1965] |
| | MTM 1005/MTS 2005 - Once in a Lifetime - Lena Horne [1965] Reissue of 20th Century TF-3115/TFS-4115. Great Day/Once In A Lifetime/The Eagle And Me/Tomorrow Mountain/Lost In The Stars/Now!//Blowin' In The Wind/Distant Melody/Wouldn't It Be Loverly/Meantime/Best Things In Life Are Free/Silent Spring |
| | MTM 1006/MTS 2006 - The Leisurely Loveliness of Neal Hefti and His Orchestra - Neal Hefti & His Orchestra [1965] |
| | MTM 1007/MTS 2007 - Tony Martin Live at Carnegie Hall - Tony Martin [1965] Reissue of TCM 3148/TCS 4148. Overture/Lullaby Of Broadway/Fly Me To The Moon/Begin The Beguine/Shalom-Milk And Honey/Overture/Bye Bye Blackbird/La Vie En Rose/Yours/Avalon/Tenement SymphonyI'll See You In My Dreams |
| | MTM 1008/MTS 2008 - Lush and Lovely - Velvet Violins [1965] |
| | MTM 1009 - George Gershwin Plays Rhapsody in Blue and Others - George Gershwin [1965] Issued in monaural only. |
| | At this point, like the parent 20th Fox label, prefixes change to "no prefix" for mono and just an "S" for stereo. A "7" is added to the front of the catalogue number. Some issues after this point are known to have used the old prefixes and numbering system. |
| | 71010/S 72010 - Ooh! - Mary Wells [1966] Never, Never Leave/He's a Lover/Stop Takin' Me For Granted/Use Your Head/We're Just Two of a Kind/My Mind's Made Up/Why Don't You Let Yourself Go/Everlovin' Boy/Ain't It the Truth/He's Good Enough/How Can I Forget Him/Time After Time |
| | 71011/S 72011 - Johnny Desmond on Location - Johnny Desmond [1966] Woman/Mack the Knife/Girl from Ipanema/Medley: Melancholy Baby, Shine On, For Me and My Gal, Heart of My Heart/It's So Nice/In San Francisco/More/Medley: C'est si Bon, Stardust, Moon River |
| | 71012 - Curtain Call - Shirley Temple [1966] Baby Take A Bow/When I'm With You/Oh My Goodness/At The Codfish Ball/A Happy Little Ditty/How Can I Thank You//When I Grow Up/Tra-La-La- La/Be Optimistic/The Right Someone To Love/On Account Of I Love You/You Gotta Eat Your Spinach Baby/Lay-De-O |
| | 71013/S 72013 - I Wish You Love - Don Cornell [1966] You Know You Don't Want Me/It's the Talk of the Town/I Could Have Told You/For All We Know/Forget About Me/Miss You/I'll Take Care/Fool of Hearts/If You Love Her/Lost Dreams/I'm Alone |
| | 71014/S 72014 - More of Zorba the Greek and Other Greek Dances - Costa Costas [1966] Possibly also issued as MTM 1014/MTS 2014. |
| | 71015/S 72015 - All of Me - Al Martino [1967] Come Back/Little Boy/Dearest/Mama/Our Concerto/Makin' Whoopee!/All or Nothing/Three Little Words/It Had to Be You |
| | 71016/S 72016 - The Unforgettable Marilyn Monroe Sings from Her Motion Picture Soundtracks - Marilyn Monroe [1967] Reissue of 20th Fox FXG/SXG 5000. Heat Wave/Lazy/After You Get What You Want/One Silver Dollar/I'm Going to File My Claim/River of No Return/Little Girl From Little Rock/When Love Goes Wrong/Diamonds Are a Girl's Best Friend/Bye Bye Baby |
| | 71017/S 72017 - The Sound of the Harry Simeone Chorale - Harry Simeone Chorale [1967] Abridged reissue of 20th Century Fox TCM 3169/TCS 4169. Climb Ev'ry Mountain/It is No Secret/You'll Never Walk Alone/Peace in the Valley/Onward Christian Soldiers/I Believe/He/Tenderly He Watches/Beautiful Isle |
| | 71018/S 72018 - The Glenn Miller Years - Glenn Miller Orchestra [1967] Moonlight Serenade/It happened In Sun Valley/The Spirit is Willing/People Like You and Me/I Know Why/Boom Shot/That's Sabotage/You Say the Sweetest Things/Measure For Measure/Sun Valley Jump |
| | 71019/S 72019 - The Tommy Dorsey Years - Tommy Dorsey Orchestra [1967] Marie/Song of India/Minor Goes Muggin'/On the Sunny Side of the Street/Rest Stop/Amor/But She's My Buddy's Chick/Wagon Wheels/Clarinet Cascades/I Never Knew |
| | 71020/S 72020 - Autumn Leaves - Benny Carter [1967] Abridged reissue of TCF 3134/TCS 4134. Autumn Leaves/Around the World/I'll Close My Eyes/Cuando Caliente el Sol/Smile/Cherokee/Waltz Gay/Vous Qui Passez/Bagatelle/Gypsy |
| | 71021/S 72021 - The Legendary Art Tatum - Art Tatum [1967] Begin the Beguine/Someone to Watch Over Me/Body And Soul/Willow Weep For Me/Too Marvellous For Words/Tenderly/You Took Advantage of Me/Yesterdays/I'll Never Be the Same/Without a Song |
| | 71022/S 72022 - In a Sentimental Mood - Sylvia Syms with Bernie Leighton Quintet [1967] Abridged reissue of 20th Century Fox TFM 3123/TFS 4123. I'm A Sucker For A Sentimental Song/I Don't Want To Walk Without You/Keepin Out Of Mischief Now/Skylar/It's Funny To Everyone But Me/You've Changed/I Can't Face The Music/Here's That Rainy/An Old Piano Plays The Blues/In A Sentimental Mood |
| | 71023/S 72023 - The Sound of the Hugo Montenegro Strings - Hugo Montenegro [1967] Peg O' My Heart/St. Louis Blues/Chanson D'amour/Slow Poke/Dardanella//And The Angels Sing/I'll Know My Love/Song Of India/Heartaches/A String Of Pearls |
| | 71024/S 72024 - Great Harmonica Favorites - Eddie Manson [1967] Abridged reissue of 20th Fox FOX/SFX 3038. Peg O' My Heart/Sabre Dance/Joey's Theme/Allegheny Moon/Ruby/My Happiness/St. Louis Blues Waltz/Twilight on the Trail/Off Shore/Story of Three Loves |
| | 71025/S 72025 - Silk Strings - Bold Brass - Haymes-Mundy Orchestra [1967] Abridged reissue of 20th Century Fox TCM 3142/TCS 4142. The Fox/I'll Teach You How To Cry/That's All/Au Revoir Paree/My Love, My Love//Curtain Time/Beyond The Next Hill/The Best Thing To Be Is A Person/Somewhere Island/Eternal Light |
| | 71026/S 72026 - Delightfully - Kitty Kallen [1967] Abridged reissue of 20th Century Fox TCM 3151/TCS 4151. Quiet Nights/Let Me Love You/Girl From Ipanema/If Someone Had Told Me/Moonglow/Speak Softly/It's Not For Me/Just Say I Love Him/Nearness of You |
| | 71027/S 72027 - Just Us - Mary Kaye Trio [1967] Reissue of 20th Century Fox TCM 3117/TCS 4117. What's Yours/Charade/Stay/Man's Favorite Sport/Dancing//Night Life/Spring Is Here/More/The Feeling Of Paree/Sleeves of Green |
| | 71028/S 72028 - Parisian Strings - Caravelli Strings [1967] Reissue of 20th Fox FOX 3048. Never on Sunday/Once/Ring Around a Rainbow/Jangadeiro/Recado/Charrette/Arlequin de Tolede/Mon Beau Chapeau/Tete de Bois/Si Tu Reviens Un Jour |
| | 71029/S 72029 - A Trip to Gotham City - 5th Avenue Busses [1967] Ma Parker/Riddler/Robin Boy Wonder/Fingers/Penguin/Joker/Catwoman/Sandman/Marsha, Queen of Diamonds/Fantastic Voyage |