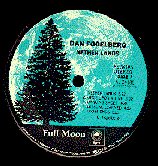 Full Moon Records Discography
By Mike Callahan, David Edwards, and Patrice Eyries
Last update: September 28, 2000




Full Moon Records was Irving Azoff's label. In the early 1970s, Azoff was running a music booking agency in Champaign, Illinois, near his alma mater, the University of Illinois. He had gotten regional band REO Speedwagon a contract with media giant Columbia, and felt he was ready for the big time. Looking for a potential star that could help him get there, he heard about Peoria-born Dan Fogelberg, a student at U of I who was singing at coffee houses locally. At a noisy and boisterous frat party at one of the local bars, Azoff found someone who knew Fogelberg, and Azoff sent for him to hear him play. As Fogelberg took the stage alone, the bottles kept breaking against the wall, the fights continued, but Azoff heard the star quality through the din and told him that they both were ready for the big time.

Azoff moved to Los Angeles, right across the street from David Geffen, who was then setting up shop at Asylum Records. Azoff gave Fogelberg traveling money to join him there, and shopped his demo tapes around town, finally settling on Columbia for the contract.

Full Moon was actually Azoff's production company, and starting with Souvenirs, Fogelberg's second album, the Full Moon logo appeared on Fogelberg's albums as the Epic/Full Moon label. The original pressings of Souvenirs were on the orange Epic label with a small Full Moon logo, but Azoff quickly had a complete Full Moon/Epic label designed featuring an evergreen tree in the foreground backed by a huge photo of the full moon which took up the entire label. The label most often appeared with a blue background and black and white print, but was also issued in orange, peach, aqua, or grey colors instead of blue. Although the evergreen tree logo remained the Full Moon logo, the Full Moon label was not used for Full Moon issues on other labels.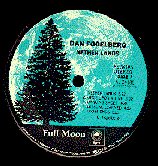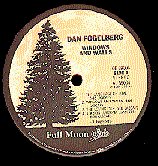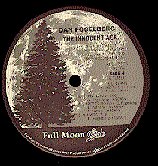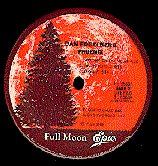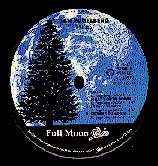 Azoff eventually became manager of the Eagles and Journey under his Front Line management company, and became noted as producer of several hit movies, including Fast Times at Ridgemont High and Urban Cowboy. In 1983, he became Chairman of the MCA Music Entertainment Group, but kept his role as head of Full Moon and Front Line. In 1990, he teamed with Time Warner to form Azoff Entertainment Company. The Full Moon logo was last seen on Warner/Reprise records about 1990, when the Azoff Entertainment Company was formed. Fogelberg's records on Full Moon/Epic continued until the early 1990s.

Information contained in this discography came from our personal record collections and other reference material. Information about the Full Moon label and Irving Azoff came from the liner notes to the Dan Fogelberg box set and Frederick Dannen's book Hit Men.

We would appreciate any additions or corrections to this discography. Just send them to us via e-mail. Both Sides Now Publications is an information web page. We are not a catalog, nor can we provide the records listed below. We have no association with Full Moon Records. Should you be interested in acquiring albums listed in this discography (which are all out of print), we suggest you see our Frequently Asked Questions page and follow the instructions found there. This story and discography are copyright 2000 by Mike Callahan.




FULL MOON RECORDS ALBUM DISCOGRAPHY

Record Number - Album Title - Artist [Issue date] (Chart) Contents


Full Moon/Epic

KE 33137 - Souvenirs - Dan Fogelberg [10/74] (12-74, #17) Original issues have the usual orange Epic label with a small Full Moon logo. Reissued in 1975 with the blue/black Full Moon label. Later reissued as PE 33137. Part Of The Plan/Illinois/Changing Horses/Better Change/Souvenirs/The Long Way//As The Raven Flies/Song From Half Mountain/Morning Sky/(Someone's Been) Telling You Stories/There's A Place In The World For A Gambler

PE 33499 - Captured Angel - Dan Fogelberg [9/75] (10-75, #23) Also issued in Quadraphonic as PEQ 33499. Later ('80s) pressings of PE 33499 have bar code on jacket cover. Aspen-These Days/Comes And Goes/Captured Angel/Old Tennessee//Next Time/Man In The Mirror- Below The Surface/Crow/The Last Nail

PE 34185 - Nether Lands - Dan Fogelberg [5/77] (6-77, #13) Original pressings have no bar code on jacket cover; '80s reissues have bar code. Nether Lands/Once Upon A Time/Dancing Shoes/Lessons Learned/Loose Ends//Love Gone By/Promises Made/Give Me Some Time/Scarecrow's Dream/Sketches/False Faces

PE 34827 - Thirsty or Not...Choose Your Flavor - Coal Kitchen [1977] Fallin' In Love/Got Your Love For Good/All I Want To Do/Back On The Track/Share A Good Thing//Ain't That The Kind/Gimme What You Want/Keep On Pushin'/Git It/Chained To The Train Of Love

JE 35339 - Twin Sons of Different Mothers - Dan Fogelberg & Tim Weisberg [8/78] (9- 78, #8) Reissued in the 1980s as PE 35339. Twins Theme/Intimidation/Lazy Susan/Guitar Étude No. 3/Tell Me To My Face//Hurtwood Alley/Lahaina Luna/Paris Nocturne/Since You've Asked/The Power Of Gold

JE 35545 - Life in the Foodchain - Tonio K. [1979] Life In The Foodchain/The Funky Western Civilization/Willie And The Pigman/The Ballad Of The Night The Clocks All Quit (And The Government Failed)//American Love Affair/How Come I Can't See You In My Mirror?/Better Late Than Never/A Lover's Plea/H-A-T-R-E-D

FE 35634 - Phoenix - Dan Fogelberg [11/79] (12-79, #3) Reissued in the 1980s as PE 35634. Half- speed mastered version issued in 1981 as HE 45634. Tullamore Dew/Phoenix/Gypsy Wind/The last To Know/Face The Fire//Wishing On The Moon/Heart Hotels/Longer/Beggar's Game/Along The Road

SE 36921 - Urban Cowboy II (More Music from the Original Motion Picture Soundtrack) - Various Artists [1980] (1-81, #134) Rode Hard And Put Up Wet - Johnny Lee/Texas - Charlie Daniels Band/Mamas Don't Let Your Babies Grow Up To Be Cowboys - Mickey Gilley & Johnny Lee/Cotton-Eyed Joe - Bayou City Beats/Honky Tonk Wine - Mickey Gilley//The Moon Just Turned Blue - J.D. Souther/Rockin' My Life Away - Mickey Gilley/Jukebox Argument - Mickey Gilley/Orange Blossom Special - Charlie Daniels Band

KE2 37393 - The Innocent Age - Dan Fogelberg [9/81] (9-81, #6) (2-LP set) Nexus/The Innocent Age/The Sand And The Foam/In The Passage//Lost In The Sun/Run For The Roses/Leader Of The Band/Same Old lang Syne//Stolen Moments/The Lion's Share/Only The Heart May Know [with Emmylou Harris]/The Reach//Aireshire Lament/Times Like These/Hard To Say/Empty Cages/Ghosts

QE 38208 - Greatest Hits - Dan Fogelberg [10/82] (11-82, #15) Half-speed mastered version issued in 1983 as HE 48308. Part Of The Plan/Heart Hotels/Hard To Say/Longer/Missing You//The Power Of Gold/Make Love Stay/Leader Of The Band/Run For The Roses/Same Old Lang Syne

QE 39004 - Windows and Walls - Dan Fogelberg [1/84] (2-84, #15) The Language Of Love/Windows And Walls/The Loving Cup/Tucson Arizona (Gazette)//Let Her Go/Sweet Magnolia (And The Travelling Salesman)/Believe In Me/Gone Too Far

*FE 39616 - High Country Snows - Dan Fogelberg [4/85] (5-85, #30 pop; 6-85, #23 country) Down The Road/Go Down Easy/High Country Snows/The Higher You Climb/Mountain Pass/The Outlaw/Shallow Rivers/Sutter's Mill/Think Of What You've Done/Wandering Shepherd/Wolf Creek

OE 40271 - Exiles - Dan Fogelberg [5/87] (6-87, #48) Exiles/What You're Doing/Lonely In Love/Seeing You Again//She Don't Look Back/The Way It Must Be/Hearts In Decline/It Doesn't Matter/Our Last Farewell

The following were issued on CD only:

*EK 45059 - The Wild Places - Dan Fogelberg [8/90] (9-90, #103) Anastasia's Eyes/Blind To The Truth/Bones In The Sky/Ever On/Lovers In A Dangerous Time/Rhythm Of The Rain/Song Of The Sea/Spirit Trail/Wild Places

E2K 48625 - Dan Fogelberg Live: Greetings from the West - Dan Fogelberg [10/91] (2 CD set)

EK 46934 - River of Souls - Dan Fogelberg [9/93]


The following were distributed by Elektra/Asylum.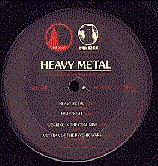 Full Moon/Asylum:





DP-90002 - Urban Cowboy - Various Artists [1980] (5-80, #3) (2 LP set) Hello Texas - Jimmy Buffett/All Night Long - Joe Walsh/Times Like These - Dan Fogelberg/Nine Tonight - Bob Seger & The Silver Bullet Band//Stand By Me - Mickey Gilley//Cherokee Fiddle - Johnny Lee/Could I Have This Dance - Anne Murray/Lyin' Eyes - The Eagles//Lookin' For Love - Johnny Lee/Don't It Make Ya Wanna Dance - Bonnie Raitt/The Devil Went Down To Georgia - The Charlie Daniels Band/Here Comes The Hurt Again - Mickey Gilley/Orange Blossom Special - Hoedown - Gilley's Urban Cowboy Band//Love The World Away - Kenny Rogers/Falling In Love For The Night - The Charlie Daniels Band//Darlin' - Bonnie Raitt/Look What You've Done To Me - Boz Scaggs/Hearts Against The Wind - Linda Ronstadt & J.D. Souther

DP-90004 - Heavy Metal (Soundtrack) - Various Artists [1981] (8-81, #12) (2-LP set) Soundtrack from an animated film. Heavy Metal - Sammy Hagar/Heartbeat - Riggs/Working In The Coal Mine - Devo/Veteran Of The Psychic Wars - Blue Oyster Cult//Reach Out - Cheap Trick/Heavy Metal (Takin' A Ride) - Don Felder/True Companion - Donald Fagen/Crazy - Nazareth//Radar Rider - Riggs/Open Arms - Journey/Queen Bee - Grand Funk Railroad/I Must Be Dreamin' - Cheap Trick//The Mob Rules - Black Sabbath/All Of You - Don Felder/Prefabricated - Trust/Blue Lamp - Stevie Nicks

Full Moon 5E-541 - Bet Your Heart On Me - Johnny Lee [1981] (10-81, #9 country) Bet Your Heart On Me/Finally Fallin'/Somebody Like You/Be There For Me Baby/I've Come A Long Way (But I Got A Long Way To Go)//Highways Run On Forever/A Little Bit Of Lovin'/Crossfire/How Deep In Love I Am/When You Fall In Love

E1 60147 - Sounds Like Love - Johnny Lee [1982] (10-82, #32 country)

*E1 60158 - Fast Times at Ridgemont High (Soundtrack) - Various Artists [8/82] (8-82, #54) Don't Be Lonely - Quarterflash/Fast Times At Ridgemont High - Sammy Hagar/Fast Times (The Best Years Of Our Lives) - Billy Squier/Goodbye Goodbye - Oingo Boingo/Highway Runner - Donna Summer/I Don't Know (Spicoli's Theme) - Jimmy Buffett/I'll Leave It Up To You - Poco/Look In Your Eyes - Gerard McMahon/Love Is The Reason - Graham Nash/Love Rules - Don Henley/Never Surrender - Don Felder/Raised On The Radio - Ravyns/She's My Baby (And She's Outta Control) - Dave Palmer & Phil Jost/Sleeping Angel - Stevie Nicks/So Much In Love - Timothy B. Schmit/ Somebody's Baby - Jackson Browne/Speeding - Go-Go's/Uptown Boys - Louise Goffin/Waffle Stomp - Joe Walsh


Full Moon/Warner Bros.: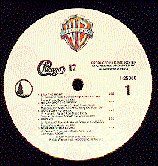 FMH 3490 - Coast To Coast (Soundtrack) - Various Artists [1980] Pickin' Up Strangers - Johnny Lee/Fool That I Am - Rita Coolidge/Feels So Good To Win - Ambrosia/Send Me Someone To Love - Kathy Walker/Swayin' To The Music (Slow Dancin') - Johnny Rivers//I Can Tell By The Way You Dance - Johnny Lee/Once In A Lifetime - Bonnie Raitt/You're Only Lonely - J.D. Souther/Survive - Jimmy Buffett/Coast To Coast - T.G. Sheppard

*FMH 3624 - Peter Cetera - Peter Cetera (1-82, #143) Evil Eye/Holy Moly/How Many Times/I Can Feel It/Ivy Covered Walls/Living In The Limelight/Mona Mona/Not Afraid To Cry/On The Line/Practical Man

*FMH 3625 - Grand Funk Lives - Grand Funk (Railroad) [1981] (10-81, #149) Can't Be With You Tonight/Good Times/Greed Of Man/No Reason Why/Queen Bee/Stuck In The Middle/Testify/Wait For Me/We Gotta Get Out Of This Place/Y.O.U.

FMH 3655 - Riggs - Riggs [5/82]

*23689-1 - Chicago 16 - Chicago [5/82] (6-82, #9) Bad Advice/Chains/Follow Me/Hard To Say I'm Sorry-Get Away/Love Me Tomorrow/Rescue You/Sonny Think Twice/Waiting For You To Decide/What Can I Say/What You're Missing

23748-1 - Blade Runner (Soundtrack) - New American Orchestra [11/82]

23750-1 - What's Funk - Grand Funk (Railroad) [1983]

23784-1 - No Looking Back - Gerald McMahon [1983] Count On Me/I Wouldn't Take It From You/No Looking Back/She's The Woman/Talking 'Bout Girls//(You're) Wearing My Heart Out/No Sweat (I'm Alright)/When She Was Mine/Nickel Charm Jack/So Many Nights

*23844-1 - You Bought It -- You Name It - Joe Walsh [1983] (7-83, #48) Class Of '65/Here We Are Now/I Can Play That Rock & Roll/I.L.B.T.'s/Theme From Island Weirdos/Love Letters/Shadows/Space Age Whiz Kids/Told You So/Worry Song

23967-1 - Greatest Hits - Johnny Lee [1983] (11-83, #41 country)

25060-1 - Chicago 17 - Chicago [1984] (6-84, #4) Stay The Night/We Can Stop The Hurtin'/Hard Habit To Break/Only You/Remember The Feeling//Along Comes A Woman/You're The Inspiration/Please Hold On/Prima Donna/Once In A Lifetime

*25281-1 - The Confessor - Joe Walsh [1985] (6-85, #65) Bubbles/The Confessor/Dear John/15 Years/Good Man Down/I Broke My Leg/Problems/Rosewood Bitters/Slow Dancing

*25474-1 - Solitude/Solitaire - Peter Cetera [1986] (7-86, #23) Big Mistake/Daddy's Girl/Glory Of Love (Theme From The Karate Kid II)/Next Time I Fall/Only Love Knows Why/Queen Of The Masquerade Ball/Solitude-Solitaire/They Don't Make 'Em Like They Used To/Wake Up To Love

25509-1 - Chicago 18 - Chicago [1986] (10-86, #35) Niagra Falls/Forever/If She Would Have Been Faithful.../25 Or 6 To 4/Will You Still Love Me?//Over And Over/It's Alright/Nothin's Gonna Stop Us Now/I Believe/One More Day

*25606-1 - Got Any Gum? - Joe Walsh [1986] (8-87, #113) Fun/Got Any Gum?/Half Of The Time/In My Car/Malibu/Memory Lane/No Peace In The Jungle/Radio Song/Time/Up To Me

*25704-1 - One More Story - Peter Cetera [1988] (8-88, #58) Best Of Times/Body Language (There In The Dark)/Heaven Help This Lonely Man/Holding Out/One Good Woman/One More Story/Peace Of Mind/Save Me/Scheherazade/You Never Listen To Me


Full Moon/Reprise:

*25714 - 19 - Chicago [1988] (7-88, #37) Come In From The Night/Heart In Pieces/I Don't Wanna Live Without Your Love/I Stand Up/Look Away/Runaround/Victorious/We Can Last Forever/What Kind Of Man Would I Be?/You're Not Alone

26080 - Greatest Hits 1982-1989 - Chicago [1989] (12-89, #37) Hard To Say I'm Sorry- Get Away/Look Away/Stay The Night/Will You Still Love Me?/Love Me Tomorrow/What Kind Of Man Would I Be? (Remix)//You're My Inspiration/I Don't Wanna Live Without Your Love/Hard Habit To Break/Along Comes A Woman/If She Would Have Been Faithful.../We Can Last Forever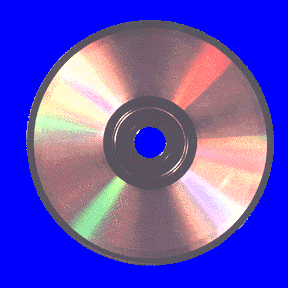 Back to the Discography Listings Page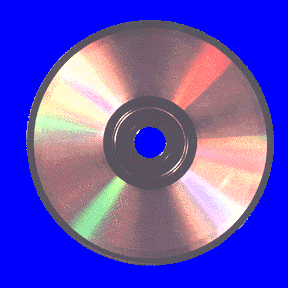 Back to the Both Sides Now Home Page