Cadet Concept was a label put together and run by Marshall Chess, son of Chess records co- founder Leonard Chess. He put together the ensemble Rotary Connection in 1967 to start off the label, and issued many albums by the group during the label's run. Arguably, the label itself was a vehicle for the Rotary Connection. Included in the group was Minnie Riperton, a singer with a soaring operatic range who had done some vocal work with Chess in the group called the Gems. Later, Riperton went on to a solo career with Epic Records and had the #1 hit "Lovin' You" in the 1970s.

In addition to the Rotary Connection, the label featured early chart records by UK rockers Status Quo, saxophonist John Klemmer, reviewer/producer Joel Vance (?!), and a few other groups such as Aesop's Fables and Salloom and Sinclair. Chess also included several albums by blues legends Muddy Waters and Howlin' Wolf, mainstays of his father's label.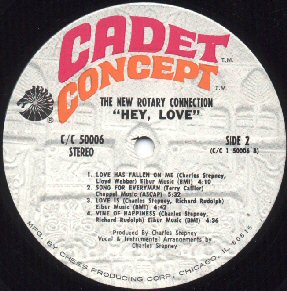 The Cadet Concept label was gray with black print. Above the center hole was "CADET" in pink and "CONCEPT" in orange. To the left of the center hole was the stylized horse head logo.
We would appreciate any additions or corrections to this discography. Just send them to us via e-mail. Both Sides Now Publications is an information web page, and we have no association with Cadet Concept Records. Cadet Concept is currently owned by MCA Records/Universal Music Group. Should you be interested in contacting MCA or acquiring albums listed in this discography (which are all out of print), we suggest you see our "Frequently Asked Questions" page and follow the instructions found there. This discography is copyright 1997, 1999, 2005 by Mike Callahan.
| | |
| --- | --- |
| Cover | Number - Title - Artist - [Release Date] (Chart) Contents |
| | LPS-312 - Rotary Connection - Rotary Connection [1968] (3-68, #37) Amen/Rapid Transit/Turn Me On/Pink Noise/Lady Jane/Like A Rollin' Stone//Soul Man/Sursum Mentes/Didn't Want To Have To Do It/Black Noise/Memory Band/Ruby Tuesday/Rotary Connection |
| | LP-313 - [Unissued] |
| | LPS-314 - Electric Mud - Muddy Waters [1968] I Just Want To Make Love To You/Hoochie Coochie Man/Let's Spend the Night Together/She's All Right//I'm A Man/Herbert Harper's Free Press/Tom Cat/Same Thing |
| | LPS-315 - Messages from the Status Quo - Status Quo [1968] Black Veils Of Melancholy (E)/When My Mind Is Not Live (E)/Ice In The Sun (E)/Elizabeth Dreams (E)/Gentleman Joe's Sidewalk Cafe (E)//Paradise Flat (E)/Technicolor Dreams (E)/Spicks And Specks (E)/Sunny Cellophane Sky (E)/Pictures Of Matchstick Men (E) |
| | LPS-316 - Salloom, Sinclair and the Mother Bear - Salloom & Sinclair [1968] "Salloom & Sinclair" are Roger Salloom & Robin Sinclair; "Mother Bear" is their backing group. Be Born Again/Conversations With Gentility/Steals/Griffin/She Kicked Me Out Of The House After This One/Florida Blues/Sitting On A Finger/Marie La Peau |
| | LPS-317 - Aladdin - Rotary Connection [1968] (10-68, #176) Life Could/Teach Me How To Fly/V.I.P/I Took A Ride (Caravan)/Let Them Talk//Aladdin/I Feel Sorry/Magical World/I Must Be There/Paper Castle |
| | LPS-318 - Peace - Rotary Connection [1968] Opening Round/Silent Night/Christmas Love/Last Call For Peace/Shopping Bag Menagerie/Silent Night//Christmas Child/Piece At Least/Santa's Little Helpers/Sidewalk Santa/If Peace Was All We Had/Silent Night Chant/Silence |
| | LPS-319 - The Howlin' Wolf Album - Howlin' Wolf [1969] Spoonful/Tail Dragger/Smokestack Lightning/Moanin' At Midnight/Built For Comfort//The Red Rooster/Evil/Down In The Bottom/Three Hundred Pounds Of Joy/Back Door Man |
| | LPS-320 - After the Rain - Muddy Waters [1969] I Am The Blues/Ramblin' Mind/Rollin' And Tumblin'/Bottom Of The Sea//Honey Bee/Blues And Trouble/Hurtin' Soul/Screamin' And Cryin' |
| | LPS-321 - Blowin' Gold - John Klemmer [1969] (9-69, #176) Children Of The Earth: Flames!/Excursion #2/My Heart Sings/Hey Jude/Free Soul/My Love Has Butterfly Wings/Third Stone From The Sun |
| | LPS-322 - Songs - Rotary Connection [1969] Respect/Weight/Sunshine of Your Love/I've Got My Mojo/Burning of the Midnight Lamp/Tales of Brave Ulymes/This Town/We're Going Wrong/Salt of the Earth |
| | LPS-323 - In Due Time... - Aesop's Fables [1969] Lift Up Your Hearts/What Is Soul/In Due Time/In The Morning/Everyone's Talking/Spoons Full Of Sand//The Sound Of Crying/What Is Love/Look Out/I'm Gonna Make You Love Me/And When It's Over |
| | LPS-324 - Howlin' Wolf - Howlin' Wolf [unissued] |
| | LPS-325 - What I Did on My Vacation - Joel Vance [1969] Fannie Mae/Bamboo Lou/O Miss Chickie/When A Whore Falls/Claudie/(others) |
| | LPS-326 - All the Children Cried - John Klemmer [1969] All The Children Cried/For God: Whoever And Whatever That Is/Journey's End/Moon Child//Here Comes The Child/I Whisper A Prayer For Peace/Mind Explosion/Pulsations Of A Green-Eyed Lady/Soliloquy For Tenor And Voice |
| | LPS-327 - Salloom and Sinclair - Salloom & Sinclair [1969] Lesson At The Delicatessen/Motorcycle/One More Try/I'm Comin' Home Again/Violence, Blam Blam, I'm Sorry//Animal/Faith Has Been Given/Let's Be Right/Exhaustion/Sleep |
| | LPS-328 - Dinner Music - Rotary Connection [1970] Pointillism/We Will Be Free/Lining Alone/Lektricks # 1/Country Things/Quartet/May Our Amens Be True/Stormy Monday Blues//Love Me Now/Lonely Summer/Amuse/Lektricks # 2/Merry Pransker/Pump Effect/Want You To Know |
| | LPS-329 - Archie Whitewater - Archie Whitewater [1970] Don't Be Short/Northstar/Mist Of The Early Morning/Life Is A River/Friends And Neighbors/Country To The City//Home Again/Cross Country/Lament For The Walking Dead/Seacoast/Hulk |
| | LPS-330 - Eruptions - John Klemmer [1970] Gardens Of Uranus/Summer Song/Regions of Fire/Lady Toad |
| | LPS-331 - Aesop's Fables - Aesop's Fables [1970] |
| | Special Series: |
| | CCX-1 - Earle Doud Presents: Spiro T. Agnew Is A Riot! - Various Artists [1971] Comedy album. Diplomacy/Doomsday Machine/Good Night/I'm Sorry/Jack Frost (Parts 1-6)/Oath Of Office/Polish Ambassador/PTA/Silent Majority/The Fight/The Joke/The Monument |