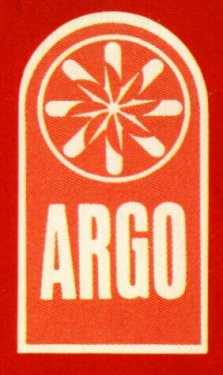 Argo Album Discography, Part 1: Jazz Series (1956-1965)
by David Edwards and Mike Callahan
Last update: November 4, 2005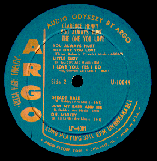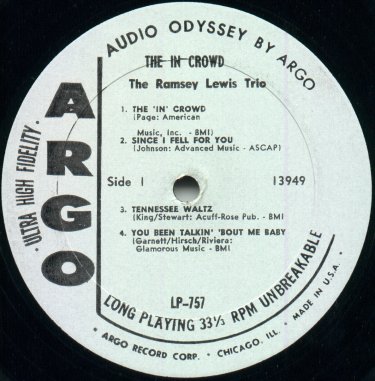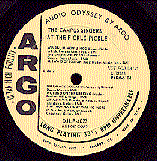 There are many variations of the first Argo label. On the mono side, two were dark green, one with silver print and one with gold printing. "ARGO" is vertical on the left side of the label, beside the logo is "ULTRA HIGH FIDELITY". While this label was being used, white labels with black printing were used for promotional issues early in the series, later creme colored labels with black printing were used, in some cases the prefix was changed to DJLP, in others the number was not changed. Other variations of this label design were silver with black printing and a black label with silver printing. We don't know if there was any particular chronological order to the labels. All of the above designs had identical design.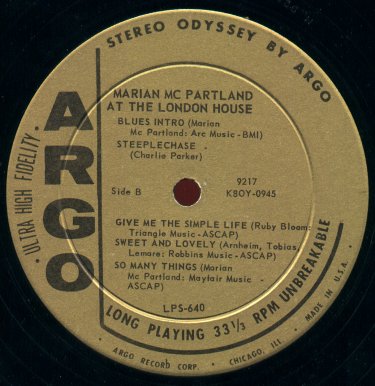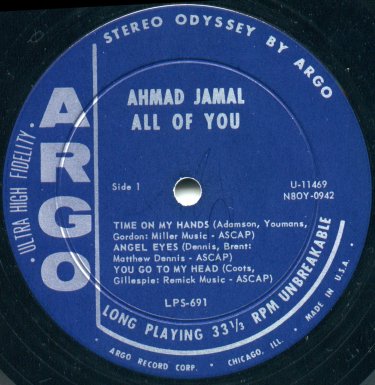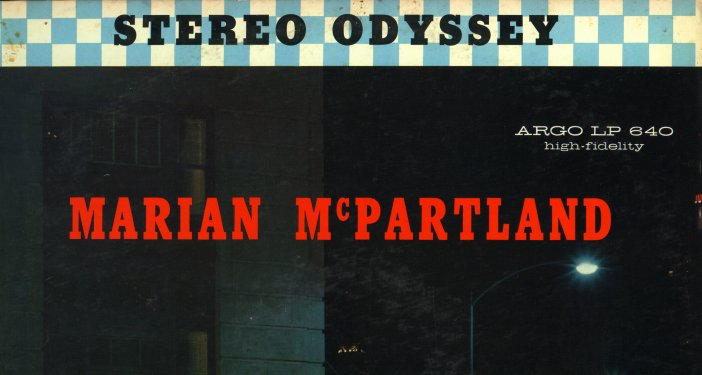 Stereo issues began with a flair, using a gold label with black print and a massive "STEREO ODYSSEY" banner on the front of the record jacket. This quickly was toned down to a dark blue label with silver printing, with a much lower-key banner on the jacket. The stereo labels used the same design as the mono labels.





The next label was sliver with black print with "ARGO" vertically on the left side but omitting the "ULTRA HIGH FIDELITY", replacing this was 33 1/3 under the "O" in Argo. The next label was brown with a pink and white "ARGO" in an oval to the left of the center hole.

Those albums for which we have reason to believe were issued in mono only are listed with the mono ("LP-") prefix. Those for which we have indication of a stereo issue are listed with their stereo prefix ("LPS-"). For those where we do not have information on stereo issue, we have used an asterisk in the prefix (LP*-"). Many of the early albums were reissued later, using the later label styles.

We would appreciate any additions or corrections to this discography. Just send them to us via e-mail. Both Sides Now Publications is an information web page. We are not a catalog, nor can we provide the records listed below. We have no association with Argo/Chess Records, which is currently owned by Universal Music Group (MCA). Should you want to contact Universal, or should you be interested in acquiring albums listed in this discography (which are all out of print), we suggest you see our Frequently Asked Questions page and follow the instructions found there. This story and discography are copyright 1997, 1999, 2005 by Mike Callahan.



ARGO ALBUM DISCOGRAPHY, Part 1

Number - Title - Artist [Release Date] (Chart) Contents

LP-601 - Melodies By Al Hibbler - Al Hibbler [1956?] What Will I Tell My Heart/Poor Butterfly/My Little Brown Book/Feather Roll Blues/I Love You/Solitude/Lover Come Back To Me/Trees/It' Don't Mean A Thing/Fat And Forty

LP-602 - Chamber Music Of The New Jazz - Ahmad Jamal [1956?] New Rumba/Foggy Day/All Of You/Darn That Dream/It Ain't Necessarily So/I Get A Kick Out Of You/Jeff/Spring Is Here/Medley

LP-603 - Flute 'N The Blues - James Moody [1956?] Flute 'N The Blues/Birdland Story/Body And Soul/It Could Happen To You/Boo's Tune/I Cover The Waterfront/Breaking The Blues/Parker's Mood/Easy Living/Richard's Blues

LP-604 - Lonely One - Pinky Winters [1956?] Polka Dots & Moonbeams/Cheek to Cheek/It Never Entered My Mind/You Smell So Good/Easy Living/Jeepers Creepers/I've Got Plenty of Love/Gone With the Wind/October's Dream/Pennies From Heaven/My Heart's a Child

LP-605 - Without Sauce - Dick Lane's Quartet [8/56] When You're Smiling/'S Wonderful/You're Driving Me Crazy/Foggy Day/Moonglow/I've Got You Under My Skin/Autumn Leaves/Our Love is Here to Stay/Tangerine/After You've Gone/Bye Bye Blackbird/That Old Feeling

LP-606 - Doorway To Dixie - Cy Touff, Miff Mole & Mike Simpson [1956] At the Jazz Band Ball/Basin Street Blues/Struttin' With Some Barbecue/Royal Garden Blues/High Society/Light As A Feather/Runnin' Wild/When The Saints Go Marching In/South Rampart Street Parade/Muskrat Ramble

LP-607 - Norman Simmons Trio - Norman Simmons [1956?] Capacity In Blues/Stella By Starlight/Jan/My Funny Valentine/Peppe/Chili Bowl/You Do Something To Me/Moonlight In Vermont/They Can't Take That Away Form Me/Tranquillity

LP-608 - Zoot - Zoot Sims Quartet [1956?] Zoot/9:20 Special/Man I Love/Fifty Fifth & State/Blue Room/Gus's Blues/That Old Feeling/Bohemia After Dark/Woudy'n You

LP-609 - Chicago Scene - Ira Schulman, Sandy Moose & Eddie Baker [1957?] Straight Life/Let's Get Away From It All/Knickerboper/Doe's Delight/Let's Go/'Tis Autumn/Outville/Fascinating Rhythm

LP-610 - Count 'Em 88 - Ahmad Jamal [1957?] Volga Boatman/Green Dolphin Street/How About You/I Just Can't See For Lookin'/Spring Will Be A Little Late This Year/Beat Out One/Maryann/Easy To Remember/Jim Loves Sue

LP-611 - Ramsey Lewis and his Gentle-Men of Swing - Ramsey Lewis [4/57] Carmen/I'll Remember April/The Wind/Bei Mir Bist Du Schoen/My Funny Valentine//Fantasia For Drums/Dee's New Blues/Tres/Limelight

LP-612 - Young John Young - John Young Trio [1957] Threepenny Opera/Cherry Pink And Apple Blossom White/Invitation/Star Eyes/Boy Next Door/Warsaw Concerto/Bag's Groove/Close To Me/Continental/Medley: Never Entered My Mind-Spring Is Here

LP-613 - Moody's Mood For Love - James Moody [1957] Foolin' The Blues/Plus Eight/I'm In The Mood For Love/Phil Up/You Go To My Head/Billies Bounce/Stardust/Mean To Me

LPS-614 - Chubby's Back - Chubby Jackson [9/57] Tiny's Blues/Raffles/Let's Talk/Mother Knickerbopper/Keester Parade/Flyin' The Coop/Plymouth Rock

LP*-615 - Dick Lane Quartet - Dick Lane Quartet [1957] Swingin' Down the Lane/Back In Your Own Back Yard/I Married an Angel/Making Whoopee/People Will Say We're In Love/Winter Wonderland/Why Did You Leave Me/Tisket a Tasket/Stormy Weather/Up a Lazy River/Singing in the Rain

LP*-616 - Chet Chats - Chet Roble [1957] Little Augie Is a Natural Man/Memphis In June/Do You Know What It Means/Judy/Lazy River/Sugar/First Baseball Game/I Can't Believe That You're In Love With Me/I'm In the Market For You/Easy Living/Have Another One/Not Me

LP*-617 - My Memories - David Paul [1957] Who Am I?/If We Should Meet Again/When Somebody Says I Love You/This Is Love/What Shall I Tell Paris/You Tell Me/To Each His Own/I'm Walking Behind You/Falling Leaves/Me & My Shadow/I'll Be Around/I Only Have Eyes For You

LPS-617 - Seymour and His Heartbeat Trumpet - Seymour [1957] Some discographies list this album instead of the David Paul album as Argo 617. Seymour was a well-known Chicago musician who later recorded for his own Heartbeat label, which also featured other Chicago musicians such as Paul Gallis.

LP*-618 - Many Moods - Al Russ Orchestra

LP*-619 - My Memories - Melavano & Orchestra

LP*-620 - Out On A Limb - Clark Terry [?] Caravan/Candy/Clark's Expedition/Trumpet Mouthpiece Blues/Phlanges/Blues For Daddy O's Jazz/Patio Blues/Basin Street/Daylite Express/Taking a Chance on Love

LP-621 - MJT Plus 3 - M JT Plus 3 [1957] Ray's Idea/My One & Only Love/End of the Line/They Can't Take That Away From Me/Egypic/No Nama/Temporarily Out of Order/Little Brother/No Lawd's Man

LP*-622 - Jazz Exponents - Jazz Exponents

LP*-623 - Max - Max Roach Quintet, Hank Mobley, Kenny Dorham [1958?] Four X/Cracklee Hut/Speculate/That Old Devil Love/Audio Blues/"CM"

LP-624 - Johnny Griffin Quartet - Johnny Griffin Quartet [1958?] I Cried For You/Satin Wrap/Yesterdays/Riff-Raff/Bee-Ees/Boy Next Door/These Foolish Things/Lollypop

LP*-625 - I'm Entitled to You - Various Artists [1958] Artists include Chubby Jackson, Wilbur Paris, and others. New York to Chicago/Mr. Duff/Do Me Sump'n/Big Fat Nothing/I'm Entitled to You/Yesterday Is Here/To Seek/Move My Way/Slap That Face/Gus's Blues

LP*-626 - Cookin' - Paul Gonsalves [1958] Festival/Clark's Bars/Daddy O Patio/Blues/Impectable/Paul's Idea/Phat Bach/Millie Terry/Funky

LP-627 - Ramsey Lewis and His Gentlemen Of Jazz, Volume 2 - Ramsey Lewis [1958] Delilah/I Get A Kick Out Of You/Please Send Me Someone To Love/Brother John/Black Is The Color/It Ain't Necessarily So/Seven Valleys/On The Street Where You Live

LPS-628 - But Not for Me: Ahmad Jamal Trio At The Pershing, Volume 1 - Ahmad Jamal Trio [6/58] (9-58, #3) But Not For Me/Surrey With the Fringe On Top/Moonlight In Vermont/Music Music Music/No Greater Love/Poinciana/Wood'yn You/What's New

LP-629 - Sonny Stitt - Sonny Stitt [1958] Propapagoon/This is Always/Jack Spratt/Just You, Just Me/Cool Blues/Mister Sun/Dancing on the Ceiling/Everyone Does

LP*-630 - The Colorful Strings of Jimmy Woode - Jimmy Woode [1958] Falmouth Recollections/Way You Look Tonight/Fluffy For President/Man From Potter's Crossing/Dance Reluctant Drag/Emphathy For Ruth

LP*-631 - Swinging the Loop - Vito Price [1958] Mousey's Tune/Why Was I Born/Duddy/In a Mellow Tone/Eye Strain/Time After Time/Beautiful Love/Credo/As Long As I Live

LP*-632 - Theme for the Tall One - Bess Bonnier Trio [1958] All the Things You Are/Thrill Is Gone/Tones For Bones/Dorian/Blue Room/A-Train/Trolley Song

LP*-633 - This Is Me, J.C. Heard - J.C. Heard & Orchestra [1958] For You My Love/Coasting With J.C./Blues For Sale/Nightingale/Heard the Word/Cuban Chant/Idaho

LP*-634 - Yusef Lateef at Cranbrook - Yusef Lateef [1958] Let Every Soul Say Amen/Morning/Brazil/Wood'yn You

LP*-635 - 2:38 A.M. - Ralph Sharon Quartet & Friend [1958] Blues/Ol' Man River/Linguine Lover's Lullaby/Teach Me Tonight/Garden In The Rain/Friend's Blues/How Long Has This Been Going On/Time/I'll Never Be The Same/Love Me Or Leave Me

LPS-636 - Ahmad Jamal Trio at the Spotlight Cafe, Volume IV - Ahmad Jamal Trio [1958] (11-58, #11) Stomping At The Savoy/That's All/Girl Next Door/Squatty Roo/Autumn In New York/Taboo/Secret Love/Should I/I Wish I Knew/Cheek To Cheek

LPS-637 - Last Train from Overbrook - James Moody [1/59] Last Train From Overbrook/Don't Worry About Me/Why Don't You/What's New/Tico Tico/There She Goes/All The Things You Are/Brother Yusef/Yvonne/Moody One

LPS-638 - Portfolio of the Ahmad Jamal Trio - Ahmad Jamal Trio [1959] (2-LP set) Old Devil Moon/Seleritus/It Could Happen To You/Ivy/Tater Pie/This Can't Be Love/Autumn Leaves/Let's Fall In Love/Aki Ukthay (Brother and Sister)/You Don't Know What Love Is/I Didn't Know What Time It Was/So Beats My Heart For You/Gal In Calico/Our Delight

LP*-639 - Relaxin' with Sandy Mosse - Sandy Mosse [1959] Fools Rush In/I'm Old Fashioned/Birks Works/Stella By Starlight/Love Is For The Very Young/Speak Low/My Man's Gone Now/Cocoanut Sweet

LPS-640 - Marian McPartland At The London House - Marian McPartland [1959] Easy Blues/Play Fiddle Play/Tune For Tex/Like Someone In Love/Signature Blues/Blues Intro/Steeple Chase/Give Me The Simple Life/Sweet And Lovely/So Many Things

LP*-641 - Touff Assignment - Cy Touff [1959] Soulsville/Cyril's Dream/How Long Has This Been Going On/Kissin' Cousins/Keeping Out Of Mischief Now/I Let A Song Go Out Of My Heart/Lamp Is Low/Touch Touff

LPS-642 - Lem Winchester and the Ramsey Lewis Trio - Lem Winchester & Ramsey Lewis [1959] Joy Spring/Where It Is/Sandu/Once In Awhile/Jordu/It Could Happen To You/Easy To Love/Message From Boysie

LP-643 - Red Rodney Returns - Red Rodney [5/59] Shaw Nuff/Red Hot And Blue/I Remember You/5709/Whirlwind/Jordu/Shelley/Two By Two

LPS-644 - Breakin' It Up - Barry Harris Trio [1959] All The Things You Are/Ornithology/SRO/Bluesy/Passport/Allen's Alley/Stranger In Paradise/Embraceable You

LPS-645 - An Hour With the Ramsey Lewis Trio - Ramsey Lewis Trio [1959] Softly As In A Morning Sunrise/C.C. Rider/Love For Sale/I Had The Craziest Dream-I Know Why/It Ain't Necessarily So/I Love Paris//The Way You Look Tonight/Song Of India/Consider The Source/The Ruby And The Pearl/Walls Of Jericho/Angel Eyes

LPS-646 - Jamal At The Penthouse - Ahmad Jamal [1959] (2-60, #32) Comme Ci Comme Ca [title is correct on the jacket, but label says "Cum Si Cum Sa"] (S)/Ivy (S)/Never Never Land (S)/Tangerine (S)//Ahmad's Blues (S)/Seleritus (S)/I Like to Recognize The Tune (S)/I'm Alone With You (S)/Sophisticated Gentleman (S)

LP-647 - Will Green [Unissued]

LPS-648 - James Moody - James Moody [1959] Until The Real Thing Comes Along/Moody's Theme/James Moody Story/An Now Moody Speaks/Serenade In Blue/Margie/Moody's Home/Wiggle Wag/The Bite/Poor Butterfly/St. Louis Blues

LP-649 - Remember the Oldies - Various Artists [1959] Promotional issues were on multi-colored vinyl with white labels. The Big Wheel - Clifton Chenier/Lucky Lou - Jody Williams/Night Theme - Three Souls/Windy - Paul Gayten/Night Scene - Three Souls/Nervous Boogie - Paul Gayten//Car Trouble - Eddie McDuff/Yea Yea - Kendall Sisters/Ain't Got No Home - Clarence Henry/Book Of Love - Monotones/Chi-Wa-Wa - Silla-Tones/This Should Go On Forever - Rod Bernard

LP-650 - Taylor Made Jazz - Billy Taylor [11/59] Biddy's Beat/Theodora/Mood For Mendes/Daddy-O/Cu-Blu/Day Dreaming/Can You Tell By Looking At Me/Tune For Tex

LP*-651 - Holiday of the Riviera - Caesar Giovannini [1959]

LP*-652 - Smokey Stover's Original Firemen - Smokey Stover's Original Firemen [1960] I Don't Want To Set The World On Fire/Smoke Rings/Firefly/There'll Be A Hot Time In The Old Town Tonight/Hot Lips/Firemen's Shuffle/Where There's Fire/My Old Flame/Keep The Home Fires Burning/Firemen's Parade

LPS-653 - The Last of the Big Plungers - Al Grey & The Basie Wing [1960] Things Ain't What They Used To Be/Open Wider Please/I Got It Bad And That Ain't Good/Don't Get Around Much Anymore/How Come You Do Me Like You Do/Bluish Grey/The Elder/Bewitched/Kenie-Donie

LP*-654 - Blue Lou - Lou McGarity Big 8 [1960] Blue And Broken Hearted/Blue Moon/Blue Prelude/Blue Again/Blue Champagne/Blue Turning Grey Over You/Blue Lou/Born To Be Blue/Blue Skies/I Get The Blues When It Rains/Black And Blue/Under A Blanket Of Blue

LPS-655 - A Night At The Vanguard - Kenny Burrell Trio [1960] All Night Long/Will You Still Be Mine/I'm A Fool To Want You/Trio/Broadway/Soft Winds/Just A-Sitting And A-Rockin'/Well You Needn't

LP-656 - Fanfare of Hits - Various Artists [1960] Been So Long - Pastels/Music Goes 'Round and 'Round - Paul Gayten/My Soul - Clifton Chenier/Nothin' Shaking - Eddie Fontaine/When You're Alone - Daps/Flat Foot Sam - Paul Gayten//That'll Be The Day - Ravens/Bayou Drive - Clifton Chenier/Time Will Tell - Bobby Charles/Frog Hop Earl - Zeb Hooker/Billy's Blues - Billy Stewart/Tickle Toe - Paul Gayten

LP*-657 - Jazz - Herb Pilhofer Trio [1960] Valse Hot/Sweets/More Than You Know/Duke/My Ship/Trio/Ship Without A Sail/Isn't It Romantic/It Might As Well Be Spring/Godchild

LPS-658 - Richard's Alamac - Richard Evans Trio [1960] Trees/Vera/I'm Glad There Is You/Bye Bye Blackbird/Preacher/Crazy Rhythm/Daybreak/Consu/Should I/Jeepers Creepers

LP*-659 - The Legend of Bix - Metropolitan Jazz Octet [1960] Nick La Rocca/Little Louis And The King/Paul Mares/Ballad Of Emmett Hardy/In A Mist/Flashes/Davenport Blues/In The Dark/Candlelights

LPS-660 - Mighty High - Milt Buckner [1960] Mighty High/Teach Me Tonight/Abstraction/Two Flights Up/After Hours/D.T.'s/Organ Grinder's Swing/Willow Weep For Me/Burnt Out/Syncopated Clock/Castle Rock/Haunting Me

LPS-661 - Burnin' - Sonny Stitt [1960] Ko-Ko/Minor Sax/Lover Man/Reed And A Half/How High The Moon/I'll Tell You Later/Look For The Silver Lining/Easy Living/It's Hipper Than That

LPS-662 - Happy Moods - Ahmad Jamal Trio [1960] Recorded January 20-21, 1960, at Ter Mar Studios, Chicago. Little Old Lady/For All We Know/Pavanne/Excerpt From The Blues/You'd Be So Easy To Love//Time On My Hands/Raincheck/I'll Never Stop Loving You/Speak Low/Rumba No. 2

LPS-663 - Early in the Morning - Lorez Alexandria with the Ramsey Lewis Trio [1960] Early In The Morning/Don't Explain/Trouble Is A Man/So Long/Good Morning Heartache/I Ain't Got Nothing But The Blues/Rocks In My Bed/Baby Don't You Cry/I'm Just A Lucky So And So/I Almost Lost My Mind

LPS-664 - Meet The Jazztet - Jazztet (Art Farmer And Benny Golson) [1960] Serenata/It Ain't Necessarily So/Avalon/I Remember Clifford/Blues March/It's All Right With Me/Park Avenue Petite/Mox Nix/Easy Living/Killer Joe

LPS-665 - Stretching Out - Ramsey Lewis Trio [1960] Little Liza Jane/This is My Night To Dream/Scarlet Ribbons/Here 'Tis/My Ship/Put Your Little Foot Right Out/Solo Para Ti/These Foolish Things/When The Spirit Moves You/Portrait Of Jennie

LPS-666 - Hey! It's James Moody - James Moody [1960] Stella By Starlight/Indian Summer/Don't Blame Me/Last Train From Overbrook/:Please Say Yes/Blue Jubilee/Wood'yn You/Trouble In De Lowlands/Summertime/Tali

LPS-667 - Ahmad Jamal At The Pershing, Volume 2 - Ahmad Jamal [1960] Too Late Now/All The Things You Are/Gone With The Wind/Cherokee/It Might As Well Be Spring/I'll Remember April/Billy Boy/It's You Or No One/My Funny Valentine/Poor Butterfly/They Can't Take That Away From Me

LPS-668 - The Music Of Quincy Jones - Benny Bailey, Joe Harris & Ake Persson and the Quincetet [1960] Golden Touch/I'm Gone/Jones Beach/Meet Benny Bailey/Midnight Sun Never Sets/Plenty Plenty Soul/Fallen Feathers/Count 'Em

LPS-669 - Introducing Roland Kirk - Roland Kirk & Ira Sullivan [1960] The Call/Soul Station/Our Waltz/Our Love Is Here To Stay/Spirit Girl/Jack The Ripper

LPS-670 - Please Mr. Organ Player - Milt Buckner [1960] Don't Let The Sun Catch You Crying/You're Lookin' Good/Gee Baby/Ain't I Good To You/Blue Prelude/Long Gone/Please Mr. Organ Player/Sermonette/'Round Midnight/Cry Me A River/Buck'n The Blues

LPS-671 - Ramsey Lewis Trio In Chicago - Ramsey Lewis Trio [1960] Old Devil Moon/What's New/Carmen/Bei Mir Bist Du Schon/I'll Remember April/Delilah/Folk Ballad/But Not For Me/C.C. Rider

LPS-672 - Big City Sounds - Jazztet (Art Farmer and Benny Golson) [1960] Cool One/My Funny Valentine/Wonder Why/Blues On Down/Con Alma/Lament/Bean Bag/Five Spot After Dark

LPS-673 - Listen to the Ahmad Jamal Quintet - Ahmad Jamal Quintet [1961] Ahmad's Waltz/Valentina/Yesterdays/Tempo For Two/Hallelujah/It's A Wonderful World/Baia/You Came A Long Way From St. Louis/Lover Man/Who Cares

LPS-674 - Jubilee - Smokey Stover's Original Firemen [1961]

LPS-675 - Home Cookin' - Richard Evans Trio [1961]

LPS-676 - Buddy Rich Playtime - Buddy Rich And His Buddies [1961] Lulu's Back In Town/Play Time/Will You Still Be Mine/Fascinating Rhythm/Makin' Whoopee/Marbles/Misty/Cheek To Cheek

LPS-677 - The Thinking Man's Trombone - Al Grey [1961] Salty Papa/Don't Cry Baby/Stranded/King Bee/Rompin'/When I Fall In Love/Al-Amo/Tenderly

LPS-678 - Art Farmer - Art Farmer Quartet [1961] So Beats My Heart For You/Goodbye Old Girl/Who Cares/Out Of The Past/Younger Than Springtime/Best Thing For You Is Me/I'm A Fool To Want You/That Ole Devil Called Love

LPS-679 - Moody With Strings - James Moody [1961] Dorothee/Love For Sale/Another Day/All My Life/I'm Old Fashioned/Fools Rush In/Somerset/I Remember Clifford/Love Walked In/Song Of Love/Dorian Mood

LPS-680 - More Music From The Soul - Ramsey Lewis Trio [1961] Around The World/Since I Fell For You/Hello Cello/I'll Wait For Your Love/Volga Boatman/Blues For The Night Owl/Smoke Gets In Your Eyes/Autumn In New York/Gonna Set Your Soul On Fire

LPS-681 - Take A Number From 1 To 10 - Benny Golson [1961] You're My Thrill/Best Thing For You Is Me/My Heart Belongs To Daddy/I Fall In Love Too Easily/Impromtune/Out Of This World/Little Karin/Swing It/The Touch/Time

LPS-682 - Sing No Sad Songs For Me - Lorez Alexandria [1961] Lonesome Road/Loser's Lullaby/Who/I'll Remember April/Trouble In Mind/Sing No Sad Songs For Me/Gloomy Sunday/Motherless Child/They Can't Take That Away From Me/All My Love

LPS-683 - Sonny Stitt At The D.J. Lounge - Sonny Stitt [1961] McKie's/It All Depends On You/Blue Moon/Jay Tee/I'm In the Mood For Love/Free Chicken

LPS-684 - Jazztet and John Lewis - John Lewis and Jazztet (Art Farmer & Benny Golson) [1961] Bel/Milano/Django/New York 19/2 Degrees East, 3 Degrees West/Odds Against Tomorrow

LPS-685 - Ahmad Jamal's Alhambra - Ahmad Jamal [1961] Party's Over/Snow Fall/Broadway/We Kiss In A Shadow/Willow Weep For Me/Sweet And Lovely/Autumn Leaves/Love For Sale/Isn't It Romantic/The Breeze And I

LPS-686 - Never on Sunday - Ramsey Lewis Trio [1961] Ripper/I Got Plenty Of Nothing/Water Boy/Thanks For The Memory/Cielito Lindo/You Just Don't Care/Never On Sunday/You've Changed/Breeze And I/Exactly Like You

LPS-687 - Sound of Christmas - Ramsey Lewis Trio [1961] (12-62, #129, also Christmas charts in '63, '64, '65, '66, '67, '68, '69) Sound Of Christmas/Christmas Song/God Rest Ye Merry Gentlemen/Christmas Blues/Merry Christmas Baby/Here Comes Santa Claus/Sleigh Ride/Santa Claus Is Coming To Town/Winter Wonderland/What Are You Doing New Year's Eve?

LPS-688 - Jazzlet at Birdhouse - Jazztet (Art Farmer & Benny Golson) [1961] Junction/'Round Midnight/November Afternoon/Shutterbug/Farmer's Market/Darn That Dream

LPS-689 - Al Grey and the Billy Mitchell Sextet - Al Grey & Billy Mitchell Sextet [1962] Bluish Grey/Wild Deuce/Green Dolphin Street/Bantu/Melba's Blues/Home Fires/Grey's Blues

LPS-690 - Dorothy Ashby - Dorothy Ashby [1962] Lonely Melody/Secret Love/Gloomy Sunday/Satin Doll/John R./Li'l Darlin'/Booze/You Stepped Out Of A Dream/Django/Stranger In Paradise

LPS-691 - All of You - Ahmad Jamal Trio [1962] Recorded live in June, 1961 at Ahmad Jamal's Alihambra, Chicago. Time On My Hands/Angel Eyes/You Go To My Head//Star Eyes/All Of You/You're Blase/What Is This Thing Called Love

LPS-692 - Themes and Things - John Young Trio [1962] Portrait Of My Love/When Sunny Gets Blue/Take Five/Peyton Place/Fever/Mr. Lucky/Love Theme From "Spartacus"/Weaver Of Dreams/My Romance/Playboy Theme/One Eyed Jacks/MJR Blues

LPS-693 - Sound of Spring - Ramsey Lewis Trio [1962] Sound Of Spring/Spring Can Really Hang You Up The Most/Blue Spring/Spring Is Here/Spring Will Be A Little Late This Year/Spring Fever/It Might As Well Be Spring/Soft Winds/There'll Be Another Spring/Truly Truly Spring

LP-694 - Deep Roots - Lorez Alexandria [1962] Nature Boy/I Was A Fool/No Moon At All/Spring Will Be A Little Late This Year/It Could Happen To You/Softly As In A Morning Sunrise/Detour Ahead/Travelin' Light/Almost Like Being In Love/I Want To Talk About You

LPS-695 - Another Bag - James Moody [1962] Sassy Lady/Ally, Parts 1 & 2/Spastic/Cup Bearers/Minuet In G/Day After/Pleyel D'Jaime

LPS-696 - Look Out! Look Out! - Red Holt [1962]

LPS-697 - Dig Him - Gene Ammons and Sonny Stitt [1963] Red Sails In the Sunset/But Not For Me/Pair of Red Pants/We'll be Together Again/Mess/New Blues Up & Down/My Foolish heart/Headin' West/Autumh Leaves Time on My Hands

LPS-698 - Just Jug - Gene Ammons [1962] Scrapple From The Apple/Falling In Love With Love/Please Send Me Someone To Love/Sweet Georgia Brown/It Could Happen To You/Foot Tappin'/P.M.-A.M./Fast Track

LPS-699 - Just for Kicks - Eldee Young And Company [1962] When Johnny Comes Marching Home/Goodbye/Crazy She Calls Me/Big Brother/Cry Me A River/Truly/Mr. Kicks/Motherless Child/Just For Kicks/John Henry

LPS-700 - Snap Your Fingers - Al Grey and Billy Mitchell [1962] Nothing But The Truth/Three-Forth Blues/Just Waiting/R.B.Q./Green Dolphin Street/Minor On Top/African Lady/Hi Fly

LPS-701 - Country Meets the Blues - Ramsey Lewis Trio [1962] Your Cheatin' Heart/St. Luis Blues/Blueberry Hill/Memphis in June/High Noon/I Need You So/I Just Want To Make Love/Tangleweed Round My Heart/My Bucket's Got a Hole In It

LPS-702 - Midnight Mood - Milt Buckner [1963] I Almost Lost My Mind/I'm Just a Lucky So & So/If I Should Lose You/I've Got the World on a String/One For My Baby/Cocktails For Two/Little White Lies/There Is No Greater Love/Love Is the Thing/Baby, Baby/Sunday Kind of Love/Bouncing At Dawn

LPS-703 - Ahmad Jamal at the Blackhawk - Ahmad Jamal Trio [1962] I'll Take Romance/My Funny Valentine/We Live In Two Different Worlds/Like Someone In Love/Falling In Love With Love/Best Thing For You/April In Paris/Second Time Around/Night Mist Blues

LPS-704 - Soul Cookin' - Thornel Schwartz & Bill Leslie [1963] Soul Cookin'/Brazil/You Won't Let Me Go/Theme From "Mutiny On The Bounty"/Blues And Dues/I'm Getting Sentimental Over You/Don't You Know I Care

LPS-705 - Bossa Nova - Ramsey Lewis Trio [1962] Samba De Orpheus/Morning Of The Carnival/Children/Night Of My Love/O Pato/Face Of The Clown/Happiness/Whirlpool/Song For Geraldine

LPS-706 - Blues on the Other Side - Mike Mainieri Quartet [1963] If I Were a Bell/Tenderly/B.R. Blues/When I Fall In Love/Waltzin' In & Out

LPS-707 - Breakthrough - Gene Shaw [1963] Autumn Walk/Ad's Blues/Marj/6 Bits/Thing/Tonight/Our Tune/It's a Long Way

LPS-708 - Trumpet Caliente - Don Goldie [1963] Nightingale/Fast Thought/I Hear a Rhapsody/Shiny Stockings/Goldie's Thing/There Will Never Be Another You

LPS-709 - Rearin' Back - Sonny Stitt [1963] We/Little Girl Blue/Cut Plug/Queen/Carpsie's Groove/Bunny R.

LPS-710 - Diggin' the Chicks - Bill Leslie [1963] Good Night Irene/Angel Eyes/Madge/Margie/Lonely Woman/Got a Date with an Angel/Rosetta

LPS-711 - Night Song - Al Grey and Billy Mitchell [1963] Blues In the Night/Stella By Starlight/The Way You Look Tonight/Thru for the Night/Stardust/Night& Day/Laughing Tonight

LPS-712 - Macanudo - Ahmad Jamal [1963] Montevideo/Bogota/Sugar Loaf/Haitian Market Place/Carnival In Panama/Buenos Aires/Bossa Nova do Marilla/Belo Horizonte

LPS-713 - A Touch of Pepper - John Young [1963] Blues Oreenee/Joey/Everything's Coming Up Roses/Got a Lot of Living To Do/Search Me/Serenata/Inch Worm/Bridge/In Other Words

LPS-714 - Soul Merchant - Sam Lazar [1963]

LPS-715 - Pot Luck - Ramsey Lewis Trio [1963] Andaluza/Look-A-Here/Arrividerci Roma/I Gave My Love A Cherry/Loch Lomond//We Blue It Again/Nature Boy/I Remember The Starlight/Shenandoah/Swamp Girl

LPS-716 - Free - Benny Golson [1963]

LPS-717 - Basie Is Our Boss - Frank Foster [1963]

LPS-718 - Having a Ball - Al Grey [1963]

LPS-719 - Poinciana - Ahmad Jamal [1963]

LPS-720 - For Swingers Only - Lorez Alexandria [1963]

LPS-721 - French Cookin' - Budd Johnson [1963]

LPS-722 - Illinois Jacquet - Illinois Jacquet [1963]

LPS-723 - Barefoot Sunday Blues - Ramsey Lewis Trio [1963] Recorded August 20, 1963 at Rudy Van Gelder's Studio, Englewood Cliffs, New Jersey. Lonely Avenue/Don't Even Kick It Around/Salute To Ray Charles/Barefoot Sunday Blues/Island Blues//I Spend My Life/Act Like You Mean It/Sarah Jane/The Train Won't Wait/Come On Baby

LPS-724 - Signifyin' - Lou Donaldson [1963]

LPS-725 - Great Day - James Moody [1964] Search/Let's try/One Never Knows/Opales'que/Blues Impromptu/Malice Toward None

LPS-726 - Debut in Blues - Gene Shaw [1964] Karach/Gentle Princess/When Sunny Gets Blue/Thieves Carnival/Not Too Cool/Who Knows/Travelog

LPS-727 - Ready and Willing - Herman Foster [1964] My Ship/Night We Called It a Day/Blue-ese/Namely You/Our Day/You've changed/Someday My Prince will Come/Popcorn/How About You

LPS-728 - Here's Love - Hank Jones [1963]

LP*-729 - World of Travel - Jimmy Grissom [1964] Mood Indigo/I'll Miss You/Lost In Meditation/Mean & Evil/Woman Blues/I Don't Want You to Love Me/I Believe I'll Make a Change/Cheater

LPS-730 - Move on Over - Sonny Stitt [1964] Lady Is a Tramp/Stormy Weather/Dexter's Deck/My Mother's Eyes/Shut the Back Door/Natural Fox/Love Letters/Move On Over

LPS-731 - Boss Bone - Al Grey [1964] Smile/Terrible/Cap/Mona Lisa/Tacos & Grits/Can't You Feel It/Salty Mama/Give Off/Day In Day Out/Grey Being Blue

LPS-732 - Bach to the Blues - Ramsey Lewis Trio [1964] (7-64, #125) Recorded January 31, 1964 at Ter Mar Studios, Chicago. For The Love Of A Princess/Why Don't You Do Right/Misty Days Lonely Nights/Bach To The Blues/Travel On//Dance Mystique/Sadness Done Come/You'll Love Me Yet/Peace And Tranquility

LPS-733 - Naked City Theme - Ahmad Jamal [1964] Naked City Theme/Minor Moods/Haitian Market Place/Beautiful Love/One For Miles/Lollipops & Roses

LPS-734 - Possum Head - Lou Dinaldson [1964] Secret Love/Midnight Soul/Bye Bye Blackbird/Laura/Persimmon Tree/Frenesi/Man With a Horn

LPS-735 - Desert Winds - Illnois Jacquet [1964] When My Dreamboat Comes Home/Star Eyes/Blues For the Early Bird/Lester Leaps In/You're My Thrill/Canadian Sunset

LPS-736 - Ya! Ya! - Budd Johnson [1964] Come Rain/Big Al/Exotique/Revolution/Tag Along/Chloe/When Hearts Are Young/Where It's At

LPS-737 - Fantabulous - Oliver Nelson and His Orchestra [1964] Hobo Flats/Post No Bills/A Bientot/3 Plus 1/Take Me With You/Daylie's Double/Teenit's blues/Laz-ie Kate

LPS-738 - Perception - Art Farmer [1964] Punsu/Day After/Lullaby of the Leaves/Kayin' Tonk/Blue Room/Change Partners/Nobody's Heart

LPS-739 - Mo' Rock - Baby Face Willette [1964] Mo Roc/Bantu Penda/Dad's Theme/But Not For Me/Misty/Unseen & Unknown/Zip Five/Sight in Darkness

LPS-740 - Comin' on Strong - James Moody [1964] Fly Me to the Moon/Dizzy Autumn Leaves/Ole/Sonnymoon For Two/I've Grown Accustomed To Your Face/Zanzibar/Please Send Me Someone To Love

LPS-741 - Ramsey Lewis Trio at the Bohemian Caverns - Ramsey Lewis Trio [1964] (10-64, #103) Recorded live at the Bohemian Caverns, Washington, DC on June 4 and 6, 1964. West Side Story Medley: Somewhere-Maria-Jet Song-Somewhere/People//Something You Got/Fly Me To The Moon (In Other Words)/My Babe/The Caves/The Shelter Of Your Arms

LPS-742 - Summer Dawn - Sahib Shihab [1964] Summer Dawn/Lillemor/Please Don't Leave/Waltz For Seth/Campi's Idea/Herr Fixit

LPS-743 - Carnival Sketches - Gene Shaw [1964] Big Sunrise/Goin' Downtown/Cha Bossa/Street Dance/Goin' Back/Ain't That Soul/Soulero/Days of Wine and Roses/Samba Nova

LPS-744 - My Main Man - Sonny Stitt & Bunky Green [1964] Flame & Rrost/Let's Play Chess/Double Dip/Our Day/Night Has 1000 Eyes/Broilin'

LPS-745 - More Sound of Christmas - Ramsey Lewis Trio [1964]

LPS-746 - Bosses of the Ballad - Illnois Jacquet [1964] I Love You/Get Out/So In Love/I Concentrate On You/You Do Something/Everytime We Say Goodbye/Use Your Imagination/All Through the Night/Begin the Beguine/It's All Right/Do I Love You/I've Got You Under My Skin

LPS-747 - Cole Slaw - Lou Donaldson [1965] There Is No Greater Love/Poinciana/People Will Say/Li'l Miss Fine/O Sole Mio/Skylark/Soul Gumbo

LPS-748 - Off the Wall - Budd Johnson [1965] Folks Who Live on the Hill/Love Is the Sweetest Thing/Strange Music/Baubles/Ill Wind/Playin' My Hunch

LPS-749 - Behind the 8 Ball - Roosevelt "Baby Face" Willette [1965] Song of the Universe/Amen/Tacos Joe/Roll Em Pete/Just a Closer Walk With Thee/St. James Infirmary/Sinnin' Sam

LPS-750 - You Better Believe Me - Ramsey Lewis Trio with Jean Dushon [1965] You'd Better Believe Me/Who Can I Turn To/Night Time/Something You Got/He Was Too Good/Goodbye Lover/Corcovado/Ain't Nobody's Business/Let It Be Me/It Had Better Be Tonight/My Coloring Book/I'm Beginning To See the Light

LPS-751 - The Roar of the Greasepaint - Ahmad Jamal [1965] Look At That Face/Where Would You Be/It Isn't Enough/Who Can I Turn To/Sweet Beginning/This Dream/Feeling Good/My First Love Song/Wonderful Day Like Today/That's What It Is/Beautiful Land

LPS-752 - Cool - Rune Ofwerman's Piano [1965] Whatcha Gonna Do/Amen/Bobsled/Gospel Walk/Mellow-Cool/Helen's Theme/Bossa Nova Sueca/M-83/Man From Potter's Crossing/Ortego Bossa Nova/King's Men

LPS-753 - Testifyin' Time - Bunky Green [1965] Silver Dollar/Tamra/On Green Dolphin Street/Tweedlee Dee/My Ship/Orbit 6/When the Sun Comes Out


LPS-755 - Choice! The Best of the Ramsey Lewis Trio - Ramsey Lewis Trio [1965] Something You Got/Little Liza Jane/Memphis In June/Travel On/Delilah/C C Rider//Lonely Avenue/Look- A-Here/My Bucket's Got A Hole In It/Hello Cello/Blue Spring/Carmen/Blues For The Night Owls

Cadet LPS-756 - Cookin' the Blues - James Moody [1965] Original pressing had Cadet label.

LPS-757 - The In Crowd - Ramsey Lewis Trio [1965] Recorded May 13-15, 1965, at the Bohemian Caverns in Washington, D.C. The "In" Crowd/Since I Fell For You/Tennessee Waltz/You've Been Talkin' 'Bout Me Baby//(Love Theme From) Spartacus/Felicidade (Happiness)/Come Sunday

LPS-758 - Extensions - Ahmad Jamal [1965] Extensions/Dance To the Lady/This Terrible Planet/Whisper Not

LPS-759 - Musty Dusty - Lou Donaldson [1965] Midnight Sun/Hipty Hop/Space Walk/Ha' Mercy/Cherry Pink


Thanks to Robert L. Campbell.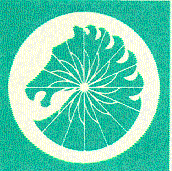 Back to the Chess Story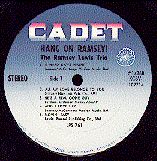 On to Cadet Album Discography Continuation of Jazz Series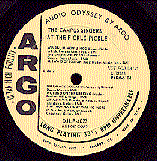 On to Argo Album Discography, Part 2 4000 Blues Series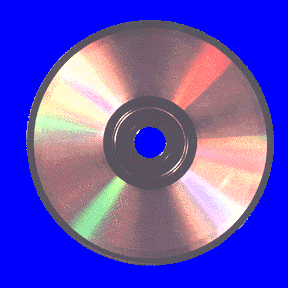 Back to the Discography Listings Page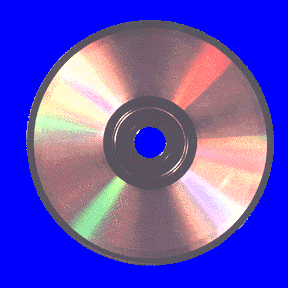 Back to the Both Sides Now Home Page