Chocolate City was a Casablanca subsidiary exclusively dedicated to R&B artists. It was founded by Cecil Holmes (II), Neil Bogart's co-worker and soundtrack music director during the Buddah years. He was also possibly a minor partner with Bogart in founding Casablanca Records.

Holmes had been in the record business for quite a long time. As a young man in the mid-1950s, he was a lead singer for the Cavaliers Quintet, a Brooklyn-based vocal group who recorded for the Atlas label. Later, he joined the Fi-Tones, who also recorded for Atlas. He then, like Bogart, became a promo man in the industry, pushing records with radio stations. The two worked together at Buddah, then left to form Casablanca. The name of the Chocolate City label was taken from the title of a 1975 album by Parliament that had been issued on Casablanca. From the design of the label, it appears to have been designed to be a "black Casablanca."

The artist roster included Cameo, Blacksmoke (aka Smoke), Brenda & the Tabulations, Vernon Burch, Starpoint, the 7th Wonder, Townsend Townsend & Rogers, Randy Brown, the Funkateers, Rosco & Mabel, and Kevin Moore. The label stars were Cameo and Starpoint.

After Casablanca was sold to PolyGram in 1980, the Chocolate City imprint was successful enough to continue under PolyGram. In 1982, however, Holmes left the label to become a vice president of Epic Records, and was there during the Michael Jackson Thriller era. The Chocolate City label, deprived of its executive, quietly closed their doors.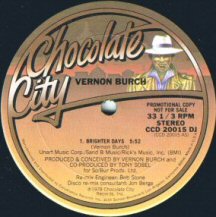 The Chocolate City label was brown (which could change to a more orange one at random) with black lettering and "Chocolate City" written in brown cursive lettering on the top and left half of the label and a black "Bogart" character on the right. The following text is written in the form of an arc at the bottom of the label: "Manufactured and Distributed by Casablanca Records, Inc., 8255 Sunset Boulevard, Los Angeles, California 90046."

We would appreciate any additions or corrections to this discography. Just send them to us via e-mail. Both Sides Now Publications is an information web page. We are not a catalog, nor can we provide the records listed below. We have no association with Chocolate City or Casablanca Records. Should you be interested in acquiring albums listed in this discography (all of which are out of print), we suggest you see our Frequently Asked Questions page and follow the instructions found there. This story and discography are copyright 2006 by Mike Callahan.
| | |
| --- | --- |
| Cover | Number - Title - Artist - [Release Date] (Chart) Contents |
| | CCLP 2000 series: |
| | CCLP 2001 - Smoke - Smoke [1976] Previously scheduled, but unissued, as Casablanca NBLP 7010. Also released as Blacksmoke (same cover but different title and artist name on cover only: still credited as Smoke on the label). Gotta Bad Feeling/(Your Love Has Got Me) Screamin'/Turn This Thing Around/There It Is/I Don't Care (What You Do)//You Needn't Worry Now/What Goes Around Comes Around/Sunshine, Roses And Rainbows/Freedom Of The Mind |
| | CCLP 2002 - I Keep Coming Back for More - Brenda & Tabulations [1977] Superstar/Take It Or Leave It/Everybody's Fool//Home To Myself/Let's Go All The Way (Down)/Leave Me Alone/I Keep Coming Back For More |
| | CCLP 2003 - Cardiac Arrest - Cameo [1977] (7-77, #16r&b, #116pop) Still Feels Good/Post Mortem/Smile/Funk Funk//Find My Way/Rigor Mortis/Good Times/Stay By My Side |
| | *CCLP 2004 - We All Know Who We Are - Cameo [1978] (2-78, #15r&B, #58pop) C On The Funk/Inflation/It's Over/It's Serious/Stand Up/We All Know Who We Are/Why Have I Lost You |
| | CCLP 2005 - Love-A-Thon - Vernon Burch [1978] |
| | CCLP 2006 - Ugly Ego - Cameo [1978] (10-78, #16r&b, #83pop) I'll Be With You/Insane/Give Love A Chance/I Want You//Ugly Ego/Anything You Wanna Do/Friend To Me/Two Of Us |
| | CCLP 2007 - Townsend, Townsend, Townsend & Rogers - Townsend, Townsend, Townsend & Rogers [1978] Wondering/Rock Me Sock Me/Bring It Down To The Real/True Love (It's A Terrible Thing To Waste)/It's A Pleasure To Have Loved You//Playground/You Can/It's Too Late To Be Nice To Her Now/It's You |
| | CCLP 2008 - Secret Omen - Cameo [1979] (7-79, #4r&b, #46pop) Energy/I Just Want To Be/Find My Way//Macho/The Rock/Sparkle/New York |
| | CCLP 2009 - Get Up - Vernon Burch [1979] Never Can Find The Way/Sammy Joanne/For You/Dr. Do It Good//Get Up/Try A Little Tenderness/Arrogant Lady/Once Again In My Life |
| | CCLP 2010 - Midnight Desire - Randy Brown [1980] (3-80, #50r&b) |
| | CCLP 2011 - Cameosis - Cameo [1980] (5-80, #1r&b, #25pop) Cameosis/Shake Your Pants/Please You//We're Goin' Out Tonight/I Care For You/On The One/Why Have I Lost You |
| | CCLP 2012 - Thunder - 7th Wonder [1980] (10-80, #74r&b) The Tilt/Missin' Out/Stop Before You Break My Heart/Don't Let Me Down So Easy//All The Love I Thought I Had/Busy Man/All And All/I Enjoy Ya |
| | CCLP 2013 - Starpoint - Starpoint [1980] (8-80, #62r&b) |
| | CCLP 2014 - Steppin' Out - Vernon Burch [1980] Baby Love/Broken Wing/Family And Friends/Fun City//Hot And Sexy/Steppin' Out/Special Rhyme/Stiffin' Stuffin Ain't Sho Nuffin |
| | CCLP 2015 - Rainmaker - Kevin Moore [1980] Moore later became better known by his nickname "Keb' Mo." This was the first album for the eventual Grammy-winner. I Intend To Love You/Break Down The Walls/Anybody Seen My Girl/Speak Your Mind//Rainmaker/The Way You Hold Me/Rainy Day People (Rainy Day Lady, Rainy Day Man)/Holding On To You |
| | CCLP 2016 - Feel Me - Cameo [1980] (11-80, #6r&b, #44pop) Throw It Down/Your Love Takes Me Out/Keep It Hot//Feel Me/Is This The Way/Roller Skates/Better Days |
| | CCLP 2017 - Randy - Randy Brown [1980] |
| | CCLP 2018 - Keep on It -Starpoint [1981] (4-81, #31r&b, #108pop) I Just Want To Be Your Lover/For You/Interlude/Keep On It//I Want You Closer/Baby Let Me Do It/We're Into Love/Starpoint's Here Tonight |
| | CCLP 2019 - Knights of the Sound Table - Cameo [1981] (6-81, #2r&b, #44pop) Knights By Nights/Freaky Dancin'/I Never Knew/Use It Or Lose It//The Sound Table/Don't Be So Cool/I'll Always Stay/I Like It |
| | CCLP 2020 - Wanting You - Starpoint [1981] Wanting You/Do What You Wanna Do/Angel/Last Night//Try Me/Shake It Out/Break Up To Make Up/Starnite, Your Night |
| | CCLP 2021 - Alligator Woman - Cameo [1982] (4-82, #6r&b, #23pop) Be Yourself/Soul Army/Flirt/Enjoy Your Life//Alligator Woman/The Secrets Of Time/I Owe It All To You/For You |
| | CCLP 2022 - All Night Long - Starpoint [1982] (9-82, #52r&b, #208pop) Bring Your Sweet Lovin' Back/Get Your Body Up/All Night Long/Show Me//I Like It/I Can Give You Love/Miracle Love/It's You |