The Windfall label was founded in 1969 and the largest part of its output consisted of albums and singles by Leslie West and his heavy rock group Mountain, which included Felix Pappalardi on bass and piano, Corky Laing on drums and Steve Knight on keyboards (the latter two were missing from the 1974 reunion, after the West, Bruce & Laing episode).

Guitarist and vocalist Leslie West whose real name is Leslie Weinstein, was formerly with the Vagrants, whose garage version of Otis Redding's "Respect" is included in the Nuggets album. Felix Pappalardi was responsible for composing songs ("Strange Brew") and producing most of Cream's albums (he sadly was shot to death in 1983 by his wife and co-composer, Gail Collins. He was only 44). The Cream connection was further made evident when Mountain first disbanded in 1972 and Leslie West and Corky Laing joined their effort with Jack Bruce, formerly of Cream, to form the short-lived West, Bruce & Laing.

Mountain (also known as Leslie West's Mountain) is famous for the hard rock anthem "Mississippi Queen" and also for the song "Yasgur's Farm", dedicated to the farmer whose field was used for the Woodstock festival in 1969.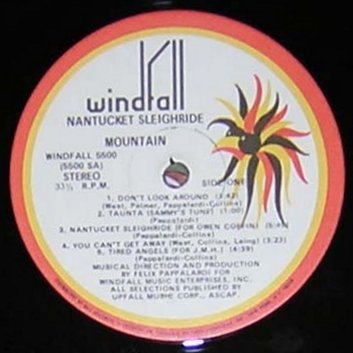 Windfall was first distributed through Bell: the label is white, edged with orange and yellow circles. "Windfall" is written in stylized black letters at the top of the label and with a yellow, orange and purple stylized bird's head with big black eyes (or is it large sunshine glasses?) on the right of the label. The following text is written in black lettering in the form of an arc at the bottom of the label : "DISTRIBUTED BY BELL RECORDS, A DIVISION OF COLUMBIA PICTURES INDUSTRIES, INC. NEW YORK, N.Y. 10019."

When Windfall became a CBS subsidiary, the label was adapted according to the Columbia obligatory red one, with "WINDFALL" and its logo (a thick W in a square) written on the edge of the label in between "COLUMBIA" and its usual logo. For the Epic/Columbia distributed releases, the CBS common numbering policy is used (this numbering system begins at 30000 in 1970 and uses various prefixes). This explains why the numbers are discontinuous. Note : the letter Q within the prefix means Quadrophonic.

We would appreciate any additions or corrections to this discography. Just send them to us via e-mail. Both Sides Now Publications is an information web page. We are not a catalog, nor can we provide the records listed below. We have no association with Windfall or Columbia Records. Should you be interested in acquiring albums listed in this discography (which are all out of print), we suggest you see our Frequently Asked Questions page and follow the instructions found there. This story and discography are copyright 1999, 2003, 2009 by Mike Callahan.
| | |
| --- | --- |
| Cover | Number - Title - Artist - [Release Date] (Chart) Contents |
| | 4500 Series (Distributed by Bell): |
| | 4500 - Mountain - Leslie West [1969] (9-69, #72) The first "Mountain" LP is credited to Leslie West only. Blood Of The Sun/Long Red/Better Watch Out/Blind Man/Baby, I'm Down//Dreams Of Milk And Honey/Storyteller Man/This Wheel's On Fire/Look To The Wind/Southbound Train/Because You Are My Friend |
| | 4501 - Climbing! - Mountain [1970] (3-70, #17) For the second album, the group took its name from the first album title. Mississippi Queen/Theme For An Imaginary Western/Never In My Life/Silver Paper//For Yasgur's Farm/To My Friend/The Laird/Sittin' On A Rainbow/Boys In The Band |
| | 5500 Series (Distributed by Bell): |
| | 5500 - Nantucket Sleighride - Mountain [1971] (2-71, #16) Don't Look Around/Taunta (Sammy's Tune)/Nantucket Sleighride/You Can't Get Away/Tired Angels//The Animal Trainer And The Toad/My Lady/Travellin' In The Dark/The Great Train Robbery |
| | 5501 - Flowers Of Evil - Mountain [1971] (12-71, #35) Flowers Of Evil/King's Chorale/One Last Cold Kiss/Crossroader/Pride And Passion//Dream Sequence (Guitar Solo-Roll Over Beethoven-Improvisation On Dreams Of Milk And Honey-Variations-Swan Theme)/Mississippi Queen |
| | 5502 - Mountain Live (The Road Goes Ever On) - Mountain Featuring Leslie West & Felix Pappalardi [1972] (5-72, #63) Long Red/Waiting To Take You Away/Crossroader//Nantucket Sleighride |
| | CBS Consolidated Series (Distributed by Columbia): |
| | CQ/KC 31929 - Why Dontcha - West, Bruce & Laing [1972] (11-72, #26) Why Dontcha/Out In The Fields/The Doctor/Turn Me Over/Third Degree//Shake Ma Thing (Rollin Jack)/While You Sleep/Pleasure/Love Is Worth The Blues/Pollution Woman |
| | KC 32047 - John Paul Jones - John Paul Jones [1973] Lonely Lady/Going Home/Gospel Ship/Continual Farewell/others |
| | CQ/KC/PC 32079 - The Best Of Mountain - Mountain Featuring Leslie West & Felix Pappalardi [1973] (2-73, #72) Never In My Life/Taunta (Sammy's Tune)/Nantucket Sleighride/Roll Over Beethoven/For Yasgur's Farm/The Animal Trainer And The Toad//Mississippi Queen/King's Chorale/Boys In The Band/Don't Look Around/Theme For An Imaginary Western/Crossroader |
| | KC 32178 - Rainbow Rider - Brothers [1973] (Brothers Tom & Danny Guy) Edna Scream/Rainbow Rider/Deep Feelings/Don't Put Me Down/Magical Man//Wonder/The Prophet/Moonlight ON Sunshine/Mighty Ocean |
| | CQ/KC 32216 - Whatever Turns You On - West, Bruce & Laing [1973] (7-73, #87) Back Fire/Token/Sifting Sand/November Song//Rock And Roll Machine/Scotch Krotch/Slow Blues/Dirty Shoes/Like A Plate |
| | KC 32485 - Slewfoot - David Rea [1973] (Produced by Bob Weir, session musicians included Bob Weir, Keith & Donna Godchaux from the Grateful Dead, Matt Kelly from Kingfish, Spencer Dryden, David Torbert & David Nelson from the New Riders of the Purple Sage) Run That By Me One More Time/The Year That Clayton Delaney Died/Stagger Lee And Billy/Rosie/Saturday Night Woman//Tell Me Where Do All The Good Times Go/The Light Of My World/Nadine (Is It You)/Thank You For Being My Friend/I Love You |
| | KC 32525 - Ever Changing Minstrel - Bill Wilson [1974] |
| | CG/PG 32818 - Twin Peaks - Mountain [1974] (3-74, #142) (2-LP set) (This album includes a 32 minute-33 second version of "Nantucket Sleighride") Never In My Life/Theme For An Imaginary Western/Blood Of The Sun/Guitar Solo//Nantucket Sleighride (Part 1)//Nantucket Sleighride (Conclusion)//Crossroader/Mississippi Queen/Silver Paper/Roll Over Beethoven |
| | KC 32899 - Live 'N' Kickin' - West, Bruce & Laing [1974] (5-74, #165) Play With Fire/The Doctor//Politician/Powerhouse Sod |
| | CQ/KC/PC 33008 - Avalanche - Mountain [1974] (8-74, #102) Whole Lotta Shakin' Goin' On/Sister Justice/Alison/Swamp Boy/Satisfaction//Thumbsucker/You Better Believe It/I Love To See You Fly/Back Where I Belong/Last Of The Sunshine Days |