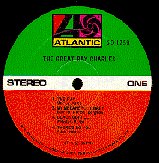 Atlantic Album Discography, Part 7
SD-18100 Series (1974-1977)
By David Edwards, Patrice Eyries, and Mike Callahan
Last update: October 6, 2005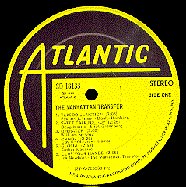 The 18100 Series was a popular music series that started after the 7200 series was discontinued in 1974. The primary label for this series was the green and red/orange label typical of the 1970s Atlantic issues. Retro-labels were also used for occasional LPs. These featured a reproduction of the original 1950s design in either yellow, red, or silver labels with black print.

Tracks are listed in the order they appear on the album, except for those albums designated with an asterisk (*), where the tracks are listed alphabetically.

We would appreciate any additions or corrections to this discography. Just send them to us via e-mail. Both Sides Now Publications is an information web page. We are not a catalog, nor can we provide the records listed below. We have no association with Atlantic Records. Should you be interested in acquiring albums listed in this discography (which are all out of print), we suggest you see our Frequently Asked Questions page and follow the instructions found there. This story and discography are copyright 2000 by Mike Callahan.



ATLANTIC ALBUM DISCOGRAPHY, PART 7

Number - Title - Artist [Release Date] (Chart) Contents

SD-18100 - So Far - Crosby, Stills, Nash and Young [1974] (9-74, #1) D'j… Vu/Helplessly Hoping/Wooden Ships/Teach Your Children/Ohio/Find The Cost Of Freedom//Woodstock/Our House/Helpless/Guinnevere/Suite:Judy Blue Eyes

SD-18101 - Waterloo - Abba [1974] (8-74, #145) Waterloo/Sitting In The Palmtree/King Kong Song/Hasta Manana/My Mama Said/Dance (While The Music Still Goes On)/Honey, Honey/Watch Out/What About Livingstone/Gonna Sing You My Lovesong/Suzy-Hang-Around/Ring Ring

SD-18102 - Captain Buckles - David "Fathead" Newman [1974] Captain Buckles/Joel's Domain/Something/Blue Caper/The Clincher/I Didn't Know What Time It Was/Negus

SD-18103 - Yesterdays - Yes [1975] (3-75, #17) America/Looking Around/Time And A Word/Sweet Dreams//Then/Survival/Astral Traveler/Dear Father

SD-18104 - Touch - Barnaby Bye [1974] Blonde/Can't Live This Way/Jamie/Damn You Girl/Bein' A Star//Tumblin' Inn/Happy Was The Day We Met/White Tornado/Take Me With You/So It Ends This Way

SD-18105 -

SD-18106 - Fresh - Oscar Brown Jr. [1975]

SD-18107 - Nightmares... and Other Tales From the Vinyl Jungle - J. Geils Band [1974] (10-74, #26) Detroit Breakdown/Giving It All Up/Must Of Got Lost/Look Me In The Eye/Nightmares//Stoop Down #39/I'll Be Coming Home/Funky Judge/Getting Out

*SD-18108 - Let's Love - Peggy Lee [1974] Always/Don't Let Me Be Lonely Tonight/Easy Evil/He Is The One/Let's Love/Let's Love (Reprise)Sometimes/Sweet Lov'liness/Sweet Talk/The Heart Is A Lonely Hunter/You Make Me Feel Brand New

SD-18109 - War Babies - Hall and Oates [1974] (10-74, #86) Can't Stop The Music (He Played It Much Too Long)/Is It A Star/Beanie G. And The Rose Tattoo/You're Much Too Soon/70's Scenario//War Baby Son Of Zorro/I'm Watching You (A Mutant Romance)/Better Watch Your Back/Screaming Through December/Johnny Gore And The C Eaters

SD-18110 - Red - King Crimson [1974] (11-74, #66) Red/Fallen Angel/One More Red Nightmare//Providence/Starless

*SD-18111 - Hot City - Gene Page [1975] (2-75, #156) All Our Dreams Are Coming True/Creamer Comer (Get What You Want)/Don't Play That Song/Gene's Theme/I Am Living In A World Of Gloom/Jungle Eyes/Satin Soul/She's My Main Squeeze/To The Bone

SD-18112 - The Band Kept Playing - Electric Flag [1975] Sweet Soul Music/Every Now And Then/Sudden Change/Earthquake Country/Doctor Oh Doctor (Massive Infusion)//Lonely Song/Make Your Move/Inside Information/Talkin' Won't Get It/The Band Kept Playing

SD-18113 - Another Time, Another Place - Bryan Ferry [11/74] The In Crowd/Smoke Gets In Your Eyes/Walk A Mile In My Shoes/Funny How Time Slips Away/You Are My Sunshine//(What A) Wonderful World/It Ain't Me Babe/Fingerpoppin'/Help Me Make It Through The Night/Another Time, Another Place

SD-18114 - Roller Coaster Weekend - Joe Vitale [1975] Roller Coaster Weekend/(Do You Feel Like) Movin'/Mad Man/Take A Chance On Love/School Yard//Shoot 'Em Up/Feeling's Gone Away/Two Of Us/Falling/Interlude/Step On You

SD-18115 - Wally - Wally [1974] The Martyr/I Just Wanna Be A Cowboy/What To Do//Sunday Walking Lady/To The Urban Man/Your Own Way

SD-18116 - With Everything I Feel In Me - Aretha Franklin [1974] (12-74, #57) Without Love/Don't Go Breaking My Heart/When You Get Right Down to It/You'll Never Get to Heaven/With Everything I Feel In Me//I Love Every Little Thing About You/Sing It Again-Say It Again/All of These Things/You Move Me

SD-18117 - Prone To Lean - Donnie Fritts [1974] Three Hundred Pounds of Hongry/Winner Take All/When We're on the Road/Whatcha Gonna Do/You're Gonna Love Yourself (In the Morning)/I've Got to Feel It//Sumpin' Funky Going On/Jesse Cauley Sings the Blues/My Friend/Prone to Lean/We Had It All/Rainbow Road

SD-18118 - New and Improved - Spinners [1974] (12-74, #9) Sitting On Top Of The World/Smile, We Have Each Other/Then Came You - Dionne Warwicke & The Spinners/There's No One Like You//Living A Little, Laughing A Little/Sadie/Lazy Susan/I've Got To Make It On My Own

SD-18119 - My Way - Major Harris [1975] (3-75, #28) Each Morning I Wake Up/Love Won't Let Me Wait/Sweet Tomorrow/Sideshow/Two Wrongs//Loving You Is Mellow/Just A Thing That I Do/After Loving You/My Way

*SD-18120 - The Prophet By Kahlil Gibran - Richard Harris [1975] Coming Of The Ship/On Children/On Clothes/On Crime And Punishment/On Death/On Eating And Drinking/On Friendship/On Giving/On Laws/On Love/On Marriage/On Pleasure/On Religion/On Teaching And Self- Knowledge/On Work/The Farewell/Theme From The Prophet (Pleasure Is A Freedom Song)/Trilogy From The Prophet (Love, Marriage, Children)

*SD-18121 - Total Eclipse - Billy Cobham [1974] (12-74, #36) Bandits/Last Frontier/Lunarputians/Moon Ain't Made Of Green Cheese/Moon Germs/Sea Of Tranquility/Solarization Medley/Total Eclipse

SD-18122 - Relayer - Yes [1974] (12-74, #5) The Gates Of Delirium//Sound Chaser/To Be Over

SD-18123 - Tonto's Expanding Head Band - Robert Margouleff and Malcolm Cecil [1974] This album is a reissue of Embryo SD-732. Cybernaut/Jetsex/Timewhys//Aurora/Riversong/Tama

*SD-18124 - Butt of Course - Jimmy Castor Bunch [1975] (3-75, #74) Bertha Butt Boogie-Part 1/Daniel/E-Man Boogie/Hallucinations/Let's Party Now/One Precious Word/Potential/You Make Me Feel Brand New

SD-18125 - So Long Harry Truman - Danny O'Keefe [1975] So Long Harry Truman/Quits/Rainbow Girl/The Delta Queen/The Kid-The Last Days//Covered Wagon/It's Been A Good Day/Fiddler's Jamboree/Steel Guitar/Hard Times

SD-18126 - Margie - Margie Joseph [1975]

SD-18127 - Common Sense - John Prine [3/75] (4-75, #66) Middle Man/Common Sense/Come Back to Us Barbara Lewis Hare Krishna Beauregard/Wedding Day in Funeralville/Way Down//My Own Best Friend/Forbidden Jimmy/Saddle in the Rain/That Close to You/He Was in Heaven Before He Died/You Never Can Tell

SD-18128 - Keep on Runnin' - Black Heat [1975] Drive My Car/Zimba Ku/Questions And Conclusions/Something Extra/Feel Like A Child//Last Dance/Baby You'll See/Love/Prince Duval/Live Together/Keep On Runnin'

SD-18129 - Mel Torme at the Maisonette - Mel Torme [1975] Introduction/Jet Set/What Are You Doing With The Rest of Your Life/Mountain Greenery/It Takes Too Long To Learn To Live Alone/Route 66/Gershwin Medley/Superstition/The Party's Over

SD-18130 - Welcome to My Nightmare - Alice Cooper [1975] (3-75, #5) Welcome To My Nightmare/Devil's Food/The Black Widow/Some Folks/Only Women Bleed//Department Of Youth/Cold Ethyl/Years Ago/Steven/The Awakening/Escape

SD-18131 - Feel Like Makin' Love - Roberta Flack [1975] (3-75, #24) Feelin' That Glow/I Wanted It Too/I Can See The Sun In Late December/Some Gospel According To Matthew//Feel Like Makin' Love/Mr. Magic/Early Ev'ry Midnite/Old Heartbreak Top Ten/She's Not Blind

SD-18132 - Supernatural - Ben E. King [4/75] (5-75, #39) Supernatural Thing-Part I/Supernatural Thing-Part II/Your Lovin' Ain't Good Enough/Drop My Heart Off/Extra-Extra//Do It In The Name Of Love/Happiness Is Where You Find It/Do You Wanna Do A Thing/Imagination/What Do You Want Me To Do

SD-18133 - The Manhattan Transfer - Manhattan Transfer [1975] (5-75, #33) Tuxedo Junction/Sweet Talking Guy/Operator/Candy/Gloria/Clap Your Hands//That Cat Is High/You Can Depend On Me/Blues Champagne/Java Jive/Occapella/Heart's Desire

SD-18134 - The Show Must Go On - Sam Dees [1975]

SD-18135 - Vance 32 - Vance 32 (Kenny Vance) [1975] Carnival Montage I/I'm So Happy/Rainy Day Friend/My True Story/Blue Because Of You/Parker's Band//In Each Other's Arms (Detail)/Honeymoon In Cuba/Dirty Work/(What A) Wonderful World/Looking For An Echo/Carnival Montage II/Looking For An Echo (Reprise)

SD-18136 - USA - King Crimson [1975] (5-75, #125) Larks' Tongues In Aspic (Part II)/Lament/Exile//Asbury Park/Easy Money/21st Century Schizoid Man

*SD-18137 - The Wiz (Original Cast) - Charles H. Coleman [1975] (5-75, #43) Be A Lion/Don't Nobody Bring Me No Bad News/Ease On Down The Road/Rejoice/Feeling We Once Had/He's A Wizard/Home (Finale)/I Was Born On The Day Before Yesterday/I'm A Mean Ole Lion/If You Believe/Prologue/Slide Some Oil To Me/So You Wanted To See The Wizard/Soon As I Get Home/Tornado/What Would I Do If I Could Feel/Ya'll Got It!

*SD-18138 - Upon the Wings of Music - Jean-Luc Ponty [1975] (7-75, #158) Bowing- Bowing/Echoes Of The Future/Fight For Life/Now I Know/Polyfolk Dance/Question With No Answer/Upon The Wings Of Music/Waving Memories

*SD-18139 - Shabazz - Billy Cobham [1975] (6-75, #74) Red Baron/Shabazz/Taurian Matador/Tenth Pinn

SD-18140 - Cut the Cake - Average White Band [1975] (6-75, #4) Cut The Cake/School Boy Crush/It's A Mystery/Groovin' The Night Away/If I Ever Lose This Heaven//Why/High Flyin' Woman/Cloudy/How Sweet Can You Get/When They Bring Down The Curtain

SD-18141 - Pick of the Litter - Spinners [1975] (8-75, #8) Honest I Do/I Don't Want to Lose You/Love or Leave/Sweet Love of Mine//All That Glitters Ain't Gold/You Made a Promise to Me/They Just Can't Stop It (The games People Play)/Just As Long As We Have Love

SD-18142 -

SD-18143 - Low Rent Rendezvous - Ace Spectrum [1975] (8-75, #138) Third Rate Romance (Low Rent Rendezvous)/You Ain't No Match For Me/Without You/Keep Holding On//Beautiful Love/Trust Me/I Just Want To Spend The Night With You/Laughter In The Rain/Do You Remember Yesterday

*SD-18144 - Mirabai - Mirabai [1975] A Dedication/Cosmic Overload/Determination/Exactly What You Are/Magical Time/Mirabai/Schumann's Song/Stairway To heaven/Strength Of My Soul/To Be Young/You Are My Reason

*SD-18145 - The Way We Were - Willis Jackson [1975] (8-75, #142) The Way We Were/Lover's Eyes/Sideshow/Brown-Eyed Girl/Love's Theme/Fire/Lady Marmalade/Then Came You/Shame, Shame, Shame/Pick Up the Pieces

SD-18146 - Abba - Abba [1975] (11-75, #174) Mamma Mia/Hey, Hey Helen/Tropical Loveland/SOS/Man In The Middle/Bang-A-Boomerang//I Do, I Do, I Do, I Do, I Do/Rock Me/Intermezzo No. 1 - Featuring Benny Andersson/I've Been Waiting For You/So Long

SD-18147 - Hotline - J. Geils Band [1975] (9-75, #36) Love-Itis/Easy Way Out/Think It Over/Be Careful (What You Do)/Jealous Love//Mean Love/Orange Driver/Believe In Me/Fancy Footwork

SD-18148 - Live - The Sensational Alex Harvey Band [1975] (11-75, #100) Fanfare (Justly, Skillfully, Magnanimously)/Faith Healer/Tomahawk Kid/Vambo//Give My Compliments To The Chef/Delilah/Framed

*SD-18149 - A Funky Side of Things - Billy Cobham [1975] (11-75, #79) Funky Side Of Things/Funky Thide Of Sings/Light At The End Of The Tunnel/Moody Modes/Panhandler/Some Skunk Funk/Sorcery/Thinking Of You

SD-18150 - Supersound - Jimmy Castor Bunch [1975]

SD-18151 - You - Aretha Franklin [1975] (11-75, #83) Mr. D.J. (5 for the D.J.)/It Only Happens (When I Look at You)/I'm Not Strong Enough to Love You Again/Walk Softly/You Make My Life//Without You/The Sha-La Bandit/You/You Got All the Aces/As Long As You Are There

SD-18152 -

*SD-18153 - Michel Polnareff - Michel Polnareff [1976] (2-76, #117) Come On Lady Blue/Fame A La Mode/Holding On To Smoke/If You Only Believe (Jesus For Tonite)/No No No No Not Now/Rainy Day Song/Since I Saw You/So Long Beauty/Wandering Man

SD-18154 - Beginnings - Steve Howe [1975] (12-75, #63) Doors Of Sleep (Contains At Night)/Australia/The Nature Of The Sea/Lost Symphony//Beginnings/Will 'O' The Wisp/Ram/Pleasure Stole The Night/Break Away From It All

SD-18155 - Songs For the New Depression - Bette Midler [1975] (1-76, #27) Strangers in the Night/I Don't Want the Night to End/Mr. Rockefeller/Old Cape Cod/Buckets of Rain (with Bob Dylan)/Love Says It's Waiting//Shiver Me Timbers-Samedi Et Vendredi/No Jestering/Tragedy/Marahuana/Let Me Just Follow Behind

SD-18156 - Live - Stephen Stills [1975] (12-75, #42) Wooden Ships/Four Days Gone/Jet Set (Sigh)-Rocky Mountain Way-Jet Set (Sigh)/Special Care//Change Partners/Crossroads-You Can't Catch Me/Everybody's Talkin' At Me/4+20/Word Game

*SD-18157 - You Gotta Wash Your Ass - Redd Foxx [1975] (1-76, #87) Recorded live at the Apollo Theater in 1975. There are no bands or tracks identified on this LP.

SD-18158 - Disco-Trek - Various Artists [1976]

SD-18159 - Fish Out of Water - Chris Squire [1975] (1-76, #69) Hold Out Your Hand/You By My Side/Silently Falling//Lucky Seven/Safe (Canon Song)

SD-18160 - Jealousy - Major Harris [1976] (2-76, #153) Jealousy/I got Over Love/Walkin' in the Footsteps/Tynisa//It's Got to Be Magic/Ruby Lee/Talking to Myself/What's the Use in the Truth

SD-18161 - Lovelock - Gene Page [1976]

SD-18162 - Doldinger Jubilee 75 - Passport [1976] Compared to What/Albatross Song/Jadoo/Abracadabra/Ready For Takeoff/Angel Wings

*SD-18163 - Aurora - Jean-Luc Ponty [1976] (4-76, #123) Aurora-Part I & II/Between You And Me/Is Once Enough?/Lost Forest/Passenger Of The Dark/Renaissance/Waking Dream

SD-18164 - Locked In - Wishbone Ash [1976] (3-76, #136) Rest In Peace/No Water In The Well/Moonshine/She Was My Best Friend//It Started In Heaven/Half Past Lovin'/Trust In You/Say Goodbye

SD-18165 - The Reason I'm Talking S**t - Eddie Harris [5/76]

*SD-18166 - Life and Times - Billy Cobham [1976] (4-76, #128) Earthlings/East Bay/Life And Times/On A Natural High/Siesta/Song For A Friend (Part I & II)/29/Wake Up!!!!!! That's What You Said

SD-18167 - Ramshackled - Alan White [4/76] Oooh Baby (Goin' To Pieces)/One Way Rag/Avakak/Spring-A Song Of Innocence//Giddy/Silly Woman/Marching Into A Bottle/Everybody/Darkness (Parts I, II & III)

SD-18168 - Mike Douglas Sings It All - Mike Douglas [1976]

SD-18169 - I Had a Love - Ben E. King [1976] I Had A Love/I Betcha Didn't Know That/Smooth Sailing/No Danger Ahead//Everybody Plays The Fool/Standing In The Wings Of Heartache/We Got Love/Tower Of Strength/You're Stepping On My Heart (Tearing My World Apart)

SD-18170 - A Street Called Straight - Roy Buchanan [1976] (5-76, #148) Running Out/Keep What You Got/Man On The Floor/Good God Have Mercy/Okay/Caruso//My Friend Jeff/If Six Was Nine/Guitar Cadenza/The Messiah Will Come Again/I Still Think About Ida Mae

SD-18171 - The Don Harrison Band - Don Harrison Band [1976] (5-76, #159) Sixteen Tons/Who I Really Am/Rock 'N' Roll Records/Fame And Fortune/Sometimes Loving You//Romance/Sweetwater William/Barroom Dancing Girl/A Bit Of Love/Living Another Day

SD-18172 - Where the Happy People Go - Trammps [1976] (5-76, #50) Soul Searchin' Time/That's Where The Happy People Go/Can We Come Together//Disco Party/Ninety-Nine And A Half/Hooked For Life/Love Is A Funky Thing

SD-18173 -

SD-18174 - Firefall - Firefall [1976] (5-76, #28) It Doesn't Matter/Love Isn't All/Livin' Ain't Livin'/No Way Out/Dolphin's Lullaby//Cinderella/Sad Ol' Love Song/You Are The Woman/Mexico/Do What You Want

SD-18175 - The Story Of I - Patrick Moraz [1976] (6-76, #132) Impact/Warmer Hands/The Storm/Cachaca (Baiao)/Intermezzo/Indoors/Best Years Of Our Lives//Descent/Incantation (Procession)/Dancing Now/Impressions (The Dream)/Like A Child In Disguise/Rise And Fall/Symphony In The Space

SD-18176 - Sparkle (Soundtrack) - Aretha Franklin [1976] (6-76, #18) Sparkle/Giving Him Something He Can Feel/Hooked On Your Love/Look Into Your Heart//I Get High/Jump/Loving You Baby/Rock With Me

SD-18177 - Lovingly - Sylvia Syms [7/76] Skylark/I Get a Kick Out of You/On Second Thought/I Didn't Know About You/Honeysuckle Rose/Pink Taffeta Sample Size 10/The Long Lonely Season/My Shining Hour/I'm the Girl/Mountain Greenery/Lonely Woman/I'll See You Again

SD-18178 - Lipstick - Michel Polnareff [6/76] Lipstick/Lipstick Montage//The Rapist/Ballet

SD-18179 - Soul Searching - Average White Band [1976] (7-76, #9) Overture/Love Your Life/I'm The One/A Love Of Your Own/Queen Of My Soul//Soul Searching/Goin' Home/Everybody's Darling/Would You Stay/Sunny Days (Make Me Think Of You)/Digging Deeper (Finale)

SD-18180 - Olias of Sunhillow - Jon Anderson [1976] (7-76, #47) Ocean Song/Meeting (Garden Of Geda)/Sound Out The Galleon/Dance Of Ranyart/Olias (To Build The Moorglade)/Qoquag En Transic/Naon/Transic T"/Flight Of The Moorglade//Solid Space/Moon Ra/Chords/Song Of Search/To The Runner

SD-18181 - Happiness Is Being With the Spinners - Spinners [1976] (7-76, #25) Now That We're Together/You're All I Need In Life/If You Can't Be in Love/The Rubberband Man//Toni My Love/Four Hands in the Fire/The Clown/Wake Up Susan

SD-18182 -

SD-18183 - Coming Out - Manhattan Transfer [1976] (9-76, #48) Don't Let Go/Zindy Lou/Chanson D'Amour/Helpless/Scotch And Soda/The Speak Up Mambo (Cuentame)//Poinciana (The Song Of The Tree)/S.O.S./Popsicle Toes/It Wouldn't Have Made Any Difference/The Thought Of Loving You

SD-18184 -

SD-18185 - Just Like in the Movies - Ace Spectrum [1976]

*SD-18186 - E-Man Groovin' - Jimmy Castor Bunch [1976] (9-76, #132) Dracula (Pt. I & II)/E-Man Groovin'/Everything Is Beautiful To Me/I Don't Want To Lose You/I Love A Mellow Groove/Space Age/Super Love

SD-18187 - Let's Stick Together - Bryan Ferry [1976] (10-76, #160) Let's Stick Together/Casanova/Sea Breezes/Shame, Shame, Shame/2 HB//The Price Of Love/Chance Meeting/It's Only Love/You Go To My Head/Re-Make-Re-Model/Heart On My Sleeve

SD-18188 - Dee Dee Bridgewater - Dee Dee Bridgewater [1976] My Prayer (2 Versions)/My Lonely Room/It Ain't Easy/He's Gone/Goin' Through the Motions/You Save Me/Every Man Wants Another Man's Woman

SD-18189 - Greatest Hits - Abba [1976] (9-76, #48) SOS/He Is Your Brother/Ring Ring/Another Town, Another Train/Honey Honey/So Long/Mamma Mia/I Do, I Do, I Do, I Do, I Do/People Need Love/Waterloo/Nina Pretty Ballerina/Bang-A-Boomerang/Dance (While The Music Still Goes On)/Fernando

SD-18190 - Photograph - Melanie [1976] Cyclone/If I Needed You/The Letter/Groundhog Day/Nickel Song/Photograph//I'm So Blue/Secret Of The Darkness (I Believe)/Save Me/Raindance/Friends And Co.

SD-18191 - Rhapsody - Ben E. King [1976]

SD-18192 - Songs For Evolution - Anglo-Saxon Brown [1976]

SD-18193 - Ringo's Rotogravure - Ringo Starr [1976] (10-76, #28) A Dose of Rock 'N' Roll/Hey Baby/Pure Gold/Cryin'/You Don't Know Me At All//Cookin'/I'll Still Love You/This Be Called a Song/Las Brisas/Lady Gaye/Spooky Weirdness

*SD-18194 - Live-On Tour In Europe - The Billy Cobham/George Duke Band [1976] (10- 76, #99) Almustafa The Beloved/Do What Cha Wanna/Frankenstein Goes To The Disco/Hip Pockets/Ivory Tattoo/Juicy/Space Lady/Sweet Wine

SD-18195 - Imaginary Voyage - Jean-Luc Ponty [1976] (12-76, #67) New Country/The Gardens Of Babylon/Wandering In The Milky Way (Violin Solo)/Once Upon A Dream/Tarantula//Imaginary Voyage (Part I)/Imaginary Voyage (Part II) /Imaginary Voyage (Part III)/Imaginary Voyage (Part IV)

SD-18196 - Frannie Golde - Frannie Golde [1976]

SD-18197 - Bristol's Creme - Johnny Bristol [1976] (12-76, #154) Do It To My Mind/I Love Talkin' 'Bout Baby/I Sho Like Groovin' With Ya/You Turned Me On To Love//She Came Into My Life/Love To Have A Chance To Taste The Wine/Baby's So Much Fun To Dream About/Have Yourself A Good Time Thinkin' 'Bout The Good Times...

SD-18198 - Golden Soul - Various Artists [1976]

SD-18199 - Garden of Love Light - Narada Michael Walden [1977] White Night/Garden Of Love Light/Delightful/First Love//Meditation/The Sun Is Dancing/You Got The Soul/Saint And The Rascal/You Are Love

SD-18200 - New England - Wishbone Ash [1976] (12-76, #154) Mother Of Pearl/(In All Of My Dreams) You Rescue Me/Runaway/Lorelei//Outward Bound/Prelude/When You Know Love/Lonely Island/Candle-Light

*SD-18201 - Still Stills: Best of Stephen Stills - Stephen Stills [1976] (1-77, #127) Bound To Fall/Change Partners/Cuban BluegrassGo Back Home/Isn't It About Time/It Doesn't Matter/Johnny's Garden/Love The One You're With/Marianne/Rock And Roll Crazies/Sit Yourself Down/We Are Not Helpless

SD-18202 - Prime Prine: The Best of John Prine - John Prine [1976] (1-77, #96) Sam Stone/Saddle In The Rain/Please Don't Bury Me/The Great Compromise/Grandpa Was A Carpenter/Donald And Lydia//Illegal Smile/Sweet Revenge/Dear Abby/Souvenirs/Come Back To Us Barbara Lewis Hare Krishna Beauregard/Hello In There

SD-18203 - Laverne and Shirley Sing - Cindy Williams and Penny Marshall [1976]

*SD-18204 - Ten Years of Gold - Aretha Franklin [12/76] (12-76, #135) A Natural Woman (You Make Me Feel Like)/Baby I Love You/Day Dreaming/I Never Loved A Man (The Way I Love You)/Respect/Rock Steady/See Saw/Something He Can Feel/Spanish Harlem/Think/Until You Come Back To Me (That's What I'm Gonna Do)

SD-18205 - L - Steve Hillage [1976] (1-77, #130) Hurdy Gurdy Man/Hurdy Gurdy Glissando/Electrick Gypsies//Om Nama Shivaya/Lunar Musick Suite/It's All Too Much

SD-18206 -

SD-18207 - Arrival - Abba [1976] (1-77, #20) When I Kissed the Teacher/Dancing Queen/My Love, My Life/Dum Dum Diddle/Knowing Me, Knowing You//Money, Money, Money/That's Me/Why Did It Have To Be Me/Tiger/Arrival

SD-18208 - Red Hot - Don Harrison Band [1/77] Red Hot (Ready To Go)/Jaime/This Ol' Guitar/Rock 'N' Roll Lady/My Heart//In The Rain/Baby, Don't Change Your Mind/Love Came Down/Takin' My Time/Round And Round

*SD-18209 - Bird In a Silver Cage - Herbie Mann [1976] (2-77, #132) Aria/Bird In A Silver Cage/Birdwalk/Fly, Robin, Fly/The Piper/Years Of Love

SD-18210 - Eli - Jan Akkerman and Kaz Lux [1976] Eli/Guardian Angel/Tranquillizer/Can't Fake A Good Time//There He Still Goes/Strindberg/Wings Of Strings/Naked Actress/Fairytale

SD-18211 - Disco Inferno - Trammps [1976] (1-77, #46) Body Contact Contract/Starvin'/I Feel Like I'm Livin' (On The Dark Side Of The Moon)//Disco Inferno/Don't Burn No Bridges/You Touch My Hot Line

SD-18212 - Mr. Flute - Art Webb [1976]

SD-18213 - No Goodbyes - Hall and Oates [1977] (3-77, #92) It's Uncanny/I Want To Know You For A Long Time/Can't Stop The Music (He Played Much Too Long)/Love You Like A Brother/Las Vegas Turnaround (The Stewardess Song)//She's Gone/Lilly (Are You Happy)/When The Morning Comes/Beanie G. And The Rose Tattoo/70's Scenario

*SD-18214 - A Blow For Me-A Toot For You - Fred Wesley and Horny Horns [1977] (4- 77, #181) A Blow For Me, A Toot For You/Between Two Sheets/Four Play/Peace Fugue/Up For The Down Stroke/When In Doubt:Vamp

SD-18215 - Foreigner - Foreigner [1977] (3-77, #4) Feels Like The First Time/Cold As Ice/Starrider/Headknocker/The Damage Is Done//Long, Long Way From Home/Woman Oh Woman/At War With The World/Fool For You Anyway/I Need You

SD-18216 - In Your Mind - Bryan Ferry [1977] (4-77, #126) This Is Tomorrow/All Night Operator/One Kiss/Love Me Madly Again//Tokyo Joe/Party Doll/Rock Of Ages/In Your Mind

SD-18217 - Hear and Now - Don Cherry [7/77] Mahakal/Universal Mother/Karmapa Chenno/California/Buddha's Blues/Eagle Eye/Surrender Rose/Journey of Milarepa

SD-18218 - El Mirage - Jimmy Webb [1977] The Highwayman/If You See Me Getting Smaller I'm Leaving/Mixed-Up Guy/Christian No/Moment In A Shadow/Sugarbird//Where The Universes Are/P.F. Sloan/Dance To The Radio/The Moon Is A Harsh Mistress/Skylark (A Meditation)

SD-18219 - Loading Zone - Roy Buchanan [1977] (6-77, #105) The Heat Of The Battle/Hidden/The Circle/Adventures Of Brer Rabbit And Tar Baby/Ramon's Blues//Green Onions/Judy/Done Your Daddy Dirty/Your Love

*SD-18220 - Back Together Again - Coryell & Mouzon [1977] Back Together Again/Beneath The Earth/Crystallization/Get On Up (We Gonna Boogie)/High Love/Mr. C/Reconciliation/Rock 'N' Roll Lovers/The Phonse/Transvested Express

*SD-18221 - Jay Boy Adams - Jay Boy Adams [1977] Cactus Cafe/Copper Mountain/In rain In Spring/Ladies 'Round The River/Mitchell Country Sunset/Mountains And Airplanes/Nine Hard Years/Sew A Sail/The Legend Of Jack Diamond/You Don't Miss Things (When They're Gone)

SD-18222 -

SD-18223 -

SD-18224 -

SD-18225 - Serengeti Minstrel - Sonny Fortune [10/77] Serengeti Minstrel/Bacchanal/Afro-Americans/There's Nothing Smart about Being Stupid/Not All the Dreams Are Real/Never Again is Such a Long Time

SD-18226 - Love Eyes - Art Webb [10/77] Glass Dreams/Love Eyes/Pyramids/You Can't Hide Love/Free/Devotion/Flute Magic/A Little Traveling Music Please

SD-18227 - Music From Other Galaxies & Planets - Don Ellis [1977]

SD-18228 -

SD-18229 -

SD-18230 -

SD-18231 - Pele (Soundtrack) - Sergio Mendes [1977]

SD-18232 - Mark Farner - Mark Farner [11/77] Dear Miss Lucy/Street Fight/Easy Breezes/Social Disaster/He Let Me Love//You And Me Baby/Second Chance To Dance/Lorraine/Lady Luck/Ban The Man


Thanks to Charles G. Hill.





Back to the Atlantic Records Story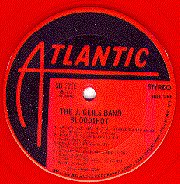 Back to the Atlantic Records Discography, Part 6 7200 Popular Series (1970-1974)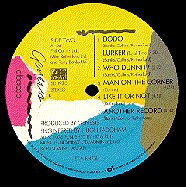 On to the Atlantic Records Discography, Part 8 19100 Popular Series (1977-1982)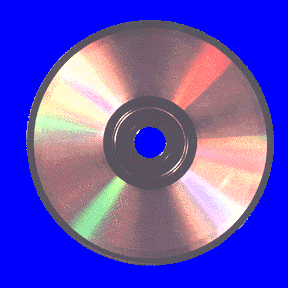 Back to the Discography Listings Page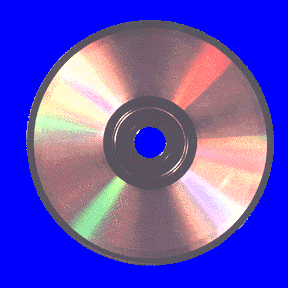 Back to the Both Sides Now Home Page