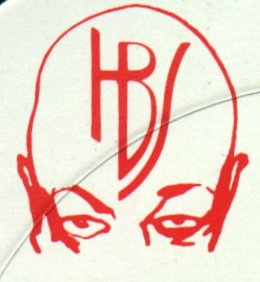 HBS (Hot Buttered Soul) Album Discography
By David Edwards, Patrice Eyries, and Mike Callahan
Last update: April 10, 2002






HBS was Isaac Hayes' label while at ABC. Hayes came to ABC after the bankruptcy of Stax Records. The record label was named after Hayes' first smash album Hot Buttered Soul or "HBS." His first album on HBS was Chocolate Chip, a best seller. His later releases fared less well, and in late 1977 Hayes left ABC for Polydor Records.

In addition to Isaac Hayes' own recordings, the only other artists to have albums released on HBS were the Masqueraders, a five-man group from Texas.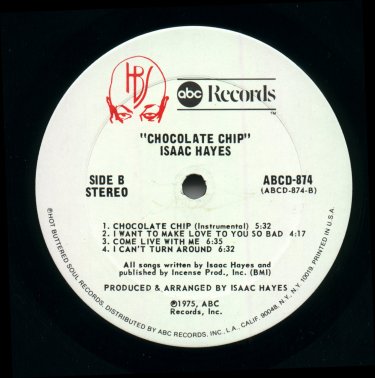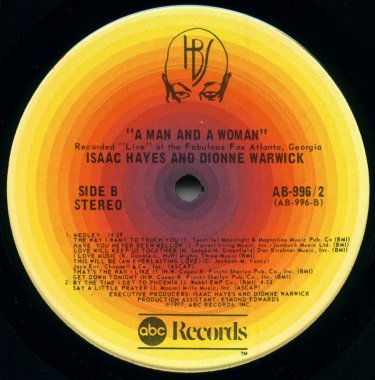 The HBS label was part of the ABC regular series (so the numbering is discontinuous). The first HBS label (Chocolate Chip) in 1975 used the regular ABC label design (but white with black print) with the red HBS logo to the left of the ABC logo, as shown in the label photo at left. By the time Groove-A- Thon was released in 1976, the label had changed slightly; it was still white with black print, but the ABC logo had moved to the bottom of the label and the red HBS logo was at the top of the label by itself. By 1977, when A Man and a Woman was released, the label had changed from white to the normal ABC yellow-orange concentric circles, with the HBS logo now in black at the top and the ABC logo still on the bottom.



We would appreciate any additions or corrections to this discography. Just send them to us via e-mail. Both Sides Now Publications is an information web page. We are not a catalog, nor can we provide the records listed below. We have no association with HBS Records. Should you be interested in acquiring albums listed in this discography (all of which are out of print), we suggest you see our Frequently Asked Questions page and follow the instructions found there. This story and discography are copyright 2002 by Mike Callahan.



HBS ALBUM DISCOGRAPHY

Number - Title - Artist [Release Date] (Chart) Contents

HBS/ABC ABCD 874 - Chocolate Chip - Isaac Hayes [1975] (6-75, #18pop; #1 r&b) That Loving Feeling/Body Language/Chocolate Chip (Vocal)//Chocolate Chip (Instrumental)/I Want To Make Love To You So Bad/Come Live With Me/I Can't Turn Around

HBS/ABC ABCD 921 - Everybody Wanna Live On - Masqueraders [1975] (11-75, #57 r&b)Everybody Wanna Live On/Please Don't Try (To Take Me Away To The Sky)/(Call Me) The Traveling Man/Listen//Baby It's You/Sweet Sweetning/(My Love For You Is) Honest And True/Your Sweet Love Is A Blessing

HBS/ABC ABCD 923 - Disco Connection - Isaac Hayes Movement [1975] (1-76, #85pop; #19 r&b) The First Day Of Forever/St. Thomas Square/Vykkii/Disco Connection//Disco Shuffle/Choppers/After Five/Aruba

HBS/ABC ABCD 925 - Groove-A-Thon - Isaac Hayes [1976] (2-76, #45 pop; #11 r&b) Groove-A-Thon/Your Loving Is Much Too Strong/Rock Me Easy Baby//We've Got A Whole Lot Of Love/Wish You Were Here (You Ought To Be Here)/Make A Little Love To Me

HBS/ABC ABCD 953 - Juicy Fruit (Disco Freak) - Isaac Hayes [1976] (7-76, #124 pop; #18 r&b) Juicy Fruit (Disco Freak)/Let's Don't Ever Blow Our Thing/The Storm Is Over//Music To Make Love By/Thank You Love/Lady Of The Night/Love Me Or Lose Me

HBS/ABC AB 962 - Love Anonymous - Masqueraders [1977] Modern Day Woman/Love Between A Woman And A Man/Can't Nobody Love Me Like You Do/Love Anonymous//The Bicentennial/Be For Real/It's A Terrible Thing To Waste Your Love/Runaway Slave

HBS/ABC AB 996-2 - A Man And A Woman - Isaac Hayes & Dionne Warwick [1977] (2- 77, #49 pop; #20 r&b) Two record set. Unity/I Just Don't Know What To Do With Myself-Walk On By/My Love//Medley: The Way I Want To Touch You-Have You Ever Been Mellow-Love Will Keep Us Together-I Love Music-This Will Be (An Everlasting Love)-That's The Way I Like It-Get Down Tonight/By The Time I Get To Phoenix-I Say A Little Prayer//Then Came You/Feelings-My Eyes Adored You/Body Language//Can't Hide Love/Come Live With Me/Once You Hit The Road/Chocolate Chip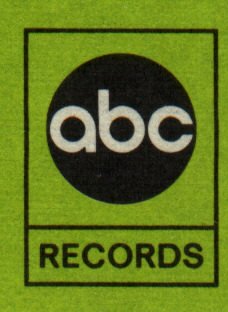 Back to the ABC-Paramount Records Story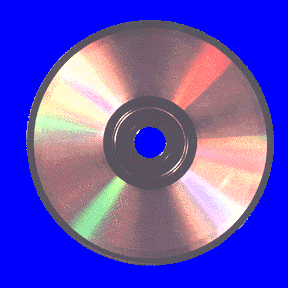 Back to the Discography Listings Page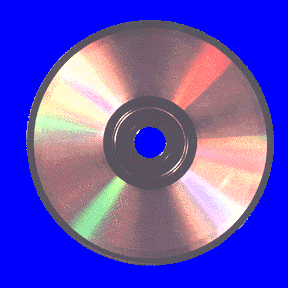 Back to the Both Sides Now Home Page