Anchor was a U.K.-based label that had a mutual distribution agreement with ABC in the US. ABC marketed (distributed) Anchor albums here, and Anchor issued many ABC albums there as "ABC Records Marketed by Anchor Records." Some of these ABC-Anchor UK discs are listed below.

Anchor lasted from 1974 to 1978 or so, and featured a few artists who would make their names primarily elsewhere. These included Ace, Stretch, and Moonrider, all of which had members who either had been better known, or were going on to better things.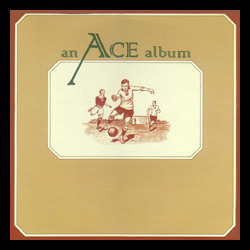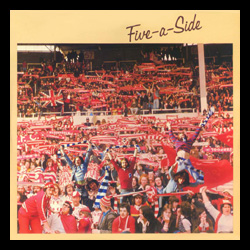 Anchor had no commercial success in the US with any artist other than Ace, which placed three albums on the charts. Ace was a "pub-rock band" formed in Sheffield, Yorkshire, England. Original members Phil Harris (lead guitar) and Alan "Bam" King (rhythm guitar, vocals) had been in a group called Clat Thyger (which had been the remains of the group Action after they disbanded). The two exited Clat Thyger in December, 1972, and formed a new group, "Ace Flash and the Dynamos," recruiting Paul Carrack (keyboards, vocals), Terry "Tex" Comer (bass) and Steve Witherington (drums) over the next few months. In addition to shortening the name to "Ace," the group found they had short-timers at drums. Witherington was replaced by Chico Greenwood, who in September, 1974, was replaced by Fran Byrne. After developing a small following on the pub-rock circuit, Ace signed with Anchor Records, and it was Byrne who appeared on the group's first album, Five-A-Side. The album was issued in the US as An Ace Album because record execs thought Americans wouldn't have a clue about what "Five-a-Side" football was. The stadium picture on the UK album was also scrapped for a drawing of boys at play on the US version. Nevertheless, both the jacket spine and the record label of the US issue titled the album as Five-A-Side.

Ace hit immediately in both the UK and the US with "How Long," a song from the album which most listeners interpreted as being about a love affair gone bad. Ironically, it was not about that at all, but a song about Comer leaving the band briefly to play with the Sutherland Brothers and Quiver, and his subsequent return. Their second album, Time for Another, was nowhere near as successful. Harris left in early 1976 and was replaced by Jon Woodhead. Also that year, Ace moved to Los Angeles, hoping for more success on this side of the Atlantic, but it wasn't to be. Ace released their final album, No Strings, in 1977 and then disbanded. Comer, Carrack and Byrne all joined Frankie Miller. Carrack soon left to sing with Roxy Music, then started a solo career while also performing with other bands like Squeeze, Nick Lowe and Mike+the Mechanics.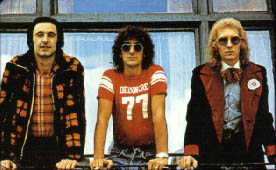 Anchor had mild success with another of their bands, Stretch (pictured, left), who had a top-20 single in the UK with "Why Did You Do It" in 1975, from their first album, Elastique. The band was just singer "Elmer Gantry" and guitarist "Kirby" (typical '70s pseudonyms; not even a last name!), and some studio musicians. Two more albums followed, along with a third member in drummer Jeff Rich (later of Status Quo). As is the common tale but true, they failed to repeat their initial success, and by 1978 were off the label and essentially defunct as a band.

With the disbanding of, or failure of, their primary artists by late1977, the label was on the ropes. Their last two regular issues were a country album by veteran George Hamilton IV and a disco album by Donna McGhee. At the same time, Anchor released a swan-song series of 12" reissue EPs in the UK with stars from both the ABC-US and Anchor-UK catalogue. When a record company starts drastically changing musical genres and throwing reissues out right and left, look out. Closing the doors usually comes soon after, and this case apparently ran true to form. There were no issues after 1978. Today the masters are apparently owned by Minder Music.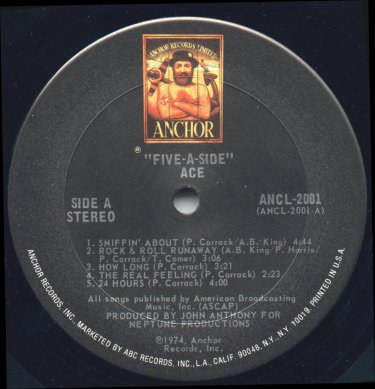 The Anchor label was black with silver print. The logo, at the top of the label, was a British sailor with an anchor behind him and the words "ANCHOR RECORDS LIMITED" above the sailor's hat and the word ANCHOR below the sailor, all enclosed in a rectangular frame. At the bottom of the label it read, "ANCHOR RECORDS, INC., MARKETED BY ABC RECORDS, INC., L.A., CALIF. 90048, N.Y., N.Y. 10019. PRINTED IN U.S.A."

The numbering system included issues that were either US-only or UK-only, or issued in both countries. For example, ANCL-2011 was Alice Cooper's Welcome to My Nightmare, which was issued on Anchor in the UK, but on Atlantic in the US. Anchor in the UK was far more active than in the US. Many of the missing numbers below are probably UK-only releases.

Background information about Ace was derived partly from the All Music Guide.

We would appreciate any additions or corrections to this discography. Just send them to us via e-mail. Both Sides Now Publications is an information web page. We are not a catalog, nor can we provide the records listed below. We have no association with Anchor Records. Should you be interested in acquiring albums listed in this discography (all of which are out of print), we suggest you see our Frequently Asked Questions page and follow the instructions found there. This story and discography are copyright 2002, 2005, 2009 by Mike Callahan.

Cover



Number - Title - Artist - [Release Date] (Chart) Contents



ANCL-2001 - Five-A-Side/An Ace Album - Ace [1975] (3-75, #11) Issued as Five-A- Side in the UK with a cover showing a scene from a football (soccer) stadium. US cover just had a drawing of some boys playing soccer/football with the jacket title An Ace Album. Copyright on this album is 1974/1975. Sniffin' About/Rock And Roll Runaway/How Long/The Real Feeling/24 Hours//Why/Time Ain't Long/Know How It Feels/Satellite/So Sorry Baby



ANCL-2002 - Ordinary Man - Sam Leno [1975] Ordinary Man/Secrets That We Share/Something About You/Let It Rain/What Am I Doing Here?/Please Don't Say You Love Me/Oh Joanna/Everything You Do/Bring It Back/Annie/You Know What I Mean/Beautiful Morning



ANCL-2003 - Two Sleepy People - Phillip & Vanessa [4/75] Canadian pop duo. Love/Love Is The Answer/If I Fell/Not Looking Back/Best Thing/You Know/Baby I Love You/It Ain't Easy/Ventura Highway/Our House/Lady May/Dancing Jones/Two Sleepy People



ANCL-2004



ANCL-2005 - Blue Goose - Blue Goose [1975] Struttin' Stuff/The Chorus/Call On Me/Loretta//Snowman/Over The Top/Let Me Know/Inside Yourself



ANCL-2006 - Bye-Bye Pretty Baby - Susan Webb [8/75] Helplessly Hoping/Tragedy/Isn't That So?/A Case Of You/Fingers/Tommy And The Rah Rahs//Same Old Man/For You/Dance To The Radio/If I Were A Sailor/Bye-Bye Pretty Baby



ANCL-2007 - Aj Webber (Folk Girl) - Aj Webber [5/76] Aj Webber was a female vocalist who backed up on many artists' albums. Rhythm & Time/Here Comes That Feeling/The Gardener/That's Life/Witchi-Tai-To/The Moon's A Harsh Mistress//Broken Pieces/Jam Jars/Movie Queen/The Carpenter/Power Of Prayer



ANCL-2008 - Cole Younger - Cole Younger [1975] With Doris Troy. Idaho/Lorelei/Drive On/Glory Be/Love-Light//Mackie Saw Your Light On/See You In The Morning/Call Me/Beautiful Dream/Don't Stop



ANCL-2009



ANCL-2010 - Moonrider - Moonrider [1975] Group included Keith West (previously with Tomorrow), John Weider (Eric Burdon's Animals) & Bruce Thomas (later with Elvis Costello's Attractions). Angel Of Mercy/Having Someone/Our Day's Gonna Come/Good Things/Livin' On Main Street//Too Early In The Morning/Golddigger/Danger In The Night/Ridin' For A Fall/As Long As It Takes



ANCL-2011 - Welcome to My Nightmare - Alice Cooper [1975] U.K. only. Issued in the US as Atlantic 18130. Alice Cooper's other albums appeared on Warner Brothers, but since this was his first solo effort without his band, and was considered a soundtrack for the TV show of the same name, he negotiated a deal with outside record labels (as in, "Hey, WB! Are you paying attention?) Devil's Food/The Black Widow/Some Folks/Only Women Bleed/Department of Youth/Cold Ethyl/Years Ago/Steven/The Awakening/Escape



ANCL-2012 - The Paxton Bros. - Paxton Brothers [1975] The Paxton Brothers were James and Frank Paxton, backed by an all-star cast of studio musicians and singers, including John Sebastian, Jim Gordon, Renee Armand, David Lindley, Wilton Felder, Pete Jolly, Clarence McDonald, Jerry Scheff, Henry Lewy, Chesley Milikin, Morgan Ames, Vincent Charles, Victor Feldman, Anne Goodman, Bart Hall, and Carmen Twillie. The First Time Is Always the Hardest/Blues Is O.K./May You Never/Without You/Do You Believe in Magic//Keep On Moving/Happy Valley Song/Comin' Into Tucson/Mr. Grasshopper/It's Whatcha Do With Whatcha Got



ANCL-2013 - Time For Another - Ace [1975] (12-75, #153) I Think It's Gonna Last/I'm A Man/Tongue Tied/Does It Hurt You/Message To You//No Future In Your Eyes/This Is What You Find/You Can't Lose/Sail On My Brother/Ain't Gonna Stand For This No More



ANCL-2014 - Elastique - Stretch [1976] Miss Jones/Why Did You Do It?/Miss Dizzy/Snakes Alive/Write Me A Note//Tomorrow's Another Day/Down Home/Navy Blues/Buzz Fly/Slip Away



ANCL-2015 - Cado Belle - Cado Belle [1976] Scottish rock band featuring vocals by Maggie Reilly. All Too Familiar/Infamous Mister/Rocked To Stony Silence/I Named This Ship Survival/Paper In The Rain//That Kind Of Fool/Airport Shutdown/Rough Diamonds/Got To Love/Stones Throw From Nowhere



ANCL-2016 - You Can't Beat Your Brain For Entertainment - Stretch [1977] Fixin' To Die/If The Cap Fits/The Way Life Is/That's The Way The Wind Blows/Hold Up The Night//Can't Get Enough/Hold On/Put Your Hands Up/Love's Got A Hold On Me/Feelin' Sad



ANCL-2017 - Patti Boulaye - Patti Boulaye [11/76] Patti is Patricia Ebiewei. Red Alert/Without My Man Inside/Funky Love/The People Some People Chose To Love/Don't Get Hooked On Me/Stop It I Like It/I'm Not Gonna Put My Shirt On You/I Should Have Told Me/Anytime Anywhere/Kiss And Make Up/I'm Hooked On You



ANCL-2018 - John Weider - John Weider [1976] Promises/Distance/Don't Give Up On Me/Say No/Prelude II//Ambush Alice/What You Want/I Found Love/Never Give Up On Love/Poor Boy



ANCL-2019 - Sioux - Sioux [1/77] So You Say You Lost Your Baby/Here Without You/Ooh Las Vegas/Hickory Wind/Renaissance Fair/In My Hour Of Darkness//Amarillo/Colorado/Feel A Whole Lot Better/God's Own Singer/Time Between



ANCL-2020 - No Strings - Ace [1977] (2-77, #170) Rock And Roll Singer/You're All That I Need/Crazy World/I'm Not Takin' It Out On You/Movin'//Gleaming In The Gloom/Let's Hang On/Why Did You Leave Me/Found Out The Hard Way/C'est La Vie



ANCL-2021 - Snap - Scrounger [1976] Group included Paul Lewis (vocals), Ray Russell (guitar), Paul Keogh (guitar), Mo Foster (bass), Frank McDonald (bass), Ian Curnow (keyboards, vocals), Pete Van Hooke (drums), and Mike Nicholls (drums). Parisian Cafe Blue/Telephone Song/Our Love/So Here I Stay/Me, I'm Pretending (Jimmy Dean)//Platform 9/Lady Fame/Smile/Magical/Other Girls Don't Feel The Way You Do



ANCL-2022 - Fine Lace and Homespun Cloth - George Hamilton IV [3/77] Everlasting (Everlasting Love)/In The Palm Of Your Hand/No Time Left For Lovin'/May The Winds Be Always At Your Back/I Wonder Who's Kissing Her Now//Cornbread Beans & Sweet Potato Pie/I Had A Horse/The Wonderful Soup/Till The Fiddle Comes Off That Wall/Johns



ANCL-2023 - Lifeblood - Stretch [1977] End Up Crying/Knives In Their Backs/Rock 'N' Roll Hoochie-Coo/Right Or Wrong/Showbiz Blues//Can't Beat Your Brain For Entertainment/Jonah And The Whale/Living On The Highway/Take You Down/Let's Spend The Night Together



ANCL-2024



ANCL-2025



ANCL-2026 - Feel Like a Million - George Hamilton IV [1977] Why Should I Cry Over You/All I Want (Is An Old Fashioned Girl)/Only The Best/Take This Heart/Some Day My Ship Will Sail/(Who Are You Mocking) Mocking Bird//Before I'm Fool Enough (To Give It One More Try)/One Day At A Time/It Amazes Me/Oh So Many Years/You Ain't My Kind Of Country Woman/Feel Like A Million



ANCL-2027 - Make It Last Forever - Donna McGhee [1978] It Ain't No Big Thing/Blind Man/Love Bug/Do As I Do/Make It Last Forever





Anchor (UK):
This series was for UK issues of US ABC albums. This listing is incomplete.



Anchor ABCL-5019 - Cabaret (Soundtrack) - Ralph Burns [1975] Issued in 1972 in the US as ABCX-752. Cabaret/Finale/Heiraten (Married)/If You Could See Her/Maybe This Time/Mein Herr/Money, Money/Sitting Pretty/Tiller Girls/Tomorrow Belongs To Me/Two Ladies/Willkommen



Anchor ABCL-5073 - Paint Your Wagon (Soundtrack) - Nelson Riddle [1969] Reissue of the 1969 LP originally on Paramount PMS-1001. I'm On My Way (Main Title)/Best Things - Clint Eastwood/The First Thing You Know/Gold Fever/Gospel Of No Name City/Hand Me Down That Can 'O Beans/I Still See Elisa/I Talk To The Trees/A Million Miles Away Behind The Door/There's A Coach Comin' In/They Call The Wind Maria/Wand'rin Star - Lee Marvin/Whoop-Ti-Ay! (Shivaree)/Finale



Anchor ABCL-5146 - Help Me Make It (To My Rockin' Chair) - B.J. Thomas [1975] Issued in the US as ABC ABDP-912. Help Me Make It (To My Rockin' Chair)/Ballyhoo Days/What A Way To Go/Why Don't Go Somewhere And Love/Today I Started Lovin' You Again//Late Late Dominos/Lyin' Again/Good Time Charlie's Got The Blues/We Are Happy Together/Let It Be Me



Anchor ABCL-5156 - You Can't Argue with a Sick Mind - Joe Walsh [1976] Issued in the US as ABC ABCD-932. Walk Away/Meadows/Rocky Mountain Way//Time Out/Help Me Thru The Night/Turn To Stone



Anchor ABCL-5160 - Too Stuffed to Jump - Amazing Rhythm Aces [1976] Issued in the US as ABC ABCD-940. Typical American Boy/If I Just Knew What To Say/The End Is Not In Sight (The Cowboy Tune)/Same Ol' Me/These Dreams Of Losing You//I'll Be Gone/Out Of The Snow/Fool For The Woman/A Little Italy Rag/Dancing The Night Away



Anchor ABCL-5240 - So Far So Good - Joe Walsh [1978] Rocky Mountain Way/Welcome To The Club/Book Ends/Walk Away (live)/Mother Says/Turn To Stone /Here We Go/Pavane/Time Out/Meadows (live)





12 Inch EP Series (Primarily UK):



12001 - Four Tracks from Alice Cooper - Alice Cooper [1977] Welcome To My Nightmare/Department Of Youth//Black Widow/Only Women Bleed







12002



12003 - Plus Four - Steely Dan [1977] Do It Again/Dallas//Haitian Divorce/Sail The Waterway



12004



12005 - Plus Four - Ace [1977] How Long/Sniffin' About/No Future in Your Eyes/You're All That I Need



12006



12007 - Charlie & The Wide Boys - Charlie & The Wide Boys [1977]



12008



12009



12010 - The James Gang - James Gang [1977] Bomber/Closet Queen/Caste Your Fate to the Wind/Woman/Funk No. 49



12011 - Plus Four - Poco [1977] Rose of Cimarron/Keep on Tryin'/Indian Summer/Staring at the Sky



12012 - Plus Four - Joe Walsh [1977] Rocky Mountain Way/Turn to Stone//Meadows/Walk Away





RELATED LP:



MUSIC CLUB (UK) MCCD 123 - How Long: The Best of Ace - Ace [19??] How Long/I Think It's Gonna Last/Does It Hurt You Why/Message To You/This Is What You Find/You're All That I Need/24 Hours/Tongue Tied/I'm Not Taking It Out On You/You Can't Lose/Movin'/Sniffin' About/Crazy World/So Sorry Baby