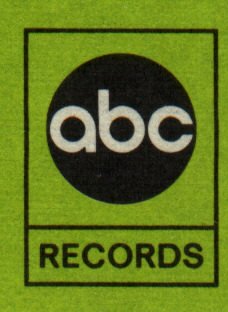 ABC-Paramount Album Discography, Part 6
ABC-600-699 (1967-1969)
By David Edwards, Patrice Eyries, and Mike Callahan
Last update: November 5, 2005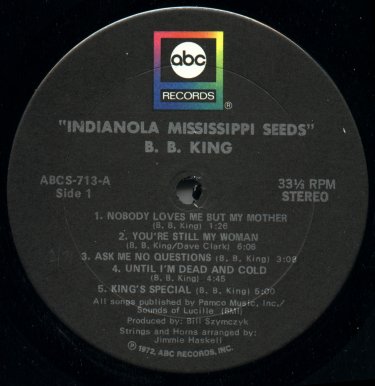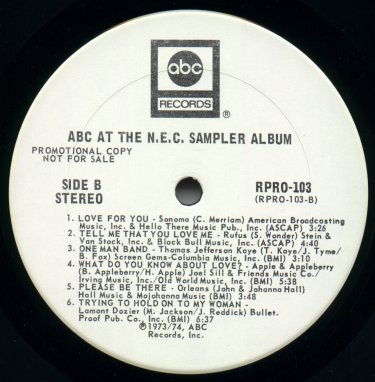 The label used for the ABC/ABCS-600s was black with silver printing. Directly above the center hole was a black ABC logo in a white circle. A color spectrum box surrounded the logo. This label was used from mid-1966 to the third quarter of 1974, approximately ABC 565 to ABC 830. At the bottom of the label is "ABC RECORDS INC., NEW YORK, N.Y. 10019 - MADE IN USA" The promotional label was white with black printing. The graphics were the same.

We would appreciate any additions or corrections to this discography. Just send them to us via e-mail. Both Sides Now Publications is an information web page. We are not a catalog, nor can we provide the records listed below. We have no association with ABC-Paramount, ABC, or MCA Records. Should you be interested in acquiring albums listed in this discography (all of which are out of print), we suggest you see our Frequently Asked Questions page and follow the instructions found there. This story and discography are copyright 2002, 2005 by Mike Callahan.



ABC-PARAMOUNT LABEL ALBUM DISCOGRAPHY, Part 6

Number - Title - Artist - [Release Date] (Chart) Contents

ABC 600 - From Our Point of View - Mitzi McCall & Charlie Brill [1967] Introduction/Commercials/Cat Story/Jazz Singer/Bible/Chatty Doll/Stages of Life/White Knoght/Agent

ABC/ABCS 601 - A Message From Garcia - Vic Garcia [1967] Recado Bossa Nova/Shadow of Your Smile/Watch What Happens/People/Insenatez Samba de Orpheus/Montivideo/Strangers In the Night/Slowly/I Wish You Love/Taste of Honey/Woe is Me

ABC/ABCS 602 - Suddenly - Kathy Keegen [1966] What Do I Care?/Watch What Happens/I'll Take Care/Alfie/You're Gonna Hear/Take Care Old Man Time/Suddenly/Solitude/I've Got You

ABCS 603 - Touch of Greece - Nick Demetrius & the Athenian Forum [1967] Hello Dolly/Strangers In the Night/Taste of Honey/California Dreamin'/Never on Sunday/Moustika/Monday, Monday/Mame/Shadow of Your Smile/What Now/Born Free

* ABCS 604 - I'll Take Care Of Your Cares - Frankie Laine [1967] (5-67, #16) Heartless One/I Wish You Were Jealous Of Me/I'll Take Care Of Your Cares/I'm Free/If I Didn't Care/Making Memories/Maybe/Moment Of Truth/Somewhere There's Someone/What Do You Do With An Old Old Song?/You're Breaking My Heart

ABCS 605 - Thoroughly Modern - Bob Thiele & The Happy Times Orchestra [1967] Thoroughly Modern Millie/Sugar Blues/Charleston/Jimmy/Betty Coed/Changes/Whispering/I'm Just a Vagabond Lover/Give Me Your Kisses/Barnacle Bill/Japanese Sandman/San

ABC/ABCS 606 - The Fabulous Impressions - Impressions [1967] (7-67, #184) You Always Hurt Me/It's All Over/Little Girl/100 Lbs. Of Clay/Love's A Comin'/You Ought To Be In Heaven //I Can't Stay Away From You/Aware of Love/Isle of Sirens/I'm Still Waitin'/She Don't Love Me

ABC 607 - Praise to the Living God - Manhattan Brass Choir [1967]

* ABCS 608 - I Wanted Someone To Love - Frankie Laine [1967] (10-67, #162) Ev'ry Street's A Boulevard (In Old New York)/Give Me Your Kisses (I'll Give You My Heart)/Gypsy/I Heard You Cried Last Night/Laura, What's He Got That I Ain't Got/Real True Meaning Of Love/Sometimes (I Just Can't Stand You)/There's Not A Moment To Spare/You, No One But You/You Taught Me How To Love You Now Teach Me To Forget/You Wanted Someone To Play With (I Wanted Someone To Love)

ABCS 609 - All About Love - DeAngelis Sisters with Peter DeAngelis Orchestra [1967] When Your Old Wedding Ring Was New/I'm Living My Heaven/Painted Tainted Rose/Too Late/Release Me/You Wanted Someone/Pretend You Don't See/When I Lost You/Oh, How I Miss You/True Love/2 People

ABCS 610 - Phantasy - Tommy Roe [1967] Paisley Dreams/Plastic World/Melancholy Mood/Visions/Mystic Magic//Little Miss Sunshine/These Are The Children/Goodbye Yesterday/The Executive/The You I Need/It's Gonna Hurt Me

ABCS 611 - How Sweet She Is - Sheila MacRae [1968] You Always Hurt the One You Love/Love Letters/San Francisco/Heartaches/If I Give My Heart to You/Hold Me/You Wanted Someone/Give Me Your Kisses/I Wonder/Somewhere there's Someone/I'm Counting On You

ABCS 612 - Della On Strings Of Blue - Della Reese [1967] On the South Side/I Had to Know/Mean To Me/Something Cool/I Heard You Cried/Walking By the River/I Don't Know Enough/House Is Not a Home/Do I Worry/Show Must Go On/Some Of My Best Friends/I'm Coming Home

ABCS 613 - The Times They Are A-Changin' - Marilyn Michaels [1967] I Wonder Who's Kissing Him Now/Here, There and Everywhere/Got to Get You Into My Life/Love Is Where You Find It/Ain't Ever Gonna Be/Toot Toot Tootsie/Show Me/Kansas City/Let's Pretend/Hello Springtime

ABCS 614 - Flamenco Artistry of Sabicas - Sabicas [6/68] Canto A Linares/Barrio De Santiago/Aires De Marbella/Los Caireles/Mosaico Flamenco/Campina Cordobesa/Clavel Sevillano/Plaza De Los Aljibes

ABCS 615 - Do The Love - Bob Thiele & The Happy Times Orchestra [1967]

ABCS 616 - The Candymen - Candymen [1967] (11-67, #195) Roses Won't Grow In My Garden/Lonely Eyes/Stone Blues Man/Deep In The Night/See Saw/Georgia Pines//Hope/Movies In My Mind/Happier Than Them/Stormy Monday Blues/Even The Grass Has Died

ABCS 617 - Bubble Called You - Alan Copeland Conspiracy [1967] At My Front Door/Ode to Billie Joe/Windy/Don't Sleep In the Subway/Warmth of the Sun/Can't Take My Eyes Off You/Frenesi/Bowling Green/Only In the Movies/Here, There and Everywhere/Don't You Care

ABCS 618 - Lonesome Country of Curly Putnam - Curly Putnam [1967] I'm Not the Boy I Used to Be/Hummin' a Heartache/Green, Green Grass/Hurtin' Like a Heartache/My Elusive Dreams/Right Straight In the Eye/Jailbirds Can't Fly/Untouchable You/Set Me Free/What I'd Give

ABCS 619 - Guitar Country Style Of Little Jimmy Dempsey - Little Jimmy Dempsey [1967] Island Red/Once a Day/Tippy Toeing/Spanish Fireball/Walk On/Here Comes My Baby Back/Bessie Was a Good Old Cow/My Elusive Dreams/These Boots Are Made For Walking/Almost Persuaded/But First a Word

* ABCS 620 - Judy Garland At Home At The Palace-Opening Night - Judy Garland [1967] Almost Like Being In Love/Bob White (Whatcha Gonna Swing Tonight?)/For Me And My Gal/I Feel A Song Coming On/I Loved Him, But He Didn't Love Me/Jamboree Jones/Man That Got Away/Ol' Man River/Over The Rainbow/Rock-A-Bye Your Baby With A Dixie Melody/That's Entertainment/This Can't Be Love/Together (Wherever We Go)/Trolley Song/What Now My Love/You Made Me Love You (I Didn't Want To Do It)

ABCS 621 - Dwight David Eisenhower October 14, 1890-March 28, 1969 - Documentary [7/69]

ABCS 622 - Soul of India - Roy Kalyani & Ali Ahmed Hussain [5/68] Raga Jaunpuri: Alap, Jod, Gat (Taal: Teental)//Raga Kedara: Alap, Gat (Taal: Teental)/Dhun

ABCS 623 - Salvation - Salvation [1968] Love Comes In Funny Packages/Cinderella/More Than It Seems/Getting My Hat/G.I. Joe//Think Twice/She Said Yeah/The Village Shuck/What Does An Indian Look Like?

* ABCS 624 - Eden's Children - Eden's Children [1968] (3-68, #196) Don't Tell Me/Goodbye Girl/I Wonder Why/If She's Right/Just Let Go/Knocked Out/My Bad Habit/Out Where The Light Fish Live/Stone Fox

ABC-Tangerine ABCS 625 - A Portrait Of Ray - Ray Charles [1968] (4-68, #51) Never Say Naw/The Sun Died (Il Est Mort Le Soleil)/Am I Blue/Yesterdays/When I Stop Dreamin'//I Won't Leave/A Sweet Young Thing Like You/The Bright Lights And You Girl/Understanding/Eleanor Rigby

ABCS 626 - The Wonderful World Of The Young - Young Americans [1968] Dilemma/Michelle/Other Man's Grass/Laura Lee/Oh, What a Lovely Day/Happiness/Over the Rainbow/Girls of the Summer/Who Am I?/Cherish

ABCS 627 - A Little More Soul - Tams [1968] Be Young, Be Foolish, Be Happy/The Letter/Down In The Boondocks/All My Hard Times/Louie, Louie/To The Aisle//That Same Old Song/A Little More Soul/Thank You For My Baby/Double Shot/For The Love Of A Woman

* ABCS 628 - To Each His Own - Frankie Laine [1968] (3-68, #127) Green, Green Grass Of Home/I Don't Want To Set The World On Fire/I Found You/I'm Happy To Hear You're Sorry/I Need You/I've Got A Right To Cry/I Wish I Had Someone Like You/It Don't Mean A Thing To Me/Laughing On The Outside (Crying On The Inside)/Meet Me Half Way/To Each His Own/You Always Hurt The One You Love

ABCS 629 - Bound To Happen - Cashman, Pistilli & West [1968] Bound To Happen/Spring Has A Tear In Her Eye/Red Is Red/I'd Stumble And Fall/A Song That Never Comes/Sunday Will Never Be The Same//Port Authority Terminal/But For Love/Up 'N' Down (Baby What You Want Me To Do)/You Can Write A Song/The Awakening/Bound To Happen (Reprise)

ABCS 630 - Influence - Influence [1968] Overture/I Admire/I Don't Know Why/I Met Her At The Country Fair/Pieces Of Me/Baby, That's My Bag//Sir Archibald/We Are Here/Natural Impulse/Dream Woman/Mad Birds Of Prey (A Mini-Opera)

ABCS 631 - When The Lights Go On Again - Kay Starr [1968] I Never Knew I Could/Some Sweet Tomorrow/I Don't Want to Walk Without You/Only When You're Lonely/I Don't Remember/My Melancholy Baby/You're Nobody/I Can't Face the Day/You're Finally Getting to Me

ABCS 632 - A Jane Morgan Happening - Jane Morgan [1967] I'm Gonna Sit Right Down and Write Myself a Letter/Night Life/Cincinnati, Ohio/Marvelous Toy/North/My Funny Valentine/Until It's Time/What Difference!/Smile/Child/Masquerade

ABCS 633 - The Candymen Bring You Candypower - Candymen [1968] Ways/Great Society/Sentimental Lady/Crowded Room/Candyman/Blues At Midnight//The Memphis Blues Again/I've Lost My Mind/Goodbye Mama/Bottled Up/I'll Never Forget

ABCS 634 - The World's Filled With Love - Griffin [1968]

ABCS 635 - We're A Winner - Impressions [1968] (3-68, #35) We're a Winner/Moonlight Shadows/Let Me Tell the World/I'm Gettin' ready/Nothing Can Stop Me //No One To Love/Little Brown Boy/I Loved and I Lost/Romancing to the Folk Song/Up, Up and Away

ABCS 636 - I Gotta Be Me... This Trip Out - Della Reese [1968] This Trip Out/Never My Love/My World Is Empty/I Gotta Be Me/Low/Go/Pop Goes the World/I've Got the Blues/No Explanation For Once/Hush Now/Measure of a Man

ABCS 637 - With A Little Help From My Friends - Lu Elliott [1968] Very Thought/My Romance/I'll Show Them/Our Love Will Last/On Green Dolphin Street/If I Were a Bell/Don't Love Me/I Know Now/Treat Me Good/Don't Go to Strangers

ABCS 638 - More Than Yesterday - Ruby & The Romantics [1968] Up Up/On a Clear Day/People/What the World Needs/Forever More/Two Candles/Never Tumble Down/This Is No Laughing Matter/No More/Bella Brazilian Melody

ABCS 639 - Moments To Remember - Peter DeAngelis Orchestra and Chorus with the DeAngelis Sisters [1968] All My Love/By the Time I Get to Phoenix/Kiss Me Goodbye/La-La- La/Everything That Touches You/Vally of the Dolls Theme/I'm Gonna Be Good To You/Young Girl/Scarborough Fair, Canticle/I Guess I'll Get the Papers

ABCS 640 - Hypnotic I - Bit'a-Sweet [1968] Speak Softly/2086/If I Needed Someone/Whit Love/Monday-Tuesday/Diamond Studded Eyes/How Can I Make You See/Travel/Second Time

* ABCS 641 - Flashes - Ill Wind [1968] Dark World/Full Cycle/High Flying Bird/Hung Up Chick/Lapd/Little Man/People Of The Night/Sleep/Walkin' And Singin'

ABCS 642 - I'll Be Yours - Wayne Thomas [1968] From the Beginning/I Only Live to Love You/Oh Pretty Woman/Another Day/Can't Take My Eyes Off of You/Who Can I Turn To?/Look Away/Please Don't Go/Mr/ Lonely/I Close My Eyes/Forever More/Just Say Goodbye

ABCS 643 - The Mighty Marvelows - Marvelows [1968] Talking 'Bout You/I'm Without a Girl/Hey, Hey Baby/Fade Away/Friend/Your Little Sister/I'm So Confused/In the Morning/I Do/My Heart/Shim Sham

644 -

645 -

ABCS 646 - 11 Pm Saturday - Bagatelle [1968] Soul Man/Got To Get You Into My Life/Shake/Mashed Potatoes/Such A Fuss About Sunday/Hey You/I'm Losin' You/Back On The Farm//Every Night/Everybody Knows/I've Been Trying/I Can't Stand It/I Feel Good (Medley) (Includes Getting Ready-Please Please Please-Gloria-One Summer Night-Crying In The Chapel-In The Still Of The Night-I Only Have Eyes For You-For Your Love)

ABCS 647 - The Fraternity Of Man - Fraternity Of Man [1968] In The Morning/Plastic Rat/Don't Bogart Me/Stop Me, Citate Me/Bikini Baby/Oh No I Don't Believe It//Wispy Paisley Skies/Field Day/Just Doin' Our Job/Blue Guitar/Last Call For Alcohol/Candy Stripped Lion's Tails

ABCS 648 - Loving You Have Made Me Bananas - Guy Marks [1968] Object of My Affection/Painted Tainted Rose/Ti-Pi-Tin/This Is Forever/Amapola/Postage Machine/Careless/Little Shoemaker/Forgive Me/Little Sir Echo

ABCS 649 - Set A Pattern - Johnny Pate [1968]

ABCS 650 - What A Wonderful World - Louis Armstrong [1968]

ABCS 651 - We Remember Otis - Jim Wess & The Upsetters [1968] Sweet Soul Music/Respect/Satisfaction/Shake/I Can't Turn You Loose/Always In the Wrong Place/Down Home/don't Mess With Cupid/Tossin' and Turnin'/Memphis Sound/Dock of the Bay/Don't Be Cruel/It's Growing/Grab This Thing

ABCS 652 - Sure Looks Real - Eden's Children [1968] Sure Looks Real/Toasted/Spirit Call/Come When I Call/Awakening//The Clock's Imagination/Things Gone Wrong/Wings/Call It Design/Invitation/Echoes

ABCS 653 - Gypsy Carnival Caravan - Salvation [1968] Hollywood 1923/Handles Of Care/Yuk Yuk/In The Evening//Salvation Jam/Come On Over Here/What'll I Do #42

ABCS 654 - The Best Of The Impressions - Impressions [1968] (9-68, #172) Also released as Capitol Record Club ST 91540. I Loved and Lost/Can't Satisfy/We're a Winner/She Don't Love Me/Too Slow/Amen //You've Been Cheatin'/I've Been Trying/We're Rollin' On/People Get Ready/This Must End

ABCS 655 - Feelin' Glad - Glad [1969]

ABCS 656 - Joey Bishop Sings Country And Western - Joey Bishop [1968] It Keeps Right On a Hurtin'/Born to Lose/Take These Chains/You Win Again/Heartbreak Avenue/Listen, They're Playing My Song/You're the Reason/If I Didn't Love You/Your Cheatin' Heart/Cold, Cold Heart

ABCS 657 - Take Me Back To Laine Country - Frankie Laine [1968] Take Me Back/Honey/Cold Cold Heart/Gentle On My Mind/Please Forgive/Wayward Wind/By the Time I Get to Phoenix/What a Wonderful World/Little Green Apples/Silver Kisses/Where Does Love Go?/Pretty Little Princess

ABCS 658 - Trilogy For The Masses - Ford Theatre [1968] Theme For The Masses/101 Harrison Street/Excerpt (From The Theme)/Back To Philadelphia/The Race//The Race/From A Back Door Window (The Search)/Theme For The Masses/Postlude: Looking Back

* ABCS 659 - Time For Livin' - Young Americans [1969] (4-69, #178) Blackberry Organ/Bowling Green/For Emily, Whenever I May Find Her/Gotham City Municipal Swing Band At County Fair/Here's That Rainy Day/Little Green Apples/Little Joy/On The Blue Cloud Sea/Scarborough Fair/Singing In The Rain/Time For Livin'

ABCS 660 - Tranquility - Ahmad Jamal [1968] I Say a Little Prayer/Look Of Love/When I Look/Illusions Optical/Nothing Ever Changes My Love/Free again/Manhattan Reflections

ABCS 661 - Fire - Fire [1968] I Need Your Love To Get Myself Together/I Thought You Were A Lover/Sunny Day/If It's Not Time/Come And Get These Memories//One More Heartache/Sunday/Burn This Want/Pretty Girl Pretty Day/Everyday

* ABCS 662 - Purpose - Purpose [1968] Baby/Doin' The Everything/Dustracks, Bags And Raches/Forgive Me/Give In/Hippie Chick/Hog For You/I Feel It/Jump Up/Life Of Love/Rosey, Rosey People

ABCS 663 - Graffiti - Graffiti [1968]

ABCS 664 - Girl Watcher - O'Kaysions [1968] Little Miss Flirt/Sunday Will Never Be The Same/Love Machine/My Baby's Love/Girl Watcher//My Song (Poor Man's Song)/How Are You Fixed For Love?/Dedicated To The One I Love/The Soul Clap/Deal Me In

ABCS 665 - Ray Pillow Sings Wonderful Day - Ray Pillow [1968] Wonderful Day/How Can I Fight/Only Daddy That'll Walk The Line/I Ran Out Of Tomorrows/Mama Tried/If Every Man Had A Woman like You/Sounds Of Goodbye/Love Takes Care of Me/Easy Part's Over/This Should Make You Happy/Why

ABCS 666 - The Mystical Powers Of Roving Tarot Gamble - Queen Nectarine's Machine [1969] Where Are We Goin'/4thDimension/Gypsy Lady/I Got Troubles/The Seance//Mysterious Martha Garoo/The Book/Land Of Krepus/Mrs. Fortune Teller/Everybody's Got A Song To Sing

ABCS 667 - Somewhere - Bob Bishop [1968]

ABCS 668 - The Versatile Impressions - Impressions [1969] Once In A Lifetime/Yesterday/This Is The Life/Just Before Sunrise/The Look Of Love//Don't Cry My Love/Sermonette/East Of Java/Oo You're A Livin' Doll/Fool On A Hill

ABCS 669 - Comin' On - Evergreen Blues [1969] Intro: Stars And Stripes Forever And Dialogue/Please Take Me Now/Girl I Got Wise/Eye In The Sky/Don't Mess Up My Mind/Funky Woman//The Moon Is High/W.L.A./Try A Little Tenderness/Quickest Way Out/Bring It On Back/Another Night

ABCS 670 - Strings Of My Guitar - Little Jimmy Dempsey [1969] Ode to Billie Joe/Yesterday/Bet'cha Can't Eat Just One/Loneliness/Gentle on My Mind/It's Such A Pretty World Today/My Song/There Goes My Everything/Happy Tracks/Drinking Champagne

ABCS 671 - Puzzle - Puzzle [1969] Hey Medusa/Make The Children Happy/Working For The Rich Man/No Complaints//Got My Head Right Yesterday (Part I)/Babe/Piggy Back Ride/Golden Butterfly/Got My Head On Straight (Part II)

ABCS 672 - A Very Strange Brew - Strange Brew [1969]

ABCS 673 - A Portrait Of The Tams - Tams [1969] Hey Jude/Greatest Love/Makin' Music/You've Got Control Of My Soul/You Got The Power//Sunshine, Rainbow, Blue Sky, Brown-Eyed Girl/Soul Brother/Whose Little Girl Are You/Trouble Maker/What Do You Do/There's A Great Big Change In Me

ABCS 674 - The Tricycle - Tricycle [1969] Mr. Henry's Lollipop Shop/Lemonade Parade/54321 Here I Come/Mary Had A Little Man/Simon Says//Yumberry Park/Good Time Music/It's A Game/Yellow Brick Rainbow/Poor Old Mr. Jensen

ABC-Tangerine ABCS 675 - I'm All Yours, Baby! - Ray Charles [1969] (4-69, #167) Yours/I Didn't Know What Time It Was/Love Is Here To Stay/Memories Of You/Till The End Of Time//I Had The Craziest Dream/Someday/Indian Love Call/I Dream Of You (More Than You Dream I Do)/Gloomy Sunday

ABCS 676 - Wool - Wool [1969] Love, Love, Love, Love, Love/Combination Of The Two/If They Left Us Alone/To Kingdom Come/I Don't Like You Anymore//Any Way That You Want Me/It Was Such A Lovely Night (Loving You Tonight)/The Boy With The Green Eyes/Funky Walk

ABCS 677 - Click - Click [1969] I Never Said She Was/Many Times Jimbo/My Precious/Crazy Hannah/My Pet/Theme Too//Find It For Yourself/For Judith/Girl On My Mind/To Paris (Handle With Care)/See That My Children Got Warm Clothes

678 -

679 -

ABCS 680 - Willet & Dworkin's Boarding House - Gary Willet & Steve Dworkin [unissued] Steve Dworkin comments: "This was the number assigned to an album I co-produced in 1968 for Super K Productions called Willet & Dworkin's Boarding House. My partner, Gary Willet, and I were staff writers/producers at Super K Productions and we produced two albums for ABC. The first was ABC 666, The Queens Nectarine Machine, and the second was a group that we formed for the recording. I had a copy of the test pressing, which we approved, and saw a copy of the album cover graphics. But because of us wanting to leave the company, they told us that they were not going to release the album."

ABCS 681 - Time Changes - Ford Theatre [1969] Introduction/Time Changes/Interlude One/That's My Girl/Wake Up In The Morning/I've Got The Fever/Crash/At The Station//Back To Philadelphia (Again)/Clifford's Dilemma/Jefferson Airplane/I Feel Uncertain/Interlude Two/Good Thing/Outroduction

* ABCS 682 - You Gave Me A Mountain - Frankie Laine [1968] (4-69, #55) Allegra/Born To Be With You/Don't Make Promises/Fresh Out Of Tears/Place In The Shade/Secret Of Happiness/Sing An Italian Song/Story Of My Life/Walk On Out Of My Mind/You Gave Me A Mountain

ABCS 683 - Dizzy - Tommy Roe [1969] (4-69, #25) Heather Honey/Raining In My Heart/Cinnamon/A Dollar's Worth Of Pennies/Stormy/Makin' Music//Money Is My Pay/Proud Mary/Gotta Keep Rolling Along/Look Out Girl/Dizzy

ABCS 684 - Saturn Rings - Michele [1969] Michele is Michele O'Malley. Would You Like To Go/Blind As You Are/Song To A Magic Frog/Fallen Angel/Spinning, Spinning, Spinning/Know Yourself/Musty Dusty/Lament Of The Astro Cowboy/White Linen/Misty Mirage/Believe You

685 -

ABCS 686 - The World of Country Music - Curly Putnam [1969] San Francisco Sun/Just For You/You Can Always Come Back/Talking To The Grass/Take It All Off/If I Ever Get That Close Again/Happy Shoes/Who Loves Who/Love Of The Common People/D-i-v-o-r-c-e/Big Silver Wings

687 -

ABCS 688 - Yer' Album - James Gang [1969] Reissue Of Bluesway BLS 6034. Introduction (Tuning Part One)/Take A Look Around/Funk #48/Bluebird/Lost Woman//Stone Rap/Collage/I Don't Have The Time/Wrapcity In English (Joe Walsh & The Seymour Barab Strings)/Fred (Featuring The Dunn Chorus)/Stop (Featuring The Dunn Chorus)

689 -

ABCS 690 - File Under Rock - White Lightnin' [1969] Pretty Sparrow/All the Good Times/Saro/Pretty Polly/Unclouded Day/New River Train/Down In the Willow Garden/Crazy Arms/Amazing Grace

ABCS 691 - Gypsy People - Jan & Lorraine [1969] Break In the Wind/Bird of Passage/Gypsy People/Foolin' Myself/Olde Tyme Movie/Life's Parade/Snow Roses/Assignment Song/Sequence/Number 33/Don't You Feel Fine

* ABCS 692 - Truck Stop - Jerry Smith & His Pianos [1969] I'll Always Be In Love With You/My Happiness/Pretend/Somkey Corners/Speakeasy (1929)/Street Singers (Y Cantanti Della Strada)/Sunrise Serenade/Sweet 'N Sassy/Tokyo Butterfly/Truck Stop

ABC 693 - Jay Bolotin - Jay Bolotin [1969] Trinket Man/It's All In That/Dear Father/I'm Not Asking You/Pretty Burmah/You Are a Woman/Jimmy's Got a Music Box/For the Love of a Summer's Evening/For Kristy/Winter Woman

ABCS 694 - Smooth As Raw Silk - Silk [1969] Introduction/Foreign Trip (Featuring The Gaiety West 79th Street Rhythm Band)/Long Haired Boy/Not A Whole Lot I Can Do/Custody/Scottish Thing//Skitzo Blues/Hours/Walk In My Mind/Come On Down Girl/For All Time

ABC-Tangerine ABCS 695 - Doing His Thing - Ray Charles [1969] (7-69, #172) The Same Thing That Can Make You Laugh (Can Make You Cry)/Finders Keepers, Losers Weepers/You Ought To Change Your Ways/That Thing Called Love/Come And Get It//We Can Make It/I'm Ready/Baby Please/If It Wasn't For Bad Luck/I Told You So

ABCS 696 - Maximilian - Maximilian [1969]

ABCS 697 - Never Goin' Back To Georgia - Blues Magoos [1969] Heartbreak Hotel/Heart Attack/The Hunter/I Can Feel It (Feelin' Time)/Gettin' Off//Never Goin' Back To Georgia (El Pito)/Broke Down Piece Of Man/Nobody Knows When You're Down And Out/Georgia Breakdown

698 -

699 -


Thanks to Thomas Engelmann, Steve Dworkin, Frank Frantik, and John Book.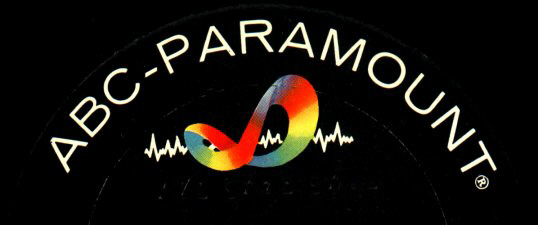 Back to the ABC Records Story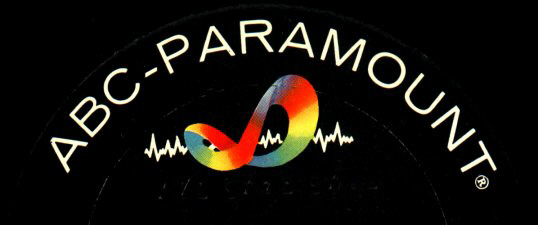 Back to the ABC-Paramount Discography, Part 5 500-599 (1964-1967)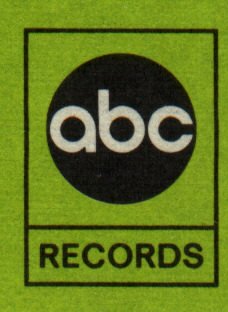 On to the ABC-Paramount Discography, Part 7 700-799 (1969-1974)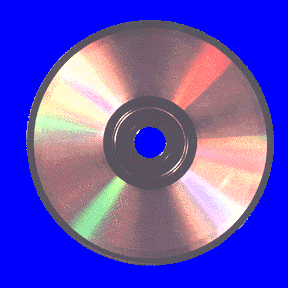 Back to the Discography Listings Page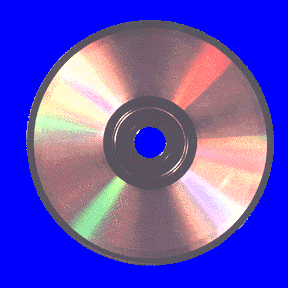 Back to the Both Sides Now Home Page