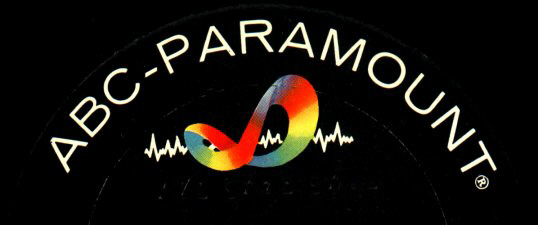 ABC-Paramount Album Discography, Part 2
ABC-200 to 299 (1957-1959)
By David Edwards, Patrice Eyries, and Mike Callahan
Last update: September 1, 2005






As with their first 100 albums, the second 100 albums yielded only two charters, both by Eydie Gormé. ABC-Paramount did, however, beat all of the major labels to the market with stereo records, having them in the catalog as early as June, 1958, while the others took until summer or fall of 1958 for their first stereo records to appear. In addition to Audio Fidelity, who introduced stereo records in late 1957, by July, 1958, only the following labels had issued stereo records: ABC-Paramount, Cook, Counterpoint, Hallmark, Period, Stereo, Stereovox, Urania, Vanguard, and World Wide. Most of these were labels dealing with classical music. The first ABC-Paramount stereo issues were ABCS-218, 219, 221, 223, and 224.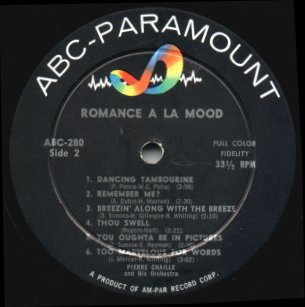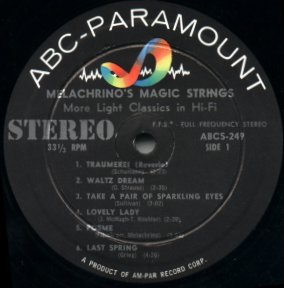 The first label was black with silver printing. Above the center hole was a white "ABC-PARAMOUNT" around the top of the label. At the bottom of the label was "A PRODUCT OF AM-PAR RECORD CORP." in white. Stereo issues had "STEREO" in large silver letters to the left of the center hole. The promotional label was white with black printing. The graphics were the same as the commercial label. This label was used from 1955 until late in 1961 at approximately ABC 400.

We would appreciate any additions or corrections to this discography. Just send them to us via e-mail. Both Sides Now Publications is an information web page. We are not a catalog, nor can we provide the records listed below. We have no association with ABC-Paramount, ABC, or MCA Records. Should you be interested in acquiring albums listed in this discography (all of which are out of print), we suggest you see our Frequently Asked Questions page and follow the instructions found there. This story and discography are copyright 2002 by Mike Callahan.



ABC-PARAMOUNT LABEL ALBUM DISCOGRAPHY, Part 2

Number - Title - Artist - [Release Date] (Chart) Contents

ABC/ABCS 200 - Last Night When We Were Young - Art Farmer with Quincy Jones Orchestra [1958] Last Night When we Were Young/Tangerine/I Concentrate On You/What's Good About Goodbye/Two sleepy People/Someone To Watch Over Me/Ill Wind/Out Of this World/When I Fall In Love

ABC/ABCS 201 - College Drinking Songs - Blazers [1957] Maine Stein Song/Landlord, Fill the Flowing Bowl/Drinking Song/Medley: In Bohemia Hall, Upon the Hill There's a Still, One, Two, Three, Four/Heidelberg Stein song/Whiffenpoof Song/'Round to Mary Ann's/Sweet Heart of Sigma Chi/Medley of 14 Selections

ABC 202 - Montoya Montoya Montoya - Carlos Montoya [1958] You Belong To My Heart/Isle of Capri/Boogie Flamenco/O Susannah/Farruca/Jota/Peteneras/Saeta/Alegrias Flamencas

ABC 203 - TV's "Wyatt Earp" Sings - Hugh O'Brian [1957] Legend Of Wyatt Earp/The Bushwacker Country/Down In The Meadow/The Buntline Special/Roll Out The Wagon/Same To You//Pale Horse/One Silver Dollar/Don't Move/On Boot Hill/Timothy/I'm Walkin Away

ABC 204 - Stan Wolowic & the Polka Chips - Stan Wolowic & the Polka Chips [1958] Grey Horse Polka/All the Girls Want Me/Happy Man/Johnny & Kate Oberek/Gay Young Widow/Don't Wait Until Tomorrow/Helen, Helen, Helen/Sprigntime Waltz/Red Wine, Red Lips/My Beautiful Girl/Heart Pains/And This and That/Concert For Two

205 -

ABC 206 - Mt. Alvernia Seminary Choir Sing - Mt. Alvernia Seminary Choir [1958]

ABC 207 - Free and Easy - Jackie Cain & Roy Kral [1958] Free and Easy/Angel Eyes/There Will Never Be Another You/It's A Lovely Day Today/So It's Spring/Who Wants To Fall Inb Love/Ooh, That Kiss/Dixie/I'm Glad You're You/Pent Up House

208 -

ABC/ABCS 209 - Nostalgia in Hi-Fi - Bert Buhrman [1958] Blue Moon/Smoke Gets In Your Eyes/Touch Of Your Lips/Anniversary Waltz/Dancing In the Dark/Beautiful Dreamer/Drifting and Dreaming/As Time Goes By/Diane/All the Things You Are/Melody of Love/Night and Day

ABC/ABCS 210 - Empire City Six Salutes the Colleges - Empire City Six [1958] On Brave Old Army Team/Whiffenpoof Song/Boola Boola/Anchors Aweigh/Notre Dame Victory March/Washington & Lee Swing/On Wisconsin/Eyes of Texas/Roar, Lion Roar/Trojan War Song/Harvardiana/Ramblin' Wreck From Georgia Tech/Victors

ABCS 211 - Christmas In A Monastery: The Sons Of St. Francis Sing - Mount Alvernia Seminary Choir [1957]

ABC 212 - Music to Break a Sub-Lease - Don Costa's Free Loaders [1958] Seem Like Old Times/Five Foot Two/Who's Sorry Now/Medley: By the Light of the Silvery Moon, Goodnight Ladies, Merrily We Roll Along/Put On Your Old Grey Bonnet/Music Goes Round and Round/My Melancholy Baby/There Is a Tavern in the Town/Whispering/When You Wore a Tulip/My Gal Sal/Margie

ABC 213 - Tribute to Fats Waller - Martha Davis & Spouse [1958] Your Feet's Too Big/Jitterbug Waltz/Ain't Misbehavin'/It's a Sin to Tell a Lie/Spider and the Fly/How Can You Face Me/Honeysuckle Rose/Lulu's Back In Town/Blue Turning Grey Over You/Hold Tight/Handful of Keys/S'posin

ABC 214 - Talbot Brothers of Bermuda - Talbot Brothers [1958] Old Uncle Joe/It's My Destiny/See What You Do/Out a'Me/Sunset In Bermuda/Ol' Ti' Cat-O-Nine/Don't You Call Me Boo Boo/When We Married Be/You Can't Tell the Old From the Young/So Near, So Far/Riddle Song/Bermudian Blues

ABC 215 - Stan Wolowic & the Polka Chips Volume III - Stan Wolowic & the Polka Chips [1958] Lady With the Dark Eyes/Peasant Waltz/I Know I Can't Forget You/Jo Ann Polka/Clarinet Polka/Di- Me Di-Me/Listen Darlin'/Oj Dana/Bride and the Groom Polka/Wido's Polka/To the Left (Na Lewo)/Jolly- Jolly Lumberjack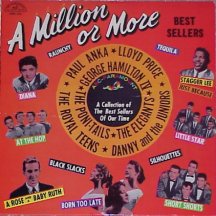 ABC 216 - A Million or More Best Sellers - Various Artists [1958] Issued in mono only. Original cover for this album is red. Reissued in 1962 with the same red cover, and again in 1963 with a new cover, with a slightly different track lineup (see below). At the Hop - Danny & Juniors/Tequila - Eddie Platt & His Orchestra/Born Too Late - Poni- Tails/Short Shorts - Royal Teens/A Rose And A Baby Ruth - George Hamilton IV/Just Because - Lloyd Price//Little Star - Elegants/Stagger Lee - Lloyd Price/Silhouettes - Steve Gibson & Red Caps/Black Slacks - Sparkletones/Raunchy - Muvva "Guitar" Hubbard/Diana - Paul Anka


ABC 216 - A Million or More Best Sellers [Reissue] - Various Artists [1963] When the album was reissued in 1962, the record was "updated" by removing "Diana" and adding Tommy Roe's "Sheila" from 1962 to the end of side 2. The cover originally was the same red cover as above, but in 1963 was modernized to a photo of two teens doing one of the popular dances of the day. The slick on the back of the jacket is generally the same as the original, but has been updated to reflect the new song lineup. As far as we know, the record itself was a mono-only release, but some jackets are stamped "stereo." At the Hop - Danny & Juniors/Tequila - Eddie Platt & His Orchestra/Born Too Late - Poni-Tails/Short Shorts - Royal Teens/A Rose And A Baby Ruth - George Hamilton IV/Just Because - Lloyd Price//Little Star - Elegants/Stagger Lee - Lloyd Price/Silhouettes - Steve Gibson & Red Caps/Black Slacks - Sparkletones/Raunchy - Muvva "Guitar" Hubbard/Sheila - Tommy Roe

ABC 217 - Stairway to Paradise - Valentino Piano & Orchestra [1958] My Reverie/I Think Of You My Sweet/No Other Love/Lamp Is Low/Baubles, Bangles & Beads/Our Love/Strange Music/Story of a Starry Night/Stranger in Paradise/If You Were But a Dream/Full Moon & Empty Arms/Moon Love

* ABC/ABCS 218 - Eydie Gormé Vamps The Roaring 20's - Eydie Gormé [1958] (3-58, #19) Back In Your Own Back Yard/Button Up Your Overcoat/Chicago (That Toddling Town)/I Wanna Be Loved By You/Let's Do It (Let's Fall In Love)/My Buddy/My Man/Singin' In The Rain/Tip Toe Through The Tulips With Me/Toot Toot Tootsie, Goodbye/When The Red Red Robin Comes Bob Bob Bobbin' Along/Who's Sorry Now

ABC/ABCS 219 - More College Drinking Songs - Blazers [1958] Abdula Bul Amir/Williams Man Who's Far, Far Away/Medley: Tavern In the Town, Ain't It Hard, Good Old Beer/Glorious/Sweet Eveling/Aura Lee/That's Where My Money Goes/Chasin' Women/Silver Dollar/Down & Out/Thais/Foggy Dew/Her Mother Never told Her/Let Us Drink/Viva Le Compagnie

ABC/ABCS 220 - On Campus - George Hamilton IV [1958] Clementine/Ivy Rose/When I Grow Too Old To Dream/Tell Me Why/Carolina Moon/You Tell Me Your Dream/Aura Lee/Girl of My Dreams/Let Me Call You Sweetheart/Love's Old Sweet Song/Drink To Be Only With Thine Eyes/Auld Lang Syne

ABC/ABCS 221 - Heavenly Sounds In Hi-Fi - Ferrante & Teicher [1958] Out of This World/Out of Nowhere/Beyond the Moon/I've Told Every Little Star/East of the Sun/Serenade To a Star/Moon Was Yellow/Stella By Starlight/Stardust/Stars In My Eyes/Moon Is Low/Over the Rainbow

ABC 222 - World War II Songs in Hi-Fi - Four Sergeants [1958] This Is the Army Mr. Jones/They're Either Too Young Or Too Old/U.S. Air Force/Lili Marlene/Marine Hymn/Sound Off/When the Lights Go On Again/I'll Be Seeing You/Praise the Lord and Pass the Amunition/Comin' In On a Wing and a Prayer/White Cliffs of Dover/Don't Sit Under the Apple Tree/I Left My Heart At the Stage Door Canteen/Bell Bottom Trousers/God Bless America

ABC/ABCS 223 - Sing a Song of Basie - Lambert, Hendricks & Ross [1958] Everyday/It's Sand, Man/Fiesta In Blue/Two For the Blues/One O'clock Jump/Little Pony/Down For Double/Down For the Count/Blues Backstage/Avenue C

ABC/ABCS 224 - Hi-Fi In An Oriental Garden - Cely Carrillo and Others [1958] Pearls on Mindanao/Sweetheart Leron/Sweetheart Hung-Tsai/Flower Drum Song/My Spear/White Lotus/Nil-Il-Ri- A/Chon-Ahn Sam-Guri/A-Ri-Rang/Outgoing Ship/Cherry Blossom/China Night/Moon Over the Ruined Castle/Children's Song/Lullaby/Spear & Shield/Little Hut/Song of the Taing-Chiang Fisherman/Autumn Sorrow/Wagon Driver's Song/Cantonese Lullaby/

ABC/ABCS 225 - Gerry Mulligan & Bob Brookmeyer Play Phil Sunkel's Jazz Concerto Grosso - Gerry Mulligan & Bob Brookmeyer [1958] Something For the Ladies/Song For Cornet/Jazz Concerto Grosso

ABC/ABCS 226 - The New Billy Taylor Trio - Billy Taylor Trio [3/58 mono, 9/58 stereo] There Will Never Be Another You/Sounds In the Night/More I See You/Will You Still Be Mine/'Round Midnight/There's a Small Hotel/I Never Get Enough of You/Titoro

ABC 227 - Oscar Pettiford In Hi-Fi, Volume 2 - Oscar Pettiford Orchestra [3/58 mono, 5/59 stereo] Now See How You Are/Laura/Aw! Come On/I Remember Clifford/Somewhere/Seabreeze/Little Niles

ABC/ABCS 228 - Jamaica Jazz - Don Elliott Octet with Candido [3/58 mono, 5/59 stereo] Push de Button/Cocoanut Sweet/Little Biscuit/Savanna/Pretty to Walk With/Ain't It the Truth/Napoleon/What Good Does It Do

ABC/ABCS 229 - Let's Polka-Oberek-Waltz-Tango - Ted Maksymowicz [9/58] Polish Wedding Polka/Laughing Plka/I Have Only You/Pretty Violetta/Kujawiak-Sztajerek/Our Helen/Happy Farmer Polka/Dancing Girl Polka/White Eagle Polka/Song Of My Warsaw/Bunny Barbara Polka/Lively Unita

ABC/ABCS 230 - Dance Along With Lecuona Cuban Boys - Lecuona Cuban Boys [2/59] Say Si Si/Malaguena/Breeze & I/High In Sierra/Siboney/From One Love to Another/For Want of a Star (La comparsa)/Jungle Drums/Two Hearts That Passed In the Night/Always In My Heart

ABC 231 - The George Sanders Touch - George Sanders [2/58] Try a Little Tenderness/They Didn't Believe Me/September song/As Time Goes By/Something to Remember You By/If You Were the Only Girl/Very Thought of You/Around the World/Such Is My Love/Wonderful One/More Than You Know/I'll See You In My Dreams

ABC/ABCS 232 - The Axidentals With The Kai Winding Trombones - Axidentals With The Kai Winding Trombones [1958] Day In Day Out/I Will Come Back/No Moon At All/You Gotta Wail/You Don't Know What Love Is/Close To You/Gypsy In My Soul/Waiting For the Robert E. Lee/Walkin'/Flamingo Rock-a-Bye Bluebird/Out of This World

233 -

ABC/ABCS 234 - Hi-Fi Paradise - Roy Smeck [1958] Moonlight Bay/I'm Always Chasing Rainbows/In a Little Spanish Town/Let the Rest of the World Go By/Three O'clock In the Morning/By the Light of the Silvery Moon/Paradise/My Blue Heaven/I'll See You In My Dreams/Meet Me Tonight In Dreamland/Missouri Waltz/Goodnight, Sweetheart

ABC/ABCS 235 - South Pacific Jazz - Tony Scott Quartet [1958] Bali Ha'i/Honey Bun/Younger Than Springtime/Cockeyed Optimist/Wonderful Guy/I'm Gonna Wash That Man Right Outa My Hair/Dites Moi/Some Enchanted Evening/There Is Nothing Like a Dame/Happy Talk

ABC/ABCS 236 - Candido in Indigo - Candido [1958] Caravan/Softly/But Blue/Blue Lou/Blue Prelude/Afro Blue/Bongo Baby/Blue Dirge/Candido Cocktail/*Singing Skins *Not included in the stereo version.

237 -

ABC/ABCS 238 - Hi-Fi Square Dance Party - Don Durlacher [1958] Bumps-a-Daisy/Cindy Lou/Birdie In the Cage/Forward Six & Back/She'll Be Coming 'Round the Mountain/Honeycomb/Forward Eight & Back

ABC/ABCS 239 - Gypsy Flamenco - Sabicas [1958] Arabian Fantasy/Ecos de Granada/Bulerias/Veriales Malaguenos/Seguidilla/Granadinas/Huelva/Alegrias Gaditanas/Pena Penita

ABC 240 - Paul Anka - Paul Anka [1958] Down by the Riverside/You Belong To Me/Your Cheatin' Heart/Waiting For You/Walkin' My Baby Back Home/Sing, Sing Sing (With a Swing) //Diana/Red Sails In the Sunset/Jambalya/I've Heard That Song Before/Pity Pity/Side By Side

ABC/ABCS 241 - Hawaiian Village Nights - Alfred Apaka [1958] Kawohikukapulani/Moonlight & Shadows/Somewhere in Hawaii/Harbor Lights/Sunset In Hawaii/Hilawe/Red Sails In the Sunset/Ka-Lu-A/Blue Hawaii/Palm Trees Sing Sloha/Tower of Love/Song of Old Hawaii

ABCS 242 - The Parade Field In Stereophonic Sound - James N. Peterson, Conductor First Army Honor Guard [1958] First Call/Reveille 1776/Guard Mount 1958/Guard Mount 1776/Duty Calls 1958/Retreat 1958/Retreat 1776/El Capitan March/Taps 1776/Stars and Stripes Forever/Taps 1958/Test Tone

ABC/ABCS 243 - Drinking Songs Around the World - Blazers [1958] How Fights Start in Bars/Drink To Me Only With Theine Eyes/Drinking Song From Die Fledermaus/Drinking Song From Cavalleria Rusticana/Man In the Wine Cellar/Father Bergstrom/Wine, Women & Song/Medley

ABC/ABCS 244 - Johnny Nash - Johnny Nash [1958] Imagination/Like Someone In Love/I Had the Craziest Dream/It's Always You/Midnight Moonlight/Broken Hearted //My Foolish Heart/Darn That Dream/I Wish I Knew/For All We Know/Dream Of You/That's All

ABC/ABCS 245 - Bawdy Barracks Ballads - Four Sergeants [1958] One-Eyed Reilly/Bless 'em All/Roll Me Over/Bastard King of England/Roll Your Leg Over/Destroyer Life/Shore Navy/Balzac/Knees Up, Mother Brown/Red Wing/It's the Same the Whole World Over/Limey Sailor/He, Hey/Why Do We Pay?/Waitress and the Sailor/Hinky Dinky Parlez Vous/Fusileers

* ABC/ABCS 246 - Eydie In Love - Eydie Gormé [1958] (11-58, #20) Here I Am In Love Again/Idle Conversation/Impossible/In Love In Vain/In Other Words/In The Wee Small Hours Of The Morning/It Could Happen To You/Love Letters/When I Fall In Love/When The World Was Young/Why Shouldn't I?/Why Try To Change Me Now

ABC 247 - Second Honeymoon Dance - Russ Carlyle & Orchestra [1958] Together/Things I Love/All of Me/Do It Again/April In Paris/Moon Song/When The Saints Go Marchin' In/Woodchopper's Ball/Dance Party/St. Louis Blues/Medley: Moonlight & Roses, Liebestraum, Moonlight on the Ganges, Blue Moon

ABC/ABCS 248 - Ferrante & Teicher With Percussion - Ferrante & Teicher [1958] How High the Moon/Nearness of You/Che Si Dice/Temptation/Three O'clock In the Morning/Va Va Voom/Aflame/Get Out Of Town/Beyond the Blue Horizon/Parade of the Bobbies/Yesterdays/Cielito Lindo

ABC/ABCS 249 - Melachrino's Magic Strings: More Light Classics - Melachrino Orchestra [1958] Mono albums were subtitled with "More Light Classics in Hi-Fi" while stereo albums used "More Light Classics in Stereo". Traumerei/Waltz Dream/Take a Pair of Sparkling Eyes/Lovely Lady/Poeme/Last spring/El Relicario/I Dream Too Much/Humoresque/Sand In My Shoes/Two Guitars/Handful of Stars

ABC/ABCS 250 - More World War II Songs - Four Sergeants & Rosemary June [1958] Remember Pearl Harbor/It's Been A Long Long Time/Rosie, The Riveter/There'll Always Be An England/Shoo Shoo Baby/We Did It Before/Any Bonds Today/American Patrol/Last Time I Saw Paris/Hubba-Hubba-Hubba/There's A Star Spangled Banner Waving somewhere/In My Arms

ABC/ABCS 251 - Sing Me A Sad Song (A Tribute To Hank Williams) - George Hamilton IV [1958] House Of Gold/I Can't Help It/How Can You Refuse Him Now/I Could Never Be Ashamed Of You/Half As Much/Lonesome Whistle/Your Cheatin' Heart/I'm So Lonesome I Could Cry/Take These Xhains From My Heart/Wedding Bells/Cold Cold Heart/You Win Again

252 -

ABC 253 - Russ Carlyle at Roseland Dance City - Russ Carlyle & Orchestra [1958] Deep Purple/Isle of Capri/If I Ever Love Again/Around the World/Oh, You Beautiful Doll/Chicken Reel/Our Love Is Here To Stay/Get Out of Town/Old Spinning Wheel/It Was Wonderful/Medley: Sophisticated Swing, I've Got My Love To Keep Me Warm, Sentimental Journey

ABC/ABCS 254 - Eydie Gormé Sings Show Stoppers - Eydie Gormé [1959] I Don't Care/You're Just In Love/My Funny Valentine/You Can't Get a Man With a Gun/Always True to You In My Fashion/Guys & Dolls/I Can't Say No/Hello young Lovers/Thou Swell/I'm Gonna Wash That Man Right Outa My Harir/Baubles, Bangles & Beads/Johnny One Note

ABC/ABCS 255 - Light Classics In Hi-Fi - Melachrino Orchestra [1958] Grieg Piano Concerto/Tchaikovsky Piano Concerto No. 1/Rachmaninoff Piano Concerto No. 2/Slaughter on Tenth Avenue/Concerto In Jazz/Copper Concerto/Concerto For Clarinet

256 -

ABC 257 - Flame of Araby - Kahraman [1958] Johnny Ya Johnny/Euny Ya Euny/Alal Youm Ma/Ra'Sit Kahraman/Am Moura/Ala Del Ouna/Libnanek Ya Libnany/Come On Honey/Ya'Ni Mawal/Ra'Sit Isikrany/Layya W Layya

ABC/ABCS 258 - Dance With Dick Clark Volume 1 - Keymen [1958] Willie and the Hand Jive/Drifting and Dreaming/Gazackstahagen/Short Fat Fanny/Dawn/Love Is Strange //Isle of Capri/Miss You/Goggles/Sentimental Journey/Like Help Man/Long Tally Sally

ABC/ABCS 259 - Shock Music In Hi-Fi - Creed Taylor Orchestra [1958] Heartbeat/The Crank/Gloomy Sunday/The Secret/Jungle Fever/The Long Walk/Haunted House/Spellbound/In Bedlam/Time Runs Out/High On a Windy Hill/It's So Peaceful In the Country

260 -

ABC/ABCS 261 - Shall We Dance - Jay Jerome Orchestra [1958] Medley: Billy, Mood Indigo, Does Your Heart Beat For Me, Who's Sorry Now, Pretty Cha-Cha/Medley: Stars Fell On Alabama, For Me and My Gal, Sweet Lorraine, When My Sugar Walks Down the Street, Merengue Parabelle/Medley: I Can't Give You Anything But Love, Idaho/Medley: I Surrender Dear, Ma He's Making Eyes at Me, Dear Old Southland, When You're Smiling, How Good It Is/Medley: That's My Desire, Don't Cry My Love, Hands Across the Table, It Must Be True, Cha-Cha With Me/Medley: Digga-Digga-Do, It Don't Mean a Thing

ABC/ABCS 262 - Polka-Go-Round - Louis Prohut [1958] Polka-Go-Round/Drummer Boy Polka/Playtime Polka/Swiss Kiss Polka/Prettiest Girl Waltz/Helen Polka/Dancing the Polka/Good Ol' Polka/Husia-Usia Polka/Barbara Polka/Lager Polka/Two Canaries Polka/Square dance Oberek/Matulu Kochana

ABC/ABCS 263 - The One and Only - Nicola Paone [1958] Telephone Song/Going Crazy/Frutta-Frutta/Shepherd's Serenade/Never Let Me Go/Solitaire/Three Paisanos/Blah, Blah, Blah/Tony, The Ice Man/All That Counts Is Today/Ciao Bellezza/Dormi Dormi

ABC 264 - Minstrel Spectacular - Bill Cullen [1959] Intro/Glendy Burke/March to the Theatre/Oh, Didn't He Ramble/Shine On Harvest Moon/Georgia Camp Meetin'/Shenandoah/Erie Canal/Old Dan Tucker/Kingdom Coming/Beautiful Dreamer/Waiting for the Robert E. Lee/Asleep in the Deep/Old Folks at Home/Dixie/Camptown Races/Banjo On My Knee

ABC/ABCS 2-265 - The Day Of The Bullfight - Sabicas [1958] Two record set. In the Morning/Dawn/Coffee Shop/Street Scene/Selection of the Bulls/In the Afternoon/Entrance to the Arena/Bullfight/Street Brawl/Lovers in the Night/Fiesta

ABC/ABCS 266 - Sing Along Around the Campfire - Four Counsellors and the Scouts [1958] Medley: We're All Together Again, Our Boys Will Shine Tonight, I've Been Working on the Railroad, Alouette, Red River Valley, All You Hungry People/Medley: Down In the Valley, Clementine, Old MacDonald Had a Farm, Row Row Row/Medley: All Night All Day, We Are Climbing Jacob's Ladder/Medley: Sailing Sailing, My Bonnie, Oh, How Lovely Is the Evening/Medley: Goodnight Ladies, Now the Day Is Over, Taps

ABC/ABCS 267 - Jackie & Roy In The Spotlight - Jackie & Roy [1958] From This Moment On/Kiss & Run/Two Peas In a Pod/Cake Walk/Have You Met Miss Jones/How Are You Fixed For Love/Let Me Love You/You Don't Know What Love Is/Easy Living/You Do Something to Me/You're My Thrill/Who Cares

ABC/ABCS 268 - Exciting Sounds From Romantic Places - Leo Diamond [1959] Vie En Rose/River Seine/Arrivederci, Roma/Domani/Strange Enchantment/Sleepy Lagoon/Petite Waltz/Lili Marlene/Girls In Brazil/Breeze & I/King's Serenade/To You Sweetheart, Aloha

ABC/ABCS 269 - Come Travel With Me - Mat Mathews [1958]

ABC/ABCS 270 - Drinking Songs Sung Under the Table - Blazers [1958] Rye Whiskey/Saloon/Cocaine Bill/Father, Dear Father/Goat Song/Willie, The Weeper/Ragged, But Right/Face On the Barroom Floor/Morning After/Dog Catcher's Child & 99 Bottles/Show Me the Way to Go Home

ABC/ABCS 271 - Lure of Tahita - Terorotua & his Tahitians [1958] Tauire Te Matai/Vahine Taumotu/To to To e/Paga/Tehaupoo/Punaruu/Rupe Rupe/Dechire/On Descend Do La Montagne/Vini Vini/Afta/Jo Jo/Elle Est Partie/Tia Tia Moua/Mauruuru-a-Vau

ABC/ABCS 272 - Flower Drum Song - Howard Lanin Orchestra [1958] I Enjoy Being a Girl/You Are Beautiful/Chop Suey/Sunday/Like a God/Grant Avenue/I Am Going to Like It Here/Love Look Away/Gliding Through My Memoree

ABC/ABCS 273 - Love Is A Season - Eydie Gormé [1959] Love Is a Season/April Showers/Things We Did Last Summer/On the First Warm Day/When the Wind Was Green/Winter Night/Easter Parade/Spring Will Be a Little Late This Yhear/September Song/June In January/I'll Remember April/'Tis Autumn

ABC/ABCS 274 - My Sister and I - Glenn & Brenda Derringer [2/59] How High the Moon/Speak Low/These Foolish Things/But Not For Me/This Can't Be Love/That Old Feeling/Moon Was Yellow/It's the Talk Of the Town/Dream/Who's Sorry Now/April In Paris/I Love You

ABC/ABCS 275 - Stash - Stan Wolowic & the Polka Chips [1958] Flying High/Marysia Polka/Munich Drinking Song/Jealous Kate/Love me/Steel Factory/Come Back & Be My Sweetheart/Bricklayers' Song/Dance, Dance Hulaj Darcie/Christina/Girl By the Window/Jolly Mountaineer

ABC/ABCS 276 - Quiet Hour - Johnny Nash [1959] I Got a Robe/Bless This House/I Want Jesus To Walk With Me/Eyes of God/Prayer of St. Francis/I Believe/Sometimes I Feel Like a Motherless Chils/I See God/Nobody Knows the Trouble I've Seen/Be the Good Lord Willing/I Heard of a City Called Heaven/Lord's Prayer

ABC/ABCS 277 - The Exciting Lloyd Price - Lloyd Price [1959] Stagger Lee/I Wish Your Picture Was You/Talking About Love/What Do You Do To My Heart?/You Need Love/Mailman Blues //Where Were You (On Our Wedding Day)?/Why/Lawdy Miss Clawdy/Oh, Oh, Oh/A Foggy Day/Just Because

ABC/ABCS 278 - Frank Froba Frolics - Frank Froba [1959] Little Girl/You're Nobody 'Till Somebody Loves You/Girl of My Dreams/Smiles/If I Didn't Care/You Took Advantage of Me/'Deed I Do/My Melancholy Baby/Carolina Moon/Am I Blue/I Cried For You/Please Don't Talk About Me When I'm Gone

ABC/ABCS 279 - The Magic Ukulele of Roy Smeck - Roy Smeck [1959] Twelfth Street Rag/Music Box Walta/Bye, Bye Blues/Melody In F/I Ain't Got Nobody/Ain't She Sweet/Uke Said It/Humoresque/Waltz of Yesteryear/Five Foot Two/Sweet Georgia Brown/Honolulu Shuffle

ABC/ABCS 280 - Romance Ala Mood - Pierre Chaillé Orchestra [1959] Shine On Your Shoes/For You/I Get A Kick Out Of You/Heaven Can Wait/I've Got Rings On My Fingers/Love Nest/Dancing Tambourine/Remember Me/Breezin' Along With The Breeze/You Oughta Be In Pictures/Too Marvelous For Words

ABC/ABCS 281 - Emery & His Violin of Love - Emery Deutsch [1959] Be My Love/Very Precious Love/I Heard A Song/Affair to Remember/Vurria/If You Love Me/Stella By Starlight/I Hear a Rhapsody/I Love You Much Too Much/Where Is Your Heart/My Lost Love/Summertime in Venice

ABC/ABCS 282 - Down at Paone's Place - Nicola Paone [1959] Poor Man's Polka/Orphan of Love/Woman Is a Woman/Mama's Lullaby/Rooster Serenade/Bella Brigida/Stornelli Dell' Addio/Tonight & Every Night/Hold Your Horses & Wait For Me/Nobody Loves Me Anymore/You Never Know What To Do/Uncle Nick

ABC/ABCS 283 - Songs of Freedom - Four Sergeants & Massed Chorus [1959] Battle Hymn of the Republic/British grenadiers/God Save the Queen/Mighty Fortress Is Our God/Finlandia/Rakoczi March/La Marseillaise/Your Land & My Land/America, the Beautiful/Anu Banu Artsah/Hatikvah/Rota Knonpnicka/Onward Christian Soldiers/Columbia, The Gem Of the Ocean

284 -

ABC/ABCS 285 - Ferrante & Teicher Blast Off - Ferrante & Teicher [1959] I Got Rhythm/Merry Widow Waltz/Last Time I Saw Paris/Chopstick Cha Cha/In the Rain/Bye Bye Blues/Love/Hurdy Gurdy/The Continental/Ain't Misbehavin'/'s Wonderful/Busman's Holiday

ABC/ABCS 286 - Latin Fire - Candido [1959] Swinging the Blues/Exactly Like You/King Porter stomp/Ja Da/It Don't Mean a Thing/Ain't She Sweet/When the Saints Go Marchin' In/Honeysuckle Rose/Sweet Sur/Royal Garden Blues

ABC/ABCS 287 - Georgie Auld Plays For Melancholy Babies - Georgie Auld [1959] Always/My Melancholy Baby/If I Could Be With You/Down By the Old Mill Stream/If I Had My Way/Shine On Harvest Moon/For Me and My Gal/Music Goes Round & Round/My Gal Sal/Darktown Strutters Ball/In a Little Spanish Town/Goodnight Sweetheart

ABC/ABCS 288 - Dance With Dick Clark Volume 2 - Keymen [1959] Southland/I'll See You In My Dreams/Camilia/Whole Lotta Shakin' Going On/Blueberry Hill/Foot Jive //Walk Little Willie/Venus/Yakety Yak/Tennessee Waltz/Cha Cha Marcha Conga/Duane's Stroll

ABC 289 - Polish Dance Melodies - Ted Maksymowicz Orchestra [1959] Polonaise/Romantic Waltz/Seven Roses/To the Left Oberek/My Love Waltz/First Grey Hair/The Beek Polka/Love Serenade Basia/Marie Tango/Blue Waltz/Swir Swir Mazur

ABC/ABCS 290 - Swing Softly With Me - Steve Lawrence [1959] There'll Be Some Changes Made/The One I Love Belongs To Somebody Else/You're Nobody 'Till Somebody Loves You/I Hadn't Anyone Till You/I'm Old Fashioned/Let There Be Love //So In Love/The Lamp Is Low/Speak Low/You're Everything Wonderful/Somebody Else Is Taking My Place/All or Nothing At All

ABC/ABCS 291 - Jotas of Spain - Madrid Concert Orchestra/Echevarria [1959] Gigantes Y Cabezudos Jota/Trust De Los Tenorios, El Jota/Viva Navarra Jota/Guitarrico Jota/Dolores, La Jota/Ronda En El Moncayo/Neskas Y Chacoli/Tierras Llanas/Romeria En Guadalupe/Valles Del Mino/Sanfermines Cantan

ABC/ABCS 292 - Zarzuela - Madrid Concert Orchestra/Torroba [1959] Gigantes Y Cabezudos/Agua, Azucarillos Y Aguardiente/Verbena De La Paloma/Luisa Fernanda/La Revoltosa/Dona Francisquita

ABC/ABCS 293 - The Wandering Cowboy - Elton Britt [1959] Streets of Laredo/That's Why The Yodel Was Born/When It's Springtime in the Rockies/Red Wing/Home On the Range/There's a Star Spangled Banner Waving Somewhere/Chime Bells/Roving Gambler/Lonesome Cowboy/Whoopie Ti Yi Yo/Crawdad Song/Red River Valley

ABC 294 - Waggish Tales - Arnold Stang [1959]

ABC/ABCS 295 - Married I Can Always Get - Micki Marlo [1959] You'd Be Surprised/Life Is Just a Bowl of Cherries/Hooray For Love/Is You Is Or Is You Ain't My Baby/My Heart Belongs to Daddy/You've Got to See Mama Ev'ry Night/Take Me In Your Arms/If I Could Be With You/Don't Let It Get You Down/It All Started With Your Kiss/I Can't Give You Anything But Love

ABC/ABCS 296 - My Heart Sings - Paul Anka [1959] (All of a Sudden) My Heart Sings/Under Paris Skies/Autumn Leaves/Pigalle/Comme Ci, Comme Ca/C'est Si Bon //Melodie D'amour/I Miss You So/I Love Paris/If You Love Me (Really Love Me)/Les Filles de Paris/So It's Goodbye

ABC/ABCS 297 - Mr. Personality - Lloyd Price [1959] Personality (S)/Mary Anne (S)/Time After Time (S)/Have You Ever Had the Blues (S)/Yakety Yak-Bing Bang (S)/I Only Have Eyes For You (S)//I'm Gonna Get Married (S)/Dinner For One (S)/Is It Really Love?Poppa-Shun (S)/All of Me (S)/I Want You To Know (S)

298 -

ABC/ABCS 299 - I Got Rhythm - Johnny Nash [1959] And the Angels Sing/I'm Beginning To See the Light/You're Driving Me Crazy/Love, I Love/Looking For a Girl/I Got Rhythm/Jeepers creepers/'S Wonderful/Baby, Won't You Please Come Home/I'm Forever Blowing Bubbles/It's Alright With Me/Baby, Baby, Baby


Thanks to John J. Browne.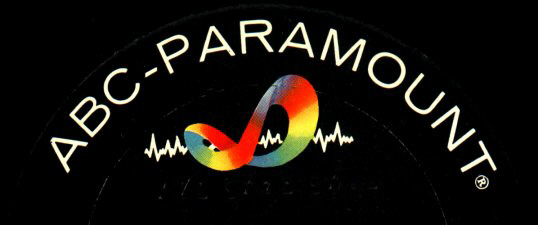 Back to the ABC Records Story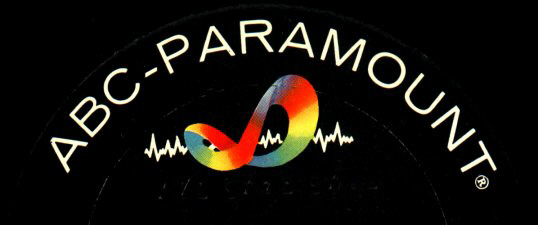 Back to the ABC-Paramount Discography, Part 1 ABC-100 to 199 (1955-1957)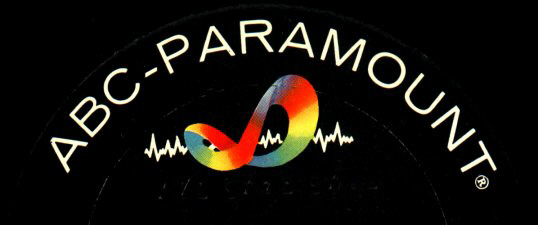 On to the ABC-Paramount Discography, Part 3 ABC-300 to 399 (1959-1961)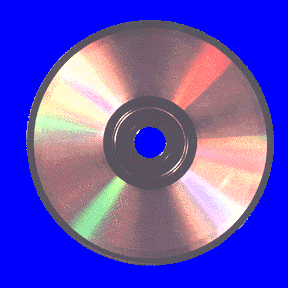 Back to the Discography Listings Page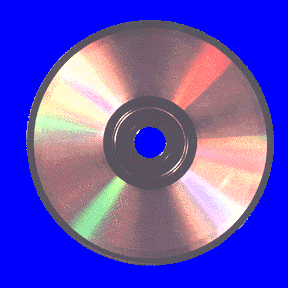 Back to the Both Sides Now Home Page